Almost 50 youths honoured at Mcdonald's Convocation Ceremony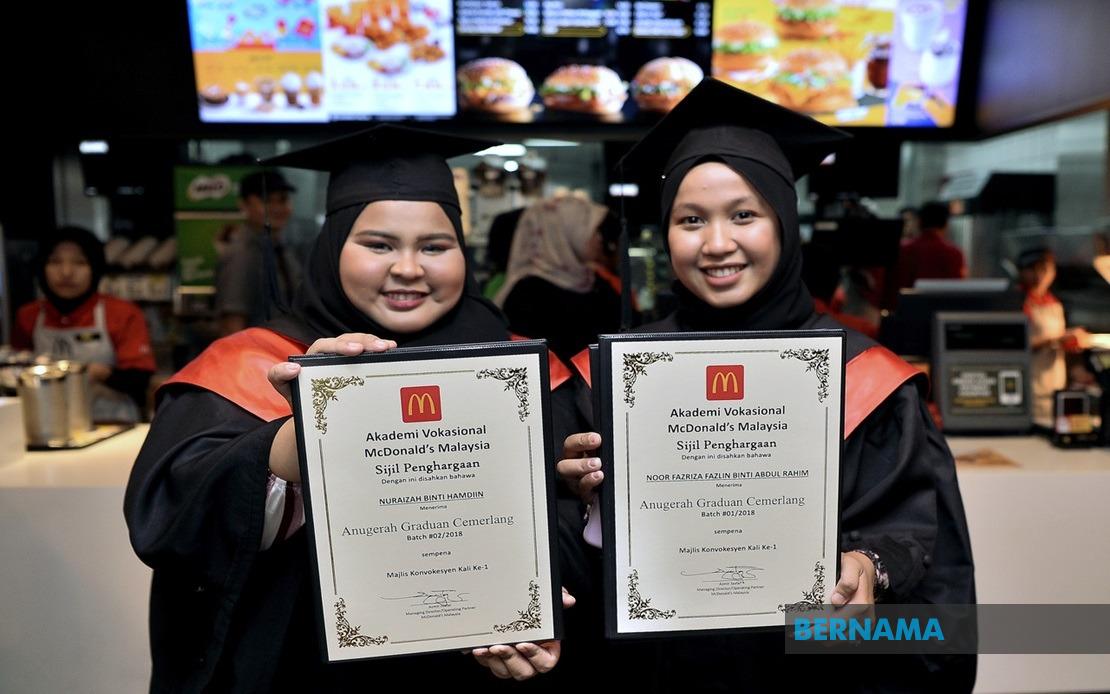 KUALA LUMPUR, March 4 — McDonald's Malaysia, for the first time, held its Vocational Academy's convocation ceremony today for almost 50 youths who completed their training under the Vocational Apprenticeship Programme.
Its managing director and local operating partner, Azmir Jaafar said the programme was an effort by McDonald's Malaysia in raising standards in human capital development by the company and in unearthing new talents among youths, which was in line with the country's agenda of boosting the Technical and Vocational Education and Training (TVET) Programme.
"Our training programme is industry-based for 18 months and combines 70 per cent of practical training at McDonald's restaurants and 30 per cent theory in the classroom," he said at a news conference after the convocation ceremony. It was officiated by secretary-general of the Human Resource Ministry, Datuk Amir Omar.
"This programme is a collaboration between McDonald's Malaysia and the ministry based on the National Dual Training System (NDTS) introduced by the ministry.
"Upon completing their training, the youths involved will be awarded with the Malaysian Skills Certificate (SKM) Level 3, which is recognised by the Human Resource Ministry, and are then eligible to advance their career at McDonald's or in the food service industry," he added.
Meanwhile, he said the fast-food restaurant chain was committed to achieving the target of 5,000 apprentices by the end of 2020.
"The apprenticeship programme was introduced in 2018 and to date, we have a total of 1,200 youths from across the country undergoing this programme and we will add another 3,800 by the end of this year," he said.
Azmir said McDonald's Malaysia also collaborated with the Education Ministry and several agencies including the Zakat Centre and Social Welfare Department in the states on taking special education children and the young from low-income families into the academy.
He said McDonald's Malaysia also targeted to add 150 fast-food restaurants by 2025 which would provide jobs to over 10,000 people, especially to the apprentices from its academy.
According to him, besides its Vocational Academy building in Kuala Lumpur, McDonald's has three training centres in Selangor, Penang and Johor to expose the trainees to the actual work situation.
The Vocational Academy Apprenticeship Programme is fully funded by Mcdonald's Malaysia and around RM30,000 including a monthly allowance of RM1,200, accommodation, medical benefits and food has been spent on each apprentice.
Source : BERNAMA
Brazilian Teen Allegedly Cries Blood And Doctors Have No Idea Why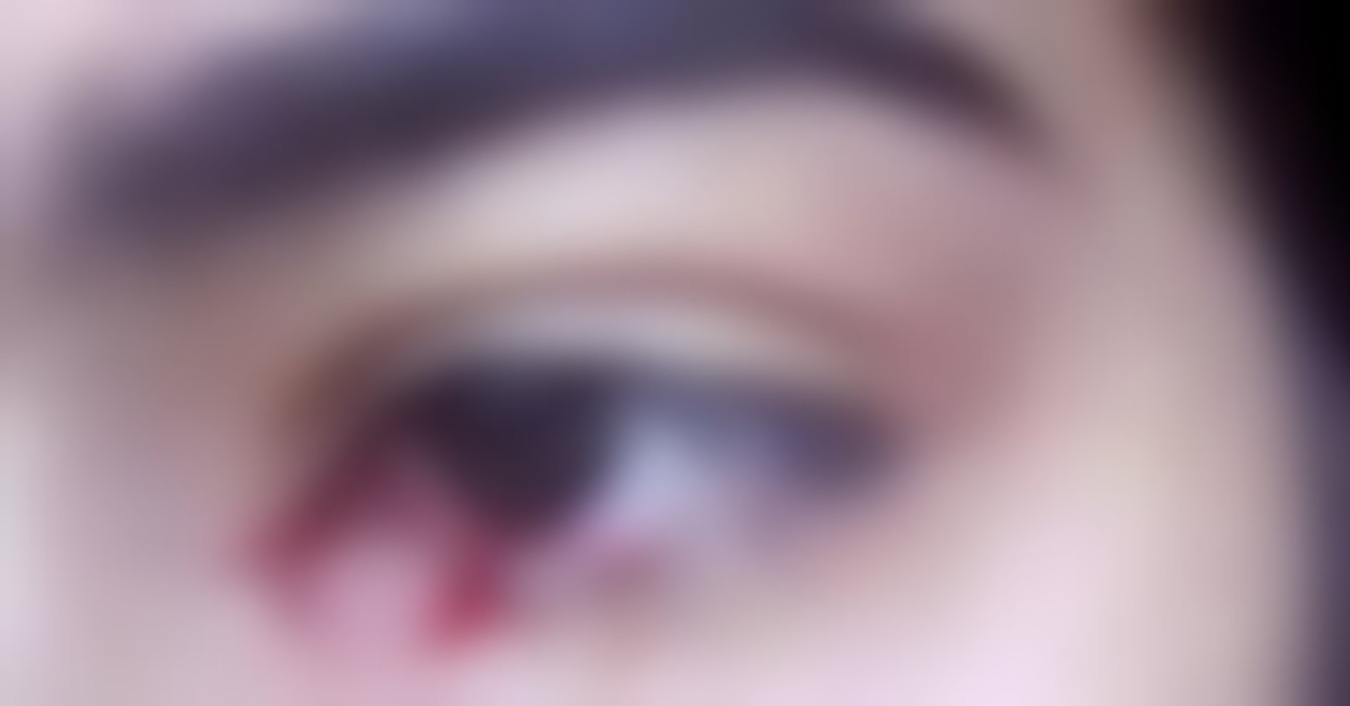 Brazil, a 15-year-old girl has baffled doctors after allegedly crying blood from her eyes for over a week. Doctors claim that they can't understand what is happing with the girl.
Doris started feeling sick on September 12, her mother then decided to take her to the hospital in her home city of Sao Paolo. The girl said that she felt uncomfortable in her abdomen and doctors diagnosed her with kidney stones. The medication was given for the pain and she was sent home.
Unfortunately, on Sunday morning, she was rushed to the emergency room for the second time as blood coming out from one of her eyes. She was examined but doctors couldn't determine the cause of the blood tears. When she told the doctors there was no discomfort nor pain caused by the blood, she was once again sent home.
The girl's mother, Juliana Teixeira de Miranda, said, "My daughter did countless tests, but they couldn't find any problems. The doctors released her and we returned home at dawn on Monday."
"We are going to do whatever the professionals ask, we want to find out what's really going on."
Juliana said that her daughter had blood flowing from both the girl's eyes, worrying the family even more. Doris, once again, was taken to the hospital, but still, no one had any clues about her condition.
"She underwent a tomography and several other tests, but the doctors found nothing that could justify the blood tears. As there are no answers, the doctors asked her to do some more tests this week to try to find the cause," Doris' mother said.
It said that the hospital where she was admitted wanted to do more tests on her in order to determine the exact cause of the bizarre symptom.
Ophthalmologist Rafael Antonio Barbosa Delsin said, "The presence of blood in the tear is called hemolacria, a condition already described in the medical literature. Treatment depends on the cause, but sometimes it disappears as suddenly as it appeared, without treatment and without a conclusive diagnosis,".
"Most of the time it is a problem in the patient's body. Although it causes certain amazement, they are not complicated cases to treat. Depending on the cause, it can be treated with antibiotics and hormonal remedies. This situation rarely causes other health problems for the patient," Leandro Fonseca added.
Source: Oddity Central
LATEST: Ron95 and Ron97 Up Five Sen, Diesel Four Sen Higher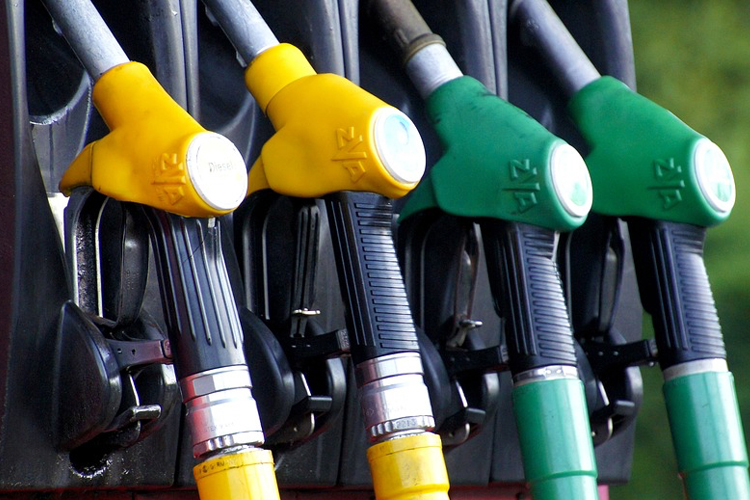 According to the statement release by the Ministry of Finance, RON95 petrol will be priced at RM1.68 per litre, up five sen per litre from the RM1.63 it was last week.
Meanwhile, RON97 petrol also sees a five sen hike to RM1.98 compare to RM1.93 last week.
These prices remain in effect until October 2, 2020.
Siaran Media Berkenaan Harga Runcit Produk Petroleum Bagi Tempoh 26 September 2020 Sehingga 2 Oktober 2020. pic.twitter.com/jjtAjTasPn

— Ministry of Finance🇲🇾 (@MOFmalaysia) September 25, 2020
Sources: MOF
Mine-Detecting Rat Named Magawa Wins The PDSA Gold Medal
Magawa, an African giant pouched rat has been successfully rewarded a prestigious gold medal for his work and dedication for helping out to detect land mines. This rat has sniffed out 39 landmines and also 28 unexploded munitions throughout his career.
Magawa has been presented with its Gold Medal by the UK veterinary charity PDSA. The award was given to the African giant pouched rat for "life-saving devotion to duty, in the location and also clearance of deadly landmines in Cambodia". Magawa has saved the place from a total of up to six million landmines in the southeast Asian country.
The PDSA's Gold Medal has been inscribed with the words "For animal gallantry or devotion to duty". Out of all the 30 animal recipients of the award, Magawa is the first rat that has been proudly awarded. This seven-year-old rodent has been trained by the one and only Belgium-registered charity called Apopo which is based in Tanzania. This specific facility has been raising all the animals. It also is famously known as HeroRATs. The purpose of Apopo to train all these animals are to detect landmines and also tuberculosis since the 1990s era. The animals will be certified after a year of hard work and also training.
Christophe Cox who is Apopo's chief executive told the Press Association news agency, "To receive this medal is really an honor for us". He also added, "But also it is big for the people in Cambodia, and all the people around the world who are suffering from landmines".
According to the facts stated by Apopo, Magawa is a born and raised African giant pouched rat in Tanzania. He weighs 1.2kg (2.6lb) and also is 70cm (28in) long. Even though his size is far larger than many other rat species, Magawa is still considered to be small enough and light enough that he does not trigger mines if he walks over them.
All the rats there are trained to detect and to be familiar with a chemical compound within the explosives. This means that they totally ignore the scrap metal and is able to search for mines more quickly. Once they find an explosive, they will immediately scratch the top to alert their human co-workers. Magawa is one of then rats that is capable of searching a field the size of a tennis court in just 20 minutes. This ability is something Apopo says would take a person with a metal detector between one and four days to be done.
Magawa only works for half an hour a day in the mornings and he also is nearing retirement age. The PDSA director-general that is Jan McLoughlin said his work with Apopo was a very "truly unique and outstanding" experience. Jan McLoughlin said, "Magawa's work directly saves and changes the lives of men, women, and children who are impacted by these landmines". She also added, "Every discovery he makes reduces the risk of injury or death for local people".
Sources: BBC News.