Four New Ministries In Cabinet For More Systematic, Focused Governance – Analyst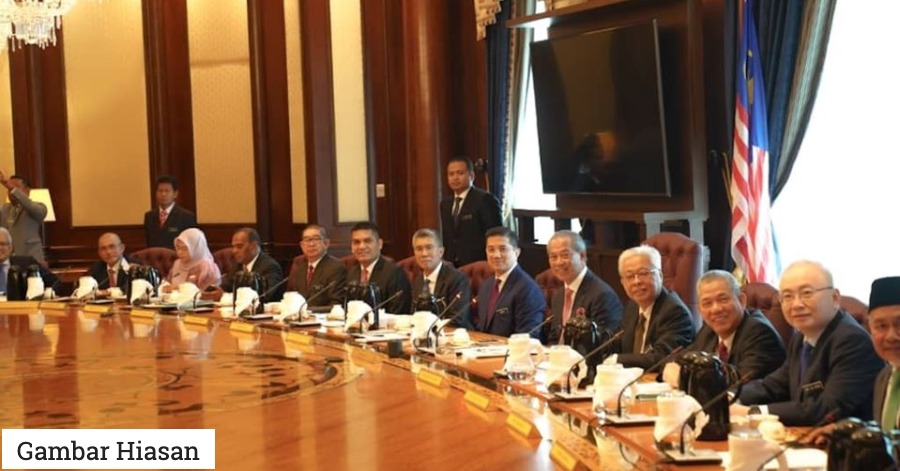 KUALA LUMPUR,  March 11 (Bernama) — The establishment of four new ministries in Prime Minister Tan Sri Muyiddin Yassin's cabinet will create an environment for a  more systematic and focused governance  which is capable of driving the country's development.
Director at the Centre for Media and Information Warfare Studies, Faculty of Communication and Media Studies,  Universiti Teknologi MARA (UiTM), Professor Datuk Dr Ismail Sualman, said the new ministries would also create a more efficient administration.
Muhyiddin, when announcing his cabinet line-up last Monday (March 9), named the four new  cabinet portfolios as Minister of Higher Education, Minister of Environment , Minister of National Unity and Minister in the Prime Minister's Department in-charge of Sabah and Sarawak Affairs and the National Unity Minister.
"These new ministerial portfolios, in general, involved the appointment of old and new leaders with experience," he said when contacted by Bernama today.
Ismail said the restructuring of the Ministry of Higher Education was a wise move as it would indirectly further facilitate the smooth administration of higher education in the country.
— MORE
CABINET-REACTION 2 KUALA LUMPUR
"The segregation of the level of education (by having Ministry of Education and Ministry of Higher education) is appropriate because the philosophy in higher education, as well as in primary and secondary education is different.
"For higher education, it is more focused on research and development (RnD), "he said.
On the establishment of the Ministry of Environment, he said, it was important to address issues on the environment, including river pollution due to dumping of toxic waste, like what happened to Sungai Kim Kim, in Pasir Gudang, Johor.
On the setting up of a special portfolio on Sabah and Sarawak Affairs in the Prime Minister's Department, Ismail said, it would ensure the voice of the people in both states is better heard.
"It will also make management of issues related to both states more focus," he added.
According to Ismail, the establishment of the National Unity Ministry will help the government to better tackle issues involving unity, as well as racial and religious sensitivities.
— MORE
CABINET-REACTION 3 KUALA LUMPUR
Meanwhile, a senior lecturer at the College of Law, Government and International Studies (COLGIS),  Universiti Utara Malaysia (UUM),  Dr Kamarul Zaman Yusoff said the new face in the cabinet  line-up announced by Muhyiddin should be given time to prove their capabilities.
He said this happened in the previous Pakatan Harapan (PH) government, with most of the ministers then not having the experience being in the cabinet.
"They had problems adapting themselves because many took office still with the mentality of an opposition, being the opposition for too long, but this is not the case with the ministers in the new cabinet, comprising mostly of professionals and those with calibre and integrity," he added.
He said this when asked on six individuals who were appointed as senators to hold posts in the cabinet.
They are the Mufti of the Federal Territories Datuk Seri Dr Zulkifli Mohamad Al-Bakri, who has been appointed Minister in the Prime Minister's Department in-charge of Religious Affairs; Tengku Datuk Seri Zafrul Tengku Abdul Aziz (Finance Minister); MCA deputy president Datuk Dr Mah Hang Soon (Deputy Minister of Education);  MCA vice-president Datuk Lim Ban Hong (Deputy Minister of International Trade and Industry); Barisan Nasional (BN) executive-secretary Datuk Dr Ahmad Masrizal Muhammad (Deputy Minister of Environment) and Bersatu Youth International Relations Bureau chairman Wan Ahmad Fayhsal Wan Ahmad Kamal (Deputy Youth and Sports Minister).
— MORE
CABINET-REACTION 4 (LAST) KUALA LUMPUR
Political analyst and lecturer at Universiti Sains Malaysia (USM) Center for Social Sciences, Prof Dr P. Sivamurugan said the performance of a government should not be seen in terms of the size of its cabinet, but the efficiency of its administration through the respective ministries.
"The appointment of cabinet ministers is the discretion of the Prime Minister depending on the country needs. So, I don't see the list of 69 people as ministers and deputy ministers in the cabinet is a problem. It looks big because we have four senior ministers and new ministries.
"It is the quality and achievements that we should see and evaluate," he added
In the previous PH government, the cabinet was made up of 56 members, with 28 of them were ministers.
— BERNAMA
Malaysian Teacher Samuel Isaiah Makes Final 10 For US$1 Mln Global Teacher Prize 2020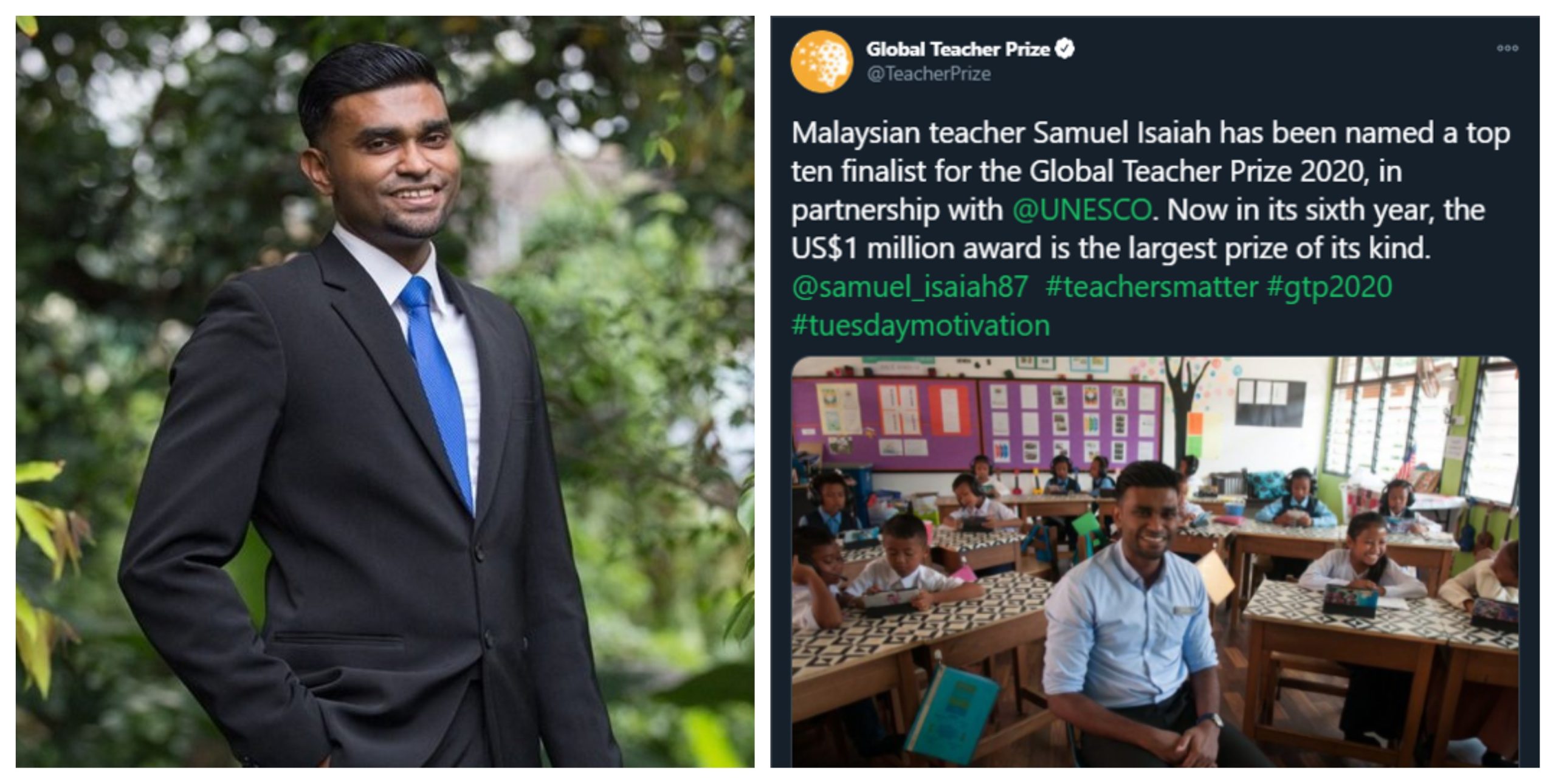 English language teacher Samuel Isaiah from Sekolah Kebangsaan Runchang school, Muadzam Shah, Pahang, has been named as one of the top 10 finalists for the Global Teacher Prize 2020, in partnership with UNESCO.
The Malaysian teacher was selected from over 12,000 nominations and applications from over 140 countries around the world, said a statement issued by the Varkey Foundation which the Global Teacher Prize is part of its long-standing commitment to improving the status of teachers.
Samuel introduced many innovations to inspire his Orang Asli students to dream big and crucially connect them to the outside world, including an e-mail exchange project called 'Asli E-Pal', where they communicate in English with adult volunteers all over Malaysia and overseas.
Malaysian teacher Samuel Isaiah has been named a top ten finalist for the Global Teacher Prize 2020, in partnership with @UNESCO. Now in its sixth year, the US$1 million award is the largest prize of its kind. @samuel_isaiah87 #teachersmatter #gtp2020 #tuesdaymotivation pic.twitter.com/8pAuRe9Mrk

— Global Teacher Prize (@TeacherPrize) October 27, 2020
Samuel also introduced the "Speak Up With Poetry" programme where he worked with amateur poets to write poems relatable to Orang Asli culture which his students would then watch in the form of guided videos to learn English.
The school's average pass rate in English had increased from 30 per cent in 2012 to between 80 per cent and 85 per cent in 2015-2018, said the London-based Varkey Foundation.
Other finalists are Ranjitsinh Disale from India, Olasunkanmi Opeifa (Nigeria), Jamie Frost (United Kingdom), Carlo Mazzone (Italy), Mokhudu Cynthia Machaba (South Africa), Leah Juelke (United States) and Yun Jeong-hyun (South Korea).
"Congratulations to Samuel Isaiah for being selected as a top ten finalist from such a huge number of talented and dedicated teachers. I hope his story will inspire those looking to enter the teaching profession and also highlight the incredible work teachers do all over Malaysia and throughout the world every day," said Assistant Director-General for Education at UNESCO, Stefania Giannini.
"The Global Teacher Prize helps put the teachers' voice at the heart of our mission to champion inclusive learning opportunities for children and young people all over the world, especially the most marginalised and disadvantaged, during this sudden and unprecedented disruption to global education.
"Since the coronavirus pandemic first emerged, we have seen 1.5 billion learners across the world impacted by school and university closures. But not all learners are being impacted equally. Governments must learn lessons and act decisively to ensure all children receive a quality education in the age of COVID and beyond."
The remaining two top 10 finalists will be announced one each week in the run-up to the Global Teacher Prize ceremony, which will be virtual for the very first time in its history due to the COVID-19 pandemic.
This year's Global Teacher Prize ceremony will be done virtually and is expected to take place on Dec 3, 2020, where the overall winner will be announced.
It will be hosted by English comedian, actor, writer and presenter Stephen Fry from the Natural History Museum in London.
"The Global Teacher Prize was set up to shine a spotlight on the important role teachers play in society. By unearthing thousands of stories of heroes that have transformed young people's lives, the prize hopes to bring to life the exceptional work of teachers all over the world," founder of the Global Teacher Prize, Sunny Varkey, meanwhile said.
"This year, more than ever, we have seen teachers go above and beyond to keep young people learning throughout the world. Teachers everywhere should be applauded for their creativity, compassion and resolve to fulfil every child's right to a good education."
The Global Teacher Prize winner will be paid the prize money in equal instalments over 10 years.
— BERNAMA
LATEST: Petrol Price RON97, RON95 Remain The Same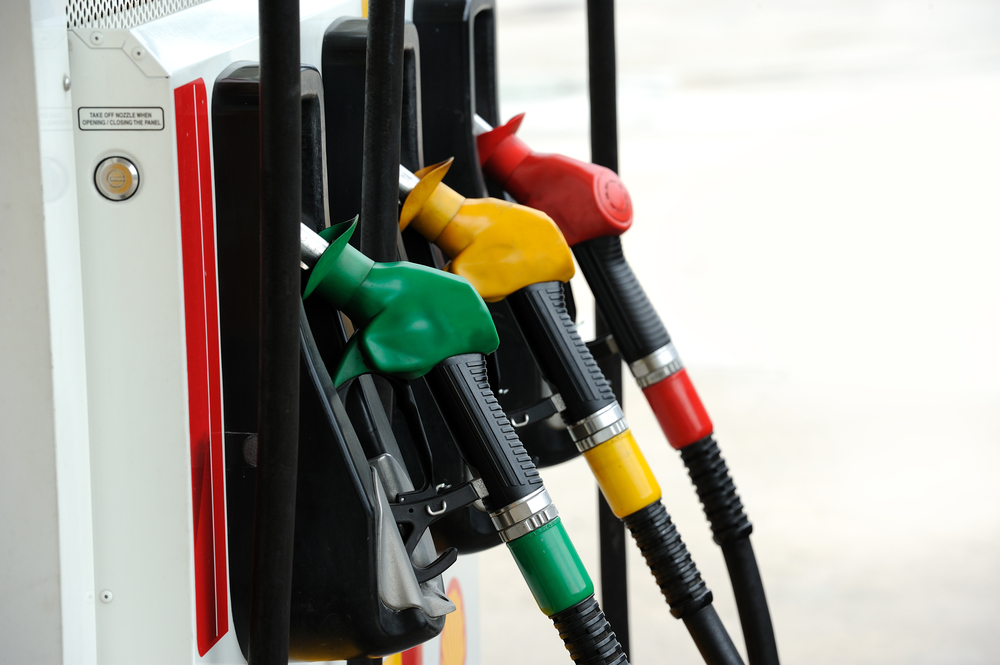 The Malaysian Ministry of Finance recently issued a media statement related to the retail price of petroleum products for the period of 31 October to 6 November 2020.
According to a statement released on Twitter, the retail price of RON97 petrol remains RM1.94 per liter, RON 95 petrol remains RM1.64 per liter, and Diesel also remains RM1.74 liter.
Siaran Media Berkenaan Harga Runcit Produk Petroleum Bagi Tempoh 31 Oktober 2020 Sehingga 6 November 2020. pic.twitter.com/lr6UfnZJeo

— Ministry of Finance🇲🇾 (@MOFmalaysia) October 30, 2020
Sources: MOF
Macau Scam: Remand of Datuk, Two Policemen Under POCA Extended by 38 Days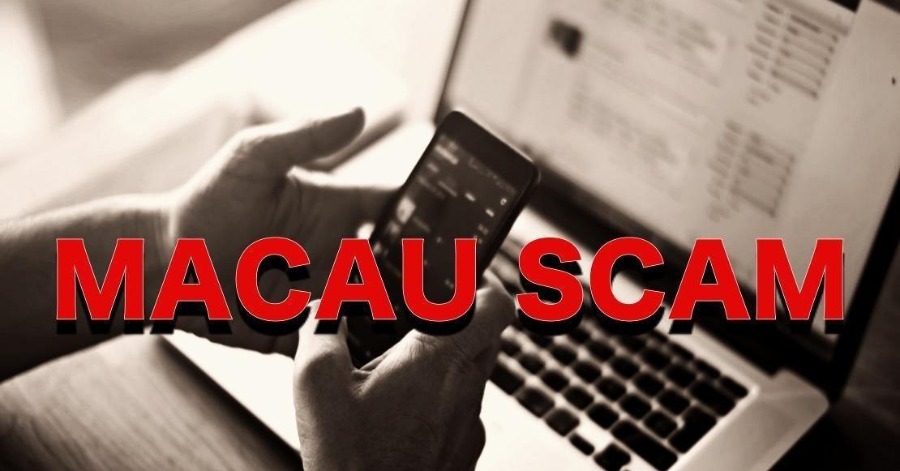 KUALA LUMPUR, Oct 30 — The remand period for a 'Datuk' and two policemen being investigated under the Prevention of Crime Act (POCA) 1959 in connection to an online gambling syndicate and Macau Scam activities was extended another 38 days by the Magistrate's Court here today.
Magistrate M. Mageswary allowed the police's application to extend the remand period against the suspects aged between 34 and 39 beginning today.
They were previously remanded under POCA for 21 days from Oct 11.
The remand proceedings of the three suspects who wore orange lockup attire began at 10.30 am and ended an hour later.
Lawyer Jacky Loi when contacted by Bernama confirmed that all the suspects were remanded according to Section 4 (2)(a) of POCA. Also representing the suspects were lawyers Gobind Singh Deo and Shahrizal Abdul Manan.
On Oct 13, Kuala Lumpur Criminal Investigation Department chief SAC Nik Ros Azhan Nik Ab Hamid said police had re-arrested the three individuals after the court rejected a remand order applied for by the Malaysian Anti-Corruption Commission (MACC) against them for their suspected involvement in online gambling activities.
He said they were re-arrested immediately after being released by the MACC.
Source: BERNAMA