Good Game Promise By JDT Against Suwon Samsung Bluewings
JOHOR BAHRU, March 2 —  Johor Darul Ta'zim promises a good and competitive game against South Korea's Suwon Samsung Bluewings as they battle for points at the AFC Champion League 2020 match to be held at the Sultan Ibrahim Stadium here tomorrow.
After watching the South Korean club's game against Vissel Kobe recently, JDT head coach Benjamin Mora admitted that tomorrow's match would be tough as Suwon players have greater advantages such as being physically strong, powerful, fast and skillful.
"We have been studying the team and they have good players. The Japanese club (Vissel Kobe) did not even have the chance to kill their moves, they struggled a bit as they played more defensive.
"I think it is going to be a difficult match. However, our preparations are still the same as always. I think with a lot of confidence,  we can push and fight and try to play our game as best as we can," he told reporters at the pre-match press conference, here today.
Also present were JDT captain Harris Harun, Suwon Samsung Bluewings FC head coach Lee Lim Saeng and Suwon player, Adam Taggart.
Meanwhile, Lim Saeng said as the team is adjusting to the hot weather, they would try their very best to gain three points tomorrow.
"I know it is not easy as Johor is a good team, six-time champions in a row and we respect that. Hopefully everything is ok," he added.
Taggart, meanwhile, said despite JDT's loss against Vissel Kobe recently, they would not underestimate JDT's capability.
"JDT is a big club with a great stadium, with strong supporters behind them as well as eight foreign players, which is a good mix up with the best local players, so I think it will be a tough match," said the Australian.
Super League: TFC Beat Selangor 2-1, Climb To Second Spot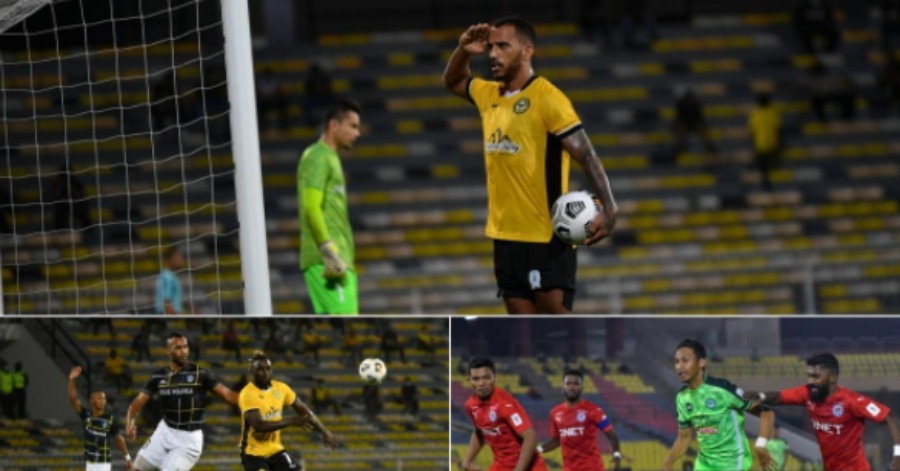 KUALA LUMPUR, May 9  — Terengganu FC (TFC) team climbed up to second place in the Super League table following a 2-1 comeback victory over Selangor FC at the Petaling Jaya City Council Stadium, tonight.
The Red Giants opened the scoring through a penalty kick by Nigerian striker Ifedayo Olusegun in the 49th minute after Brendan Gan's shot hit Mohd Nasir Basharuddin's hand in the penalty box.
However, Nafuzi Zain's squad equalised through Engku Muhd ​​Nur Shakir Engku Yacob in the 72nd minute, before a header by Spaniard Carlos de Murga in the 87th minute sealed the game for TFC.
Meanwhile, Sri Pahang FC stunned Perak FC 3-2 at the Perak Stadium in Ipoh.
The Tok Gajah squad opened the scoring through a powerful shot by Myanmar national striker Aung Kaung Mann in the 34th minute following a scramble in front of goal, while Australian import Kenjok Wal Athiu doubled the lead for the visitors in the 57th minute.
Perak FC managed to get back into the game 10 minutes later, as Brazilian import Leandro Dos Santos easily converted a spot-kick after teammate Mohd Shakir Hamzah was brought down in the penalty box by Sri Pahang FC defender Mohd Faisal Mohd Rosli.
Kenjok, however, continued to pile on the misery for the Bos Gaurus squad, as his header in the 88th minute beat Muhammad Hafizul Hakim Khairul Nizam Jothy to make it 3-1, while Brazilian import Raianderson pulled one back in the 90th minute for the home side.
Meanwhile, Melaka United FC were held to a goalless draw against Petaling Jaya (PJ) City FC at the Hang Jebat Stadium.
Today's results saw TFC leapfrog Kedah Darul Aman (KDA) FC (26 points) to second place in the table with 27 points after 13 matches, only three behind leaders Johor Darul Ta'zim (JDT).
Selangor (19 points) and PJ City (14 points) remained in fifth and eighth place respectively, while Sri Pahang FC (12 points) came out of the relegation zone by overtaking Perak FC (12 points) in ninth place, while Melaka United (11 points) remained in second-last spot.
The Malaysian League competition will now be taking a break, with the Premier League scheduled to resume on June 18 after the Aidilfitri celebrations, as well as to give way to the national squad to play in the 2022 World Cup/2023 Asian Cup qualifying campaign in the United Arab Emirates (UAE).
The Super League will only restart on July 9, after the group stage action of the Asian Football Confederation (AFC) Champions League involving JDT, and the AFC Cup group stage competition involving TFC and KDA FC.
Sources: BERNAMA
Muhyiddin Congratulates Pandelela On Winning Gold In World Cup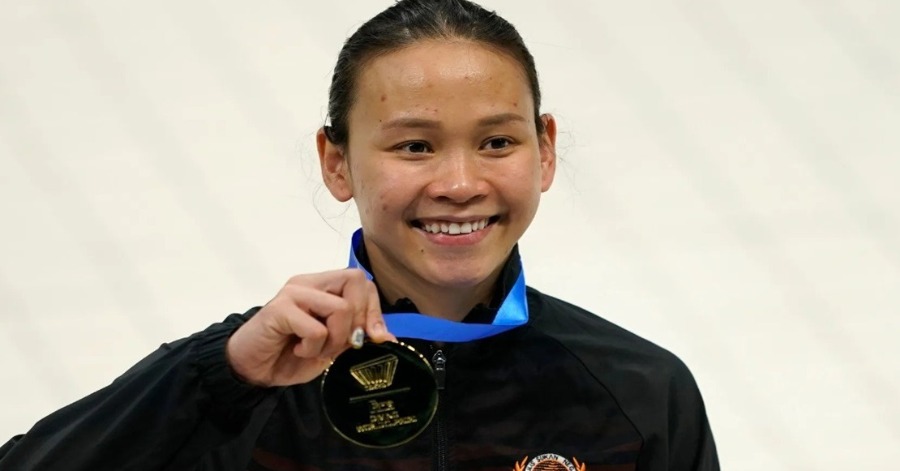 KUALA LUMPUR, May 6 — Prime Minister Tan Sri Muhyiddin Yassin today congratulated national  diving queen Pandelela Rinong for winning the gold medal in the women's individual 10 meter (m) platform event at the 2021 FINA World Cup diving tournament in Japan, yesterday.
In his speech, which was uploaded on his official Facebook page, Muhyiddin said Pandelela's hard work and commitment had ensured the Jalur Gemilang to continue to fly on the world stage.
"Congratulations! Malaysia is proud of you," he said.
The 28 -year -old athlete displayed an energetic and convincing dive to top the final which took place at the Tokyo Aquatic Center, Japan, by collecting 355.70 points after completing seven dives.
The success of winning the gold made Pandelela the only athlete to contribute a medal for the national diving team that took on the challenge to the World Cup this time.
Earlier, in the semi -finals, Pandelela finished third with 333.00 points behind Caeli Mckay of Canada, who scored 343.85 points, while Andrea Spendolini Siriex was in second place with 336.00 points.
Pandelela, Leong Mun Yee, Wendy Ng Yan Yee, Nur Dhabitah Sabri and Cheong Jun Hoong will take on the national challenge in the diving event at the Tokyo Olympic Games scheduled on July 23 to Aug 8.
Sources: BERNAMA
Jun Hoong Qualifies For Tokyo Olympics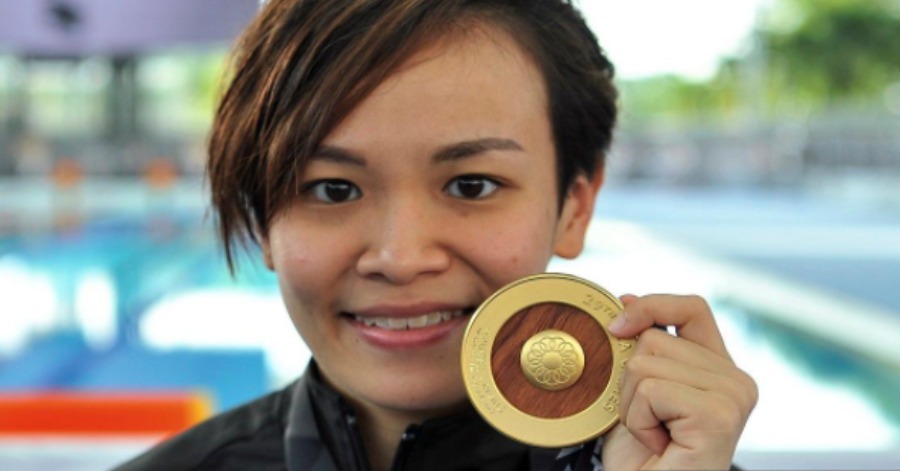 KUALA LUMPUR, May 4 — Former world champion Cheong Jun Hoong finally qualified for the Tokyo Olympics in July after taking top spot in the women's individual 10metre (m) platform preliminary round at the FINA Diving World Cup 2021 today.
Jun Hoong emerged victorious after collecting 345.30 points to advance to the semi-finals tomorrow at the Tokyo Aquatic Centre, Japan.
National Sports Council in its Facebook page today had confirmed Jun Hoong's Tokyo Olympics slot.
"Congratulations! Cheong Jun Hoong has successfully booked another slot at the 2020 Olympics in women's 10m platform event," it said.
Another national diver, Pandelela Rinong also advanced to the semi-finals as she finished the round in fourth place, with 325.00 points.
Meanwhile, Wendy Ng Yan Yee will have the opportunity to give the Malaysian contingent its first medal at the FINA Diving World Cup 2021 as she is set to feature in the women's individual 3m springboard finals later today.
Her achievement is a consolation after dive pair Pandelela-Leong Mun Yee missed the chance for a podium finish after coming in fourth in the women's synchronised 10m platform finals last Sunday.
The FINA Diving World Cup 2021, which is taking place from May 1 to 6, is the last qualifying championship for the Tokyo Olympics.
Jun Hoong made history when she became the first Malaysian woman diver to win the world title in the 10m individual platform event at the World Aquatics Championships in Budapest, Hungary in 2017, a year after winning the Rio Olympic silver medal with Pandelela Rinong in women's synchronised 10m platform.
Sources: BERNAMA