UAE Evacuates Arab Nationals From Wuhan, Evacuees To Receive Medical Care At Emirates Humanitarian City
ABU DHABI, March 5 (Bernama) — The United Arab Emirates (UAE) has coordinated the evacuation of Arab nationals from Wuhan City in China, reported Emirates News Agency.
The evacuees will be received at the newly-established Emirates Humanitarian City in the UAE, and will undergo medical testing and monitoring to ensure their health and safety.
The move follows the directives of President Sheikh Khalifa bin Zayed Al Nahyan as well as Crown Prince of Abu Dhabi and Deputy Supreme Commander of the UAE Armed Forces Sheikh Mohamed bin Zayed Al Nahyan to establish a healthcare facility that will provide the individuals hailing from neighbouring Arab countries with the necessary monitoring and preventative medical care following their evacuation from the epicentre of the COVID-19 outbreak – China's Wuhan City.
A special aircraft carrying some 215 individuals from Wuhan was equipped with HEPA cabin air filtrations systems, medical supplies and equipment necessary to carry out the evacuation procedure, along with medical response teams and cabin crew trained to carry out the evacuation.
The Emirates Humanitarian City has been set up as per the highest standards to facilitate high-quality care for individuals admitted, ensuring their privacy and dignity are maintained throughout their stay.
Individuals will undergo a 14-day quarantine period during which they will undertake the necessary medical and laboratory tests, and be monitored to ensure their health and safety.
The UAE Ministry of Foreign Affairs and International Cooperation and the UAE Embassy in China have coordinated with the embassies of the countries concerned to organise the evacuation process as part of the UAE's continuous efforts to enhance cooperation with the Chinese government to contain the spread of the virus.
— BERNAMA
(Video) Watch DG Hisham As A Superhero In 'Boboiboy' To Fight COVID-19
(Video) Singapore Invent New, Less Pain Breathalyser Test For Diagnosing Covid-19 Less Than A Minute
To detect Covid-19, people usually have to undergo an extremely crucial but also extremely uncomfortable and painful test at the same time and that would be the swab test. Many people have testified that this swab test certainly is not pleasant to be experienced but it is actually the most efficient way for anyone that wanted to get tested for Covid-19.
Worry no more because fortunately, with the advanced technology that we have nowadays, many people might be able to get tested for Covid-19 just by using respiratory tests instead of the painful swab test. This is because a group of researchers in Singapore have been developing a brand new kind of test that is able to detect the dangerous and deathly Covid-19 virus by just using an individual's breath and the whole process would only take less than a minute.
The National University of Singapore (NUS) has mentioned that the test would detect volatile organic compounds (VOCs) presents in the breath and this test also has achieved more than 90 percent accuracy in the results the entire time of its clinical trials. This test has been carefully conducted on a total of 180 patients.
For the procedure, all the patient needs to do is just exhale into a disposable mouthpiece that is connected to a very high-precision tester. The patient's exhaled breath then collected and fed into a mass spectrometer for measurement. This machine-learning software analyses the VOC profile and also generates the result in less than one minute.
This machine is named Breathonix and it is developed by NUS. It was claimed to offer a very fast and also convenient solution to identify Covid-19 infection for patients. The CEO, Dr. Jia Zhunan said that VOCs are consistently produced by various biochemical reactions in human cells. He also added, "Different diseases cause specific changes to the compounds, resulting in detectable changes in a person's breath profile. As such, VOCs can be measured as markers for diseases like Covid-19".
The Breathonix's chief operating officer Mr. Du Fang said, that the disposable mouthpiece has a one-way valve and a saliva trap that stops inhalation and any saliva from entering the machine, making cross-contamination unlikely.
Sources: The Straits Times.
COVID-19 Positive Cases Around the World Now Exceeds 41.59 million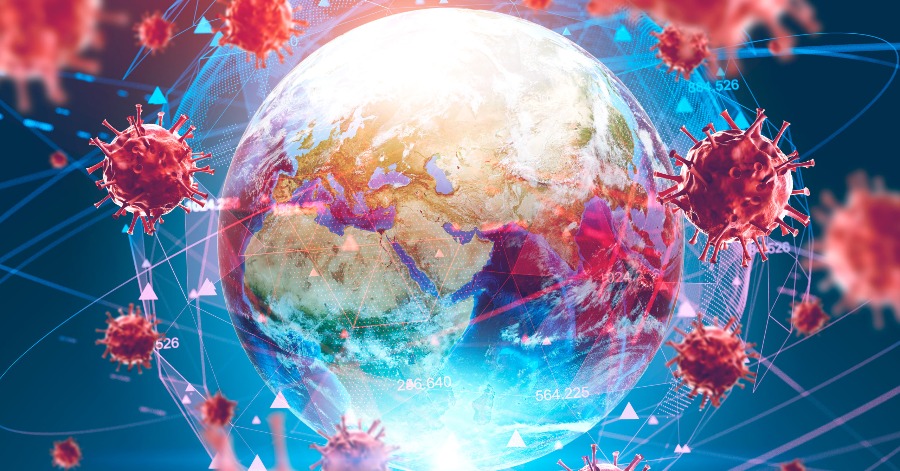 The cumulative number of COVID-19 positive cases worldwide now exceeds the figure of 41.59 million. This is due to more than hundreds of new infections being recorded within 24 hours.
According to the latest Johns Hopkins University data, it shows that the United States remains the worst affected country with 8.4 million cases.
This was followed by India with 7.7 million cases, while Brazil recorded over 5.29 million cases. The number of infections in Russia, France, Argentina, and Spain has exceeded 1 million cases.
Countries that exceed half a million are Colombia, Peru, Mexico, the United Kingdom, South Africa, and Iran. Countries in the range of 300,000 to 500,000 cases of COVID-19 infection are Chile, Italy, Iraq, Germany, Bangladesh, Indonesia, the Philippines, Turkey, Saudi Arabia, Ukraine, Pakistan, and Israel.
Other countries that exceed 100,000 to 300,000 are the Netherlands, Belgium, Czechia, Poland, Canada, Romania, Morocco, Ecuador, Nepal, Bolivia, Qatar, Panama, UAE, Kuwait, Oman, Kazakhstan, Portugal, Sweden, Egypt, Guatemala, and Costa Rica.
Source: Johns Hopkins University