It's Time For Frontliners To Have a Break, Onus Now On Public To Curb COVID-19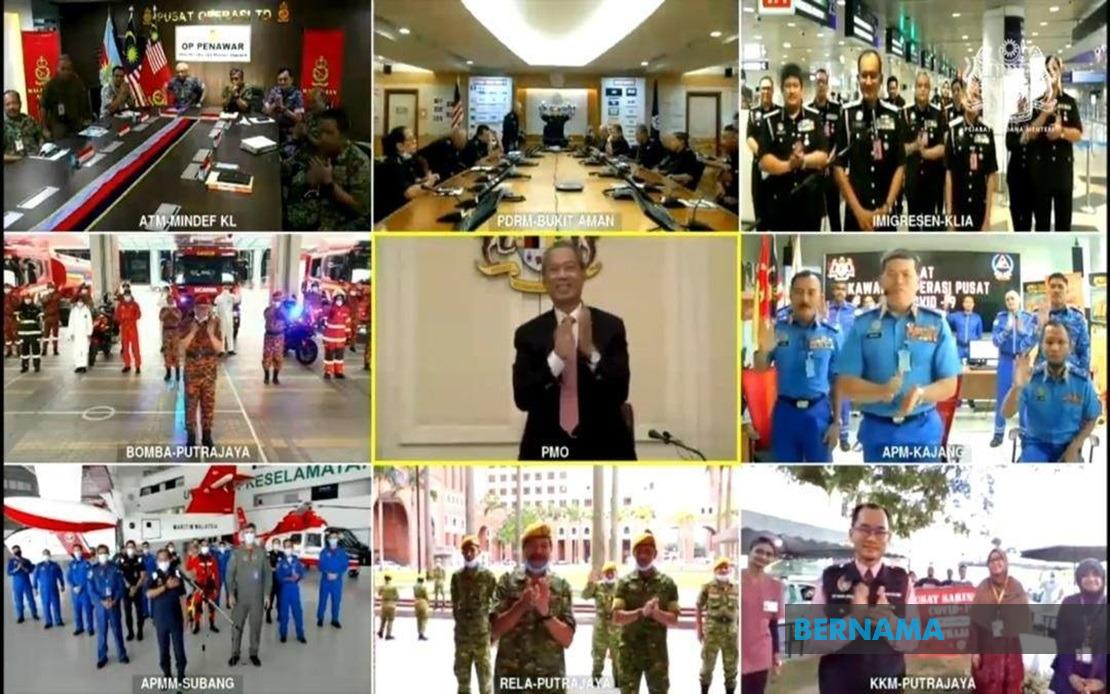 PUTRAJAYA, May 22 ) — The time has come for every Malaysian to hold the responsibility to curb the COVID-19 infection in the country and give a chance for the frontliners to have a little, but most deserved, break.
Prime Minister Tan Sri Muhyiddin Yassin said if the people were to play their part in complying with the standard operating procedures (SOP) issued by the Ministry of Health (MOH), by frequently wash their hands, wearing a face mask, checking their body temperature and observing social distancing at all times, the burden shouldered by the frontliners might be reduced.
"For months, they have stepped forward and worked tirelessly as the frontliners. Well, slowly but surely, after this, every member of the public may have to take the responsibility to ensure that the virus will not continue to spread.
"For example, if all the precincts in Putrajaya are (categorised as) green zones, then the onus is on the people there to keep it that way. That is not the responsibility of the MOH or the frontliners. It is up to the residents in each precinct to take care and protect themselves so that the COVID-19 infection will not recur in their respective areas."
He said this during a 30-minute video conference with representatives of the country's frontliners who have been battling the COVID-19 pandemic.
The video conference was participated by representatives from the Health Ministry, Malaysian Armed Forces, Royal Malaysia Police, Immigration Department, Fire and Rescue Department, Civil Defence Force, Malaysian Maritime Enforcement Agency, and the People's Volunteer Corps (Rela).
Elaborating, Muhyiddin said, from now on, local community leaders would also have to play their role to ensure that every member of their communities is ready to take steps to look after their communities before the government finally decides to end the Movement Control Order.
"The people must step forward and play their roles too…this is the approach we are taking from now on so that our frontliners can relax a little after working non-stop so tirelessly to the extent of having no time to return home to cook ketupat (and prepare for Aidilfitri), let alone to help their wives because they have so many things to do.
"With the approach, which we will take in phases, I anticipate that, very soon, our the frontliners will not have to carry 100 per cent of the burdens and responsibilities on their shoulders," he said.
During the video conference, Muhyiddin also expressed his thanks and appreciation to the contributions and roles played by all the frontliners in fighting the pandemic and wished them Selamat Hari Raya Aidilfitri and Maaf Zahir dan Batin.
— BERNAMA
30-Year-Old Son Allegedly Reports Mother For Kicking Him Out For Not Having A Job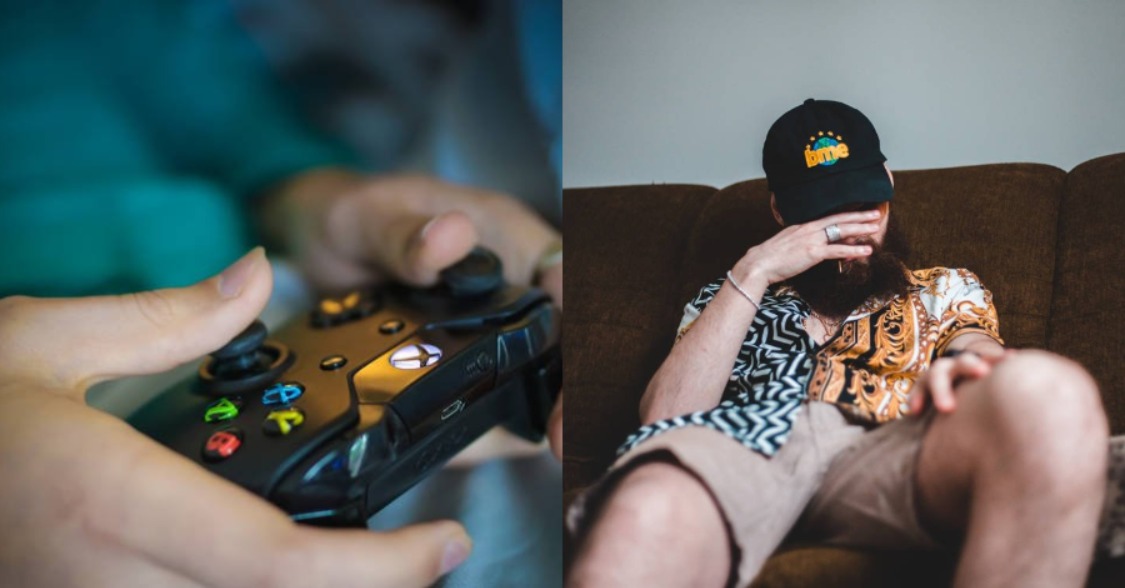 Mexico, a 30-year-old man allegedly reported his mother to the authorities for kicking him out of her house, because he didn't want to get a job or at least help her with chores.
Recently, Mexican media reported the case of a *C, a man who denounced his own mother and aunt to the before the Mexican Prosecutor's Office, accusing them of assault and harassments.
The man claimed that he was beaten out of the house by the two women, who also threw water on him, What he actually failed to tell the authorities was that he had been living at his mother's house for months, free of charge, without contributing to the family finances or even do the chores.
*C's mother explained that he had come to live with her at the beginning of the COVID-19 pandemic, just after losing his job. She was happy to help him, but he had only sitting on the couch and playing video games all day. To make everything worse, the man never helps with anything and expected everything to be served to him.
The mother had asked the son to find a job since Mexico started recovering after the lockdown and businesses started re-opening. The mother wanted him to contribute to the family budget, but he ignored her.
In an act of desperation, the woman admitted that she called her sister and together they threw *C out of the house, pouring water on him and hitting him with brooms.
Reported that *C complained that he was offended that his own mother threw him out and by the way she did it and that's why he filed a complaint against her.
Source: Oddity Central
Czech Republic And Slovakia Are Set To Declare COVID-19 State Of Emergency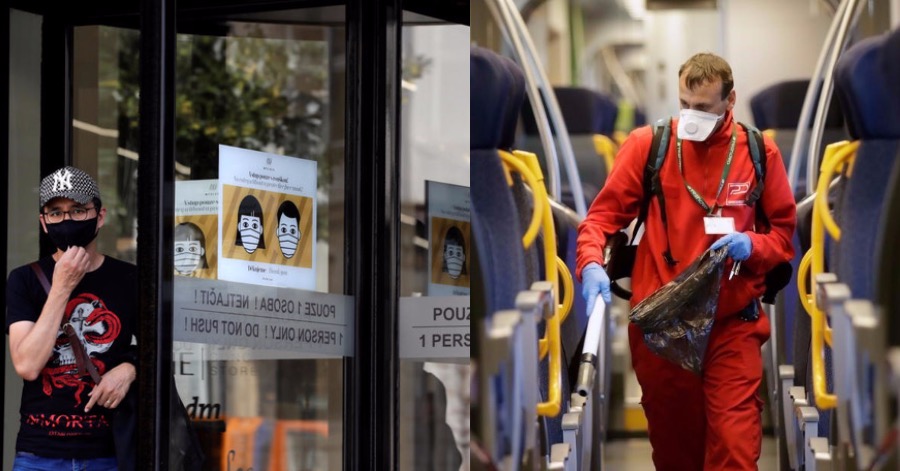 To prevent the spread of the COVID-19 epidemic, the Czech Republic and Slovakia will reportedly declare a state of emergency this week after the number of cases increased sharply.
Czech Prime Minister Andrej Babis expects that a state of emergency will be agreed after a meeting to be held on Wednesday.
The Czech Republic has recently reported an increase in COVID-19 cases making a total of 65,313 confirmed cases and 615 deaths.
According to the Jakarta Post, Babis decisions were also voiced by Slovakia Prime Minister, Igor Matovic who said the "extremely serious" situation called for "very bold decisions" following a meeting of his country's crisis management team.
If implemented, Slovakia will face a state of emergency for the second time to curb the spread of COVID-19. Under the proposed ban, all sporting, cultural and religious events will be banned from October 1.
Weddings and funerals will only be allowed if all participants can prove that they have undergone a negative test for COVID-19.
Restaurants, bars, and cafes will also be closed by 10:00 pm and if people who do not live in the same house approach two meters (six feet) outside the house, they should wear face masks.
Wearing a face mask is also mandatory when in public indoor spaces in Slovakia.
Source: The Jakarta Post
Hajiji Sworn In As Sabah's 16th Chief Minister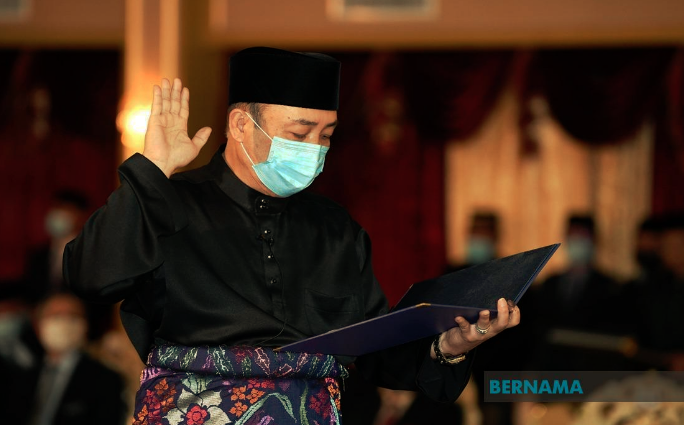 KOTA KINABALU, Sept 29 — Sabah Perikatan Nasional chairman and Sulaman assemblyman, Datuk Hajiji Nooryang was sworn in as Sabah's 16th Chief Minister today.
Also taking their oath before Sabah Yang Dipertua Negeri Tun Juhar Mahiruddin were the three Deputy Chief Ministers, namely Sabah Barisan Nasional (BN) chairman and Lamag assemblyman Datuk Seri Bung Moktar Radin, STAR president Datuk Dr. Jeffrey Kitingan (Tambunan assemblyman), and Parti Bersatu Sabah (PBS) vice-president Datuk Dr. Joachim Gunsalam (Kundasang assemblyman).
Bung Moktar also took his oath as State Minister of Local Government and Housing, Jeffrey (Minister of Agriculture and Fisheries) and Joachim (Minister of Industrial Development).
State Bersatu deputy chief Datuk Seri Masidi Manjun took his oath as Sabah Works Minister while PBS secretary Datuk Jahid Jahim was sworn in as State Rural Development Minister.
Also present at the ceremony were the Governor's wife Toh Puan Norlidah R.M Jasni, Senior Minister (Security Cluster) Datuk Seri Ismail Sabri Yaakob, who is also UMNO vice-president, Agriculture, and Food Industry Minister Datuk Seri Dr. Ronald Kiandee, who is also Bersatu vice-president and PBS deputy president Datuk Seri Radin Malleh.
Earlier, the leaders received their letters of appointment from Juhar.
After taking their oath, they signed the appointment letters, witnessed by Kota Kinabalu High Court Judge Datuk Martin Idang, before Sabah Mufti Datuk Bungsu Aziz Jaafar recited prayers.
Gabungan Rakyat Sabah (GRS) won the 16th Sabah election on Saturday with a simple majority to take over the state government from Warisan after winning 38 out of the total 73 state seats.
Sources: BERNAMA