Malaysians Love PM Muhyiddin's Humility, Sense Of Humour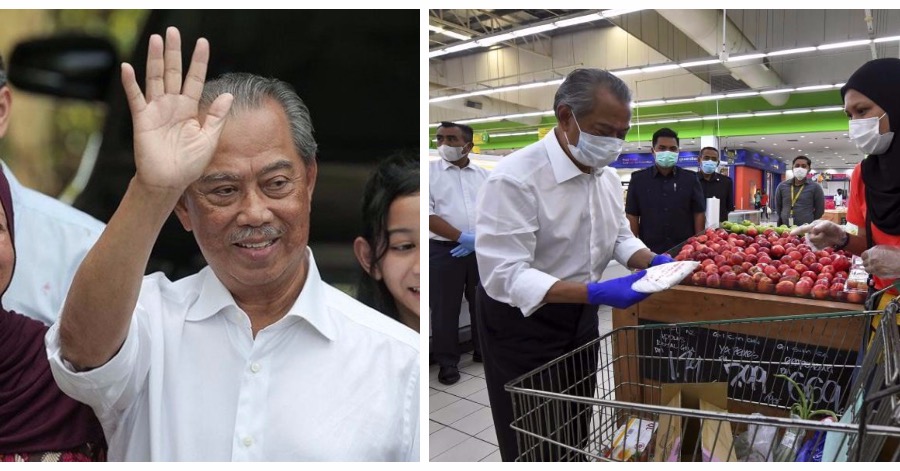 KUALA LUMPUR, June 9 — A leader, what more when he is the country's number one, is often seen as someone who is very busy with the country's administration, with no time at all to browse the social media for snippets into the lives of the ordinary people, or to humour them.
Nevertheless, Prime Minister Tan Sri Muhyiddin Yassin, despite being kept on his toes in having to manage the country and deal with the COVID-19 pandemic, maintains his humility and qualities of a good father that he has been nicknamed "Abah" (father) for sharing with the masses stories about ordinary people he got from the social media.
He clearly captured the people's attention and made it easy for them to understand the gist of his announcements relating to COVID-19 when he added in some viral information on what people do while being confined to their home during the Movement Control Order (MCO) or funny failed cooking attempts shared in the "Masak Apa Tak Jadi Hari Ni" group on Facebook.
The administrator of the group, Azlan Mohd Shukri, 47, described the Prime Minister's move in doing so as indirectly bringing him closer to the people, although some regarded Muhyiddin's antic as petty and nothing to shout about.
"It is not that the previous prime minister is not good, All prime ministers have their own approach, but when Muhyiddin speaks or says something which many may think would not matter to him, it surprises them, and that somehow proves that he acknowledges the people's efforts to fill their time at home during the MCO.
"There were times when he (Muhyiddin) dressed so casually when appearing on television to make announcements, in normal shirt, with folded sleeves which made the people feel closer to him, that he has been working tirelessly for the people," he told Bernama.
Other than viral stories and postings by netizens, Muhyiddin also recognised YouTube sensation S. Pavithra, 28, and her husband, M. Sugu, 29, and surprised them with presents four days after Bernama wrote a story on them.
"We are very grateful, we never expect the Prime Minister would know about us and our cooking channel," said Pavithra, whose Sugu Pavithra YouTube channel now has 626,000 subscribers.
Besides gifts, which included a tripod, a microwave oven, electric rice cooker and cooking products, from Muhyiddin, the couple also received a greeting card with a note saying: "With compliments from Tan Sri Muhyiddin Yassin. Keep up the good work. Just stay at home."
Sugu Pavithra shared her happiness with netizens and it received various reactions, including from one Awie Amri, who wrote: "Siapa sayang PM terbaru kita like sikit" (Who loves our new PM, click like) and Muhamad Syafiq Ahmad Zainal, who posted a comment "Perdana Menteri kita sporting dan kelakar" (Our Prime Minister is sporting and funny).
Others who praised the prime minister included a user by the name of VB Creation, who wrote: "Despite of his tight schedule, (he) has come forward to provide essential tools to enhance/encourage her (Pavithra) efforts to lift up better lifestyle. No PM had done this before, you have created history where it shows you care very much for the nation. Big salutation! God bless you always beloved PM. Amen".
When announcing additional measures under the Prihatin package for Small and Medium-sized Enterprises (SMEs) on April 6, Muhyiddin also brought smiles to the people when he said he was aware of people converting snippets of his speeches into a dance mix.
Rather than feeling annoyed, the prime minister went on to say that he is completely okay with it as it shows Malaysians' creativity.
The rap remix "ke sana, ke sini" that incorporated Muhyiddin's plea for the people to just stay at home was produced by Bass Agents, comprising two individuals,  Nick Chia and Chia Khoo Hoong.
"We thought it might be funny incorporating the Prime Minister's voice in our music to raise awareness," they wrote on their Instagram page.
The prime minister also displayed his sense of humour when telling the people that he knew of husbands wearing their wife's bat-like dresses, also of people riding bicycles in their house.
Although Muhyiddin mentioned them in his speech that was broadcast on television, the people could relate to it and made them feel closer to the prime minister.
" I hope it's nothing weird. That it's just something you do to get over boredom during MCO," Muhyiddin said.
On his 73rd birthday last May 15, Malaysians of all races, in a show of love for the prime minister, flooded his social media platforms with birthday greetings and well wishes.
Fatin Nazira Ammir Hamzah wrote "Happy birthday Abah…May Abah always be blessed by Allah and always in His protection. Continue to be strong in leading Malaysia".
Lee Seong Boon wrote "Tq PM Tan Sri Muhyiddin Yassin, Happy Birthday to you. God bless you abundantly", while Mageswari Murugiah posted "Happy birthday Tan Sri, the best Prime Minister for the rakyat during this testing times".
All these clearly show that Muhyiddin's casual and friendly attitude, as well as his humour, have won him the hearts of the people of various races. Thank you Abah!
Source: BERNAMA
MCO Throughout Kelantan Starting Tomorrow To January 26 – Ismail Sabri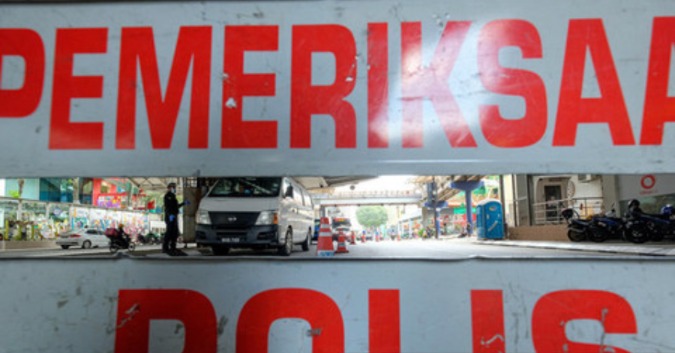 Senior Minister of Defense, Datuk Seri Ismail Sabri through a press conference held just now has stated that the state of Kelantan will be implemented Movement Control Order (MCO).
According to him, the decision was made after the Malaysian Ministry of Health reported a sharp increase in positive cases in the state of Kelantan.
"As of January 14, 2021, a total of 1,649 positive cases have been recorded in the state of Kelantan. Since January 10, 2021, the average daily cases have increased between 80 to 100 cases a day. While active cases also increased sharply within 14 days from 328 cases to 891 cases"
"MOH also confirmed that 90 percent of the districts in Kelantan are now in the red and orange zones. 7 red zone districts in Kelantan namely Kota Bharu, Bachok, Tumpat, Gua Musang, Machang, Kuala Krai and Tanah Merah".
"While 2 districts are the yellow zone, namely Pasir Puteh and Pasir Mas while 1 district is the orange zone, namely Jeli. Therefore, on the advice and risk assessment of the Ministry of Health Malaysia, a special session today agreed to implement the Movement Control Order (MCO) throughout the state of Kelantan from 16 to 26 January 2021". he said.
#PKP di seluruh Kelantan mulai esok hingga 26 Jan – @IsmailSabri60 pic.twitter.com/JHgN9nBpfJ

— BERNAMA (@bernamadotcom) January 15, 2021
Sources: BERNAMA.
Please See A Doctor If There Are Symptoms, This Doctor Has A Story To Tell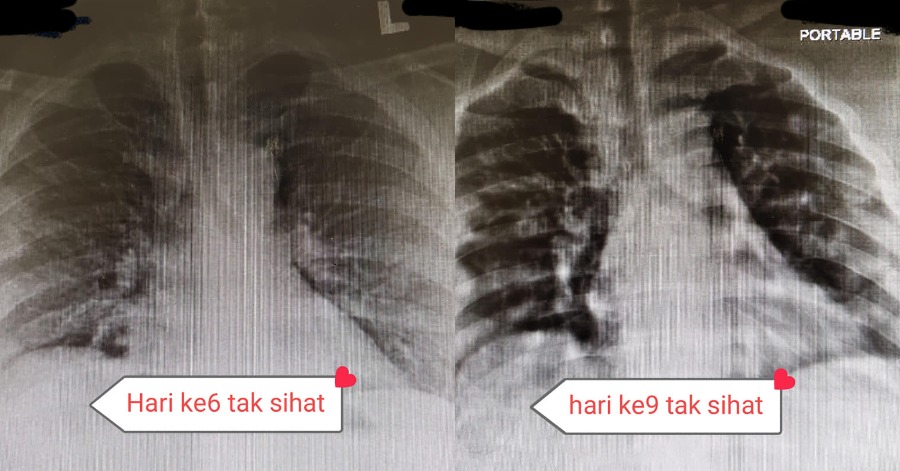 The number of positive cases for COVID-19 has been increasing by days even after a year of battling it here in Malaysia. Other than that, the number of death caused by COVID-19 has also been shockingly increasing and this has made everyone worried about this.
Despite all that, there are also people who still think that COVID-19 is just a conspiracy and never exists. Unfortunately, people who dare to say that got infected with this dangerous virus. The saddest part would be, their condition is getting worse day by day and they really regret what they have said.
According to a recent Facebook post by a doctor, she told the story of a patient who was stubborn and refused to admit that she had been infected with the Covid-19 virus. The doctor named Dr. Malar Santhi Santherasegapan has posted on her Facebook social media post to share the story of a female patient who came to the clinic for treatment because she felt a change in her body after three days.
According to the post:
"Unwell but no fever, cough, or flu. No loss of sense of smell. So what's sickness? Just feeling uncomfortable, no appetite and fatigue", said the patient.
"The third day she was feeling unwell, she went to the GP clinic, and was examined by a doctor who recommended her to take a Covid test. She did not want to because her husband does not believe in Covid. The doctor deliberately wants to make a profit. That's why they asked for a test", said her husband. Dr. Malar wrote that the patient did not have close contact so she could not be forced to do a swab test, so she had to be released with medication only.
It is understood that on the sixth day, the patient was still unwell, but the story is the same. The patient did not have a fever, and there are no other symptoms of Covid-19. This time around after examination, the doctor heard an unpleasant sound in the lungs. They conducted a chest x-ray and the doctor saw a 'Pneumonia'-like covid infection. Once again, they advised and persuaded the patient to do a swab test. Still, the patient rejected.
"Her husband said for sure that is not COVID-19 because Covid is a conspiracy", shared Dr. Malar. Due to the patient's stubbornness to take the swab test, her health condition worsened upon entering the ninth day. As her condition continued to worsen, the patient finally went to the hospital.
"Her breath seemed a little fast; she looked tired and breathless. The husband looked a little worried—oxygen in 94% -95%. Conducted x-ray again. That's it. Full-blown Covid-19 Pneumonia, it's nothing else!". This time, she just agreed to take a swab test. But her husband had a hard time saying, "You just made us take the swab test because you want to charge us expensively right?"
But the result of the RT PCR COVID-19 test swab is positive! The doctor was not surprised at all. According to Dr. Malar, what was surprising is the honest confession made by the patient as soon as their result was confirmed positive. They both admitted that they had a fever for 10 days, diarrhea 10-15 times a day because they are taking more vitamin C than they needed, which is why the kidney blood tests showed all the high numbers.
After being referred to the Covid hospital in the state, this patient is still dying and fighting for her life. Her husband is also positive and was given respiratory assistance. Both are in a coma. The doctor then posed a rhetorical question.
"Is this COVID-19 a hoax?". She wrote again.
At the end of her posting, the doctor advised. " Please go see a doctor and follow the doctor's advice if you have symptoms, whether there is a close contact COVID or not. Now there are so many symptoms that have just been detected as positive COVID. Not mcm before this where most patients are positive COVID, but not symptomatic".
Sources: Facebook Dr. Malar Santhi.
AirAsia Offers Free Delivery Service Throughout MCO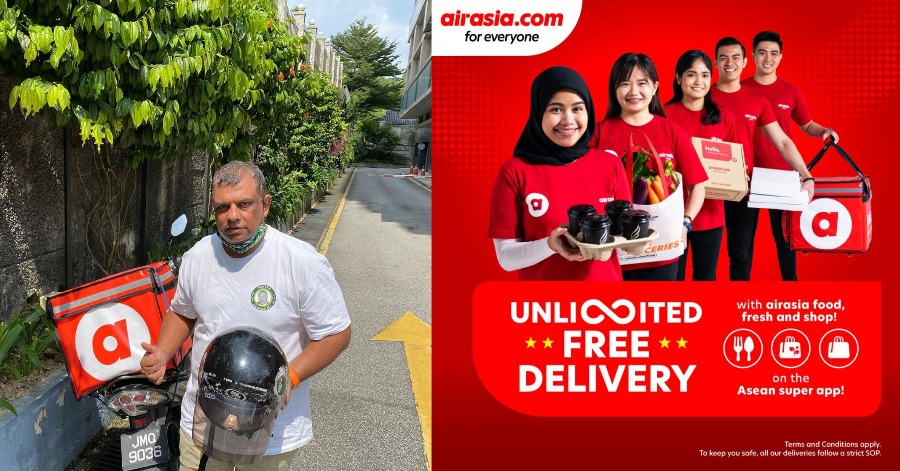 AirAsia has decided to offer an unlimited free delivery service for any purchase at their own AirAsia food, AirAsia fresh, and AirAsia shop during this MCO period. The true intention is to make it easier for all Malaysians to get necessities such as food, fresh products, groceries, and more while staying safe at home.
However, this free delivery service is only available in the Klang Valley only and will be offered in other areas soon.
AirAsia Food
AirAsia Food offers a wide variety of food options available to eat. Customers can also enjoy unlimited free shipping within 15km of your home. There are various dishes available such as Asian cuisine, western cuisine, desserts, bread, and many more.
AirAsia Fresh
In addition, customers can order fresh products such as meat, seafood, vegetables, and groceries online at AirAsia Fresh. With a minimum expenditure of RM30, you have the opportunity to enjoy unlimited free shipping using the promo code 'STAY HOME'. For this service, there is no set limit for free shipping distance. Alternatively, customers can choose delivery for the next day or delivery based on the time of choice.
AirAsia Shop
Through the AirAsia shop, customers can get products such as skincare, make-up, health, and so on. Just place a minimum order of RM30 to enjoy unlimited free shipping. No promotional code is required, however, you need to be around the Klang Valley only.
Sources: AirAsia Food, AirAsia Fresh, AirAsia Shop.