Newlywed in Japan Will Receive RM23,600 From Government To Boost Childbirth Rate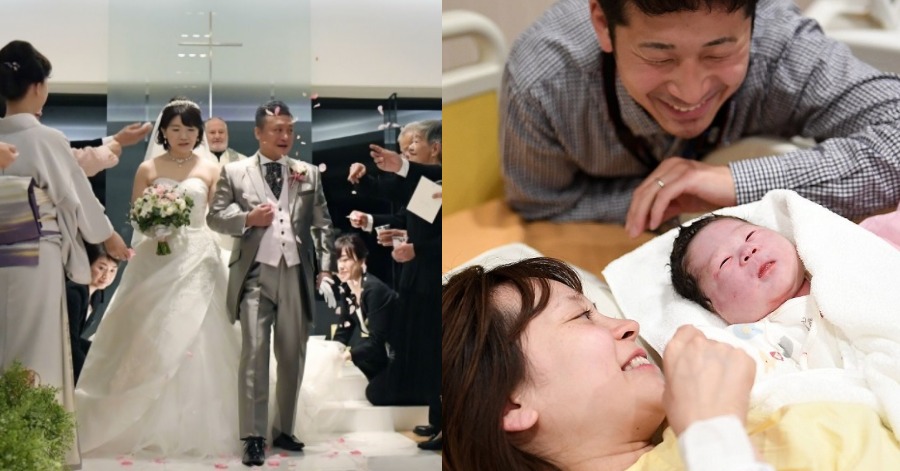 Surviving life in Japan can be very competitive. Many Japanese can fall into being a workaholic as they have to strive hard in their work for a living.
Due to this, most Japanese are too focused on their work and give less attention to their own life. Even to the extent, they avoid getting married as it would cost them money and they have to work harder when they have children. This has lead Japan to have a low childbirth rate.
In order to overcome this matter, the Japanese government is taking a new measure to encourage the citizens to get married by giving a grant of 600,000 yen (about RM23,600) to newlywed.
Financially stable is something that is so important in Japanese society. Thus, the government decided to give the grant to help couples covering the budget for their wedding.
Before this, the government already implemented the grant of 300,000 yen to the newlywed with higher eligibility requirements. This time, the Japanese government had lowered the requirements. Starting from next year, a newlywed whose age 39 or younger and household income of 5.4 million yen will be eligible to receive the grant.
The government hopes that the grant will be helpful to cover living expenses for them after getting married. The grant is expected to be given to citizens who are going to marry starting from April next year.
Source: soranews24.com
Shop Review: 'BeliGas', A Malaysian Start Up Shop That Can Deliver Cooking Gas Within Klang Valley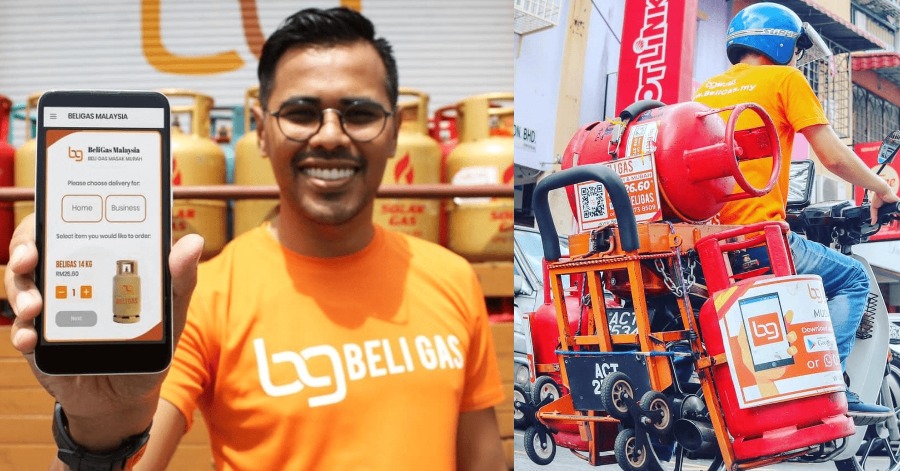 For all the people who live in Klang Valley, worry no more if one of your inconveniences would be to buy cooking gas due to its high price or even due to there is no shop that sells cooking gas near your area especially during this MCO 2.0. This is because there is a new Malaysian start-up cooking gas delivery service that is based in Klang Valley and the shop is called 'BeliGas'.
BeliGas does cover over 100 service areas in the Klang Valley area, offering cooking gas delivery starting from only RM26.60 per 14kg tank and also as quick as 1 hour delivery to your own very doorstep.
This company was started by Suthan Mookaiah, and it aims to provide a cooking necessity at this time through a convenient app.
The app for BeliGas could be obtained on Google Play Store by clicking this link: BeliGas App On Google Play Store.
Suthan Mookaiah shared BeliGas' story to the official Facebook group on the 1st of December 2020 in hopes of gaining support for the shop and also it's delivery riders. This is because most of BeliGas's young workers belong in the B40 group or even Malaysians whose incomes are in the bottom 40% household bracket. Many of them had also been left jobless due to COVID-19.
This is the recent BeliGas Cooking Gas Pricing:
The main reason why they're able to offer the lowest prices is that they work directly with LPG gas suppliers which means cutting off middlemen and logistics inefficiencies to reduce cost. All their service outlets follow these refill and delivery prices per 14kg Liquefied Petroleum Gas (LPG) tanks of Solar and Petron:
1 Day Pre-Order (RM25.60)
Same Day Delivery (RM26.60)
Urgent 1 Hour Delivery (RM29.60)
Night Delivery (RM38.60)
Surcharge for Condo, Apartment, High-Rise buildings (RM3.00)
Don't worry if you currently don't use Solar or Petron tanks, because BeliGas will switch for you with no extra cost.
For more details, you guys can look up information on the BeliGas Facebook page and also Instagram Page.
They provide their cooking gas delivery service in the 81 main areas referred to below:
Sources: BeliGas.
(Video) Popular Actor, Aeril Zafrel Announced He Is Confirmed Positive COVID-19
Popular actor Aeril Zafrel through his official Instagram account has confirmed that he was infected with the COVID-19 virus after doing a swab test last Tuesday.
According to him, he only found out that he was positive for the virus after the test results came out on Wednesday.
He is now reportedly quarantining himself for 10 days at his home. To find out more, follow the post he made on Instagram as follows:
Assalamualaikum you all…
last night I got the news I positive COVID-19.
Monday…
I went to my p.a / manager's house because he had a fever.
So I went there because it is my habit that I will take care of him if he is seriously ill before this.
So because the day is over so I decided to sleep there.
Tuesday, the next day I took him to the clinic and took a PCR test swab once with me.
Then I met the staff for a briefing launching a virtual online product at the end of this month, and I went home immediately.
Wednesday.
the result came out and I & manager positive
Immediately I called @kumpulan_megaklinik_zahran for my family and staff test swab because I met them…
RTK test swabs are all negative and are still waiting for the PCR result, pray for the negative as well.
Now I am self-quarantined near the upstairs room, I want to fill this 10 days with various activities in the room, pray guys. Now my manager has recovered and no more fever. But still self-quarantine.
View this post on Instagram
Source: Aeril Zafrel
Sales Advisor Shares 8 Perodua Cars That You Can Buy For The Monthly Payment Around RM400-RM500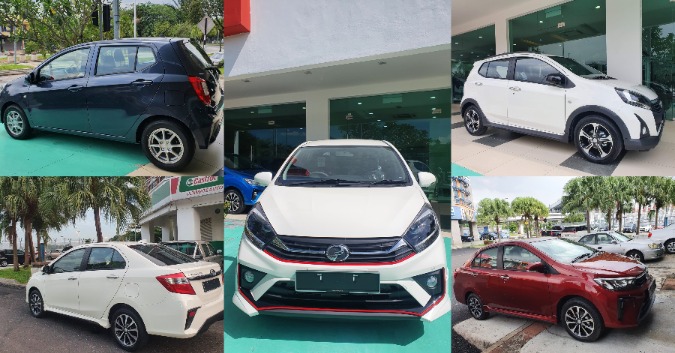 It has been a lifelong dream for everybody to own their personal car that they can buy with their own money. The only problem that most people have is that they do not know what kind of car is suitable within their monthly budget. This type of decision is something that people have to make carefully so that it won't burden them.
One particular authorized and certified Sales Advisor Perodua named Nur Syahira took it to her own official Twitter post to help all the Malaysians out there to own their personal car. This time around, she gave advice about what kind of car that people with a monthly budget of RM400-RM500 can get.
For more details about other cars that are available, feel free to contact Miss Nur Syahira on Twitter that is @mssyahira, or even Whatsapp: 60 17-515 1705.
Sebagai Sales Advisor (SA) Perodua, aku suka cadangkan customer beli kereta ikut kemampuan masing-masing. Pakai kereta ikut bajet bulanan yang korang boleh bayar.

Thread ni aku nak listkan kereta apa yang korang boleh beli dengan bulanan RM400 – RM500 je.

— Nur Syahira (@mssyahira) January 20, 2021
According to Nur Syahira, these are 5 suitable auto cars for a monthly pay of RM400-RM500:
1) Axia Standard G
Monthly payment of RM364.

Downpayment 10% RM3500.

A USB port on the radio.

14-inch rim.

5 seater.

Bonnet can hold 4 pieces of luggage.

Power window.

Electric power steering.

There is ABS with EBD.

Basic spec suitable for parents who want to go to the market.
2) Azia Gxtra
Monthly payment of RM381.
Downpayment 10% RM3600.
Same spec as Axia G but more safety features.
Can adjust driver seat (raise and lower).
Reverse sensor.
ABS with EBD.
There is traction control.
Seatbelt reminder.
Power window.
Retractable side mirror.
3) Axia SE
Monthly payment of RM419.

Downpayment RM3988.

Push start button.

There is a fog lamp.

Reverse sensor.

Front corner sensor.

Isofix system.

There are safety tinted windows.

ABS with EBD.

There are VSC and TRC.

Many more safety features.
4) Axia Style
Monthly payment of RM419.

Downpayment RM3988.

Same price as Axia SE.

Push start button.

Stylish design because there is a dummy roof-rail on the car.

Slightly large rim 15 inches.

Denim type seat.

There are TRC and VSC.

ABS with EBD.

Isofix system.

There are safety tinted windows
5) Axia Advance
Monthly payment of RM464.

Downpayment 10% RM4310.

Push start button.

More safety features than other Axia.

Full spec.

Steering leather.

There is advanced safety assist (ASA) 2.0.

There is a reverse camera.

There is a radio screen with a smart link, Bluetooth, GPS.
6) Bezza Standard G
Monthly payment of RM396.

Downpayment 10% RM3800.

Cc 1.0.

There is side skirting.

14-inch rim.

LED headlamps.

There are a USB and Bluetooth.

Auto-off headlamps.

Electric power steering.

Reverse sensor.

ABS with EBD.

Large bonnet 508 liters.
7) Bezza Premium X
Monthly payment of RM477.
Downpayment 10% RM4430.
Cc 1.3.
Push start button.
Side skirting is also available.
There is a fog lamp.
There are a USB and Bluetooth.
Front corner sensor.
There is safety tinted.
15-inch rim.
Dwi-tone Rim.
8) Myvi Standard G
Monthly payment of RM482.

Downpayment 10% RM4680.

There are 4 Airbags.

Rim 14 inches.

Cc 1300.

There are TRC, VSC, ABS with EBD.

Front corner sensor.

Reverse sensor.

USB and Bluetooth
Sources: Twitter Nur Syahira.