Netflix has become a place for us to drooping tired after a long day of work. It also is a way for us to keep in touch with pop culture, especially during epidemics COVID-19 attacking the world and force us to remain seated in the house.
In a study published by a pro-consumer research company Comparitech, they reveal the cost of Netflix plans around the world, and what's surprising is that Malaysia is among the countries with the lowest Netflix plan.
Their study is based on the number of TV series and movies available in 39 countries around the world. This amount is then divided by the monthly subscription price to determine the cost for each country each month.
Comparitech found that Netflix subscription prices in Brazil, South Africa, and India are the cheapest in the world. While the two Southeast Asian countries, the Philippines and Malaysia are also included in the list of countries with the lowest Netflix plan.
Netflix among three plans – basic, standard, and premium – the Philippines and Malaysia remained in 10 countries with plans to save. Philippines has 5,507 TV series and movies in the database, while Malaysia has 5,679 TV series and films.
Consumers in the Philippines to pay approximately US $ 0.00051 (PHP0.025) every TV series and movies, while Malaysians pay about the US $ 0.00058 (RM0.0024) each for each of TV series and films.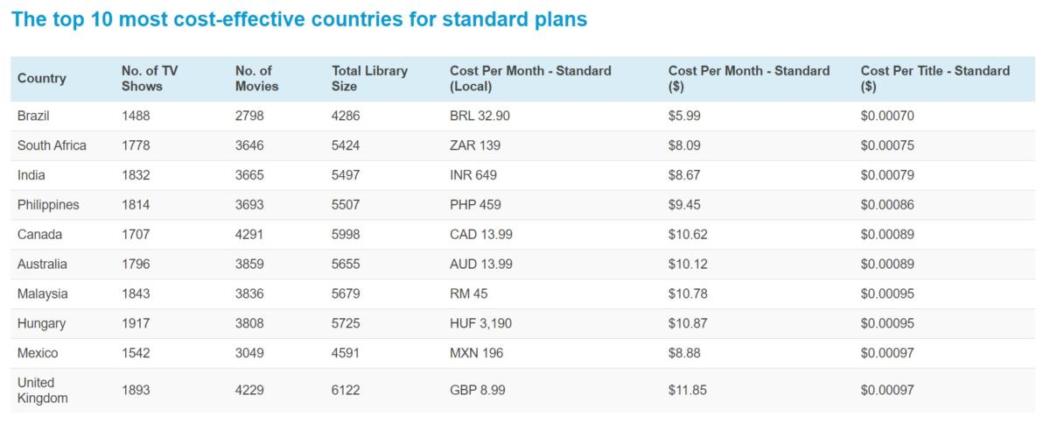 Sources: Comparitech.com