MyTravelPass Applications Can Be Made From Oct 8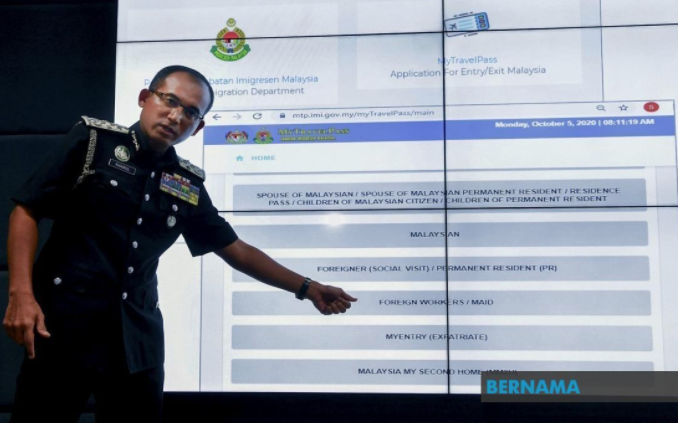 PUTRAJAYA, Oct 8  — Beginning today, applications to enter and exit the country for Malaysians and foreigners, during the Restoration Movement Control Order (RMCO) until Dec 31, can be done via MyTravelPass which can be accessed at the Immigration Department website.
Immigration director-general Datuk Khairul Dzaimee Daud said that the approval process for applications made under MyTravelPass will take about five working days.
"If a person needs to enter or leave Malaysia on the 10th day, the MyTravelPass application must be submitted to the department before the fifth day. The application must include the relevant supporting documents," he said in a press conference here today.
The categories of applications that can be submitted through MyTravelPass include the reciprocal green lane (RGL) pass; periodic commuting arrangement (PCA) pass; spouse of Malaysian and spouse of permanent resident or residence pass and for dependent visa applications, he said.
Other categories include applications for foreign maids and temporary work visit passes, applications for entry by expatriates, and applications by foreigners under Malaysia My Second Home ((MM2H), he said.
"Status of application, whether successful or otherwise, will be sent via email. Those who submitted false declarations, information, or documents can be prosecuted under the Immigration Act. The application will be made easy but approval is not guaranteed," he said.
Previously, during the implementation of the Conditional Movement Control Order (CMCO), applications to enter and exit the country by Malaysians and foreigners were carried out via email.
It had caused the department to receive complaints about delays in obtaining results because too many emails were received, of up to 8,000 emails at any one time, he said.
He added that the list of categories under MyTravelPass is likely to be reviewed after RMCO ends on Dec 31, but it will depend on the situation at that time.
"For locals and foreigners who fall into the categories which are allowed to leave or enter the country directly without having to apply for prior approval, this permission is still in force and they don't need to use MyTravelPass," he said.
The MyTravelPass system was developed by the department's Information Technology Division and is a government initiative to strengthen the delivery system.
Sources: BERNAMA
SPM, STPM 2021 Candidates Will Be Vaccinated With Pfizer-BioNTech From July – Khairy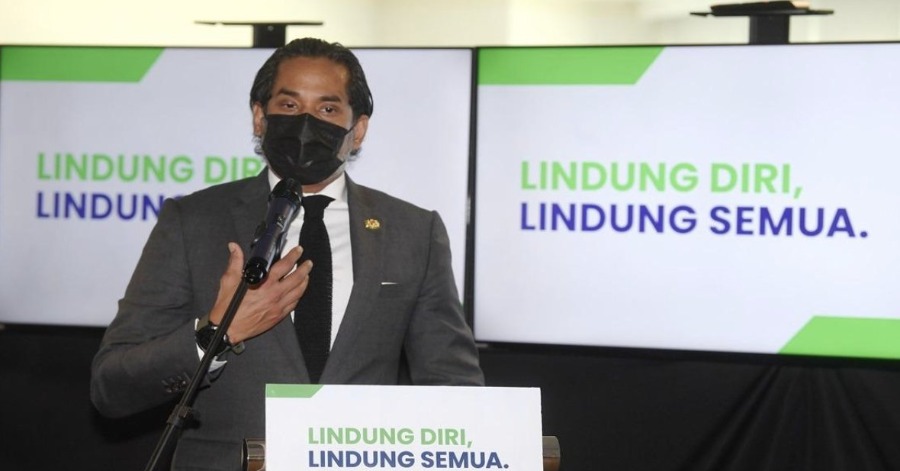 KUANTAN, June 18  — The candidates for Sijil Pelajaran Malaysia (SPM) and Sijil Tinggi Pelajaran Malaysia (STPM) 2021 will be vaccinated with the Pfizer-BioNTech vaccine starting next month, said National COVID-19 Immunisation Programme Coordinating Minister Khairy Jamaluddin.
The vaccine shots will be administered at schools that will be used as vaccination centres (PPV), he said.
"We will start giving the vaccine to them in July as a preparation before they return to school later," he told a press conference after attending the Pahang-level COVID-19 Immunisation Task Force (CITF) meeting here today.
Also present were Pahang Menteri Besar Datuk Seri Wan Rosdy Wan Ismail and state Secretary Datuk Seri Dr Sallehuddin Ishak.
Yesterday, Senior Education Minister Datuk Dr Radzi Jidin said the COVID-19 Immunisation Task Force (CITF) has agreed to the Education Ministry's (MOE) proposal that students sitting for major examinations this year be given the priority to be vaccinated.
Radzi said this was due to the National Pharmaceutical Regulatory Agency's (NPRA) approval of the use of the Pfizer-BioNTech vaccine for children aged 12 and above.
Sources: BERNAMA
Safawi Apologizes For 'Unpleasant' Goal Celebration Against Thailand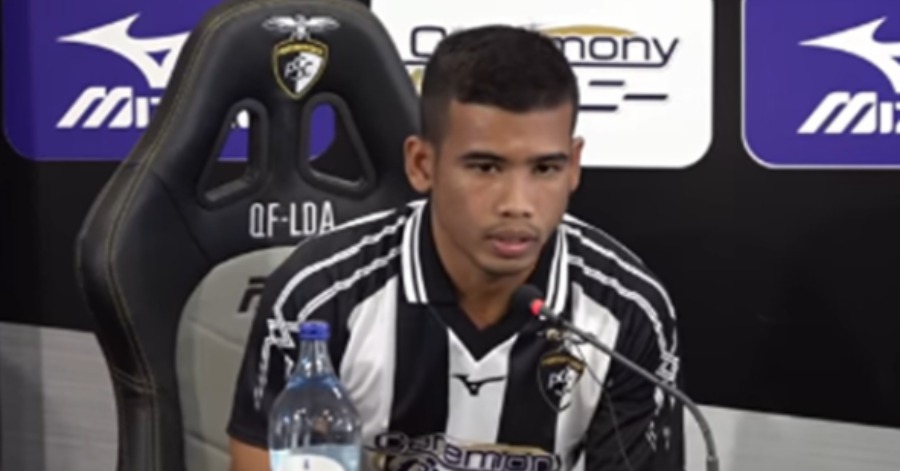 KUALA LUMPUR, June 18 — National winger Muhammad Safawi Rasid has apologized for the way he celebrated after scoring the goal that saw Malaysia beat Thailand 1-0 in their final Group G match in the second round of the 2022 World Cup/2023 Asian Cup Qualifiers on Wednesday.
The Johor Darul Ta'zim (JDT) mainstay, who was also named the country's Most Valuable Player at the National Football Awards for two straight years in 2018 and 2019, has given an assurance that he would not repeat the "unpleasant" goal celebration.
"Alhamdulillah, grateful and thank you to all the supporters who are always behind us. I apologize for the celebration that was not very pleasant. It will not be repeated, sorry one more time," he tweeted.
In the match against Thailand, Muhammad Safawi, 24, who took to the field as a second-half substitute, emerged as the hero when he slotted home from the penalty spot to help the Harimau Malaya tame the War Elephants 1-0 at the Al Makhtoum Stadium in Dubai, the United Arab Emirates (UAE).
It was his third goal in the qualifying campaign, having scored a brace in the 2-0 win over Indonesia at the National Stadium in Bukit Jalil in November 2019.
However, some fans deemed his behaviour in celebrating the 52nd-minute goal against Thailand as being over the top, especially since he has not been performing up to par so far this season.
Muhammad Safawi had, after scoring, sprinted to the corner flag while pretending to press a keypad before putting his index finger to his lips.
Sources: BERNAMA
(Video) Lucky Them! These States Lifted Up Most Covid-19 Restrictions After Achieving Vaccination Milestones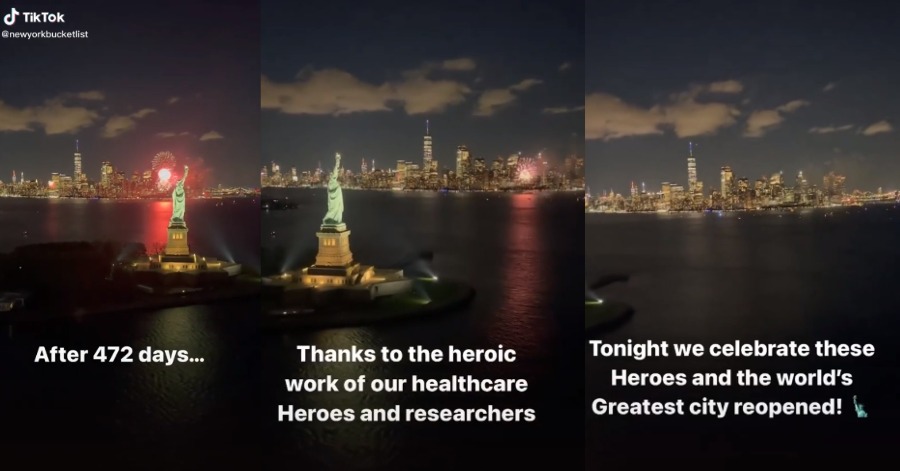 California and also New York are the two states that imposed strict COVID-19 measures throughout the pandemic and also were among the hardest hit have recently lifted most restrictions on the 15th of June to much fanfare. They had lifted virtually all coronavirus restrictions on businesses and social gatherings as both states hit milestones in vaccinating their residents.
Most states have lifted all or most of their COVID-19 restrictions, with remaining measures typically involving mask use for unvaccinated residents. Among those states that haven't yet, Washington is set to lift all restrictions by the 30th of June and Maryland and Michigan by the 1st of July. New Mexico is set to end restrictions by the 1st of July.
@newyorkbucketlistNew York has lifted all COVID restrictions! Thank you to all of our heroes ❤️ Shot on a @flynyon 🚁 tonight by Bucket Listers
In New York, where 70 percent of adults have received at least one dose of the vaccine, the order from Governor Andrew Cuomo means that restaurants will no longer be forced to space tables 6 feet apart, movie theatres will be allowed to pack their auditoriums without spacing seats apart and entrance to commercial buildings would not require a temperature check.
In California, the most populous state and the first to implement a stay-at-home order, that meant the end of a county-level, color-coded system that guided capacity limits and other mitigation measures. Venues, restaurants, and bars can now operate at 100% capacity, indoors and out.
Even with the restrictions lifted, California and New York residents should still expect to see some signs of pandemic life. Both states will still abide by mask guidance from the Centers for Disease Control and Prevention, which has advised that unvaccinated people should wear masks indoors and maintain social distancing.
Sources: New York Times, TikTok New York Bucket List.