Universiti Malaya (UM) has decided to cut off a few of its fees for students to pay during this COVID-19 pandemic situation. UM will be reducing its services fee with the total amount of RM120 through its student welfare initiative.
https://www.facebook.com/UniversityOfMalaya/posts/10158438539505255
According to the statement posted on official University Malaya's Facebook social media platform, they have explained that they will cut off the total amount of RM120 for their services fee and this will be done for three semesters. This decision is particularly made in accordance with the "Bantuan UM Prihatin" initiative.
The services fee said in the statement are including all charges for sports, library facilities, information, and also communications technology. Other than that, it will also include welfare and health which may cost around RM235 to RM337 if it has to be paid normally for every semester.
The specific semesters affected by the fee reduction would be the Semester 2, Session 2019/2020, and also Semester 1 and 2, Session 2020/2021. Gladly, the discounts would apply to both local and international students of UM.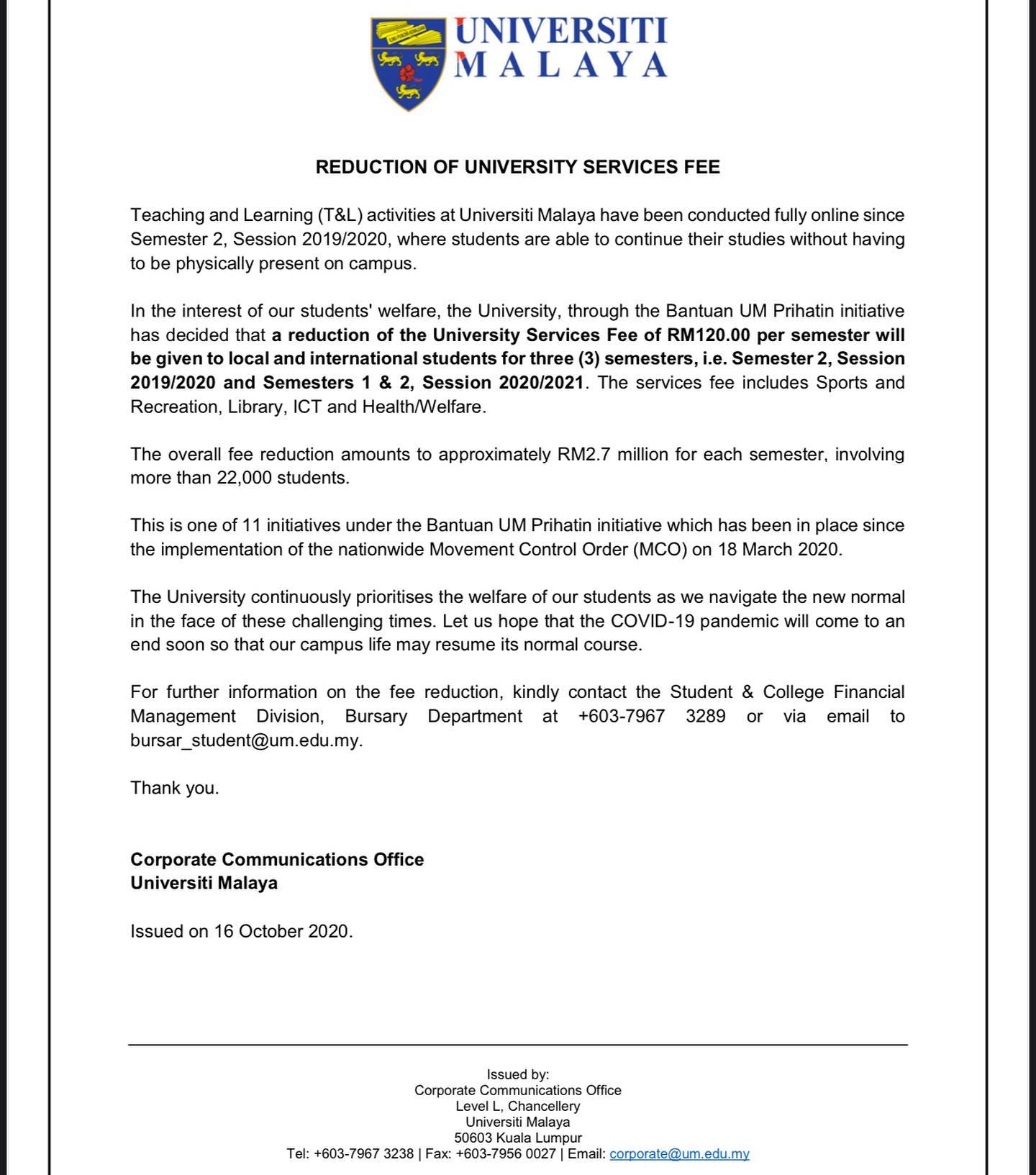 Since the first day of Movement Control Order (MCO) was enforced in the month of March earlier, this fee reduction initiative has been one of all UM's 11 initiatives for student welfare which includes hostel fee refunds, scholarships, as well as free data plans and laptops. The discounts will total about RM2.7 million for each semester.
UM also stated, "The University continuously prioritizes the welfare of our students as we navigate the new normal in the face of these challenging times. Let us hope that the COVID-19 pandemic will come to an end soon so that our campus life may resume its normal course".