(Video) Shocking Video Fisherman Hooks Alligator And Finds Huge Anaconda Attached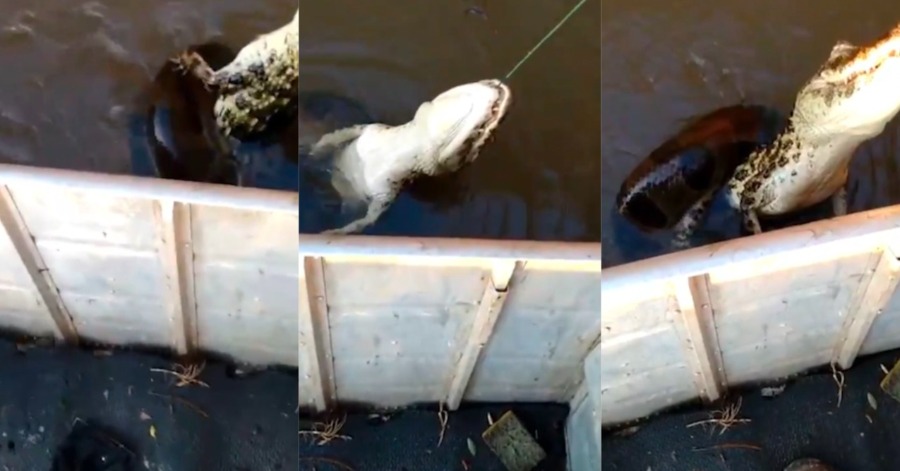 A fisherman in Brazil got more than he thought when he managed to catch a crocodile who was a few seconds later attacked and tried to be snatched by a large anaconda.
In a video, it is shown that he was trying to lift his catch into his boat as the snake wrapped itself around the crocodile.
If seen through the footage, the snake is as thick as an adult male's leg and looks big enough to swallow the crocodile as a whole.
The video, recorded on October 21, was circulated among fishermen in the state of Mato Grosso do Sul and later went viral on social media around the world.
The video may have been recorded in Pantanal, a tropical wetland, and flooded grasslands that are mostly in the same state but could not be confirmed.
Despite gaining worldwide attention, the fishermen who recorded the video have not been identified.
According to local media, the hooks and ropes used by the fishermen in the video are prohibited from being used by amateur fishermen. The tool can only be used by professionals.
It is not known if the man managed to remove the crocodile from the anaconda, or he gave up and let the snake take his catch.

Source: Daily Star, Pescaria Raiz
(Video) Blackpink Will Hold A Livestream Concert On YouTube This December 27th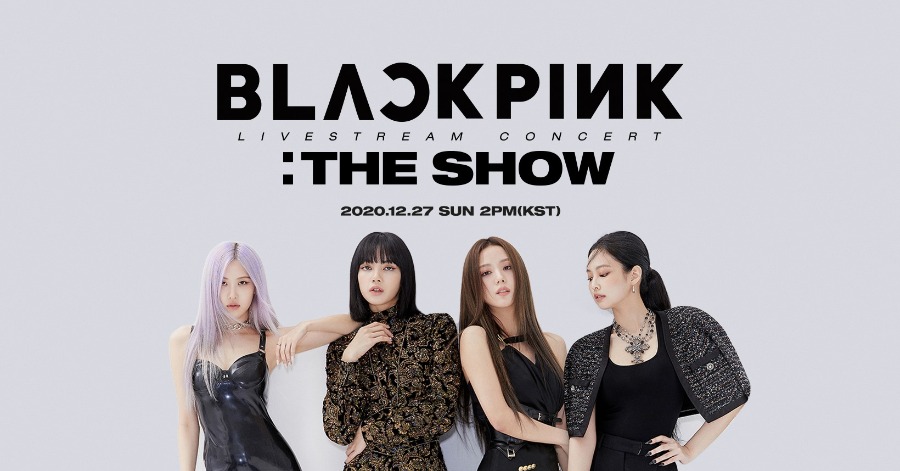 Get ready to mark your calendar as the famous Blackpink group will be doing a virtual concert at the end of December!
Fans of the popular Korean women's group are definitely looking forward to the end of this month when their beloved group announces the upcoming concert.
Performed On YouTube Music
The good news was confirmed by their management, YG Entertainment who announced that Blackpink will hold their first virtual concert entitled "YG Palm Stage – 2020 BLACKPINK: The Show". YG Entertainment will be collaborating with YouTube Music for the concert which is scheduled for December 27 at 2 pm.
Who Will Continue the 'Palm Stage' Concert
In addition to being Blackpink's first online concert, the upcoming event will also mark the launch of YG Entertainment's brand new concert "Palm Stage" (named after the idea of a concert fitting in the palm of the audience).
Blackpink is a South Korean girl group formed by YG Entertainment, consisting of members Jisoo, Jennie, Rosé, and Lisa. Blackpink has broken numerous online records throughout their career.
Their music videos for "Kill This Love" (2019) and "How You Like That" (2020) each set records for the most-viewed music video within the first 24 hours of release, with the latter breaking three and setting two Guinness World Records.
Prior to the concert, Blackpink will meet their fans live through "BLACKPINK – 'The Show' Announcement Live" which will be screened on the same platform on December 4, 2020.
You can also find more information on ticketing here.
Sources: Soompi.com, Variety
Celebrate The End Of 2020 With The Latest Pizza Hut Meal 'Cheesy Poppers Pizza'
Time passes very quickly right? Unknowingly, now we are at the end of 2020. Soon, the new year will come and hopefully, it will be better than before.
During this year, of course, it is very difficult for everyone to cope with the COVID-19 pandemic. But despite the difficulties, there are also successes and joys that we go through. There is nothing wrong with celebrating those memories.
While we may not be able to celebrate it outside, we can celebrate it with friends and loved ones at home while eating. Fun isn't it?
Good news for you especially pizza fans because now you can order the Cheesy Poppers pizza which is the latest meal from Pizza Hut.
Cheesy Poppers Pizza
These Cheesy Poppers consist of 18 stringy Mozzarella and Cheddar cheese poppers and sprinkled with delicious toppings such as pepperoni, chicken balls, and topped with a special smokey tomato BBQ sauce.
Sounds appetizing, doesn't it? If you want to know, this pizza comes with a thick and creamy cheese sauce that surely is delicious! You can invite friends and family to enjoy this pizza together by pulling these poppers and dipping them in cheese sauce. It really arouses your appetite.
For a limited time only, it is available for Dine-In, contactless Delivery, and contactless Takeaway in all Pizza Hut Malaysia outlets.
You can order it on Pizza Hut Online Store through the link provided HERE.
Sources: Pizza Hut Malaysia, Pizza Hut Online Store
Floods: Number Of Evacuees Continues To Rise In Kelantan, Terengganu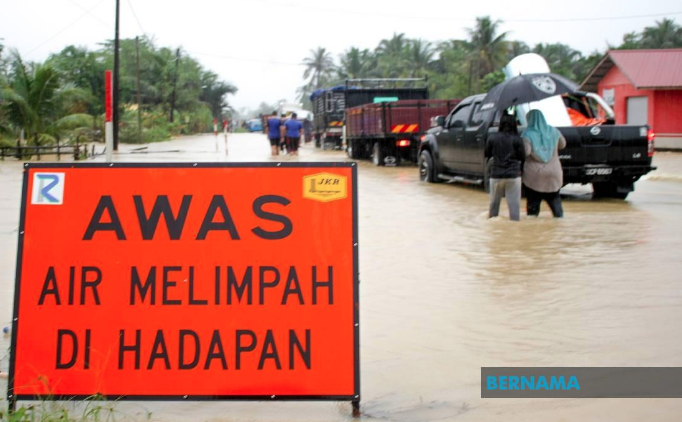 KUALA LUMPUR, Dec 4 — Terengganu and Kelantan continue to record an increase in the number of flood evacuees compared to yesterday, while Raub became the first district in Pahang to be hit by the floods during the monsoon season this year.
The number of flood victims continued to increase in Terengganu to 2,802 people from 781 families as of 8 am today compared to 1,817 people from 503 families recorded at 10 pm last night.
Terengganu Disaster Management Committee Secretariat chief Lieutenant Colonel (PA) Che Adam A Rahman said Setiu has the highest number of temporary relief center (PPS) at 23, followed by Besut (19), Dungun (10), Marang (nine), Kuala Nerus (six), Kuala Terengganu (five), Kemaman (three) and Hulu Terengganu (one).
He said that Marang recorded the largest number of evacuees at 778 people from 204 families compared to 681 victims from 181 families reported last night, following the opening of two more PPS bringing the total number of PPS operating in the district to nine.
Meanwhile, data from the Department of Irrigation and Drainage (DID) shows that the level of two rivers has exceeded the danger level, namely Sungai Marang in Pengkalan Berangan at 2.83 meters (above the danger point at 2.7m) and Sungai Nerus in Kampung Langkap, Setiu at 21.50m (above the danger level at 21m ).
Sources: BERNAMA