Worth Million Dollars, Billie Eilish Reveals Still Lives With Parents In Cozy Tiny House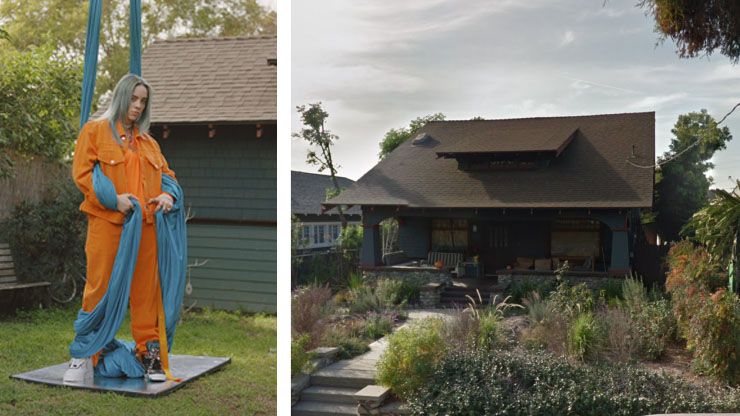 Billie Eilish is one of the most successful young artists of our time, but she still lives modestly.  Believe it or not, the Grammy-winning singer still lives at home with her parents.
But this aloof-voiced singer didn't think of staying with parents blocking her freedom. She shared during an interview on Jimmy Kimmel Live that she never moved out following her massive success. Kimmel then asked her whether she lives with her parents, or if technically they live with her.
"Like both, probably. Like, I'm living with them at home, and then on tour, they're living with me. That's what it is."
Eilish also confirmed during the interview that her parents would attend the 2020 Grammy Awards with her. Clearly, Eilish and her parents maintain a very close relationship, despite fame and fortune.
Sources: Cheatsheet.com
Food Review: Colorful Roti Jala Paired With Creamy Curry From 'Herba & Rempah'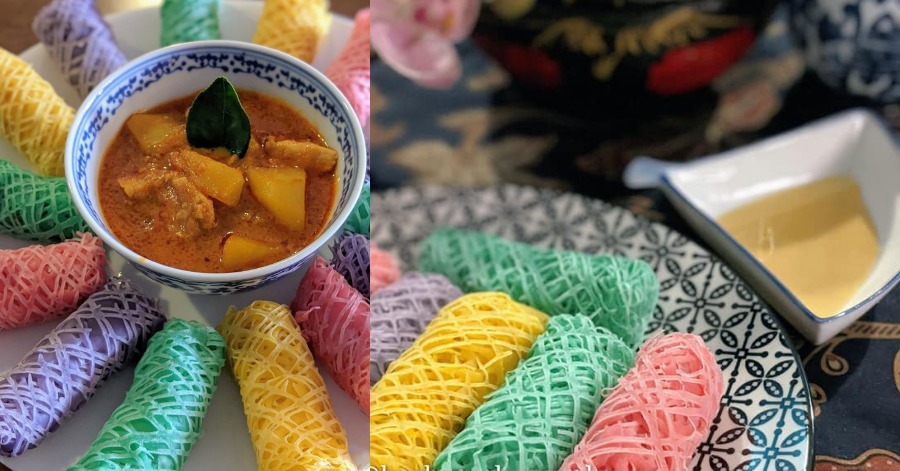 Roti Jala, a net-like batter, resemblant to its name is cooked and rolled into bite-sized. Dipped into an aromatic curry is the next best thing about Roti Jala as it elevates the flavor. It is usually made in yellow colors but an online food store based in Damansara has stepped up its game and came up with colorful Roti Jala!
'Herba & Rempah' is famous for its Instagrammable Roti Jala that comes in a variety of colors, instead of just sticking to yellow color. The presentation of the food itself is eye-pleasing with the rainbow colors but when you get a taste, it will blow your mind off. It can be matched with your choice of favorite curry either mutton or chicken but if you're not a fan of curry, there is an option to switch it with sweet condensed milk.
Even when the Roti Jala look fascinating with their bright colors, you don't have to worry as they did not use any artificial coloring. Instead, the natural colors come from fruits and vegetables.
As of now, orders can be made through their website here and they will deliver the food to your doorstep. Other than Roti Jala, you can add on other foods by choosing from Rendang to Pastry Puffs.
Sources: Facebook Herba & Rempah, Herba & Rempah
Food Review: Spicy Burger In Malaysia Trend Alert! These Are 4 Spicy Burgers From Fast-Food Chain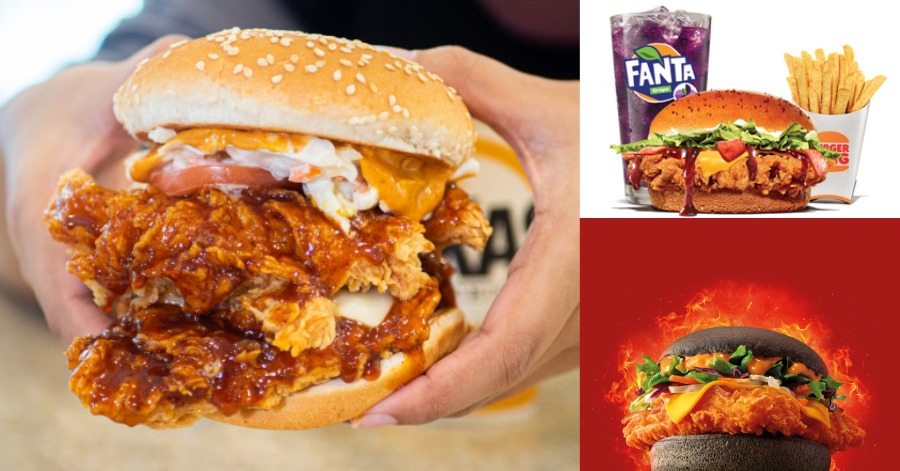 Spicy food has become such a familiar thing with so many Malaysians nowadays. There are literally so many restaurants that have came out with their own version of spicy food to cater the appetite of Malaysian people. Some of the menus are so satisfying while there are some other that just do not satisfying enough for the Malaysians.
It is actually so exciting to see all of these restaurants trying to produce their own version of spicy food because we can actually taste the variations of food that people can make. One particular spicy food that eventually has become a trend would be spicy burger. These are 4 examples of spicy burgers that are made by fast-food chain in Malaysia.
1) Texas Chicken Fire Dragon
Fire Dragon flavor that is made with not one, not two but eight pepper and also chipotle ranch sauces for the ultimate satisfaction. Using the word 'fiery' to describe Fire Dragon, the sauce will tickle the taste buds the right way.
2) Marrybrown Gangjeong
Marrybrown's Korean Gangjeong Chicken is packed with flavours that hit you the right way. The same goes with its chicken burger, Ganjeong Chicken sauce can be seen dripping from the sides of the burger and sandwich between charcoal buns.
3) McDonald's Spicy Korean
Spicy Korean Burgers are back! Get front row seats to a combination of flavours worth idolising. Taking centre stage also is the all-new Spicy Korean Burger K-Duo – a tempting combo of kimchi-seasoned juicy grilled beef and crispy chicken patties coated in a spicy Korean sauce, melty cheese, and fresh mixed vegetables, all in a black charcoal bun.
4) Burger King Seoul Pedas
Seoul Spicy burger comes with crispy fried chicken or flame-grilled beef patty, fresh lettuce, chicken slice or beef bacon and American cheese. Sandwiched between spicy chilli buns and covered in Korean Ramyeon sauce and mayonnaise.
Sources: Texas Chicken, Marrybrown, McDonald's, Burger King.
(Video) Unique Ritual Held Annually By This Japanese Shrine Will Blow Your Mind!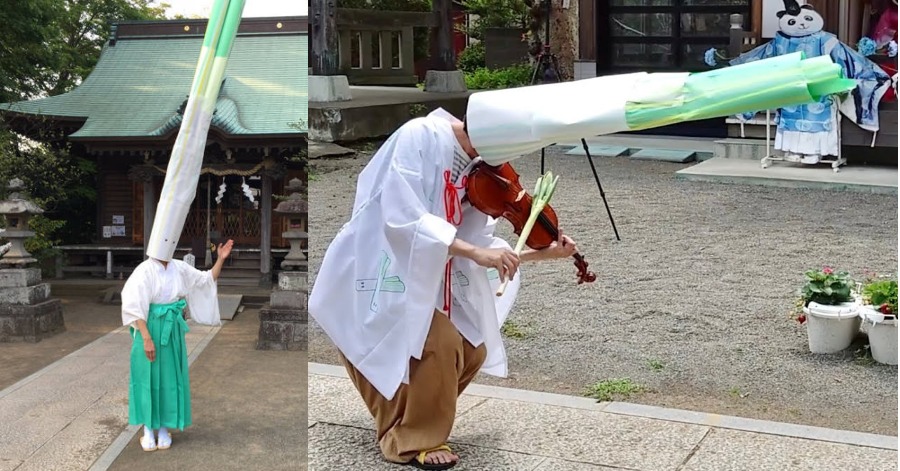 The Aruka Shrine is located in Ebina City, Japan. Other than being the oldest shrine of Sagami Province, the shrine is also famous for its annual weird ceremony that involves a priest wearing headgear in the shape of green onion.
For the past 4 years, Negi-san, the head priest of Aruka Shrine has been performing an unusual ceremony but only last year that the photos of the priest with the abnormal 2-meter-long headgear went viral. Seen in the viral picture is a masked priest wearing a green skirt and white shirt to match with the green-and-white onion headgear on their head. The fact that it was uncommon made everyone intrigued by this ritual.
The original idea of the green onion ritual came from the head priest's desire to diminish the formal and stiff perception of religion and priests. It wasn't the first time for Miwako Kojima to do so. A few years ago, this 49-year-old priest tried to attract more people to Aruka Shrine by putting on a fake panda head and became an adorable character of Panda Myiaji. Then, in 2017, Kojima came up with the 'Negi Head' idea. "Negi", the name of the head priest, had the same pronunciation as the word "onion" in Japanese and so, she wanted to create a character and ritual with that similarity.
Most of the ceremonies performed by Negi head take place outdoors because of how difficult it is to get through doorways with the tall headgear. The most famous ritual is the passing of the head priest through an "onion circle". Negi Head passes through the circle as a way to pray for disaster relief and peace.
Here is a video of this year's onion ritual that went viral on Twitter:
It showed Negi Head bending down to get his onion headgear through the smaller circle.
The popularity of this ritual has inspired other priests at the shrine to make their own headgears where visitors can see all of them performing other types of weird rituals and dances.
Sources: Oddity Central