Bill Gates Gives His Thoughts On The COVID-19 Vaccine, Warns Everyone Of The Fatality To Come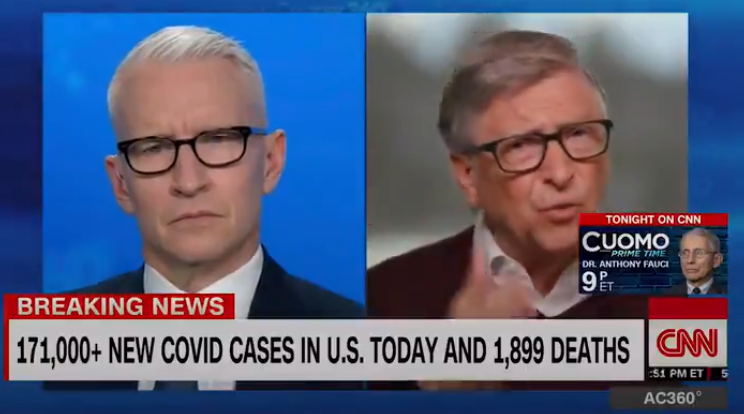 Through an interview between CNN Anderson Cooper and Bill Gates, the co-chair of Bill and Melinda Gates Foundation.
In the interview, he warns everyone that they could see around 2,000 deaths a day before the vaccine would be available for everyone.
Bill mentioned that they could see the numbers rise in January and February, with several hundred thousand lives would have been lost in the United States alone – if the people refuse to 'stay the course'.
Bill has spent his last 20 years fighting off infectious diseases through the Bill and Melinda Gates Foundation. Using his experience, predicting the matter of COVID-19 would end up it getting close to reality.
'We'll look back and say, 'Why couldn't we convince people to just stay the course?'' — Bill Gates warns that we'll likely see 2,000 COVID-19 deaths a day before vaccinations are widespread pic.twitter.com/InRGNyeDMn

— NowThis (@nowthisnews) November 30, 2020
Anderson Cooper asked Bill Gates the question we've all been wondering – how will the vaccine reach us?
Bill answered that it will most likely happen through the drive-through method, like the COVID-19 testing approach.
"It doesn't take that long to take the shot – you get the one shot and you come back later for the second shot."
The vaccinations would have to be closely monitored and reported to the health authorities to make sure that there won't be any severe side effects.
"We would want to study all those breakthrough cases."
The distribution of the vaccines to other parts of the world would have to be another challenge that we have to tackle – especially the airline company.
Bill mentions that in order to avoid long lines, they would have to set up and organize how the vaccination will be taking place since you won't be protected by the virus if you get infected before the vaccination.
It is expected more than 8,000 Boeing 747 jets will be required to send the vaccine throughout the whole world – not to mention that the current vaccines available would have to be stored in their own suitable temperatures, which are below freezing.
Using dry ice would be dangerous for people because it emits carbon dioxide gas that would harm those that inhale it.
Source: Twitter @nowthisnews
Due To Their Loss of Smell, Covid-19 Survivors Have To Get Creative In The Kitchen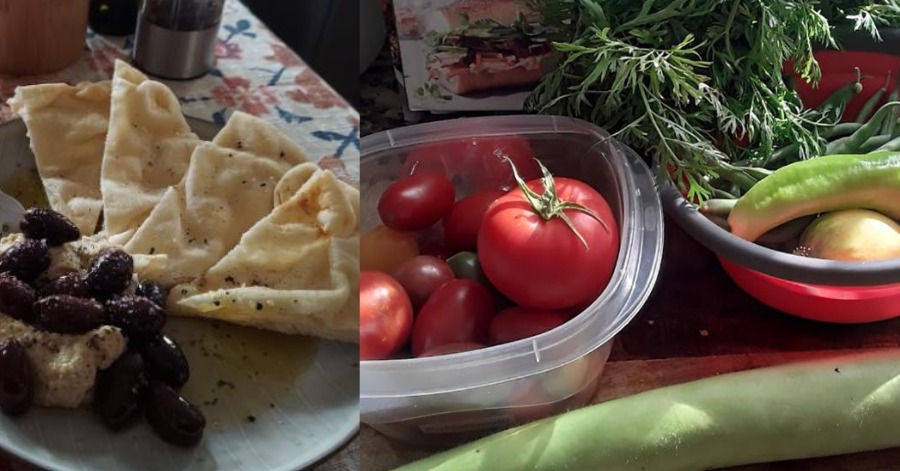 Dr. Alex Yeats who is an emergency physician has taken out an amazing dinner option one day. According to his wife, she has nothing to do with it even though it does look so appetizing. Sarah Yeats who is an emergency nurse from Atlantic Beach, Florida said, "It was black bean pasta with almonds and turmeric chunks and I was like 'I'm not eating that, it's disgusting".
The husband and wife work at a hospital in Jacksonville, Florida. Sarah Yeats had contracted Covid-19 at work and brought it home in August.
According to a report, people who have been contracted with COVID-19 usually lost much of their sense of smell and also taste. The condition is called Anosmia which means a condition known as "smell blindness" or even loss of smell. This is actually a common symptom of COVID-19. Despite having the symptom, people still need to eat and of course, they have to modify their meals as a result.
Because of the restriction of not having the ability to smell and taste correct, they have to be creative when they are preparing their meal so that they get enough flavor and nutrition in their meal for them to eat. These are some simple tricks that they follow to be creative in the kitchen:
1) Serving New Flavor Combinations On The Table
Dr. Marta Becker who is an otolaryngologist said, "Some sensations of our food such as spicy hot pepper, mintiness are things we experience with the hot and cold sensors of our mouth". She also added, "You can get the acid, heat, even saltiness, but not the layers of things like cilantro and chipotle". Because of that, texture, color, and even rituals around cooking have become more important to some people right now rather than just the taste.
Alex Yeats said that texture has become a lot more important when cooking. He and Sarah Yeats tend to eat salmon several times a week because it has a fuller, more umami body, and a better mouthfeel than a flaky white fish, which just tastes dry for them. Sarah Yeats also stated, "I wanted to make sure there was green in everything because foods that are white and gray, they're just so unappealing now". Immersing in the processes of cooking and meal planning each week also helped her keep interested in food prep. She added, "Having Covid inspired us to use our raclette oven because it's a process for cooking that makes it fun".
2) Odd Odors Are A Promising Sign
Phantom smells are actually a common topic in the online Covid-19 support group. The couple said that they have gotten whiffs of jet fuel and cigarette smoke where there was none. Becker said, "A lot of people get trash, or smoke, something rotten or burning rubber". She also added, "It's really gross, but it's usually a good sign things are trying to sort themselves out. When the recovery happens, sometimes the wires can get crossed".
3) Scent Training Helps
"Scent Training" is a method of using things like rose, lemons, cloves, garlic, eucalyptus, and menthols that have a really strong smell to retrain the brain. Becker said it's a tactic she recommends to patients since there is no cure for anosmia. She mentioned, "Retraining your brain to what things smell like so you can remember is a bit mysterious. But using the memory to retrain the neurons can work in both directions. The memory can help you smell, and the smell can help you remember".
Different Colors On Vegetables And Fruits Have Various Benefits? What Is it?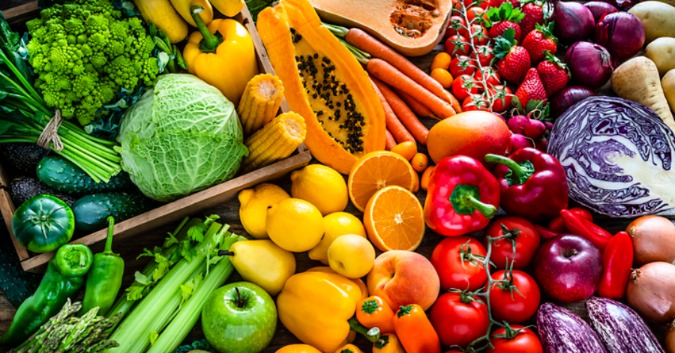 Certainly, many Malaysians do not know that different colors of vegetables and fruits have different vitamins and minerals as well as different functions.
Through a post on Facebook by the Nutrition Department Ministry of Health Malaysia, we are advised to take various types and colors of vegetables and fruits.
Take at least three servings of vegetables and two servings of fruit daily.
Follow the information sharing by MOH below to find out more about the nutritional value of fruits and vegetables:
1) Red color
Contains Lycopene as an antioxidant that helps protect against cell damage and is good for heart health.
2) Purple color
Contains Anthocyanin as an antioxidant that helps lower the risk of cancer, improve the body's immune system and memory.
3) Green color
Contains chlorophyll, fiber, and iron which are good for red blood cell formation, good for digestion, and boost the body's immunity.
4) Orange color
Contains Beta-Carotene as an antioxidant that can improve eye health and anti-aging agents.
"But there is a similarity despite the different colors … that VEGETABLES and FRUIT can help reduce the risk of cancer and other diseases," wrote MOH Nutrition Department on the post.
"VEGETABLES & FRUIT contain phytochemicals that supply antioxidants that help fight free radicals as well as support our body's immune system …," added MOH Nutrition Department.
As Part of Curriculum, Children In Siberia's School Throw Buckets of Icy Water Over Themselves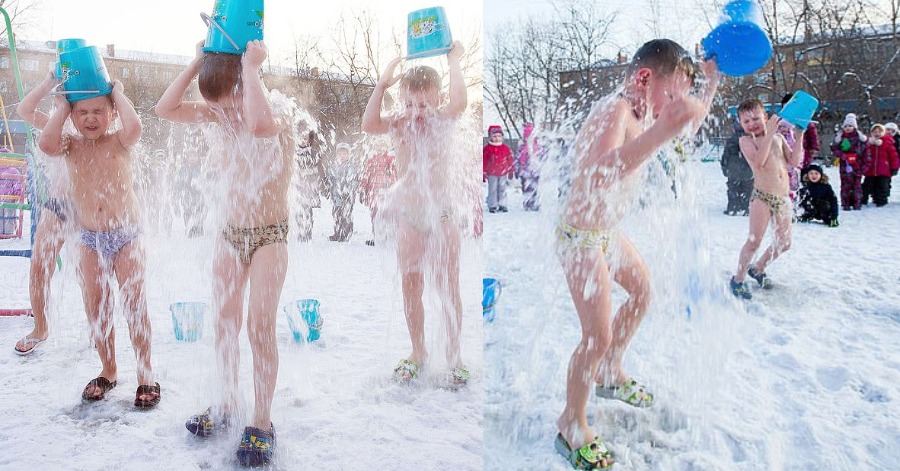 As school children, having a cold shower in the morning is the least favorite thing that they have to go through first thing after they woke up. They would prefer to have a nice warm shower instead so that they are going to feel great to start the day.
The story is different for Siberian school children as they have to throw buckets of icy water over themselves. This has to be done because it is part of the school curriculum.
All the five and also six-year-old at the school in Krasnoyarsk, Siberia have to drench themselves in icy water. In fact, most of the students' parents have given their permission for their children to take part daily because they believe that doing that, can help to ward off infections.
The teachers there stated that the cold showers that they are doing could lead to the children being less sick. Other than that, they also say it could make the children be more "sensible, balanced and also optimistic". According to a report, the children would take cold showers daily after they had a hot sauna. They also declared that the temperature should be no lower than 25C.
A spokesperson for the Krasnoyarsk education department said, "The little walruses warmed themselves in the sauna and went outside for a traditional cold water shower". Even though the process might sound challenging for the children to withstand, they actually have been taught breathing exercises for the deep cold.
A teacher named Lyubov Daniltsova said, " Our doctor confirms that children in groups that practice dousing get through the flu season a lot more easily but generally the statistics show there is 95 percent of healthy children in the 'wet' group, compared to 75 percent among the others".
Sources: DailyMail