DIY Easy Hanging Flower Backdrop For Your Next Party
These beautiful backdrops can be DIYed for your own party.  Event backdrop or even wedding don't have to be complicated but must be stunning.
To help you do eye-catching and best deco for your event, this DIY is all you need.
What Do You Need: 4 types of flower buds of your choice
Flower scissors
3 colors of washi tape for pasting (washi tape)
Tips: Please look for washi tape or any colored adhesive tape for a casual decor style, as long as the glue is strong enough to accommodate the weight of the flower when attached to the wall.
Note:
Do research on flower shops that offer quality flower variations at cheap wholesale prices around the area near where you live.
Go to the flower shop a few weeks in advance before your wedding to order your favorite flowers. While stock lasts!
Please order 4 different types of flowers, make sure the flowers you choose are also stalked.
Do not forget to take into account the area of ​​the wall you want to make as the background. Make an estimate of how many flower buds can be attached to the wall evenly.
You do not need too much space to build this photobooth.
Once the flower order has arrived at your home or at the location of your wedding, quickly cut off the ends of the flower stalks tightly, and soak them in cold water so that the flowers remain fresh.
Measure the wall so that you know the ideal distance that the flower should be attached to the wall so that it does not look slanted.
You can make a mark on the wall using a pencil or tape so that later, you know where the flowers should be affixed.
How To Start:
Start from the top of the blank wall. Clean the surface of the wall to be free from any dust or dirt, fearing later the tape will not stick firmly to the wall.
Next, attach the flower to the wall using colored tape or washi tape of your choice by crossing the flower buds. By means of this crosspatch, the position of the flower on the wall will be stronger and more stable.
Flowers should be placed vertically from top to bottom. Make sure the end of the stalk is hidden behind the flower so that the arrangement looks neat.
Do not remove the leaves on the flower stems as the leaves will add a tie to the wall decoration.
If it is very difficult to find fresh flowers, using the artificial one is good too. But, be sure to look for plastic flowers that look realistic that you can find some at KAISON or SSF Home Deco.
Good luck!
Sources: Wedbook.com
Movie Review: Combination of Action Video Games And Science Fiction In 'Free Guy'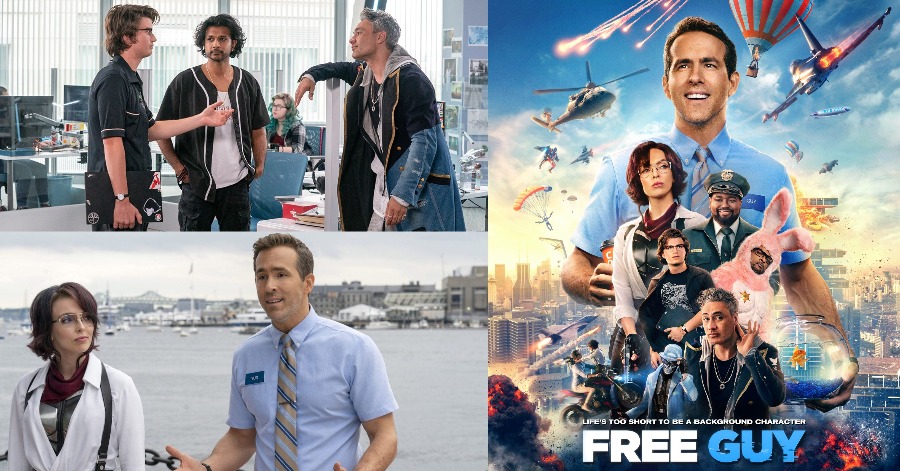 Free Guy is actually a 2021 American science fiction action comedy movie directed by Shawn Levy from a screenplay by Matt Lieberman and Zak Penn and a story by Lieberman. The film stars Ryan Reynolds as a bank teller who discovers that he is actually a non-player character in an open-world video game and becomes the hero of the story, trying to save his friends from deletion by the game's creator. Taika Waititi, Jodie Comer, Joe Keery, Lil Rel Howery, and Utkarsh Ambudkar also star in the movie.
The movie has grossed $241 million worldwide making it the 7th highest-grossing movie of 2021 and received generally positive reviews from critics, who praised the clever concept and compared it favorably to a combination of action video games and science fiction films such as Ready Player One, The Truman Show, The Matrix, Grand Theft Auto, Cyberpunk 2077 and Fortnite.
What 'Free Guy' Is About
When a bank teller discovers he's actually a background player in an open-world video game, he decides to become the hero of his own story. One that he can rewrite himself. In a world where there are no limits, he's determined to save the day his way before it's too late, and maybe find a little romance with the coder who conceived him.
What Can Be Said About 'Free Guy'
This is one of the best video games movies ever made. This movie easily exceeded all people's expectations. This movie was fresh, funny, unique, and also clever. The special effects are amazing. One of the best special effects that people have ever seen in a movie in a while. This movie was filled with lovable characters. And a really intriguing storyline. The ending was also really heartwarming. This is definitely a feel-good movie.
All the characters are fully fleshed out they are not just disposable action characters you see in far too many video game movies. The acting is amazing, Ryan Renolds really made this movie. This movie wouldn't have been as funny or emotionally investing without him. He also really fits the build aesthetic-wise. Which made the movie more real. And surprisingly Joe Keery gave the best performance in the entire movie.
Sources: YouTube 20th Century Studios.
Movie Review: Go On A Never Before Adventure With Disney's 'Jungle Cruise'!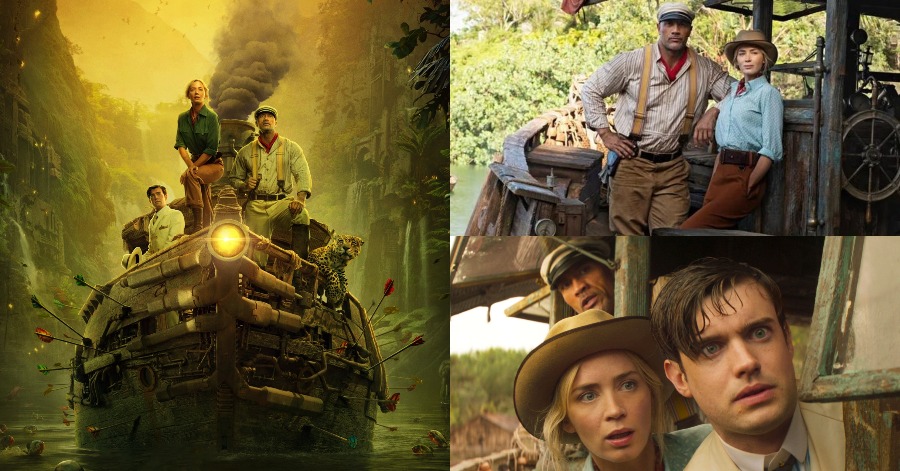 Who says only guys get to have all the fun and adventure? Here's a movie that says why not! The Jungle Cruise 2021 American fantasy adventure film starred by Dyawne Johnson and Emily Blunt the main characters.
The story goes back to the date in 1556, where Don Aguire (Edgar Ramirez) leads the Spanish army to South America to search for Lágrimas de Cristal Tree, whose flowers cure illness, heal injuries, and lift curses.
During the journey, most men died, and the Puka Michuna tribe managed to heal the remaining survivors with the Tree's flowers. Wanting to know about the tree's location, Aguirre acquires the tribal chief but the chief refuses to reveal the Tree's location.
So disappointed, Aguirre stabs him and burns the village. The dying chief then curses the Spanish army, making them immortal and unable to leave sight of the Amazon River. So if they tried to escape, the jungle would recapture them.
Back in the future, Blunt who plays Dr. Lily Houghton is a pants-wearing scientist who is in search of the legendary tree. Frank (Dyawne Johnson) gets hired by Lily, who along with her reluctant brother MacGregor (Jack Whitehall), to bring them on this jungle cruise in search of this magical tree. According to Lily, its petals, known as Tears of the Moon, are said to possess miraculous healing powers — and, for no extra charge, the ability to break curses. They faced many ups and downs during this cruise and somehow manage to get to the petal.
I really like this story. The storyline is very straight forward and the characters, really took up their roles. The character that I like the most is of course Lily. Despite being a female, she was really adventurous. Without thinking twice, she always jumps into action in order to get what she wants. She resembles boldness and determination.
A twist in this movie is that Frank, is not who we thought he is. At first, I was a bit skeptical thinking he was just some guy with a boat and he'll help them get what they want and happily ever after. But he was actually one of that Spanish army who was cursed and couldn't leave sight of the river. And because of that, he decided to take tourists on jungle cruises to earn a living. At first, Frank was kinda selfish because he pulled up pranks on his customers to earn extra. But towards the end, he came clean and eventually helped Lily to get what she's so determined to get.
This movie is really great for parents and kids to watch together. The sense of humor is great and the plot is also good. It is not so complicated but sort of a mind relaxing, fantasy movie. What else can you expect from Disney, they make such good movies that keep us loving them till this day!
Sources: The Battalion
(Video) Dangerously Looking And Full of Nails! The 'Siberian Hunting Suit'!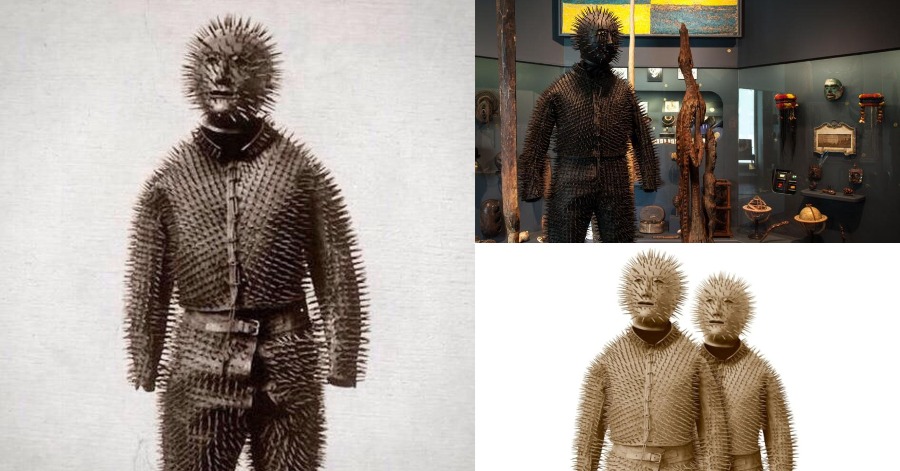 The leather suit, covered in nails from head to toe, has captured the imagination of internet users for years. It really looks like a torture outfit that people would wear back in the days but it is actually something else. It is a bizarre, even sinister-looking costume covered head to toe in nails. The suit was actually constructed with two layers of leather and studded with 1-inch long iron nails.
There has been some uncertainty over this object's culture of origin and its originally intended purpose. While it is now thought to have originated in eighteenth or nineteenth-century Germany or Switzerland, this costume presumably represents a folk figure seen in the Vogel Gryff Festival in Basel, but it has also been considered a bear hunting costume.
The object is being called a Siberian bear-hunting suit but suspected it is more likely to be for bear bating than hunting. It consists of leather pants, a jacket, and also an iron helmet studded all over with 1-inch iron nails about 3/4 in. apart. The nails are held in place by the second layer of leather lining the whole thing and quilted into place between the nails. In areas of wear and flexing, like around the ankles and the crotch, the inside layer of leather is worn through, so the nails are falling out.
Sources: YouTube Tony Boy.