MPs Told To Put Aside Political Differences, Unite To Curb COVID-19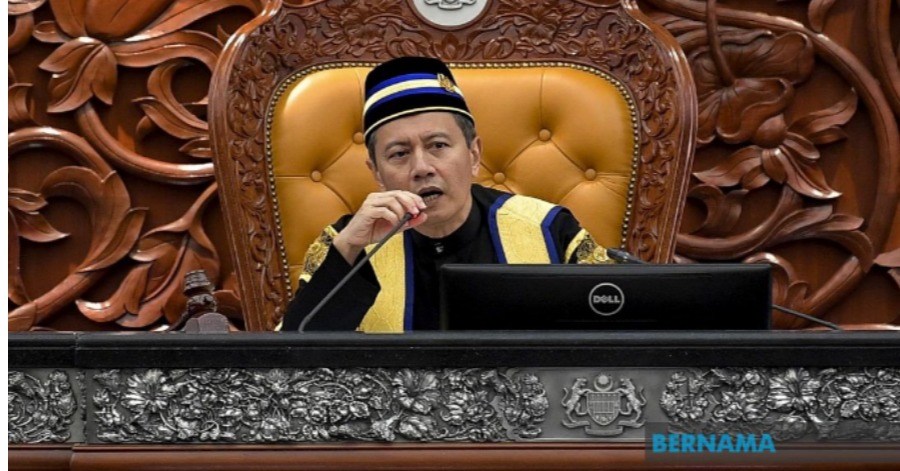 KUALA LUMPUR, Nov 2 —  The first day of the Third Meeting of the Third Session of the 14th Parliament sitting begins today with Dewan Rakyat Speaker Datuk Azhar Azizan Harun advising all members of Parliament (MP) to set aside political differences and disputes and play their parts in curbing the COVID-19 pandemic.
He also reminded all MPs, from the government and opposition blocks, to unite on the matter, for the safety and wellbeing of the people.
"As Honourable Members are aware, the fight to constrain COVID-19 transmission in the whole world including Malaysia is not yet over. It impacts and affects many parties including the people of this country.
"I call on all of you, regardless of backgrounds, especially political ideologies, to put away all differences and disputes and to be united in playing your respective roles and help the government as well as the authorities in curbing COVID-19," he said, adding that this was in line with the advice of the Yang di-Pertuan Agong Sultan Abdullah Ri'ayatuddin Al-Mustafa Billah Shah recently.
In his speech, Azhar also said he was informed of the precautionary measures to be taken (throughout the sitting), including distributing the standard operating procedure details to all MPs.
He said all MPs from Sabah also needed to undergo the 14-day quarantine prior to the sitting following the current COVID-19 situation in the state.
"I thank the Honourable Members from Sabah for your co-operation, for undergoing the quarantine. It is indeed a huge sacrifice from them.
"I hope and advise Yang Berhormat to always adhere to SOP which are physical distancing, wearing of face masks and washing hands or to use hand sanitizer frequently," he said.
He urged all parties to pray for the COVID-19 outbreak to be fully brought under control soon and would not further endanger the country so that the Dewan Rakyat sitting could be carried out as usual.
141 Fly To Langkawi From Ipoh On Maiden Flight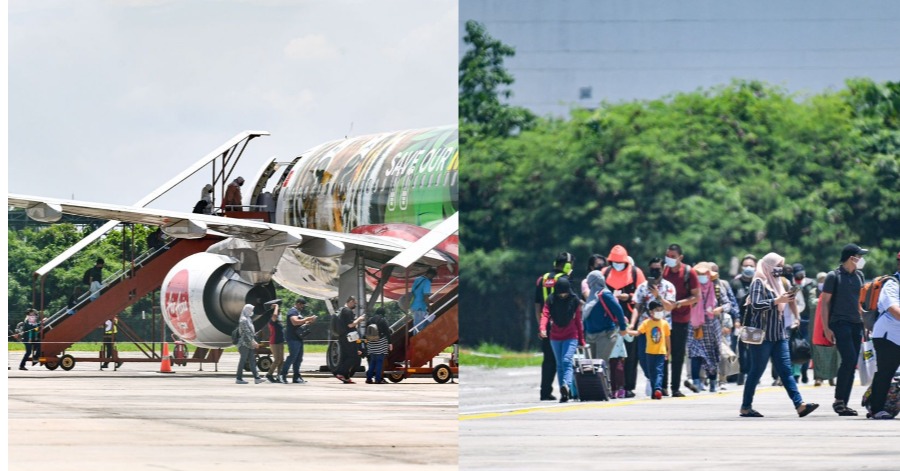 IPOH, Sept 17 — A total of 141 passengers, including 23 children, took off on the first flight from the Sultan Azlan Shah Airport here today to Langkawi under the travel bubble pilot project.
Perak Infrastructure, Energy, Water and Public Transport Committee chairman Datuk Mohd Zolkafly Harun said AirAsia is offering Ipoh-Langkawi-Ipoh flights thrice a week on Wednesdays, Fridays and Sundays starting today.
"The flight to Langkawi uses an Airbus A320 aircraft with a maximum capacity of 180 passengers and the maiden flight at about 1.30 pm today had a load of 80 per cent," he told a media conference at the airport here today.
Also present were public health medical specialist Dr. Mohd Zamri Md Ali and Ipoh Malaysia Airport Berhad manager Tugiman Sabudin.
Mohd Zolkafly said passengers were required to undergo a COVID-19 screening test and those who tested positive were not allowed to continue their journey, after which they would be subjected to existing standard operating procedures (SOPs) for case management.
According to Mohd Zolkafly, over 50 per cent of the flight capacity or more than 70 passengers have so far booked their seats for the next Langkawi flights on Sunday and Wednesday.
He said the state government had also taken various measures to restore the confidence of tourists to visit Perak, include implementing specific vaccination programmes for tourism industry players.
"A lot of preparations have been done to ensure that the domestic tourism sector is active again and ready to receive visitors and tourists, especially when our state borders are fully opened," he said.
Sources: BERNAMA
TH Ready To Manage Pilgrims' Health, Safety For Next Haj Season
KUALA LUMPUR, Sept 17 — Despite the haj pilgrimage being postponed twice due to the COVID-19 pandemic, the Lembaga Tabung Haji (TH) still continues its preparations, taking into account the current pandemic situation and developments in Saudi Arabia.
TH Haj executive director, Datuk Seri Syed Saleh Syed Abdul Rahman, said the planning and preparations had been continuously implemented since the 2020 haj season in an effort to ensure that the Malaysian haj pilgrims will be able to perform the fifth pillar of Islam smoothly.
He said one of the steps implemented was conducting 14 series of haj courses for prospective pilgrims online, including an additional series emphasising the new standard operating procedures (SOPs) in Saudi Arabia as well as the haj rules and regulations in the current environment of the COVID-19 pandemic.
He added that TH would ensure that prospective pilgrims received their respective vaccinations and have been fully vaccinated against COVID-19 as required by the Saudi Arabian government before they were allowed to enter the holy land.
Apart from that, TH, during the national-level haj muzakarah held previously, has also emphasised the concept of istito'ah or ability to perform haj during the pandemic.
"In this muzakarah, it was important for us to refine and set resolutions to be used as a pilgrimage guide to perform haj in the new norm by looking at the constraints of movement and obstructions in the event of an outbreak," he said in an interview with Bernama.
Syed Saleh said TH had also held a meeting with those handling the operations in the country involving departure stations and organised a workshop with the Ministry of Health (MOH) relating to SOPs for staff and health protocols that needed to be complied with.
He said the MOH health team will be assigned at eight departure stations in the country to monitor the health status of pilgrims before leaving for the holy land. TH will also increase the number of healthcare workers, especially public health teams to be stationed at three main locations in Jeddah, Madinah and Makkah.
"Previously, during the haj season, we have 260 medical staff from various categories including specialist doctors, nurses and pharmacists, but due to COVID-19, we need to add at least 30 more personnel to manage the pilgrims' health and safety," ​​he said.
He added that this also takes into account the isolation facilities in hotels and other accommodation, the provision of medical equipment such as ventilators and personal protective equipment (PPE) as well as medicines.
As part of the preparation, TH has conducted scenario planning where it details the actions to be taken at each stage of haj activities, both here and in the holy land with various possible scenarios that may occur during the haj operation.
Officers have also been provided with adequate training, knowledge and mental preparation to face the situation of the new norm in looking after the pilgrims, thus ready to become the frontliners when the haj season arrives.
"If there is a positive case of COVID-19 among Malaysian pilgrims, firstly, we will be subject to the SOPs set by the Ministry of Health of Saudi Arabia and then we will see the SOPs, based on the current development of COVID-19.
"Secondly, we need to assess the COVID-19 infection, if it is at categories 1 and 2, then we can handle it ourselves in our hospital, except for categories 4 and 5 which require facilities in the Intensive Care Unit (ICU), then we will send the case to a hospital there (Saudi Arabia)," he said.
The cost of the haj pilgrimage is expected to increase, largely linked to physical distancing such as in hotel rooms and buses, as well as the limited movement of pilgrims inside the Masjidil Haram (the Grand Mosque).
He said this was based on costs related to the new norm SOPs, increased operating costs and other costs incurred in Malaysia and Saudi Arabia.
"I see this has an impact on the cost of the next haj pilgrimage as recently the pilgrims had to pay around RM15,000 to RM20,000 for five to seven days, involving three locations, namely Arafah, Muzdalifah and Mina and performing tawaf and saie only.
"The cost does not include the cost of hotel accommodation in Makkah and Madinah as well as food and drink, flights from Malaysia and Saudi Arabia. Hence, prospective pilgrims need to be prepared for this increase in costs," he said, adding that the haj pilgrimage in 2019 costing RM9,980 per person for a period of 40 to 45 days.
He said in terms of services, to facilitate the pilgrims, TH will also launch the TH Hujjaj application in the coming haj season, which contains various important information for pilgrims to use as reference and guidance on haj, health and prayer times, thus help smooth pilgrim management.
In addition, the e-Taib (Talian Ibadah – call centre) platform will also be continued which will allow pilgrims to get clarification and guidance on haj-related questions quickly and effectively through the WhatsApp application.
Sources: BERNAMA
(Video) So Proud! These Are 10 Best Universities In South East Asia For 2021!
Universities actually can be defined as institutions of higher or even tertiary educations and also researches that awards academic degrees in several academic disciplines. Universities around the world typically would offer both undergraduate and also postgraduate programs. Despite all the universities, there are ranking to see which is best.
For the measurement, universities are usually measured based on the academic standing, graduate employability, student and staff ratio, research impact, and also the internationalization. For South East Asia, there are indeed so many great universities for students to enroll. For the year 2021, these are the 10 best universities in South East Asia.
10) Gadjah Mada University, Indonesia
Number 10 in ASEAN and number 57 in Asia. Gadjah Mada University is a public research university located in Sleman, Special Region of Yogyakarta, Indonesia. Officially founded on 19 December 1949, Gadjah Mada University is one of the oldest and largest institutions of higher education in the country. It is widely known as the largest and the first state university in the nation. It has been credited as one of the best universities in Indonesia.
9) Mahidol University, Thailand
Number 9 in ASEAN and number 44 in Asia. Mahidol University is an autonomous research institution in Thailand, had its origin in the establishment of Siriraj Hospital in 1888. Mahidol had an acceptance rate for Medicine of 0.4% as of the 2016 academic year. Becoming the University of Medical Science in 1943, it has been recognized as the country's fourth public university. The university was later renamed in 1969 by King Bhumibol Adulyadej after his father, Prince Mahidol of Songkhla, the 'Father of Modern Medicine and Public Health of Thailand'.
8) Chulalongkorn University, Thailand
Number 8 in ASEAN and number 43 in Asia. Chulalongkorn University is a public and autonomous research university in Bangkok, Thailand. The university was originally founded during King Chulalongkorn's reign as a school for training royal pages and civil servants in 1899 at the Grand Palace of Thailand. It was later established as a national university in 1917, making it the oldest institute of higher education in Thailand.
7) University of Technology Malaysia (UTM), Malaysia
Number 7 in ASEAN and number 39 in Asia. University of Technology Malaysia (UTM) is a premier Malaysian public research-intensive university. Its medium of instruction is English.
6) The National University of Malaysia (UKM), Malaysia
Number 6 in ASEAN and number 35 in Asia. The National University of Malaysia, abbreviated as UKM, is a public university located in Bandar Baru Bangi, Selangor which is at south of Kuala Lumpur. Its teaching hospital, Universiti Kebangsaan Malaysia Medical Centre (UKMMC) is located in Cheras and also has a branch campus in Kuala Lumpur.
5) University of Science (USM), Malaysia
Number 5 in ASEAN and number 34 in Asia. University of Science, Malaysia abbreviated as USM is a public research university in Malaysia. Founded on 1 June 1969 as a statutory body with its own constitution, it is among the oldest institutes of higher learning in Northern Malaysia. It has three campuses which are the main campus on the island of Penang, a health campus in Kelantan, and engineering campus in Nibong Tebal. There is currently an overseas collaboration with KLE University, India offering the Doctor of Medicine (USM) undergraduate degree. USM plans to open a Global Campus (Kuala Lumpur Campus) in Kuala Lumpur Education City (KLCE).
4) Universiti Putra Malaysia (UPM), Malaysia
Number 4 in ASEAN and number 28 in Asia. Universiti Putra Malaysia (UPM) is recognized by the independent government assessments as one of Malaysia's leading research universities offering undergraduate and postgraduate courses with a focus on agricultural sciences and their related fields.
3) University of Malaya (UM), Malaysia
Number 3 in ASEAN and number 9 in Asia. The University of Malaya (UM) is a public research university located in Kuala Lumpur, Malaysia. It is the oldest and highest-ranking Malaysian institution of higher education according to two international ranking agencies. The university has graduated four prime ministers of Malaysia, and other political, business, and cultural figures of national prominence. The predecessor of the university, King Edward VII College of Medicine, was established on 28 September 1905 in Singapore, then a territory of the British Empire. In October 1949, the merger of the King Edward VII College of Medicine and Raffles College created the university.
2) Nanyang Technological University, Singapore
Number 2 in ASEAN and number 2 in Asia. The Nanyang Technological University, Singapore (NTU), is the second oldest public autonomous research university in Singapore and is considered to be one of the top universities in the world. NTU is consistently ranked within the top 50 universities in the world according to most rankings. It has 23,951 full-time enrolled students and 3846 full-time teaching staff.
1) National University of Singapore, Singapore
Number 1 in ASEAN and number 1 in Asia. The National University of Singapore (NUS) is a national research university based in Singapore. Founded in 1905 as the Straits Settlements and the Federated Malay States Government Medical School, NUS is the oldest higher education institution in Singapore. NUS is a comprehensive research university, offering degree programs in a wide range of disciplines at both the undergraduate and postgraduate levels, including in the sciences, medicine and dentistry, design and environment, law, arts, and social sciences, engineering, business, computing, and music.
Sources: TikTok TOPLIST NEGARAKU.