Three Missing Children In Indonesia Abducted By 'Bunian'?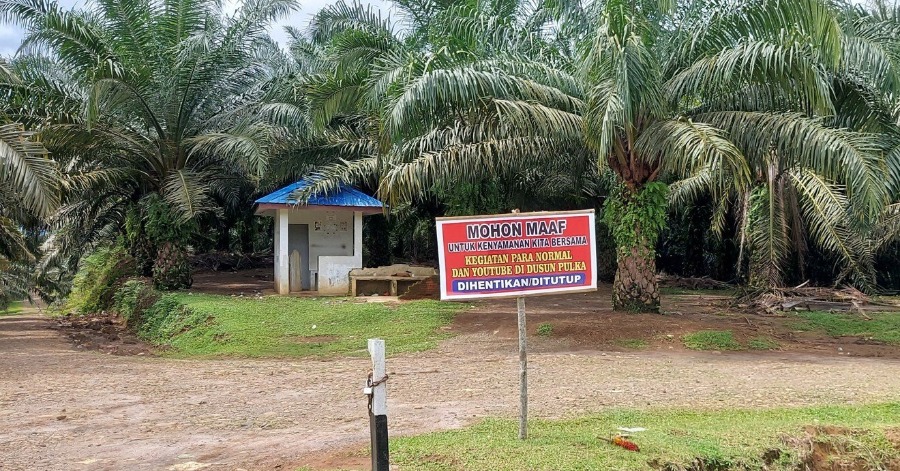 The disappearance of three children in North Sumatra, which is controversial in Indonesia, sparked a clash between police and shamans until authorities banned all paranormal activities in the district to restore peace.
Police Sub-Inspector Sukadi, the head of the intelligence team that coordinated the search for the three children, said that many paranormal investigators across Indonesia visited the village of Naman Jahe in Langkat to assist in the search.
"We had three weeks of rituals, none of which produced results. The parents of the children were at risk of further psychological trauma as the shamans often recorded the events and uploaded them to their YouTube channels," he said.
The three missing children are Alfisah Zahra, and Nizam Aufar Reza who are both seven years old, and Yoghi Tri Herlambang who is 8 years old. They have been reported missing after playing near their home since October 18.
"I went to get them so that they could come home and have a bath before lunch," said Masdiani, Zahra's mother.
When her daughter and the two boys were not found, she considered them to go to the lake where the children used to swim but were not found.
The three families and neighbors continued searching and called the police late that afternoon.
As soon as the news of the incident spread, a number of shamans from the district appeared to perform various rituals at the last location where the three children were seen including in oil palm plantations and lakes.
"They said that the children were taken by a bunian into the forest and hidden there," said Susilawati, the mother of Yoghi.
"We believe that they may have been kidnapped, but we believe more in the bunian theory," she added.
Initially, only local shamans or better known as dukun were involved in search activities.
However, as soon as the news of their disappearance was published in the mainstream media, many shamans from all over the country began to arrive in the village.
The village head, Jumaan said, too many shamans were in the area causing the locals to be uncomfortable.
"Every time they performed a ritual, the paranormal investigators asked for the children's clothes so they could channel their spirits and find their whereabouts. In the end, the parents did not have any clothes left because of the rituals," he said.
One shaman from the village, Supeno said that the rituals performed did not bring results because most of the shamans were not united, causing the local 'spirit' to be angry.
He said he also believed that the local creatures who 'took care' of the area, including bunian and other spirits, refused to cooperate because they were not happy when there was an increase in paranormal activity.
Sukadi said the authorities did not rule out the possibility that the three children were abducted or had an accident around the village which was covered by oil palm plantations and thick forests.
Another possibility, he said, was that they might drown in a nearby lake. However, the search in the lake has been done three times by divers from the Basarnas team and found no clues.
"Bodies usually float to the surface after a few days if people have drowned, so we would have expected to have found the children by now if they were in the lake," Sukadi said.
"We are surprised that we have so few leads in this case," he added.
The search for the three children is still ongoing and all parents also believe their children are still alive.
Source: SCMP
Shop Review: Make Easier For Children! Get This Set of Sharpeners From Shopee!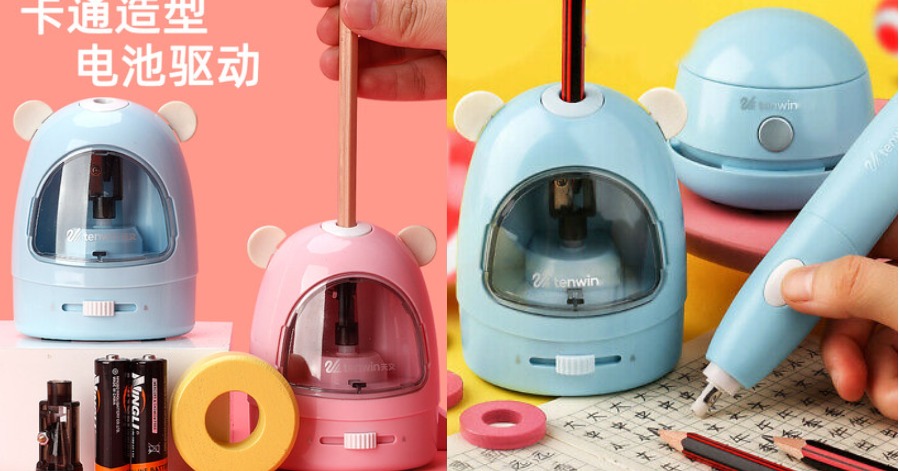 Shopee is the new one-stop-shop where we can get all sorts of things we need. Even the ones we have never heard of! We have seen people buying groceries, housewares, and even plants from Shopee!
The stationeries are usually bought from Shopee too as they provide the stuff from overseas that seems to be very helpful to us. Today, we are sharing a local Shopee seller that sells an amazing set of sharpeners!
BS HOME GROCERY STORE  with a rating of 4.9 out of 5 has 806 products on Shopee, as of today. In this shop, it offers a lot more than stationery. They have a wireless doorbell, sushi maker, and even cartoon glass. Shared by an account on TikTok, it shows a set of sharpeners that definitely would make our life easier.
In the video, it shows a set of sharpener with a small vacuum cleaner, electric eraser, erasers for refill and batteries. The sharpener works to sharpen pencils and the electric eraser makes erasing any errors easier while the small vacuum cleaner will clean the dust from the erasers. Three of these items come in handy and you can get them from BS Home Grocery Store!
Sources: Shopee BS Home Grocery Store, TikTok @good_things_520 
Shop Review: Easy To Use! These 5 Shopee Stores Sell Portable Washing Machines!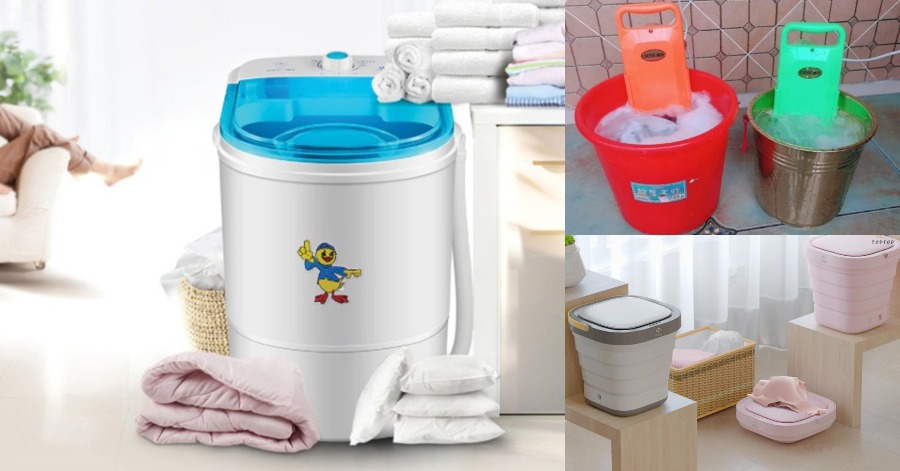 Recently, portable washing machines have increased in popularity especially during this COVID-19 pandemic. This is because portable washing machines are the most eco-friendly choice since they are powered by human labor rather than outside energy sources. They are usually the most budget-friendly option and the best fit for off-grid lifestyles or places where power outlets are not consistently available.
A portable washing machine is a great alternative for small space dwellers and for those who do not have access to permanent hot and cold water hook-ups. These mini machines are usually big enough to handle small t0 medium loads, say, a few bath towels, bedding, underwear or workout wear, even several pair of jeans. For an easy survey of portable washing machines, these are 5 Shopee stores that sell them.
1) Portable Washer XBP20-32
Shopee Link: Portable Washer XBP20-32
Price: RM139.00
2) Semi-Automatic Portable 4.5kg Mini Dehydration Washing Machine
Shopee Link: Semi-Automatic Portable 4.5kg Mini Dehydration Washing Machine
Price: RM88.00
3) Mini Portable Washing Machine GT-16AC
Shopee Link: Mini Portable Washing Machine GT-16AC
Price: RM179.00
4) Xiaomi Moyu 2nd Gen Portable Mini Washing Machine
Shopee Link: Xiaomi Moyu 2nd Gen Portable Mini Washing Machine
Price: RM340.00
5) Ultrasonic Turbine Washer
Shopee Link: Ultrasonic Turbine Washer
Price: RM72.08 – RM74.88
Sources: Portable Washer XBP20-32, Semi-Automatic Portable 4.5kg Mini Dehydration Washing Machine, Mini Portable Washing Machine GT-16AC, Xiaomi Moyu 2nd Gen Portable Mini Washing Machine, Ultrasonic Turbine Washer.
(Video) 'Nagoro Doll Village', A Mysterious Village Full With Dolls!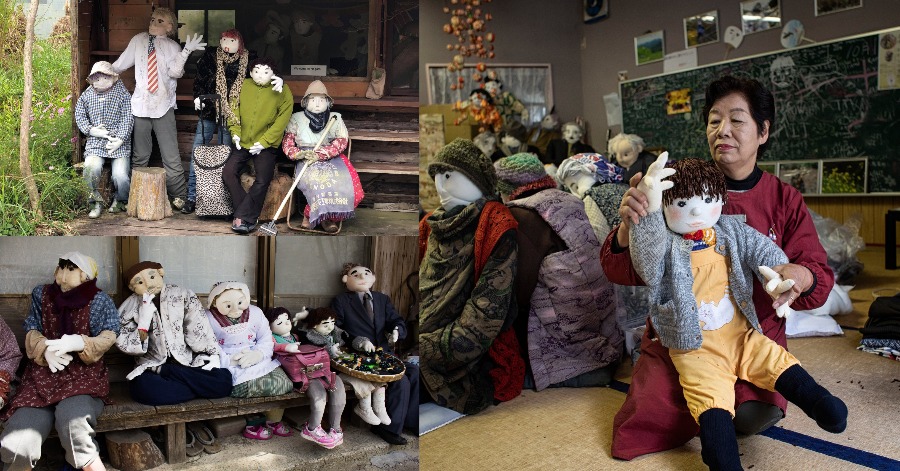 Nagoro or now known as Nagoro Doll Village is a village in the Iya Valley on the island of Shikoku in Tokushima Prefecture, Japan. It is known for the large number of realistic dolls positioned throughout the village, which have made it a tourist attraction. The village is located on Route 439 in the Iya Valley, a remote mountainous area. It formerly had about 300 inhabitants, but the decline in Japan's population has caused that to fall to 35 by January 2015, 30 as of August 2016, and also 27 by September 2019.
At first glance, most visitors to Nagoro Doll Village will see a sweet rural community of elderly residents spending their time blissfully tending to their gardens and fishing. When they decided to take a closer look, however, and they might be in for a scare. The villagers are actually dolls.
Nagoro is a slowly shrinking village located in the valleys of Shikoku, Japan. Populated by creepy dolls, it might make you question the reality. Its inhabitants left the village in a search of employment or died. More than 200 dolls inhabit the town. They've become loved by their human neighbors and are often celebrated by the community for bringing back fruitful memories of the past.
Eleven years ago, Tsukimi Ayano returned home to Nagoro. Faced with loneliness, she has populated the village with dolls, each representing a former resident. The dolls are all created single-handedly by Ayano Tsukimi. The local school is now filled with a few dozen dolls patiently waiting for class to begin. Made of straw, the bizarre dolls are dressed in old clothes.
Once working in the garden, Tsukimi made the first doll in the likeness of her father, and then she came up with the idea to replace the other family members with similar dolls. 10 years later, her work continues. Every doll is located in a place where she would resemble that person. So strolling along with the village you will find quite unique monuments either working in the field, fishing in the river, or simply sitting along the road and staring at you.
Sources: YouTube Tokyo Lens.