(Video) Netizens Are Impressed With 53-Years-Old 'Hot Dad' Teaches Exercise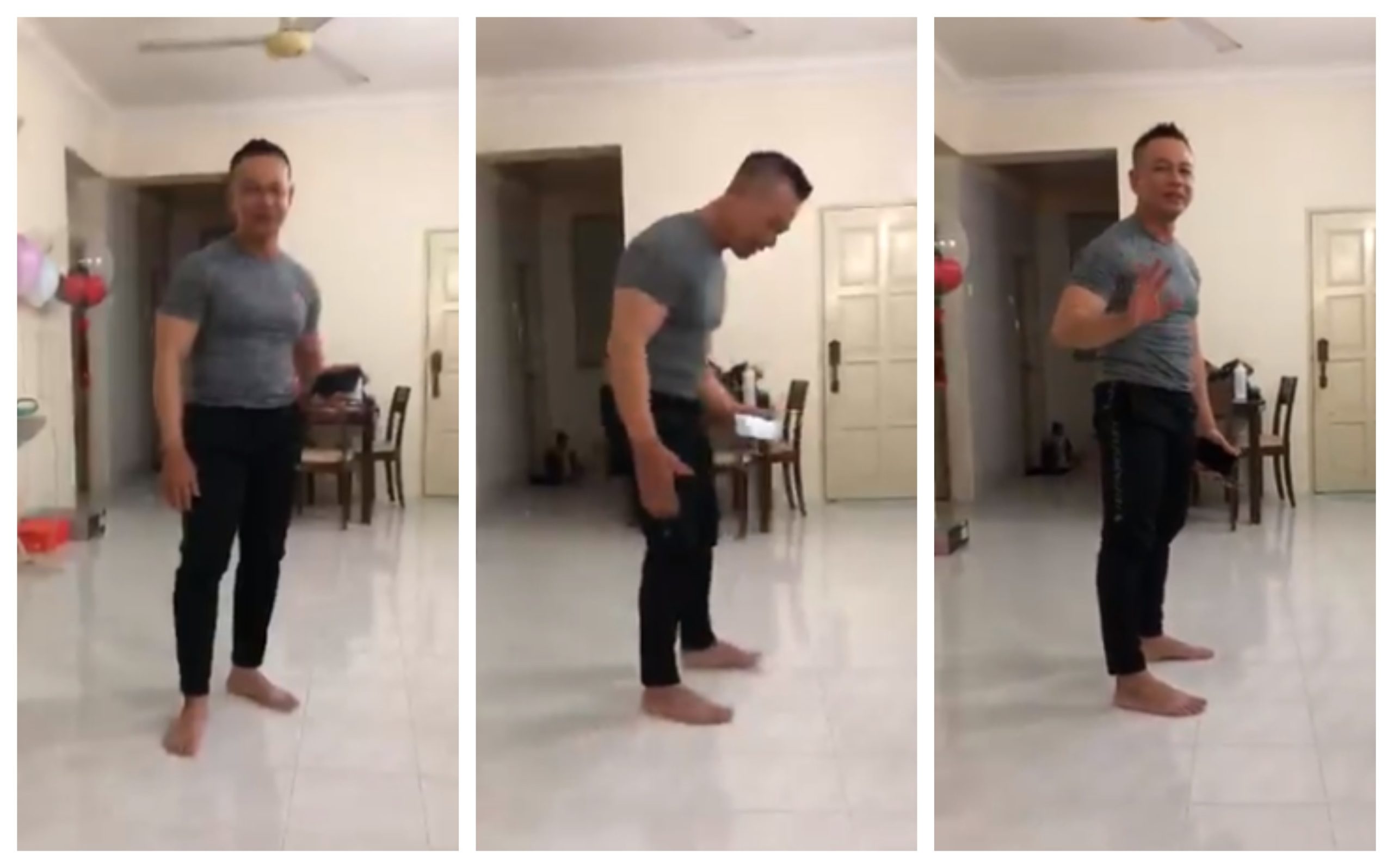 It is such a rare phenomenon for a man that has aged 50 years old and above to really take care of their own body. This is because many people feel like they do not have to really maintain their body figure and health when they have reached that point of age in their life. On the contrary, this 53-year-old man decided to break those stereotypes by always make sure to exercise and keep healthy. This man's video becomes viral on Twitter's social media platform.
The daughter shared a video about his own father who gives out some of the correct exercise techniques and netizens are getting really excited about it. They decided to swarm the comment section of the post with a lot of praises for him.
Kau tau apa yang best dalam hidup aku?
Bapak aku professional personal fitness trainer. Haaa. Claim teruk! Tepi betul.🤪
Umur 53 dok handsome lagu ni. Ko rasa?
Bapak aku, tiap kali aku balik rumah dia, dia akan ajar aku teknik2 exercise.
Yg tak best. Aku tak pernah amalkan 😂 pic.twitter.com/buOW9IESkg

— MHAT (@ninietang143) November 18, 2020
According to Twitter's post, it stated:
"Do you know what is the best thing in my life? My father is a professional personal fitness trainer. It is such a true fact. Even though he is 53 years old, he is still good looking and handsome like this. What do you think? My father is the type of person who will teach me exercise techniques every time I go back to his house. What is not the best thing with this would be that I never practiced what he taught me".
According to the story shared by the daughter, this man named Azman Tang has won the Mr. Malaysia competition two times and also Mr. Penang competition 7 times. He is literally a great bodybuilder back then. That absolutely explains why her father is still in very good shape and great looking at his particular age now.
The daughter said, "He is single, handsome, and a good person. Every week, he would travel from Penang to Kedah just to see his own mother. He would bring his own motorcycle alone on the highway. May God always protect papa."
As everyone could see from the comment section, many people praised the man for always keeping himself healthy and in a good fit. They also said that Azman Tang looks way younger than his age, still handsome, and also active.
Sources: Twitter MHAT.
Japan's Daily COVID-19 Cases Top 9,000 For 1st time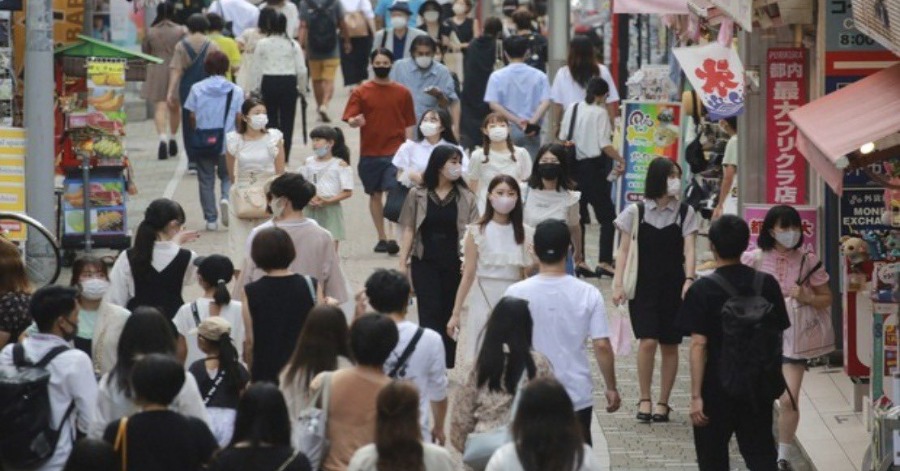 TOKYO, July 29 — Japan's daily total of COVID-19 cases topped 9,000 for the first time on Wednesday, with a surge in infections in Tokyo casting a pall over the Olympics and putting pressure on the government of Prime Minister Yoshihide Suga to take stronger countermeasures.
According to Kyodo news agency, the capital confirmed 3,177 COVID-19 cases, hitting a record for the second straight day and pushing up the nationwide tally to exceed the previous all-time high of 7,958 set Jan 8, as hospitals come under increasing strain.
The surge in infections comes as the highly contagious Delta variant of the coronavirus spreads and people in Tokyo tire of restrictions under a state of emergency.
The record high was reported just a day after Tokyo logged 2,848 daily COVID-19 cases, exceeding the previous record of 2,520 cases on Jan 7.
The virus has spread rapidly elsewhere, with the nationwide tally of daily infections that was below 2,000 in early July surpassing 4,000 one week ago, 5,000 on Thursday and 7,000 on Tuesday.
On Wednesday, the daily count for the entire country reached 9,583, bringing the cumulative total to nearly 900,000, while Tokyo's neighbouring prefectures of Kanagawa, Saitama and Chiba also all reported record single-day highs at 1,051, 870 and 577, respectively.
Japan's National Institute of Infectious Diseases has estimated that the Delta variant is now responsible for about 70 per cent of infections in the metropolitan area.
Olympic organisers have pledged to implement adequate COVID-19 countermeasures for "safe and secure" games and stressed that the number of infections among athletes and others associated with the sporting extravaganza is very low.
Suga has denied the possibility of canceling the Olympics, which opened Friday without spectators at almost all venues, and said that "there is no worry" as people are expected to move around less.
But Takaji Wakita, head of the national institute, who also leads the health ministry's COVID-19 countermeasures advisory panel, warned at a press conference Wednesday that "the spread of infections (over this one week in the country) is something never experienced before."
The capital's seven-day rolling average of cases has risen to 1,954.7 per day, up 53 percent from the previous week.
The government has placed Tokyo under the fourth state of emergency, which mostly relies on a cooperative public and does not entail a hard lockdown like some countries have imposed, from July 12 to Aug 22.
Still, some restaurants and bars have ignored calls to stop serving alcohol and close early as the government has lagged in handing out "cooperation money" meant to help them cover lost revenue.
Many people, especially younger ones less likely to be vaccinated, have grown weary of the restrictions and begun going outside more.
"How young people behave is key," Tokyo Governor Yuriko Koike told the press on Wednesday, advising them to get their shots.
Of the 3,177 COVID-19 cases, 1,078 people in their 20s and 680 in their 30s tested positive, accounting for more than half of the total, according to the metropolitan government.
"The medical system has already started becoming more strained," Shigeru Omi, Suga's top COVID-19 adviser, said in a parliamentary hearing, calling on the government to "send out a message that gets across the sense of crisis they should be feeling and take countermeasures fitting of the current infection situation."
The governors of Chiba, Saitama and Kanagawa will ask the central government, possibly Thursday, for their prefectures to be placed under the same state of emergency.
The government will "promptly consider such requests and make a decision," Chief Cabinet Secretary Katsunobu Kato said at a press conference Wednesday.
Suga also met with members of his Cabinet including health minister Norihisa Tamura to discuss the current situation.
As early as Friday, the government will convene a meeting to decide on putting the three prefectures under the emergency, an official said.
Suggesting there are not many options for the government, a senior official at the prime minister's office, said, "We have used almost all cards available by now."
Meanwhile, the Olympic organising committee said Wednesday that 16 more people linked to the games, none of them athletes, have tested positive for COVID-19, bringing the total since the start of this month to 169.
It is the first time in four days that the organisers have reported no COVID-19 positive cases of Olympic athletes.
Sources: BERNAMA
District Race Malaysia By AIA Vitality, The World's Greatest Exploration Race Attracted More Than 11,000 Runners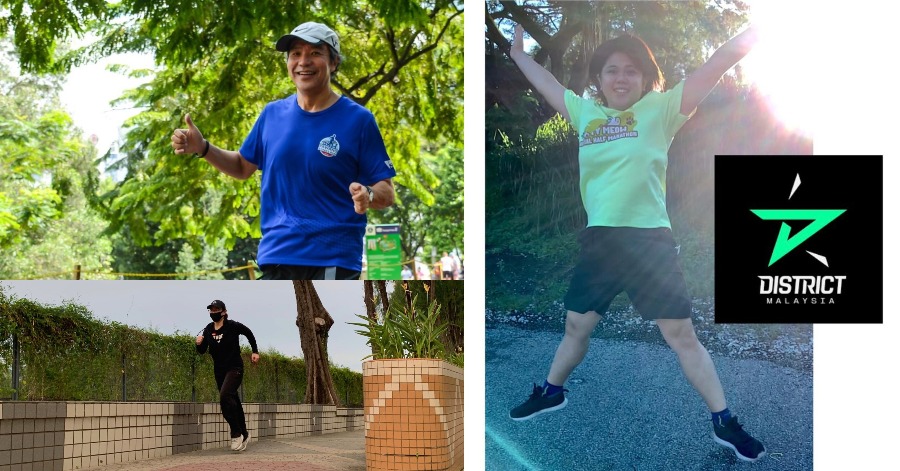 Maintaining one's health during this challenging time has not been easy, especially in the past six months where various movement control orders were put in place due to the rising number of COVID-19 cases. It is undeniable that the COVID-19 pandemic has put a hold on many things, with mass participation events being one of them.
Adapting to the various challenges caused by the pandemic, District Race Malaysia by AIA Vitality rose to the occasion and made a return as an augmented reality event by providing a digitally engaging and fun urban exploration experience. This year's event was made even more attractive as participation was free and made available nationwide. This gave equal opportunities for runners across Malaysia to participate in the event.
District Race Malaysia by AIA Vitality was launched on 1 March 2021, providing users with a fun way to lead an active life to stay happy and healthy during these trying times. The 4-month long event became an instant hit with avid casual runners in Malaysia; including non-runners who just enjoyed casual walks. The event has managed to exceed its initial target of 10,000 sign-ups, with over 11,000 participants registered on the District app, all vying for the opportunity to take home the grand prize, the brand new Proton X50.
One of the contributing factors to the overwhelming response was the flexibility of participation – making it easy for runners to choose the when, where and how of their participation. The District app was enhanced to be even more user-friendly – by simply stepping out of the house, switching on the app, pressing start and navigating their journey towards checkpoints to earn points. With no set route or distance and checkpoints made available everywhere, explorers were able to create their own strategy and choose how they wanted to explore. Whether by walking or running, everyone got to participate at their own pace.
Participants were also able to link their GPS supported wearable devices to the District app and earn points for any walking or running activities. The points collected on the wearable were then credited towards the overall leaderboard. The prizes up for grabs via lucky draw included over 40 items such as Garmin watches and adidas gear, as well as a brand-new Proton X50, which undoubtedly was the main attraction.
Josh Tendler, Head of Marketing, District Technologies said, "The COVID-19 pandemic has affected many planned events worldwide, and mass participation events especially are not excused. The event cancellation is definitely felt by runners everywhere. That is why we decided to do a digital race for this year. What the digital event lacks in the physical interactions, it makes up for in flexibility. Participants get to choose how and when to do the race at their convenience, while collecting points, being healthy, and unlocking Augmented Reality selfie filters. In my opinion, one of the silver linings of the pandemic is we now found new ways to connect with our loved ones, others around the community, either by staying active together or just enjoy their companion through virtual interactions and reaching collective goals together. We would like to thank AIA for helping to make District Race's vision in providing an engaging and fun urban exploration experience a reality as well as their support for the second year in a row."
Heng Zee Wang, Chief Marketing Officer, AIA Bhd. said, "I would like to congratulate the winners and the participants of District Race Malaysia by AIA Vitality for their amazing achievements despite the current circumstances. We hope that this event has inspired Malaysians from all walks of life to maintain an active and healthy lifestyle during these challenging times. We would like to express our appreciation to District Technologies for successfully executing a digital event that benefitted many Malaysians and we look forward to supporting many more exciting initiatives like this as part of our efforts to help people achieve Healthier, Longer, Better Lives."
Chong Zee Min emerged as the lucky winner to bring home the most coveted prize; the all-new and free Proton X50. Participants received 1 entry to the lucky draw for every activity of over 2,000+ points in the District app.
Chong was surprised when she learned of the news. "The event itself inspired me most as it turns exercising into a fun and unique experience while exploring many different and interesting areas of my city that I would have otherwise missed out. I am thrilled have won the grand prize, a brand new Proton X50. Such an unexpected sweet surprise! This is a massive bonus coupled with a sense of achievement. I am truly delighted!" said Chong, 31, from Penang.
Amongst the other prizes presented were Garmin watches and adidas merchandise to the Top 3 Overall Male and Female Champions, as well as merchandise packs to the Biggest Team Overall.
For Overall Male, the first place was taken by Jimmy Lim, taking home the Garmin Fenix Watch, followed by Chew Soon Yong in second place and Yew Hoe Liew in third place, winning them the RM 1,000 and RM 500 adidas vouchers respectively.
For Overall Female, the Garmin Fenix Watch was won by first placed Lynn Ooi, followed by Ooi Ai Lyn in second place and Teoh Seow Sian in third place, also taking home the RM 1,000 and RM 500 adidas vouchers respectively.
The Biggest Overall Team, AIA District Family, with a total of 40 members, took home free merchandise packs for each member.
District Race Malaysia by AIA Vitality also hosted a series of campaigns throughout the 4-month long event to give runners more reasons to participate. In conjunction with Ramadan this year, the Get Fit For Charity campaign was conducted, rallying runners across Malaysia to come together in solidarity for the National Cancer Society Malaysia (NCSM). The challenge was to collectively hit the goal of 5,000,000 points, with AIA committing to donate RM1 for every 100 points scored during the campaign period. While the challenge was set for 12 April – 16 May 2021, the target was met well ahead of time, hitting the overall goal by 4 May 2021. Thanks to the collective efforts of the runners, the charity engagement was an overwhelming success with RM 50,000.00 raised and donated to NCSM.
Besides collecting points for the charity, the Top Average Team Score Challenge was also conducted to incentivize runners to keep their points rolling. Team Sonic took home RM10,000.00 cash after accumulating an average of 289,000+ points per team member.
In June 2021, the Social Media Contest went live, asking users to post a photo, video or story to their Facebook or Instagram taking part in District Race Malaysia by AIA Vitality, along with proof of an activity of at least 2,000 points. The lucky winners were chosen based on their creativity and walked away with prizes such as Garmin watches, adidas vouchers, and Garmin merchandise packs.
(Video) Beneficial Music Choice! These 5 Songs Can Help You Improve Your Focus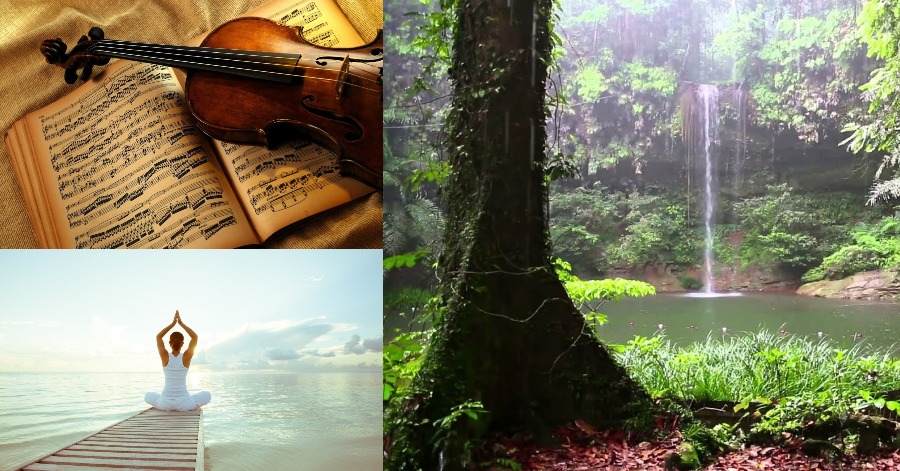 Music actually is not just a means of entertaining ourselves. Other than that, it can also encourage creativity and also would help us to become more productive. Listening to music can be so therapeutic, relieving feelings of stress so that you can concentrate better. In fact, plenty of people swear by music as a helpful tool for studying and working.
Studies have shown that music produces several positive effects on a human's body and brain. Music activates both the left and right brain at the same time, and the activation of both hemispheres can maximize learning and improve memory. These are 5 songs that have been scientifically proven that can really help you to improve your own focus.
1) Classical Music
Research done in French universities have shown that listening to classical music while studying can increase your test scores. Students lectured in a room with classical music in the background did significantly better on a quiz than students in a room with no music.
2) Meditation Music
Stress is not your friend when you need to focus. Music used for the purpose of meditation facilitates your mind and body's ability to relax into a state of calmness. The effects of meditation music have been studied on cancer patients to decrease their levels of stress and increase their probability of healing and physiological markers of health.
3) Instrumentals
From movie and video game soundtracks to trance jazz, the pure melody of the instrumentals music gives your brain a break from trying to make sense of song lyrics in addition to concentrating on the 2,300 words you still have to knock out on your essay.
4) Nature & Rain Sounds
Nature relaxes us as it takes us away from the beeps and honks of city living and brings us to a state of relaxation and contentment. In a 2010 study, the participants who completed a challenging math problem that was followed by 10 minutes of nature sounds experienced greater sympathetic nervous system relaxation than the control group. Whether it be the sound of rain, ocean waves or the jungle, the sounds of nature manage to silence any annoying brain blabber and allow you to focus on the task at hand with surprising clarity.
5) Brainwave Entrainment
Brainwave entrainment is the scientific term of synchronizing your brain's neuron activity to the rhythm of sound. There are two types of Brainwave Entrainment:
Binaural beats: Binaural beats utilize your brains natural ability to fill in sensory gaps by emitting sounds of two different frequencies into each ear. This causes the brain to detect the variance between these two frequencies and create its own frequency from the difference between the two.
Isochronic Tones: Research has said that the brain actually functions most optimally during the silence between sounds. This is why drumming can be so entrancing.
Sources: Spoon University.