20 New Species And Wildlife Rediscovered In The Bolivian Andes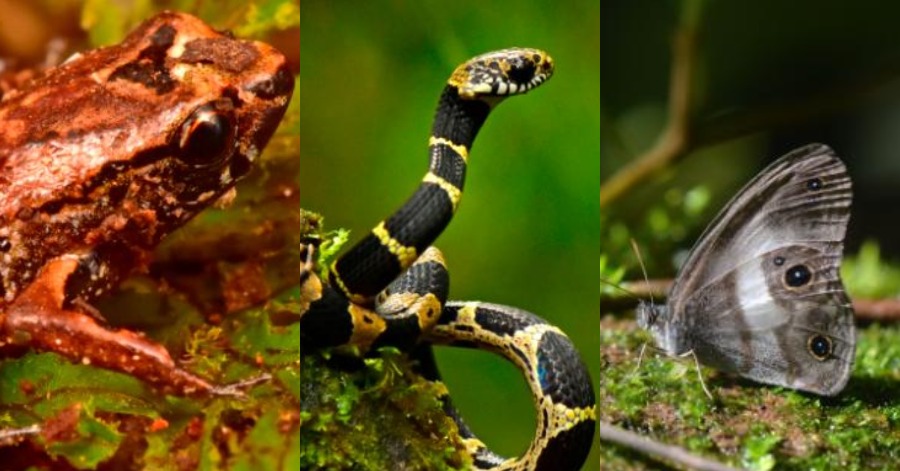 Scientists have confirmed the discovery in the Bolivian Andes of 20 new species, as well as sightings of plants and animals which have not been seen for decades.
The Zongo Valley, situated near the Bolivian capital of La Paz, is regarded as the region's "heart" and several well-preserved ecosystems, which thrive with lush biodiversity, are high up steep, rugged mountains.
The "mountain fer-de-lance" viper, "Bolivian flag snake" and "lilliputian frog," as well as glorious orchids and butterfly birds, were discovered among the cloud forests by researchers.
The results were made on a 14-day expedition in March 2017, co-led by Trond Larsen of the non-profit environmental organization Conservation International, revealed in research published today.
"[In Zongo] the noises you hear are from nature — all sorts of insects, frogs, and birds calling, wonderful rushing sounds and cascades of waterfalls. Everything is covered in thick layers of moss, orchids, and ferns," Larsen tells CNN.
"We didn't expect to find so many new species and to rediscover species that had been thought to be extinct."
To help track prey, the highly venomous 'mountain fer-de-lance' viper has large fangs and heat-sensing pits on its head. Previously unknown to science, the viper has been found elsewhere in the Andes since the expedition, says Larsen.
Because of its striking red, yellow, and green colors, the Bolivian flag snake received its name and was found in dense undergrowth on the highest part of the mountain that they surveyed.
According to Larsen, another find is amongst the smallest amphibians in the world. The appropriately called lilliputian frog has a minuscule length of 1 centimeter. It's almost difficult to spot with its camouflaged brown color and ability to hide in dense layers of moss and dirt.
"We followed the sound of them in the forest but as soon as you get near them, they get quiet so it's tremendously difficult to locate," says Larsen.
With orchid flowers varying in scale, shape, and color, Zongo's valley thrives. The newly discovered mouth orchid of Adder has sections that imitate insects cleverly, tricking them into moving pollen.
While the discoveries are new to science, local aboriginal populations are familiar with them. A newly discovered bamboo was frequently used for building materials and to make wind musical instruments by indigenous people.
The team rediscovered four species believed to be extinct, including the mesmeric "devil-eyed frog," which is black in color with deep red eyes, in addition to discovering new species. 20 years ago, it was last sighted, before a hydroelectric dam was built in its habitat. It was believed that the species no longer existed despite several attempts to locate the frog.
"Given that all these other expeditions failed we did not think that we would [find it] and when we did discover it, it was quite an epiphany, incredibly exciting," says Larsen.
The satyr butterfly, last seen 98 years ago, was rediscovered in the undergrowth of the Zongo Valley, trapped in a trap containing rotten fruit as its food source.
Some of these species can not be found anywhere in the world, and Larsen says that most of the biodiversity in the area has to adapt to the effects of climate change. In pursuit of cooler temperatures, several animals migrate to higher land, journeying through forests that lead up into the mountains.
"Unless you keep those corridors of forest intact then those animals and plants have no way to move and no way to adjust to those changing conditions," explains Larsen. "That's why protecting places like the Zongo is so essential in the face of climate change."
The area is also key for people living nearby, as well as being a sanctuary for wildlife. Locals rely on the forests for building materials, says Larsen, while Zongo supplies La Paz and beyond with hydroelectric power and water.
Conservation International claims that the results support the conservation of the area and will help to inform the region's sustainable development plans.
"The importance of protecting the Zongo Valley is clearer than ever," said Luis Revilla, mayor of La Paz, in a statement. "As La Paz continues to grow, we will take care to preserve the nearby natural resources that are so important to our wellbeing."
Source: CNN
There Are Actually Many Bridges Made In Malaysia And These 5 Are Some of Them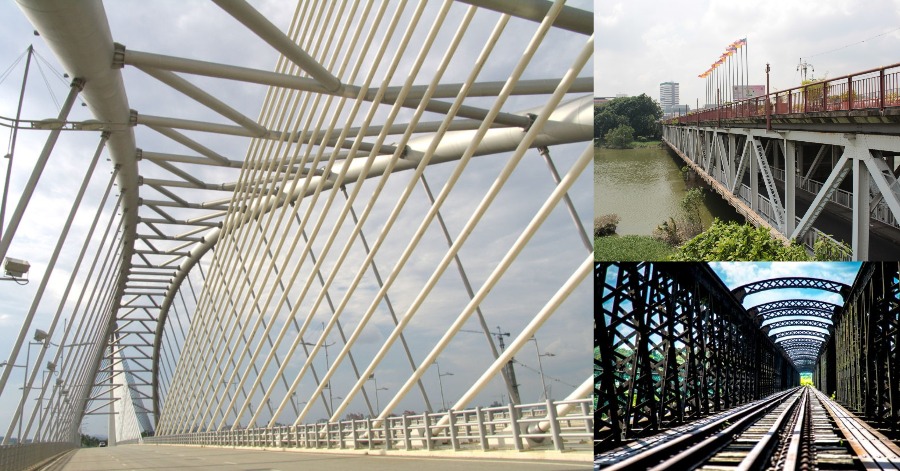 In Malaysia, there are actually so many bridges that have been made in many places. Each of the bridges made has its own uniqueness and also specialties because they have their own uses towards the communities. From the earliest arch and beam bridges to the newest suspension and truss bridges, these are some examples of bridges in Malaysia.
We build bridges to span obstacles, be it a valley, waterway, or another road. A bridge's function designates its design. A bridge can be temporary, or it can last for millennia. Many Roman bridges are still standing today. No surprise then that bridges often become iconic landmarks for their region.
These are 5 examples of bridges in Malaysia:
1) ASEAN Bridge
The Batang Baram Bridge or ASEAN Bridge is the longest bridge in Miri Division, Sarawak, Malaysia. The bridge is located along Miri-Baram Highway. The ASEAN Bridge is located approximately 2 km upstream of the New Miri Port Complex. The bridge and access road directly link Sarawak with Brunei across the Batang Baram via the existing Immigration Checkpoint at Sungai Tujuh. Construction of the ASEAN Bridge and access road commenced on 17 January 2001 and was completed in August 2003. The bridge is designed in accordance with the latest British Standard BS 5400. The bridge has 19 spans with a total of 1040 meters.
2) Iskandariah Bridge
Iskandariah Bridge or Sultan Iskandar Bridge is one of four major bridges in Kuala Kangsar, Perak, Malaysia with the other one being the Sultan Abdul Jalil Shah Bridge. The 308-meter bridge crosses the Perak River near the town and is made out of steel. The bridge remains the longest steel arch bridge in Malaysia. Traffic on the bridge, however, was greatly reduced when the Sultan Abdul Jalil Shah Bridge a little further downstream was opened to traffic in 2003 in conjunction with the completion of the North-South Expressway.
3) Seri Bakti Bridge
The Seri Bakti Bridge is one of the main bridges in Putrajaya, Malaysia. The bridge links the secondary road to Seri Satria, the Deputy Prime Minister's Residence, connecting the Government Precinct in the north to Precinct 16 in the south. The concept design was developed from several shorter spans, with a precast pretension "Super-T" beam slab deck with spans up to 35 m (115 ft). The total structure length is 270 m (890 ft). There are dual two-lane carriageways, 2 m (6.6 ft) median, walkway, and cycle track.
4) Putra Bridge
Putra Bridge is the main bridge in Putrajaya, Malaysia. It is analogous to Khaju Bridge in Esfahan, Iran. With a span of 435 meters, this bridge connects the Government Precinct to the Mixed Development Precinct and links Putra Square with the Boulevard. It was constructed in 1997. The upper level of the bridge forms part of the Boulevard. This huge three-deck bridge provides vehicle, monorail, and pedestrian access. Besides providing the link between Precinct 1 and Precinct 2 on the Core Island, it has been designed to be a special feature of Putrajaya. The piers also accommodate fine dining restaurants within its main pillar supports.
5) Sultan Ahmad Shah II Bridge
Sultan Ahmad Shah II Bridge or Semantan Bridge is the longest highway bridge in the East Coast Expressway network. It bridges the Pahang River in Pahang, Malaysia. This 700-meter bridge was opened when the East Coast Expressway was built. It crosses the Pahang River, the longest river in west Malaysia. At the entrance of the bridge, there are 2 elephant trunks that symbolize Pahang. There also many colorful lights around this bridge. This bridge was opened by Sultan of Pahang, Sultan Ahmad Shah on 22 April 2004. Near the bridge is the Temerloh Rest and Service Area.
Sources: Ranker
This Filipino Man Has The Largest Collection of Fast Food Toys In The World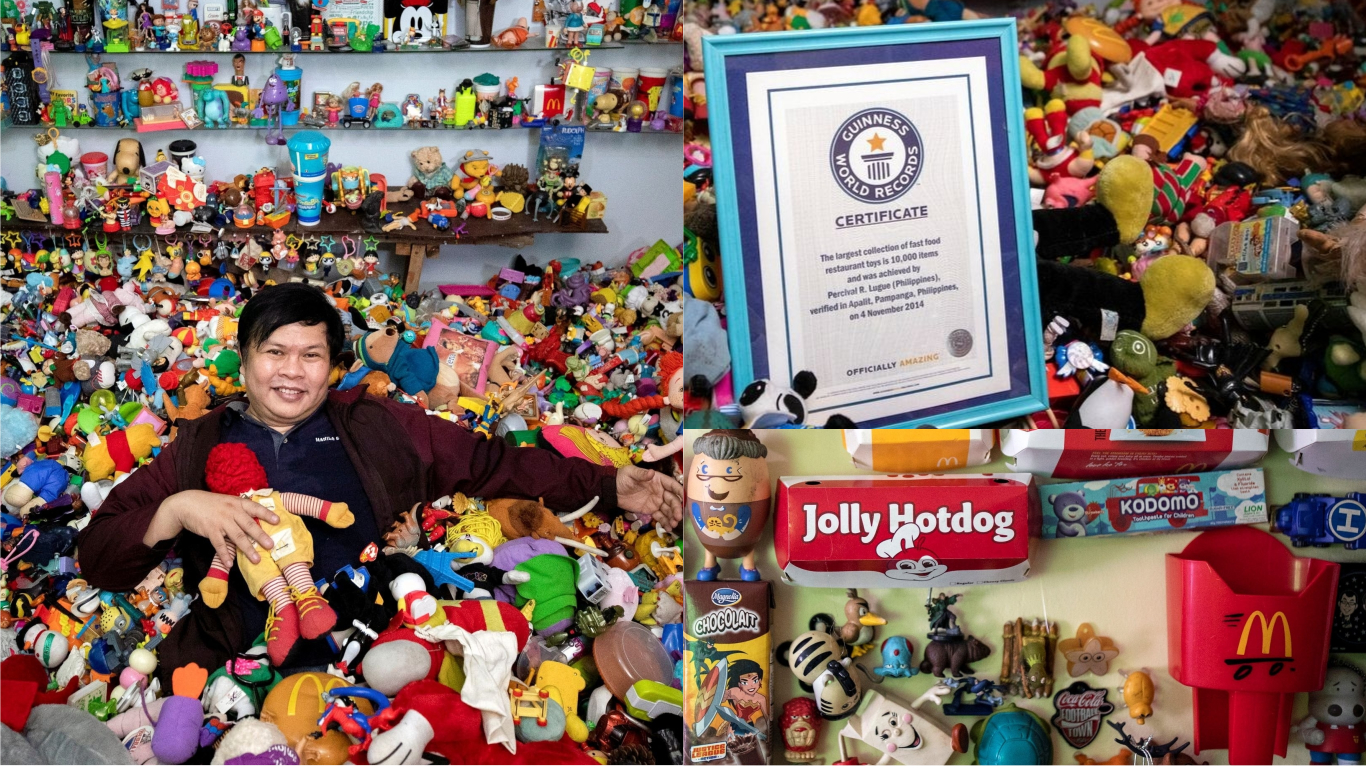 We all have memories of going to fast-food restaurants like McDonald's and KFC and get free toys buying their meals. A man from the Philippines has the largest collection of fast food toys in the world.
Percival Lugue, has been collecting toys from fast-food chains since he was five. Now, at 50, he holds the Guinness Record for the most fast food toys in the world with over 20,000 of them.
Although most of the 20,000 toys in Percival's collection come from personal purchases, he admits that he did have some help from friends and family. Sometimes he would "guide" them toward helping him, by inviting them to have lunch at a fast-food restaurant, and would manage to complete a whole set of toys in one sitting.
Ever since he got his first toy, he always took care of them. "The toy is like a storyteller in itself. It gives me a glimpse of that particular period when I got it, the story of what's going on, what are the incidents that are attached in the acquisition."
Working as a graphic artist, he has a three-story house in Apalit, Pampanga Province to store his collection. He dreams of putting the toys on display and gives people a chance to 'revisit their own childhood memories'.
Source: SCMP, Oddity Central
Truly Unexpected! Cats Used To Deliver Mail In A City In Belgium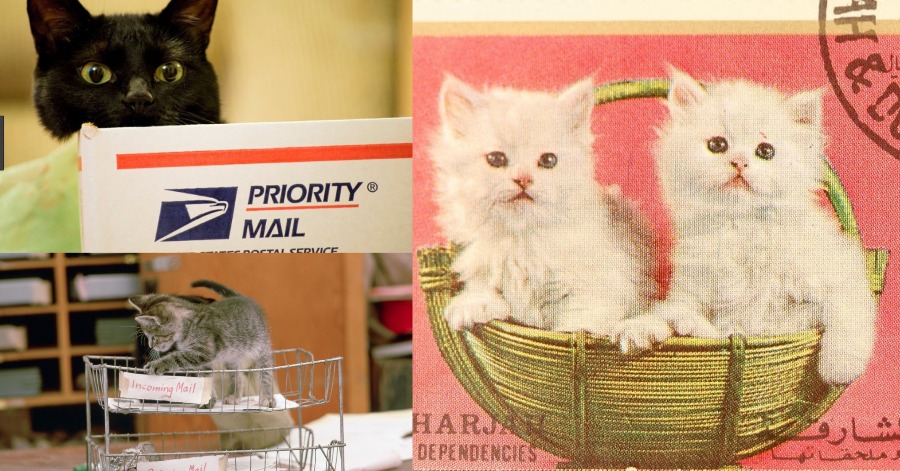 Before email and modern transportations, carrier pigeons are used to deliver mail as well as horses, camels, dogs, and even reindeer in Alaska. However, did you know in Belgium, cats were used to deliver the news?
In 1876, members of the Belgian Society for the Elevation of the Domestic Cat trained 37 domestic cats to deliver mail in the Liège. Waterproof bags with letters tied around the cats' necks and they were driven out of the countryside. Once within five hours to destination, they make their way and found their way back in 24 hours.
This scheme however never got its full potential as it lacks inefficiency.
In 2007, Gretchen Lamont wrote The Mail-Carrier Cats of Liège a book about the whole affair. Because quite a few details about the origin are missing. Although, some say it is slightly fictional.
It is quite possible that the Belgian Society for the Elevation of the Domestic Cat got its inspiration for the mail cats scheme from a practice called cat racing, which was supposedly popular in northern Europe around the 1860s.
In a book by Harrison Weir called Our Cats and All About Them,  the first cat to make its way home won a prize hamper of ham, sausages, cigars, and other goodies.
It is still practiced until recently at the annual Curruñao festival in San Luis. However,  in 2013 the festival was suspended for animal cruelty. Peruvian magistrate Maria Luyo was quoted as saying the event "caused grave social damage and damaged public health" in her ruling – good news for animal-lovers everywhere.
Source: The Culture Trip