5 Interesting Secrets About Eggs That You Have Not Known So Far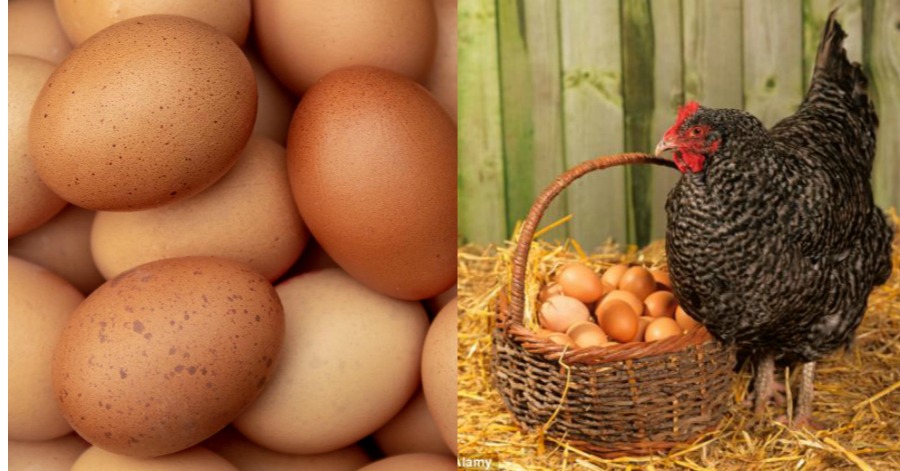 Did you know that eggs have a lot of benefits? Studies even show that children are smarter if the mother eats eggs every day, the dissenting voice is so melodious because of eggs, you are able to get the ideal body shape because eggs are saturated and many other foods are rich in this source of protein.
If you want to know eggs have many secrets that people do not know and that is:
1. Egg whites are more nutritious than whole eggs

Egg whites have only 17 calories out of 72 calories per egg and are low in fat. But the fat in egg yolk is actually good for a balanced breakfast, fat makes you feel more satisfied when eating.
2. Egg whites are high in protein sources

Egg whites are known to provide high and low-calorie protein sources. This does not mean yellow is not good for health. Yellow also has its benefits, take egg yolk, it will not only get healthy fats and increase nutrients, but you will also double the breakfast protein content.
3. Brown eggs are more nutritious than white ones
In Malaysia, white chicken is very rare and this results in no white chicken eggs being sold here. And the opinion that says brown chicken eggs are more expensive because they contain higher omega-3 content than white eggs is a mere misconception.
There is no significant difference between the nutritional content of egg whites or brown eggs. On average, the size of this brown egg is larger than the egg white and this may make it more expensive to sell.
4. Do not store eggs in the refrigerator door storage tray
If you want to store eggs in the refrigerator, make sure you do not use the egg 'tray' on the refrigerator door. Eggs need a stable temperature to make them durable and if you store eggs on the refrigerator door rack, the temperature will be affected and unbalanced even on the nutrition of the egg itself.
Just imagine you regularly open and close the refrigerator door. It is best to store the eggs in other parts such as in the refrigerator drawer so that the temperature is always stable to ensure the quality and taste of the eggs when cooked.
5. Black speckled eggs mean unhealthy

Make sure you use fresh eggs to make cakes and biscuits. Test the freshness of the eggs by placing the eggs in a glass of water. If the egg sinks to the bottom, it means the egg is still fresh. Eggs that are still fresh, the skin color is bright. Eggs that are quite old, slightly dull and black spots appear. To make biscuits do not use AA size eggs because the excess liquid content will make the dough soft. Just a size B egg is enough.
Sources: Readers Digest
Man Cheats On 35 Women By Becoming Their Lover, Just To Get Birthday Gift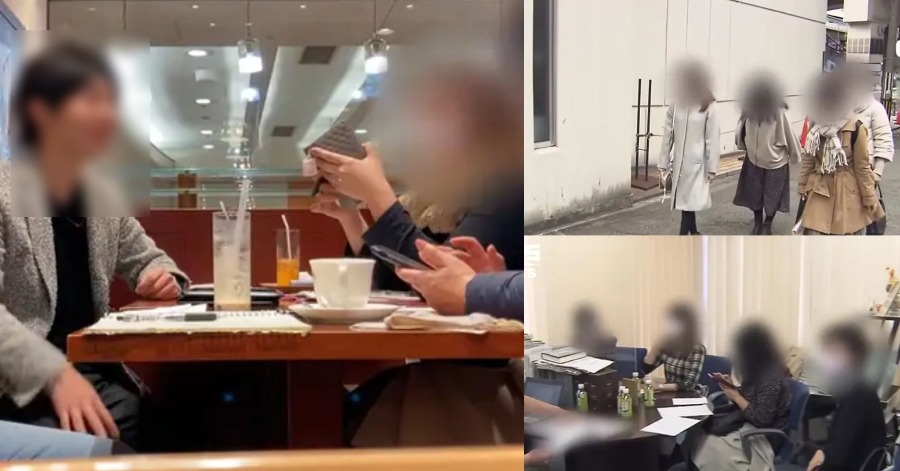 A Japanese man has been arrested after cheating on 35 women at the same time, to get a gift for his birthday. The 39-year-old would try to approach women and pretend to want to make them his girlfriend, just to get a gift in conjunction with his birthday.
The suspect from Kansai, Japan will give each of his 'lovers' a different 'birthday' date.
According to a report, the total number of women who became victims was 35 but it was reported that the actual number of victims exceeded that number.
He told one of his 47-year-old victims that his birthday was Feb. 22.
Meanwhile, another 40-year-old victim claimed he told her that his birthday was in July and a 35-year-old woman said that she thought the man's birthday was in April.
His actual birthday falls on November 13th.
He not only cheated the women in terms of cash, as well as some expensive clothes for one of his birthdays, but he also managed to sell some of the toiletries he sold, all for a profit.
It is believed that he is targeting single women, starting a relationship by indicating that he wants to get married at some point later.
The man's actions were then uncovered after all the women who were his victims 'cooperated' and then reported his cunning tactics to the police last February.
The suspect allegedly deceived all his victims where it was reported that the result of his fraud reached 100,000 yen including gifts, clothes, and cash.
Source: LADBible, SoraNews24
Police Detain Four Men In Crash-Cum Robbery Incident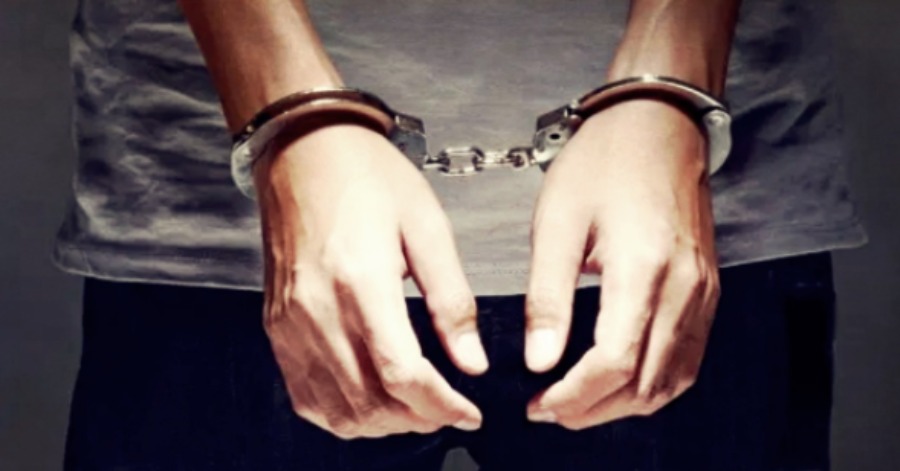 SHAH ALAM,  April 19 — Police have arrested four individuals in connection with a robbery that was viralled on social media yesterday.
South Klang district police chief ACP Shamsul Amar Ramli said the police received a report on the crash-cum-robbery incident which occurred in Taman Sentosa.
"All the suspects, aged between 23 and 35, are unemployed and believed to be drug addicts, as all of them tested positive for methamphetamine. They were arrested in the South Klang area and between 7 pm and 11pm," he said in a statement here today.
Shamsul Amar said in the incident, which occurred at about 4.30pm yesterday, a Honda Civic car with four men inside had crashed into a car which was heading towards Port Klang.
Following the crash, he said, both cars stopped and the four men got down and attacked the driver of the other car.
The suspects kicked the car and smash its window screen, before pulling the driver out of his seat and hit him with a piece of wood, as well as robbed the passenger in the car of a handphone, he added.
A viralled video on the incident showed a group of men kicking a car and smashing its window screens at a road side.
Sources: BERNAMA
(Video) Woman Does Not Realize, Holding Most Poisonous Octopus While On Vacation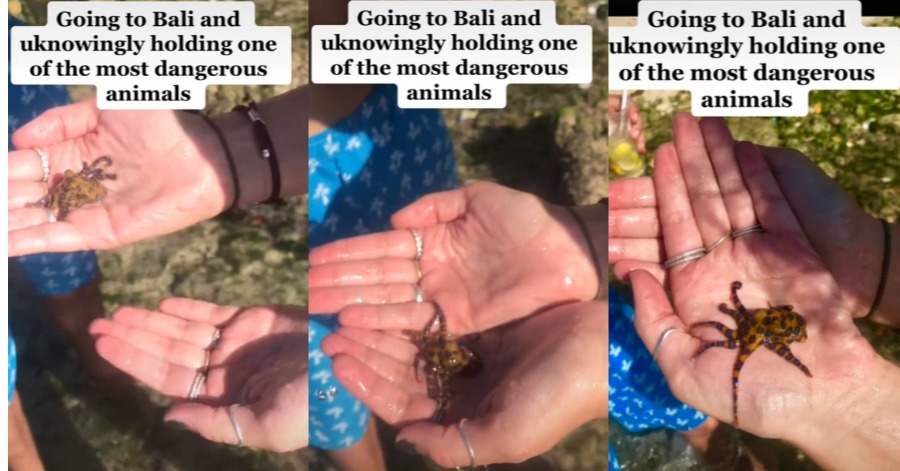 A woman doesn't realize she's almost dead when she bravely holds up one of the most poisonous sea animals in the world to make a memorable photo while on holiday in Bali. The woman, Kaylin Phillips from North Carolina, spotted a brown octopus with bright blue circles while strolling on the beach.
Excited by the discovery, she shared a video on Tiktok where she held the octopus and placed it in the palm of her hand, and took the video.
However, what she did not know was that the small sea creature was a blue-ringed octopus, which is able to kill humans within 26 minutes. It is the most venomous marine animal in the world.
After posing with the creature, Kaylin did an online search and was shocked to learn the octopus was capable of killing up to 26 humans with its venom. The venom of the blue-ringed octopus is capable of attacking the nervous system causing blindness, nausea, respiratory system damage, paralysis, and can cause death.
Sharing a video on TikTok, she wrote: "Going to Bali and unknowingly holding one of the most dangerous animals."
She also inserted information about the animal.
At the end of the video clip, Kaylin shows her face and adds: "Cheers for still being alive."
Source: DailyStar, Kaylinmarie21