Bhutan Is Like A 'Hidden Gem' With 5 Uniqueness To Explore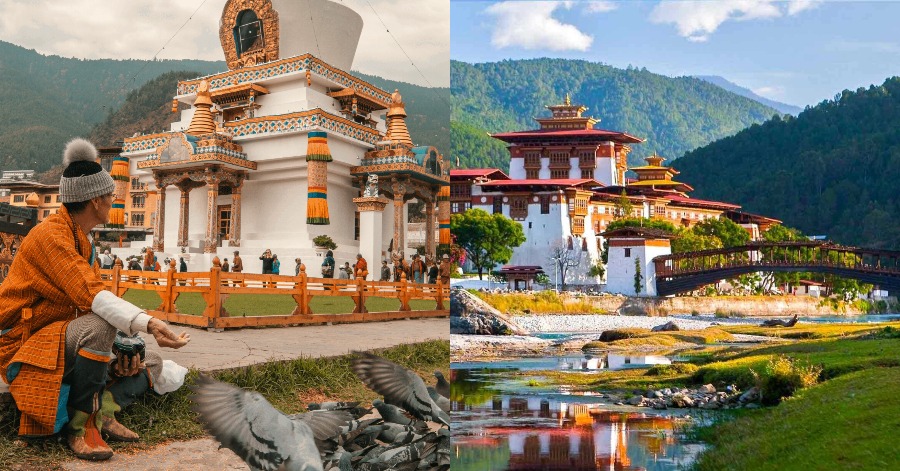 Bhutan is a country in the form of a kingdom located in the eastern region of the Himalayas and directly adjacent to India and Tibet. Before the 2000s it was very difficult to get information about the state of this country. Tourists also rarely visit Bhutan.
Bhutan is not only a country filled with greenery and natural beauty alone, it is also a country full of unique uniqueness and treasures were waiting for the people to explore its existence.
Want to know what is interesting in Bhutan, let's explore this hidden gem below.
1. No Fast Food Restaurant

If you have the opportunity to travel to Bhutan, you will find that there are no fast-food restaurants in Bhutan. Yes, there is no such thing as your favorite fast-food restaurants like KFC, McDonald's, Burger King, Starbucks, Pizza Hut, or any other fast-food restaurant we usually see in foreign countries.
This is because the people of Bhutan are more vegetarian, in addition to religious factors and the geographical position of Bhutan makes this fast-food chain not suitable for development in Bhutan.
2. Roads Do Not Need Traffic Lights

Believe it or not, Bhutan does not have traffic lights on the roads, the government once proposed to build traffic lights but was opposed by the people because it is not necessary and just use traffic police to control traffic.
3. All Stores Close When Sunset
Usually, shops and tourist spots will close late like 9 pm or 10 pm right? But in Bhutan, all shops and tourist centers will be closed after sunset from 4.30 pm to 5 pm for tourist places.
The shops will start closing between 7 pm and 8 pm. In Bhutan, all businesses close early and their lifestyle is quite simple and pleasant.
4. The Head of the Family Is Woman

The unique head of the family in Bhutan is women, yes for men who are married to women they will live in the family home next to the woman. This is a hereditary tradition and for Bhutanese nomadic women, they have more than one husband. From here we can see Bhutan practicing matriarchal society, unique right?
5. Gross National Happiness Begins In Bhutan
If you want to know Bhutan is the first country to establish the Gross National Happiness index (GNH) to measure the progress and happiness of the people in Bhutan.
It is a hidden gem, for those who have the opportunity to visit Bhutan you will be excited to see the uniqueness of this country, let alone the interesting culture and lifestyle that makes Bhutan an attractive destination for a holiday.
Sources: Oars.com, Holidify.com, Drunkadvice.com
(Video) 'Nagoro Doll Village', A Mysterious Village Full With Dolls!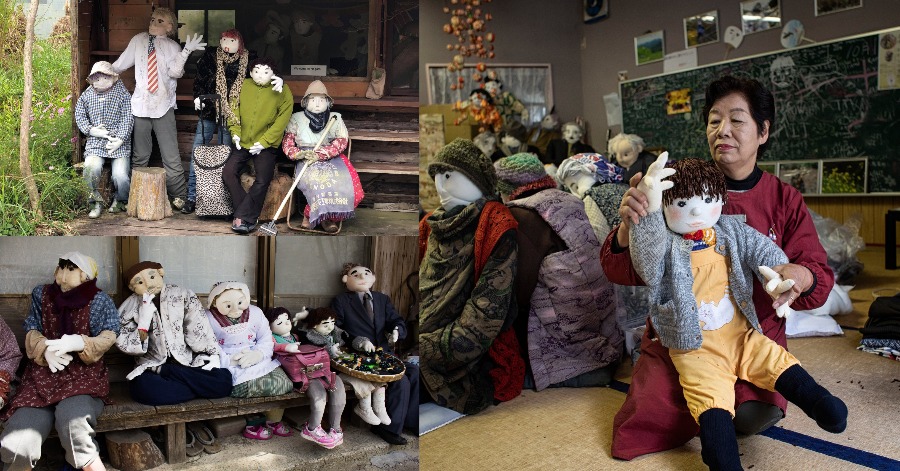 Nagoro or now known as Nagoro Doll Village is a village in the Iya Valley on the island of Shikoku in Tokushima Prefecture, Japan. It is known for the large number of realistic dolls positioned throughout the village, which have made it a tourist attraction. The village is located on Route 439 in the Iya Valley, a remote mountainous area. It formerly had about 300 inhabitants, but the decline in Japan's population has caused that to fall to 35 by January 2015, 30 as of August 2016, and also 27 by September 2019.
At first glance, most visitors to Nagoro Doll Village will see a sweet rural community of elderly residents spending their time blissfully tending to their gardens and fishing. When they decided to take a closer look, however, and they might be in for a scare. The villagers are actually dolls.
Nagoro is a slowly shrinking village located in the valleys of Shikoku, Japan. Populated by creepy dolls, it might make you question the reality. Its inhabitants left the village in a search of employment or died. More than 200 dolls inhabit the town. They've become loved by their human neighbors and are often celebrated by the community for bringing back fruitful memories of the past.
Eleven years ago, Tsukimi Ayano returned home to Nagoro. Faced with loneliness, she has populated the village with dolls, each representing a former resident. The dolls are all created single-handedly by Ayano Tsukimi. The local school is now filled with a few dozen dolls patiently waiting for class to begin. Made of straw, the bizarre dolls are dressed in old clothes.
Once working in the garden, Tsukimi made the first doll in the likeness of her father, and then she came up with the idea to replace the other family members with similar dolls. 10 years later, her work continues. Every doll is located in a place where she would resemble that person. So strolling along with the village you will find quite unique monuments either working in the field, fishing in the river, or simply sitting along the road and staring at you.
Sources: YouTube Tokyo Lens.
Such A Hidden Gem To Look! These Are 5 Coolest Abandoned Places Worldwide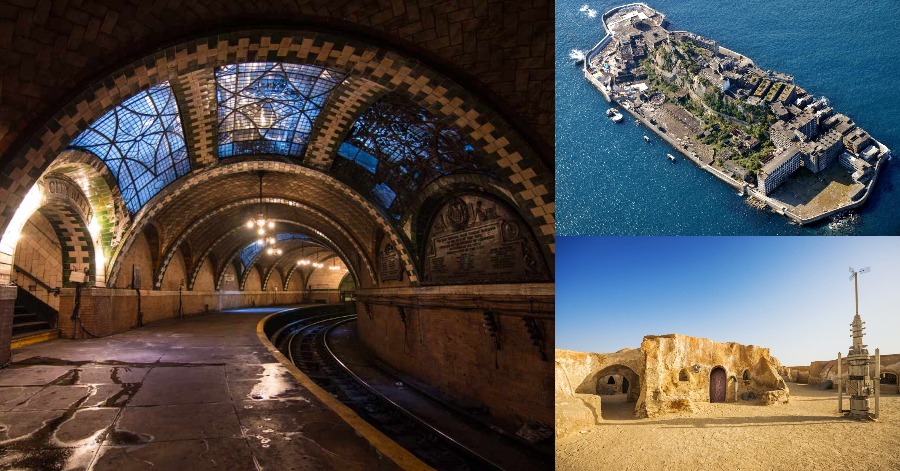 Though apocalyptic, there's something beautiful about abandoned places. The clocks have stopped ticking and there's not a soul in sight, but the shell of what used to be remains. There is something both eerie and striking about abandoned places. Abandoned places show us what happens without consistent human upkeep and perhaps what could even happen to the places we love and frequent.
These spots are haunting, and there is a mysterious beauty in neglect. From discarded hotels to ghost towns and flooded villages, these are actually 5 abandoned places in the world that are so cool to look and enjoy, perfect for intrepid travelers with a macabre sense of adventure.
1) Maunsell Army Sea Forts in England
These forts on stilt off England's east coast were originally World War II gun towers to defend against German aircraft. Now rusted out and decaying, they were decommissioned in the 1950s and have not been used since. They hark back to some of the darkest days of the war, and what is left of them can still be viewed today from passing boats.
2) Star Wars Sets in Tozeur Desert, Tunisia
The majority of filming for the planet of Tatooine took place in Tunisia, and several sets were abandoned deep in the Sahara Desert after production, including Luke Skywalker's iconic childhood home from Star Wars Episode 4: A New Hope. Now, some of the sets are deteriorating and becoming buried beneath the sand.
3) Gunkanjima Island in Nagasaki, Japan
Less than one square kilometer of rock sits on top of a massive, 1950s undersea coal mine. The miners needed a place to live, so an entire city arose on the tiny island. Nearly 6,000 people lived there, the world's highest population density. But when the coal ran out, the micro-city was deserted.
4) City Hall Station in New York
This beautiful subway station was in use until 1945, but it closed down because the curve of the platform was too sharp for newer, longer trains. Decorated with stained glass skylights, colorful tile and brickwork and chandeliers, this work of art is sadly no longer accessible to commuters and passersby, but the New York Transit Museum does offer tours to this underground treasure box.
5) Wanli UFO Village in Taiwan
These pod-shaped rooms, originally designed as ski chalets, were once destined to be part of a cheerful beachside vacation resort. However, after financial struggles, the project made of lightweight fiberglass Futuro houses was abandoned. Today, rather than a relaxing vacation destination, the combination of whimsical architecture, pastel coloring and decades of decay is unsettling.
Sources: Newsweek.
(Video) Man Recreates Situation At Airport, Makes Many People Miss To Travel Again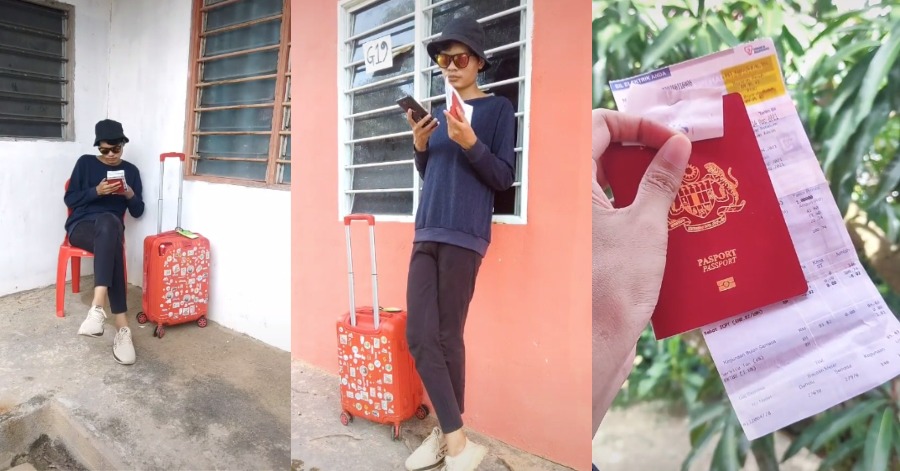 One of the major things that many people here in Malaysia miss the most during this time of the COVID-19 pandemic is definitely traveling abroad. The proof would be, many can be seen have already started to throw back their old photos and also videos while traveling in other countries before the Covid-19 outbreak hit the rest of the world last year.
In a matter of fact, some people want to travel so much up until they recreate what it feels like just to be at the airport because they have really missed the atmosphere there. This particular video of a young man who went viral on this TikTok app when he acted in his own house which was turned into an airport steals the netizen's attention.
Based on the uploaded video by a particular young man named Hadrey Ali, it can be seen that he was just outside his house with full preparations as if he wanted to go on holiday. He was also seen carrying his own luggage while holding a passport in his hand. What was even more entertaining with the video was that he literally uses his house's electricity bill as his own flight ticket
His action really invites a lot of laughter for many people who watch the video. His acting in the posted video which showed the full procedure at the airport until getting into the plane was accompanied by an audio recording of the announcement there. Looking at the comments section, turned out many people also really wanted to travel.
Sources: TikTok diva.h.a.