Launching of Himaya, A Hijab-Friendly Mask By Malaysia's Top Celebrity Elfira Loy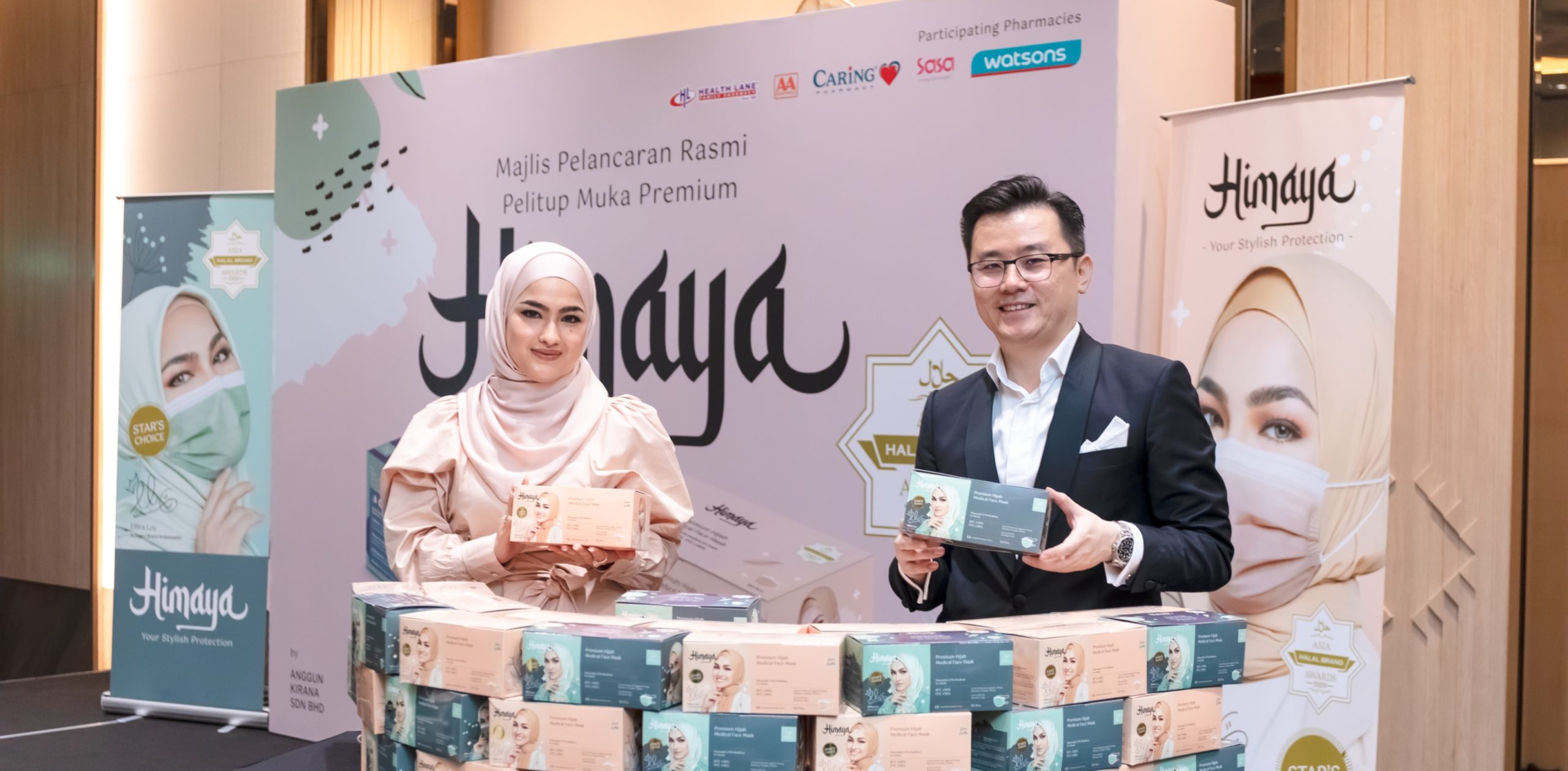 LAUNCHING OF HIMAYA: NEW PREMIUM HIJAB FACE MASK BRAND
Collaboration with Malaysia Top Celebrity, Elfira Loy
• Himaya, a new brand ready to cater to the underserved market of hijab-wearing women
• Optimist on the huge potential of premium hijab face mask amidst the on-going pandemic Covid-19
KUALA LUMPUR (14 December 2020): Realizing the difficulties experienced by hijab-wearing women in the country to get a decent supply of face mask which suits their appearance, Anggun Kirana Sdn Bhd has taken the opportunity to explore the niche segment by launching its premium medical hijab face mask brand, known as Himaya.
Himaya is a new premium medical hijab 3-ply face mask brand made of premium medical-grade filter fabric for better breathability, comfort, and reducing irritation.
Since Himaya is specially targeted to hijab-wearing women, it comes with ultra-gentle head loops for maximum comfort, in contrast to the usual ear loops face mask.
According to Dato' KK Chua, Chief Executive Officer of Anggun Kirana Sdn Bhd, the brand owner of Himaya, he said that the specific target buyer amongst hijab-wearing women was made as there is great potential to be explored in the segment.
"I received lots of feedback from them, expressing their difficulties to get a face mask that can be worn easily with hijab.
"Most of the face masks in the market require them to wear an extension (a mask extender) and this situation can be quite a hassle when they lost or missing the extender. Therefore, Himaya appeared just in time to give more variety and comfortable option to the hijab-wearing women in this country," he told the media during the launch of Himaya brand at Hilton Kuala Lumpur, today.
Himaya also collaborated with a leading Malay celebrity, Elfira Loy who is also an actress and host as part of their initiative to gain more traction towards the brand. EIfira's appointment was made as it fits in with her hijab appearance and she has a large number of followers on social media platforms.
"Besides that, Elfira also has a clean image and she also carries her responsibility well not only as an artist but also as a mother, child and wife," he said.
Himaya premium face mask comes in two attractive colors, namely Love Latte (soft brown) and Soft Olive (pastel green) which will give more varieties to the users to choose a face mask that suits their appearance.
It is available at all Watson and Caring pharmacy outlets as well as through registered agents.
Among the advantages of Himaya premium face mask are: –
• It does not produce fog if the user wears glasses because the iron wire in it can be bent accordingly
• Non-woven fabric that helps reduce irritation if worn for a long period of time
• Additional protection from bacteria, smog, droplets and pollen.
Commenting further, Dato 'KK Chua said with the launch of Himaya premium face mask, they are targeting sales of up to 100,000 boxes a month nationwide.
"We also have plans to expand the business and Himaya brand to a neighbouring country such as Indonesia as the country has a huge population, especially the hijab-wearing women," he said.
More information and the latest updates of Himaya can be obtained via Himaya Facebook page.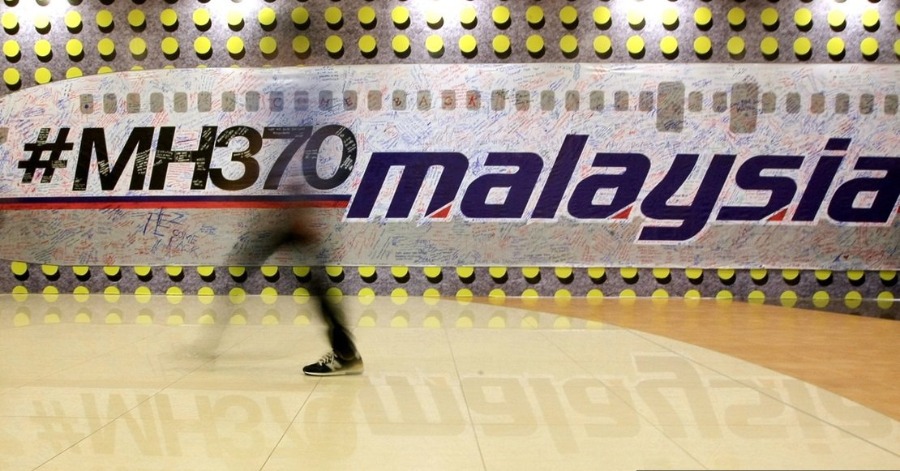 KUALA LUMPUR, March 8 — Today, March 8, marks the 7th anniversary of the disappearance of Malaysia Airlines' flight MH370 that went missing under mysterious circumstances while enroute from Kuala Lumpur to Beijing.
How and why a sophisticated Boeing 777 carrying 227 passengers of different nationalities and 12 crew vanished from the radar screen without a trace remains an enigma till today, with the extensive search never seen before in aviation history.
In remembering the ill-fated flight, Bernama revisited the incident and interviewed some of the next-of-kin in Malaysia who find the lack of closure on the episode to be disappointing.
"I feel exactly like how it had been seven years ago when I was 17, …things are pretty much the same but we are doing ok," said the daughter Andrew Nari, the chief steward on the ill-fated flight, to Bernama.
The brother-in-law of Goh Sock Lay, chief stewardess on board, told Bernama that the family did not want to talk about the incident as they felt sad each time they recalled the tragedy.
Family members of passengers also have moved on and felt there is nothing more to talk about the tragedy.
Even the conspiracy theories have abated. The initial theories, such as hijacking and diversion of the plane to US Military base on the Diego Garcia atoll, seizure of control of the aircraft from the pilots via remote methods, and catastrophic systems or airframe failure – are all have yet to be proven.
However, the aircraft's flaperon that washed up on the beach on Reunion Island a year later pointed to the fact that the Indian Ocean is the final resting place of flight MH370. However, there is no way to pinpoint the exact resting place of the aircraft in the vast ocean.
Australia, China, and Malaysia ended a fruitless US150 million search across a 120,000 square-kilometre area in the Indian Ocean in 2017. Subsequently, Houston-based group Ocean Infinity also failed to locate the aircraft and its search ended in 2018.
The Malaysian Transport Ministry had said that it has yet to receive any credible evidence to initiate a new search. Till the aircraft is found and the mystery surrounding its disappearance is deciphered, the MH370 call sign will remain an enduring mystery of aviation.
Source: BERNAMA
JPJ Is On The Hunt For Vehicle Owners That Use Modified Horns With Rhythmic Tones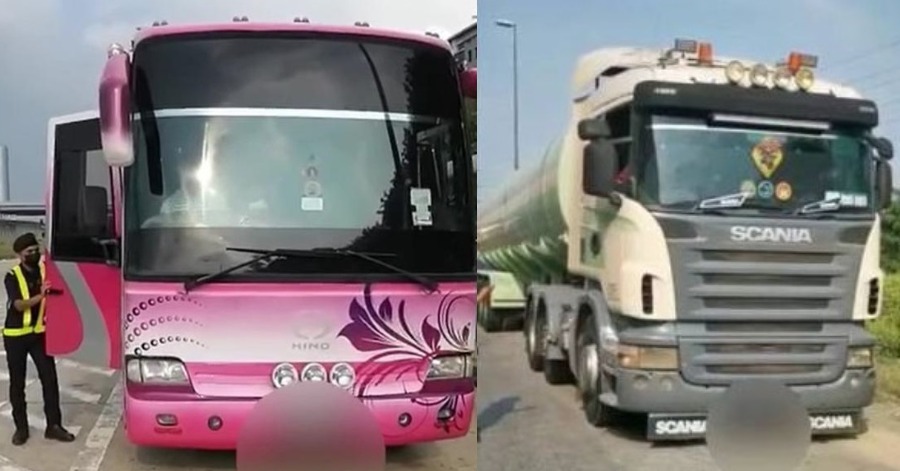 Lately, the trend of using modified horns with rhythmic tones can be seen to be on the rise especially among bus and also lorry drivers and this irresponsible action has been disturbing other road users. Therefore, the Selangor State Road Transport Department (JPJ) has carried out the enforcement operation to hunt drivers that are still using this type of horn around Selangor. This operation is done so that this disturbing type of horn will never be used again.
Selangor State JPJ also has stressed that a fine of up to a total of RM2,000 and also imprisonment of up to 6 months awaits road users with vehicles that use modified horns. According to a statement, the enforcement operation against the use of these modified horns has been done within the state since 1 March after receiving complaints from the public.
According to the Selangor State JPJ, enforcement against vehicles that install these rhythmic horns as an accessory has been sued under Rule 24 (i) of the Motor Vehicles (Construction and Use) Rules 1959, namely installing horns more than one tone. Vehicles installing this kind of horn have also been taken action with the issuance of a Notice of Prohibition of the Use of Vehicles (PG1).
Vehicle owners who have been compounded must attend an inspection at any nearby JPJ Office to ensure that the vehicle has been taken corrective action by removing the installed rhythmic horns and a Vehicle Use Prohibition Withdrawal Notice (PG2) will be issued after the vehicle inspection is made. The compound also needs to be clarified or the case was taken to court for further action.
JPJ stated that continuous enforcement will be done against any offenses to make sure that road users obey the rules and regulations on the road.
Sources: Facebook JPJ Negeri Selangor.
Malaysia Appointed As Member Of UNSC's Advisory Group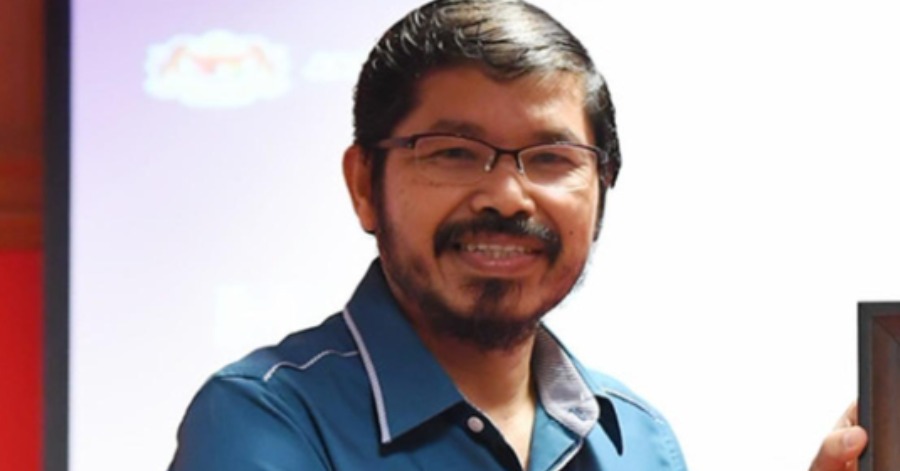 KUALA LUMPUR, March 8 — Malaysia has been appointed as a member of the United Nations Statistical Commission's (UNSC) advisory group (AG).
The appointment was made at the 52nd UNSC session held virtually from March 1-5, 2021.
In a statement today, the Department of Statistics Malaysia (DoSM) said Malaysia as one of the AG members will modernise the management and organisation of the national statistical system, thus contributing valuably to the advancement of the global statistical community.
The UNSC is the highest decision-making body consisting of more than 190 UN member states and international organisations, and members of the committee meet annually with a mandate to promote official statistics.
During the 52nd UNSC session, Malaysia was also selected as one of the pilot countries under the 12 Tranche of the UN Development Account for 2020 – 2023 projects.
DoSM said Malaysia's commitment and leadership role in developing the System of Environmental-Economic Accounting (SEEA) in the Asian region is being recognised by the UNSD.
"As a continuation, Malaysia has executed MySEEA extension for the year 2021 – 2025, prioritising the development of Land and Ocean Accounts," it said.
It said the fully-funded project aimed to strengthen the capacity of National Office of Statistics (NSO) in building SEEA in measuring progress towards sustainable development and formulating integrated evidence-based policies.
Chief statistician Datuk Seri Dr Mohd Uzir Mahidin led the Malaysian delegation for the 52nd UNSC session.
"DoSM, as the official government agency, will continue to be actively involved and supportive in the UNSC in order to improve coverage of many important statistical indicators, as well as to provide reliable official statistics that are relevant to policy that will benefit the whole National Statistical System and the well -being of society," said Mohd Uzir.
Sources: BERNAMA