UK Records Over 50,000 COVID Cases Overnight for First Time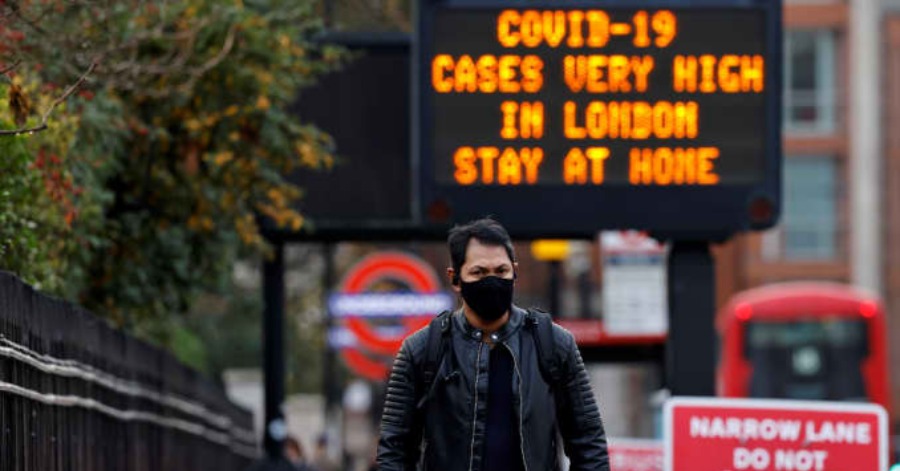 LONDON, Dec 30  — Britain recorded more than 50,000 coronavirus cases overnight for the first time since the outbreak of the COVID-19 pandemic in the world, according to official figures released Tuesday.
Another 53,135 people in Britain have tested positive for COVID-19, marking a new record daily increase in coronavirus cases in the country, according to the official figures.
The total number of coronavirus cases in the country now stands at 2,382,865, reports Xinhua news agency citing the data showed.
Another 414 have died within 28 days of a positive test, bringing the total number of coronavirus-related deaths in Britain to 71,567.
The latest figures were revealed as a scientist advising the British government warned Tuesday that "decisive" national action is needed to prevent a "catastrophe" in the new year.
Britain is "entering a very dangerous new phase of the pandemic" due to the spread of a new coronavirus variant, said Prof Andrew Hayward, a member of the government's New and Emerging Respiratory Virus Threats Advisory Group (NERVTAG).
"We're going to need decisive, early, national action to prevent a catastrophe in January and February," he told BBC Radio 4's Today programme.
"The previous levels of restrictions that worked before won't work now, and so Tier Four restrictions are likely to be necessary, or even higher than that".
British Health Secretary Matt Hancock is expected to announce any changes to England's tier restrictions on Wednesday.
More States In Peninsula Receive COVID-19 Vaccine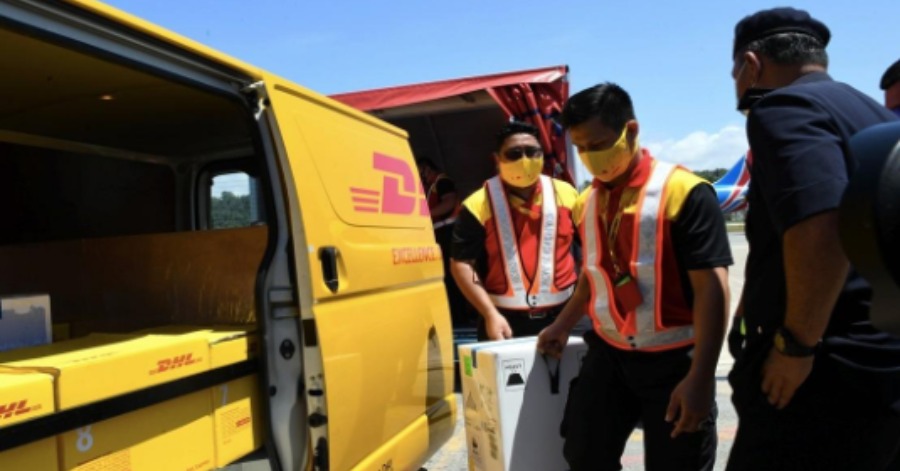 KUALA LUMPUR, Feb 25 — More states in Peninsular Malaysia are receiving the supply of COVID-19 vaccine, Comirnaty, produced by Pfizer-BioNTech on the second day of the first phase of the National COVID-19 Immunisation Programme.
Negeri Sembilan, Kedah, Melaka, Kelantan, Perak, Pahang and Perlis received the vaccine supply yesterday.
The National COVID-19 Immunisation Programme started yesterday with Prime Minister Tan Sri Muhyiddin Yassin being the first individual to receive the vaccine.
In KEDAH, a DHL lorry carrying 2,340 doses of Pfizer-BioNTech vaccine arrived safely at about 12.40 pm today at the Integrated Pharmacy Logistics Unit store of the Langkawi Health Office at the Air Hangat Clinic.
The lorry had travelled from Penang International Airport to Kuala Perlis Jetty in Perlis before using the RORO ferry service to Tanjung Lembung, Langkawi.
Sources: BERNAMA
Aged Care Centers Need More Time To Pre-Register For Vaccination Plan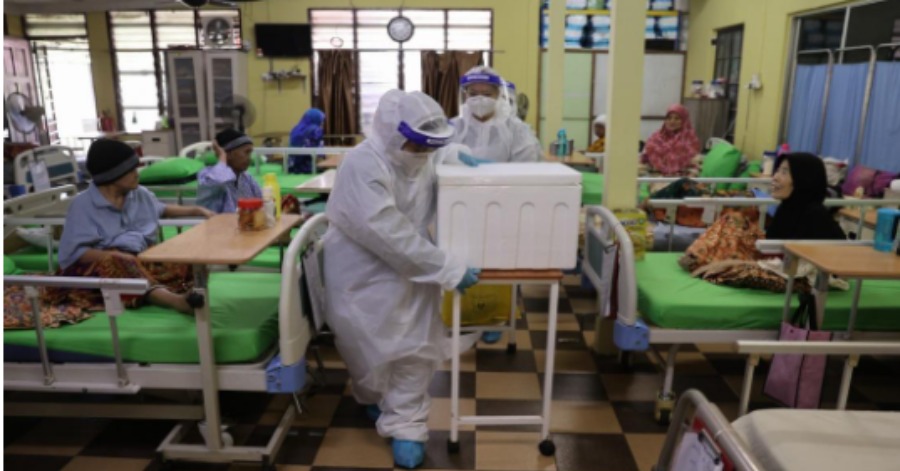 KUALA LUMPUR, Feb 25– The Association for Residential Aged Care Operators of Malaysia (AGECOPE) expressed hope that the COVID-19 Vaccine Supply Access Guarantee Special Committee (JKJAV) to give both licensed and unlicensed care homes more time for to pre-register for the vaccination plan.
Its president Delren Terrence Douglas said longer time is needed to provide an on-site vaccination plan, and to allocate at least 30,000 doses for aged care home staff and residents under the National COVID-19 Immunisation Programme.
He pointed out as operators of aged care centres, old folks' homes and nursing homes, the association was of the view that the vaccination is among the important tools in battling the COVID-19 pandemic, apart from regular testing as well as effective infection prevention and control measures.
"AgeCOpe is looking forward to work with the Ministry of Health, the Social Welfare Department, the Ministry of Science, Technology and Innovation, as well as all related federal, state government agencies, departments and task forces to ensure our premises are safe and in compliance with the industry's standard operating procedures (SOPs)," he said in a statement today.
In the meantime, Delren also welcomed the government's plan to initiate a compensation scheme for those who may experience adverse side effects from the COVID-19 vaccination.
COVID-AGED CARE 2 (LAST) KUALA LUMPUR
The National COVID-19 Immunisation Programme is implemented in three phases starting Feb 24, with Phase 1 from Feb to April 2021 for the frontliners involving 500,000 people.
The Phase 2, from April to August, will involve senior citizens aged 65 and above, the high-risk groups and the disabled involving some 9.4 million people, while Phase 3 from May this year to February 2022 will cover both Malaysians and non-citizens, aged 18 and above, targetting more than 13.7 million people.
Sources: BERNAMA
5 Important Things Not To Do When Visiting Family That Has A Baby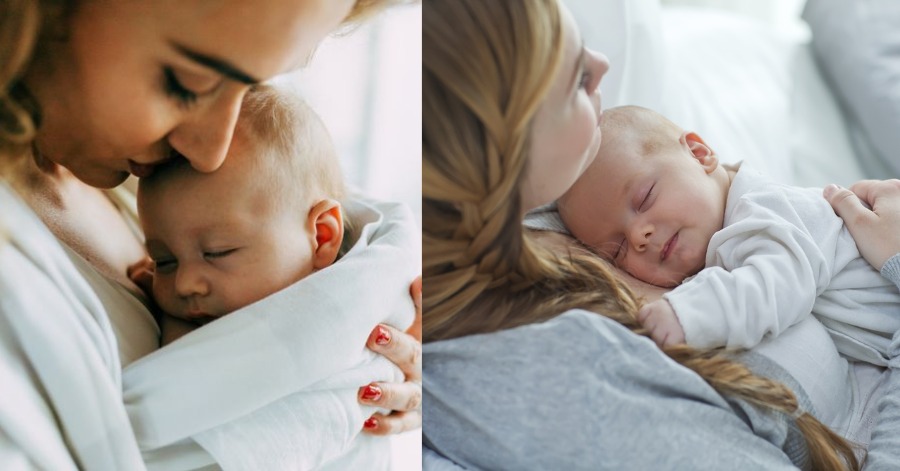 Visiting someone who just gave birth to a baby would be such a normal tradition for many people in this whole wide world. Their intention might be to know how the mother's condition is doing and also wanted to meet the adorable newborn.
Little that people know, there are certain important things that people should avoid doing when they are visiting houses that have babies.
The reason for avoiding these things would be to make sure that the newborn does not get any infections from other people that come to visit the family. A Twitter user named Ahmad Luqman Bukhari who is a Medical Doctor shared this important information on his Twitter page.
Tolonglah sangat-sangat jangan buat 5 perkara ni kalau korang pergi rumah yang ada bayi baru lahir tau. pic.twitter.com/4TFD0KMQ5i

— Ahmad Luqman Bukhari (@drluqman) February 19, 2021
Five important things not to do when visiting a house that has a baby:
1) Do Not Touch The Baby Whenever You Feel Like To
Sometimes, people love to touch other people's babies whenever they wanted and some of them even love to kiss the baby's cheek because it is so adorable to them. This action is actually very bad to be done because newborn babies got a very low immune system to protect themselves. The life of the baby could be threatened if they got infected with the germs and also bacteria that exist on the surface of the people who touch the baby.
2) Do Not Wake The Baby Up If The Baby Is Still Sleeping
Some people love to intentionally wake a baby up even when the baby is still peacefully sleeping for many unnecessary reasons. It actually makes it bad to wake the baby up especially if the baby just started to sleep because it will disturb the baby's amount of rest needed per day.
3) Do Not Have To Act Good By Teaching Various Tips To The Young Mothers
The thing that a young mother who is in confinement really needs is moral and also mental support from the people around her. If she asks, share the knowledge. But if not, do not have to teach the mother everything. Just say words of encouragement that make the mother feel comfortable.
4) Do Not Visit For A Very Long Time
Avoid spending a very long time at other people's homes especially if they just gave birth. The mother who was in confinement, her body was still tired. She still needs a lot of rest and also sleeps. She might be having postpartum depression if she stressed out too much.
5) Do Not Be Near The Newborn If You Are A Smoker
Toxic things like nicotine and other chemicals from the smoke of the cigarette could make the baby's breath becomes short if the baby inhaled it. It could also cause inflammation in the baby's delicate airways.
Sources: Twitter Ahmad Luqman Bukhari.