(Video) Heavy Rain Causes Flash Floods At Pasar Payang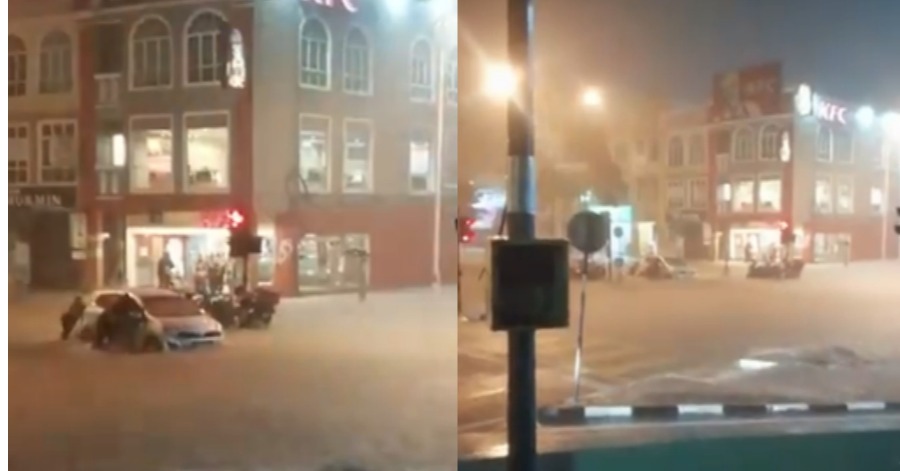 KUALA TERENGGANU, Dec 3  — Heavy rain for about six hours since 6 pm yesterday caused flash floods in several locations in Terengganu last night.
From videos shared by netizens on Facebook, a few tourist locations, such as Dataran Syahbandar, Pasar Payang, and Kampung Cina were also affected, with the roads in the area closed to light vehicles.
Residents in the affected areas were also seen busy helping one another to move their vehicles to higher ground, but many of the traders did not have enough time to move their wares due to the fast-rising water.
According to the Secretariat for the Terengganu Disaster Management Committee, as of 7 am today, 439 victims from 124 families had been evacuated to nine relief centers, which was less than 24 hours after the closure of the last relief center for the second wave of flood in the state.
The flood today affected the districts of Kuala Terengganu, Kuala Nerus, Marang, and Kemaman, with the evacuation process in a few other districts.
Meanwhile, the Malaysian National News Agency  (Bernama) part-time reporter, Kamaliza Kamaruddin, 39, said the water in her two-story house rose to knee-high, but the family did not evacuate as they moved upstairs.
"We had time to move only some of the electrical appliances upstairs. This is the third flash floods since we moved to this residential area at Jalan Pusara here," she said, adding that the two previous occasions were in 2016 and 2018.
However, this time, the floodwater took longer to recede, she said.
Bernama photographer Mohd Khairul Fikiri Osman, 34, was also affected by the floods when water began entering his house at 9.30 pm and three hours later, he decided to move out and checked into a hotel with his wife and two children.
"I was able to move the refrigerator to a higher level but had to leave others when water started to fill the house. What matters most is my family's safety," he said.
As of 7.30 am today, the flood water is beginning to recede, though, in some areas in the state, it is reported to be drizzling.
Keadaan sekitar Kuala Terengganu malam tadi hingga awal pagi ini akibat hujan lebat.

📹 Awam pic.twitter.com/Wjf6UenXQv

— BERNAMA (@bernamadotcom) December 2, 2020
Sources: BERNAMA
Shop Review: 'BeliGas', A Malaysian Start Up Shop That Can Deliver Cooking Gas Within Klang Valley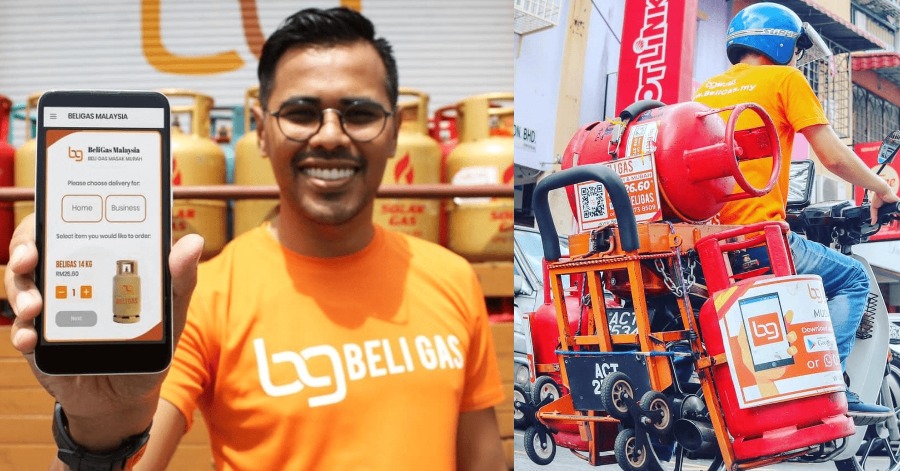 For all the people who live in Klang Valley, worry no more if one of your inconveniences would be to buy cooking gas due to its high price or even due to there is no shop that sells cooking gas near your area especially during this MCO 2.0. This is because there is a new Malaysian start-up cooking gas delivery service that is based in Klang Valley and the shop is called 'BeliGas'.
BeliGas does cover over 100 service areas in the Klang Valley area, offering cooking gas delivery starting from only RM26.60 per 14kg tank and also as quick as 1 hour delivery to your own very doorstep.
This company was started by Suthan Mookaiah, and it aims to provide a cooking necessity at this time through a convenient app.
The app for BeliGas could be obtained on Google Play Store by clicking this link: BeliGas App On Google Play Store.
Suthan Mookaiah shared BeliGas' story to the official Facebook group on the 1st of December 2020 in hopes of gaining support for the shop and also it's delivery riders. This is because most of BeliGas's young workers belong in the B40 group or even Malaysians whose incomes are in the bottom 40% household bracket. Many of them had also been left jobless due to COVID-19.
This is the recent BeliGas Cooking Gas Pricing:
The main reason why they're able to offer the lowest prices is that they work directly with LPG gas suppliers which means cutting off middlemen and logistics inefficiencies to reduce cost. All their service outlets follow these refill and delivery prices per 14kg Liquefied Petroleum Gas (LPG) tanks of Solar and Petron:
1 Day Pre-Order (RM25.60)
Same Day Delivery (RM26.60)
Urgent 1 Hour Delivery (RM29.60)
Night Delivery (RM38.60)
Surcharge for Condo, Apartment, High-Rise buildings (RM3.00)
Don't worry if you currently don't use Solar or Petron tanks, because BeliGas will switch for you with no extra cost.
For more details, you guys can look up information on the BeliGas Facebook page and also Instagram Page.
They provide their cooking gas delivery service in the 81 main areas referred to below:
Sources: BeliGas.
Biden Ends Travel Ban On Muslim Majority Countries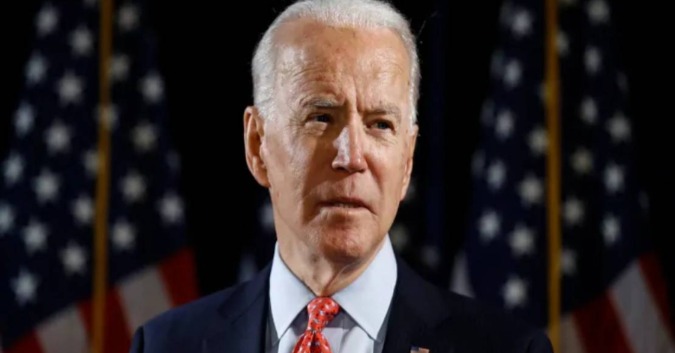 WASHINGTON Jan 21 – US President Joe Biden on Wednesday ended his predecessor's travel ban on several Muslim-majority countries, which the new administration called "discriminatory."
Biden signed the executive order in the Oval Office after taking the oath to become the country's 46th president, Anadolu Agency reported.
In the proclamation, he said the US "was built on a foundation of religious freedom and tolerance, a principle enshrined" in the country's constitution.
Trump introduced the ban in March 2017 with an executive order followed by proclamations that introduced vetting capabilities and processes, citing attempted entries of "terrorists" or "public safety threats," in a move to prevent individuals from entering the US from Muslim countries and then several other African nations.  These countries include Syria, Somalia, Yemen, Iran, Iraq, Libya and Sudan.
"Our national security will be enhanced by revoking the Executive Order and Proclamations," said Biden, ordering all American embassies and consulates to resume visa processing in a manner consistent with the move.
The restrictions were "rooted in religious animus, and xenophobia," White House spokeswoman Jen Psaki told reporters at a press briefing.
The Council on American-Islamic Relations (CAIR) welcomed the move, calling it "an important first step toward undoing the anti-Muslim and anti-immigrant policies of the previous administration."
"It is an important fulfilment of a campaign pledge to the Muslim community and its allies," said Nihad Awad, head of the nation's largest Muslim civil rights organisation.
Source: BERNAMA
(Video) Popular Actor, Aeril Zafrel Announced He Is Confirmed Positive COVID-19
Popular actor Aeril Zafrel through his official Instagram account has confirmed that he was infected with the COVID-19 virus after doing a swab test last Tuesday.
According to him, he only found out that he was positive for the virus after the test results came out on Wednesday.
He is now reportedly quarantining himself for 10 days at his home. To find out more, follow the post he made on Instagram as follows:
Assalamualaikum you all…
last night I got the news I positive COVID-19.
Monday…
I went to my p.a / manager's house because he had a fever.
So I went there because it is my habit that I will take care of him if he is seriously ill before this.
So because the day is over so I decided to sleep there.
Tuesday, the next day I took him to the clinic and took a PCR test swab once with me.
Then I met the staff for a briefing launching a virtual online product at the end of this month, and I went home immediately.
Wednesday.
the result came out and I & manager positive
Immediately I called @kumpulan_megaklinik_zahran for my family and staff test swab because I met them…
RTK test swabs are all negative and are still waiting for the PCR result, pray for the negative as well.
Now I am self-quarantined near the upstairs room, I want to fill this 10 days with various activities in the room, pray guys. Now my manager has recovered and no more fever. But still self-quarantine.
View this post on Instagram
Source: Aeril Zafrel