4 Beautiful Forest Retreats For A Getaway That Can Be Found In Selangor!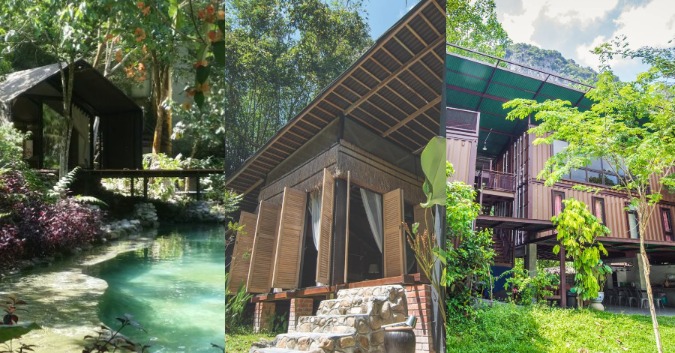 Nowadays, people are so invested in working that sometimes, they forget to have a good time – especially people who are in dense cities like KL and Selangor.
Sometimes, your day-offs go under-appreciated, with people settling just to stay home and do nothing when there's so much to discover!
If you're in Selangor, you're in for a treat! Here are some places that take you far from the fast-paced city life and into the indulgence of nature – without not really having to drive so far!
1) Rumah Kebun, Hulu Langat
The stunning spot hidden in the woods of Hulu Langat is a mere 30-minute drive from the city. Rumah Kebun is a private villa that can accommodate up to 12 guests and is suitable for family trips and close friends. Right in front of the villa, you can take a relaxing dive into the hot spring water pool.
You could even go ahead and dip your toes into the Semungkis river that flows through the area.
Address: Kampung Sungai Semungkis Batu 14 1/2 Hulu Langat, Selangor.
2) Templer Park Rainforest Retreat, Rawang
Next up, most of you are likely to have heard of or been to Rawang Templer Park. Now, you've got more and more opportunities to visit the iconic gushing waterfall! There are both villas and container houses in the Templer Park Rainforest Retreat, so you can pick what suits your budget.
There's just nothing like waking up to the beautiful view of the magnificent mountains and the birds and insects chirping, making it hard to imagine that you're only a few minutes away from the capital.
Address: No 22, Jalan 3/2, Templer Heights, Templer Park, Rawang, Selangor.
3) Dusun Bonda, Batang Kali
If you're dreaming of something with fewer frills, but still want to have everything you need to be packed in one, then your pick is Dusun Bonda. This glamping venue is great for families and friends on a weekend getaway as there are plenty of things for all to enjoy.
Feel the Ulu Tamu River's raging waters or even have a go on its wooden swings built right on top of the river!
Address: Lot 2121 (2996) Jalan Ulu Tamu, Kampung Orang Asli Gurney, Ulu Tamu, 44300 Batang Kali, Selangor.
4) The Sticks, Fraser's Hill
Last, but definitely not least, is this escape at Fraser's Hill that places you right in the center of nature. With its immaculate wooden houses and tendok (tent+pondok), The Sticks really stands out.
Your stay here also comes inclusive of home-cooked meals that just put the cherry on top. When you book to stay here at any time before the end of the year, they will be having a 15 percent discount for you!
Address: Lot 213 Jalan KKB – Fraser's Hill, 44000 Kuala Kubu Baru, Selangor.
Have fun enjoying your short getaway!
Source: Rumah Kebun Residence, The Sticks, Dusun Bonda, TPRR
(Video) This Cheeky Father Sneakily Hid From His Family To Eat Sweet Foods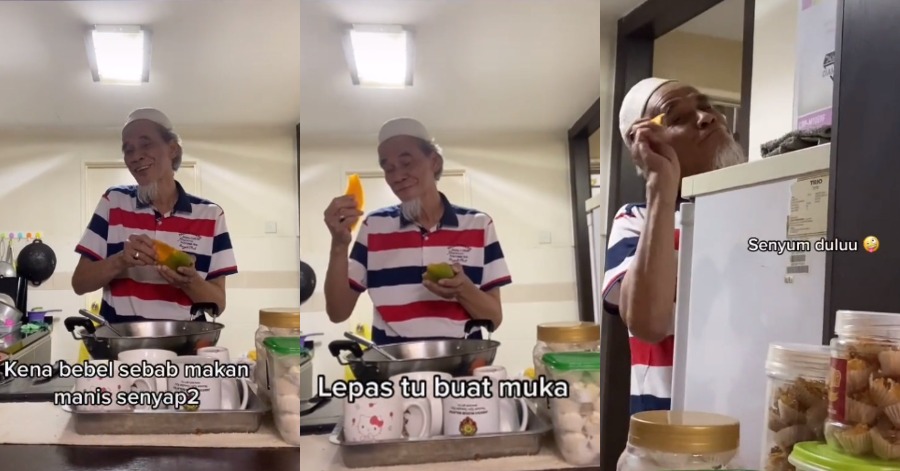 Any family member would always want to give the best treatments that they could ever possibly can to other members of the family especially if they are sick. It would be a thorough treatment given to them from emotional support, how they wanted to take care of themselves, and also what kind of food that they are going to eat. All of these are done towards them so that they could have a fast recovery and could live their life like normal again.
Even with all the treatment given, the sick members would feel uneasy sometimes because there so many things that got controlled by other people in their lives. It is totally normal as not everyone knows what we really wanted in our life except ourselves. This is what happened in this particular video that went viral on the TikTok app. The video shows a cheeky father that sneakily hid from all of his family members so that he got the chance to eat some sweet foods.
@hannymaru1Geramm je dengan ayah ni😂 mentang2 kencing manis dia dh turun sekrg ni asyik makan senyap2 jee!!…
According to the video, it can be seen that the mother nagging towards the father when he decided to hide from the others in the family just to eat sweet foods. It can be heard that the mother said, "That is how he behaves when his glucose level decreased". The mother jokingly said that she will punish her husband if the glucose level increases again when got checked the next time.
The face of the father can be seen so unapologetic when he ate that mango. Maybe he just wanted some sweet treats once in a while when his glucose level is finally stable. The father is so cheeky with his behavior until he entertained every member of the family. Looking at the comments section, netizens also entertained with the father's action.
Sources: TikTok Hannymaru
Inspirational Story: Between Wealth And Determination, Meet Tan Sri Syed Azman Syed Ibrahim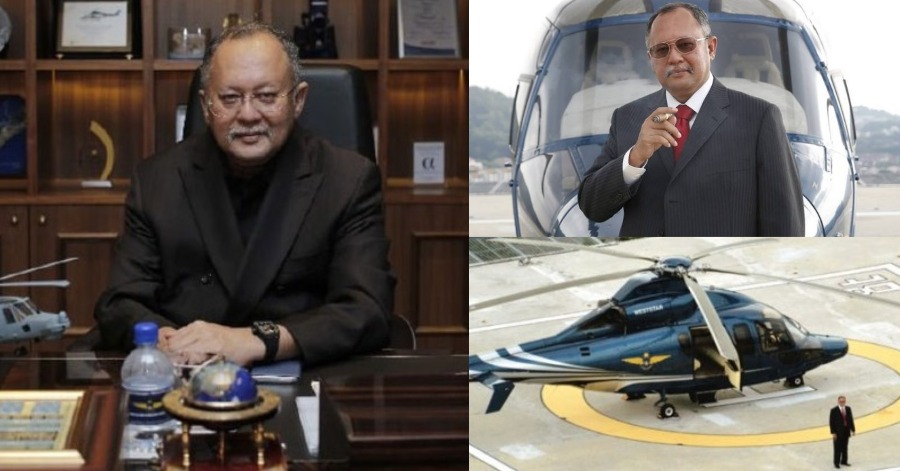 Being rich in life is definitely would be one of the dream goals for many people in this whole wide world. To be able to achieve that, they have to work hard in life so that everything will be worth it in the end. Despite all that, many people said that someone could change if they have become rich. They would turn to someone who is arrogant, stingy, and many other negative descriptions towards them.
Fortunately, there is a whole different story for this particular Malaysian billionaire who is ranked 25th in the Forbes list of 50 richest people in Malaysia. His name is Tan Sri Syed Azman Syed Ibrahim. There is actually a very inspiring story of how this specific native of Sungai Petani, Kedah started his journey before he finally becomes a billionaire. It is so amazing how this former military intelligence officer with the rank of Major and former used car dealer is so high in his fighting spirit in business that he can get to this point.
Based on his story, he and his wife started a used car business right after retiring from the Malaysian Armed Forces (ATM). In the early days of his business, Syed Azman traveled back and forth to London to buy used cars before selling them in Malaysia. At that time he did not have an AP (Approval Permit) but he shared the AP with friends who had the permit.
Over time, he also managed to own an AP from the government and his car business was gaining prominence. Soon the government decided to stop giving open APs and only offer AP franchises. To get the AP franchise, Syed Azman has to be appointed by a foreign car company as a distributor and then the permit is awarded to him.
Luck was on his side when he managed to gain the trust of Honda to appoint him as a distributor of several types of cars in Malaysia. Then Syed Azman got the right to distribute Chevrolet and Suzuki.
Syed Azman once said that he was bored because he spent a lot of time on the road while doing business. Then his friend suggested he buy a helicopter just to travel for his business. So in 2003, he bought a helicopter for the US $ 1.5 million for his daily use. When he did not use the helicopter, he only rented it to those who were interested.
It was then that he realized that the demand for these helicopters was high in Malaysia. Five years later, he managed to secure his first contract to provide helicopter services to bring oil and gas sector workers to the rig. Today, the owner of Weststar who is so humble has more than 40 helicopters, four private jets and he was also awarded a contract worth RM8 billion for oil rig workers to bring it among the richest men in Malaysia.
Although his wealth and assets reached billions of ringgit, Syed Azman declined to say the amount. Now, Syed Azman continues to spread his wings despite the bitter challenges he faces at a time when the world economy is in a state of uncertainty. Just as dozens of his helicopters flew high in the air, so did his spirit and determination.
Sources: Forbes
Don't Believe Fake News About COVID-19 Vaccines – Senior Citizens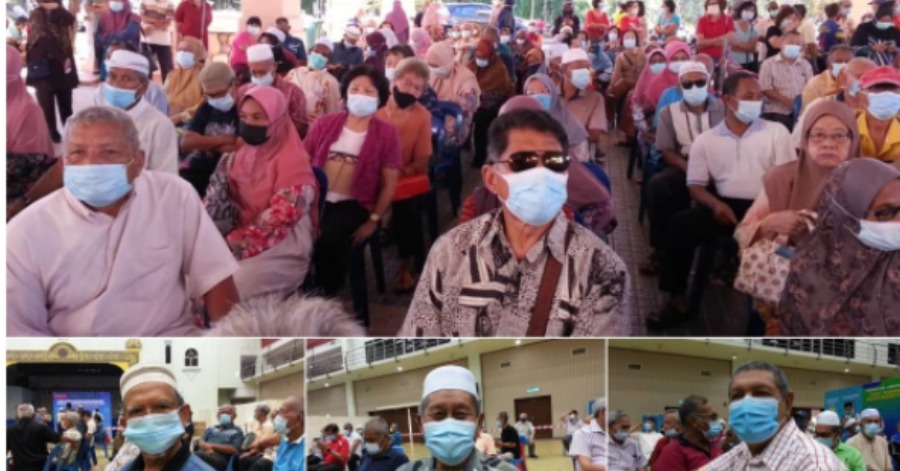 KANGAR, May 11  — Senior citizens who successfully completed two doses of COVID-19 vaccine under the National COVID-19 Immunisation Programme yesterday urged the public to stop worrying about getting vaccinated.
Nearly 1,000 senior citizens who received the vaccine at the Dewan 2020 vaccination centre (PPV) expressed their gratitude for not being easily swayed by the spread of fake news on social media claiming that the second dose of COVID-19 vaccine shot causing complications to the recipients.
The Ministry of Communications and Multimedia (KKMM)'s Quick Response Team's statement described the claims as untrue and advised the public not to disseminate such information which could cause confusion and anxiety among the community.
Meanwhile, one of the vaccine recipients, Shukor Shamsuddin, 74, from Taman Guru Jaya, hoped that the public would not be affected by the negative claims as the vaccine administered was safe.
"I wonder why there are still those, especially educated people, who are still afraid to get vaccinated. In fact, there are still many who have yet to register," told Bernama yesterday.
Shukor, former director of the Perlis Social Welfare Department, said he did not feel sick during or after receiving the second or first dose of the vaccine.
Another recipient, former Perlis footballer, Salim Muhamad, 72, appealed to those affected by the negative claims to immediately register for vaccination as it would not only save themselves but also helps others to form group or herd immunity.
"Those who are afraid of getting vaccinated are lying to themselves as we all know that we need to put efforts when facing a disaster or disease," he said.
Former lorry driver, [email protected] Hassan, 73, from Nesam, Bintong said he wondered why many urban residents and educated people were afraid to get inoculated, while he and many friends who were lorry drivers and farmers were responding positively to the government's call to get vaccinated.
"For us villagers, in our minds, if we don't get the vaccine shot then we will be more susceptible to COVID-19 virus. If we contract the virus, it will not only threaten our own lives but also the lives of our family members, neighbours and the general public," he said.
Sources: BERNAMA