6 Recommended Movies From Studio Ghibli To Watch For Miyazaki's 80th Birthday!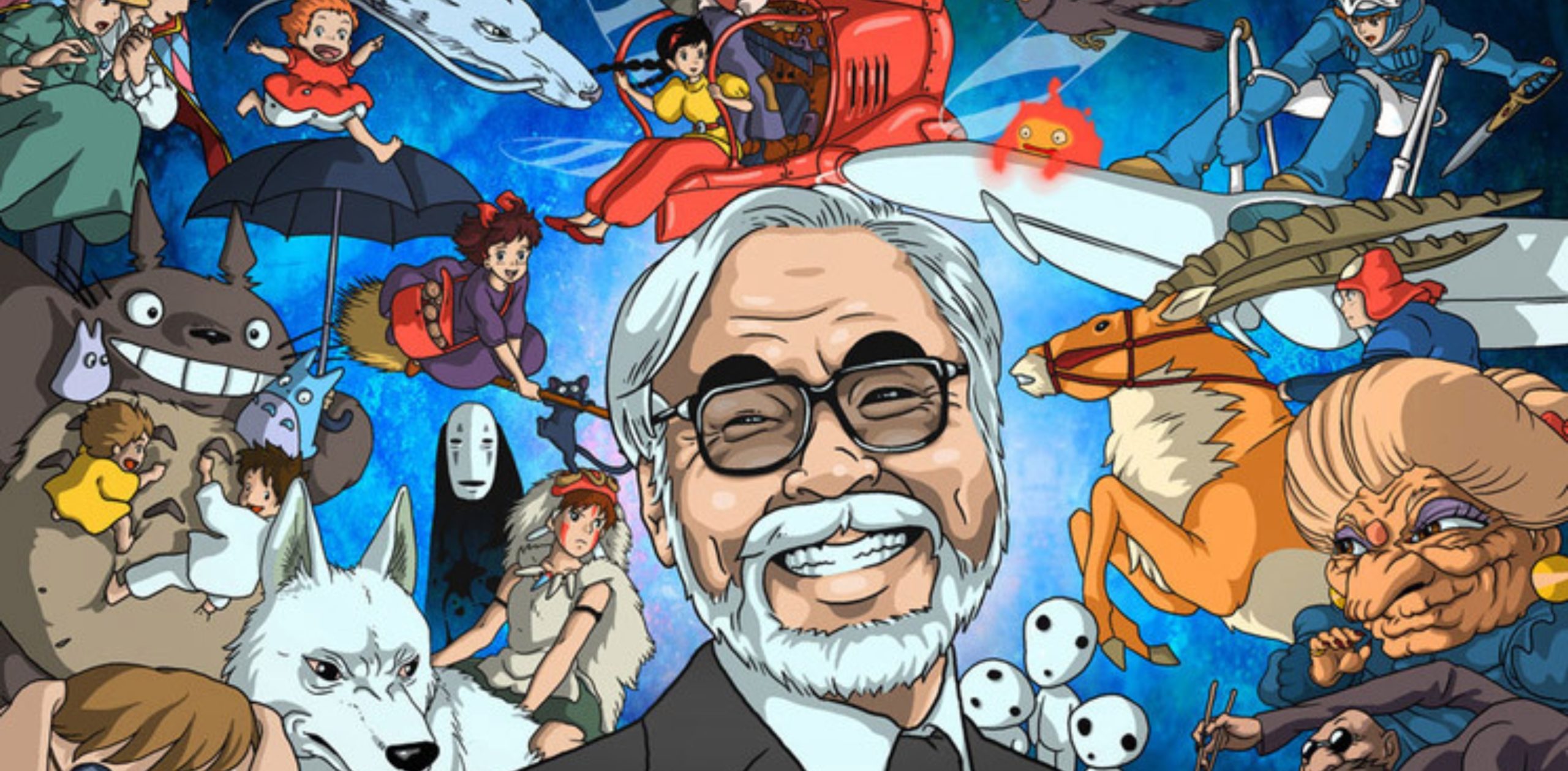 Hayao Miyazaki, who turns 80 on January 5, has declared his retirement on more than one occasion, but he cannot help himself from enjoying his passion like so many great artists, from Steven Soderbergh to Cher.
Just to get our gears running and ready for Studio Ghibli's new releases like "Earwig and The Witch", here are six movies from them that would set you off a good start and maybe recall how their style and choice of art were, if the upcoming films by them decided to take a new approach!
1. My Neighbour Totoro (1998)
This masterpiece is arguably the best piece of work that Studio Ghibli has ever produced – it could just be on par with Micky Mouse.
This movie gives us a new look on the world, the thought that what if we live alongside mystical creatures or spirits who are always there to help us. This idea is inspired by Japanese culture, which Miyazaki creatively turns something that could be seen as disheartening, into something so cute and cuddly!
The story is about a pair of sisters, Satsuki and Mei, that move to the countryside to be in close proximity to their sick mother, who recuperates in a hospital there. Whilst exploring the woodland surroundings, they discovered forest spirits that come in many sizes. The most iconic spirit is Totoro, the ginormous gray rabbit-like beast with a big smile and boomerang markings on his chest.
Soon enough, "My Neightor Totoro" went from being known as a cult item to today's children's classic, a film of adventure and wonder for young minds, which contradicts the idea that cartoons rely on conflict and promotes quiet observation of everyday details, finding wonder in the dull instead.
2. Spirited Away (2001)
Miyazaki's Oscar-winning marvel was the first Ghibli film to gross more than $10 million in the U.S. and is therefore the one that established most Americans' idea of the Japanese toon studio.
The films ambition is of the likes of "Alice in Wonderland", where a girl goes into a mysterious place to carry out a certain mission, and if not careful, she might never be able to return – but with a Japanese twist in it.
The movie portrays the ultimate expression of Miyazaki's vision, full of iconic images and unique characters, unfolding as per the dream-like narrative of the filmmaker. In all of Miyazaki's films, this is something to watch for, as his plots do not follow "traditional" storylines, but instead shift from scene to scene in such a way that whatever surprises are around the corner can never be completely expected.
A boy that transforms into a dragon, adorable like spirits or the mysterious 'No-face' that seems to haunt us – you'll wish you didn't have to blink just because you need to see every moment of it and not miss a single thing.
3. Grave Of the Fireflies (1988)
Astonishingly enough, the two biggest successes of Studio Ghibli were released as a double bill, which would have surprised viewers at the time, considering the radically different moods of "My Neighbor Totoro" (a featherweight fantasy) and Miyazaki's mentor and colleague Isao Takahata's more realistic World War II-set drama.
The animation is too often dismissed as a children's medium, and yet "Grave of the Fireflies" (adapted from the 1967 novel by Akiyuki Nosaka) represents the unique ability of the artform to discuss subjects that are too grim for most audiences to deal with through live-action, a lesson later extended to films such as "Waltz With Bashir" and "Funan."
Here, Takahata reveals the Japanese side of a destructive war to viewers, seeing the wrenching toll this fight takes on two children, 14-year-old Seita and his 4-year-old sister Setsuke, who were orphaned during Kobe's U.S. fire-bombing. Seita struggles to shelter and distract his sister from the tragedies that surround them, homeless and starving in unimaginable circumstances. It's the sparse moments of joy that remain with you, but it still wouldn't make it up for the ultimate ending that awaits them.
4. Kiki's Delivery Service (1989)
Years before J.K. Rowling started writing her Harry Potter novels, Japanese author Eiko Kadono published her story of an apprentice witch, who uses her flying ability to find work in the big city.
Jiji, the wide-eyed black kitten who accompanies the 13-year-old trainee to Koriko, is almost certainly Miyazaki's next most recognizable character after Totoro, where she attracts the interest of an aeronautics-obsessed teen boy, Tombo.
A sweet tale of young friendship based around a precocious female protagonist (another recurrent theme in Miyazaki's filmography), "Kiki's Delivery Service" poses a rather gentle challenge to her young heroine: Kiki learns that her powers seem to be diminishing, just one of the clever metaphors of the film for growing up, far from home and somewhat doubtful of her abilities.
Simplicity, once again, serves Miyazaki best as he invites viewers to identify with a girl who can soar on her rickety broom through the sky. (It will take more than a decade for live-action movies to catch up with this very basic special effect.)
5. Ponyo (2008)
Takahata and Miyazaki collaborated on the 1974 TV series "Heidi, Girl of the Alps" more than a decade before establishing their own studio, so it should come as no surprise that in their tenure at Ghibli, they returned time and again to the European source material.
Some, such as "Howl's Movie Castle," "Arrietty" and "When Marnie Was There," provided the animators with an opportunity to feature red- and blonde-haired characters, or to set their tales in quaint cottages and towns in the European style, for which they obviously have a great fondness of.
But Miyazaki's extremely loose retelling of "The Little Mermaid" by Hans Christian Andersen, which borrows only the concept of a sea creature (in this case, a rudimentary "goldfish" that looks like a bright pink sock puppet) who longs to encounter life on land and the 5-year-old human friend she makes onshore, is more successful.
The makers of Studio Ghibli also say that they do not produce their films with any specific demographic in mind, but there is no denying that "Ponyo" is younger than any of their other characteristics. That makes it an appropriate gateway drug to get your children hooked on the pleasures that Miyazaki and company have to offer.
6. Only Yesterday (1991)
Although "Ponyo" appeals most to preschoolers, "Only Yesterday" stands out as the most grown-up film from Studio Ghibli. A film about nostalgia and those half-forgotten ties to our past, rekindled by the 27-year-old Taeko's trip to the small town where her sister now lives, is not dark or challenging in the least.
So many of the movies in the studio are about going forward, while Takahata's introspective drama deals with looking back instead. Unmarried Taeko works in Tokyo, but she is unhappy with her life there, and so she goes "home," where she meets Toshio, who offers to drive her around the city, unlocking childhood memories that play as a kind of parallel story.
In live-action, the movie could easily have been made, and yet animation gives the material a kind of timelessness, enabling viewers to lose or even find themselves in the reminiscences of the character. It's a melancholic but also a very moving film and one that seems to end one way, just under the closing credits, to change the result. Stay up until the very end for a good emotion-swell that could leave you thinking for days!
Source: Variety
Teenager Throw Books In The River, KASA Invited Him To Be Part of 'Friends of River Malaysia'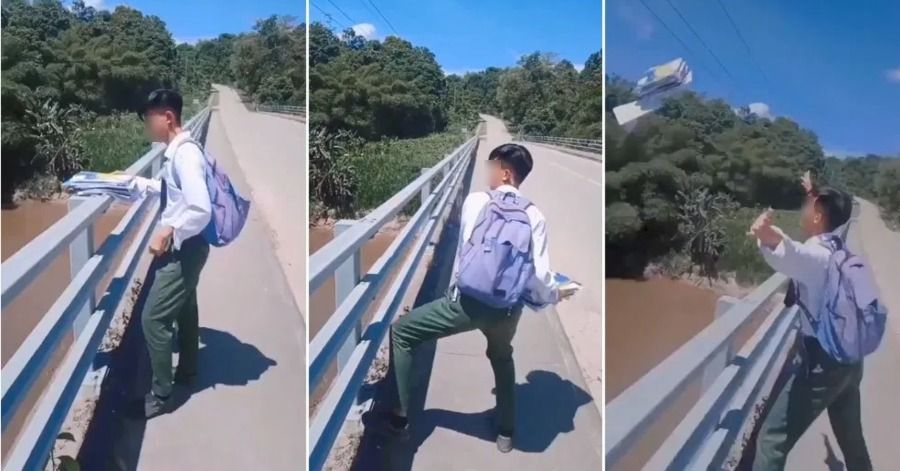 Recently, there has been a video that went viral showing a teenager who decided to throw away all of his revision books and also revision papers into the river right after he finished his Sijil Pelajaran Malaysia (SPM) Examination. This video has received a lot of backlash from a lot of netizens. However, the Ministry of Environment and Water (KASA) has taken a different approach for this particular student.
In a Facebook post of the KASA page, they have invited this student who became viral recently to join Friends of River Malaysia (Sahabat Sungai Malaysia).
According to the Facebook post, KASA has stated that they asked the cooperation of people who knew the student to quickly contact the ministry. They said, "If anyone knows this brother, KASA would like to invite this brother to become a member of Friends of River Malaysia".
They also added, "We want to invite him to launch a river cleaning program nationwide in conjunction with World Water Day on March 22. God willing, through the education and support of the community, not only this younger brother, but many others will be more sensitive about the cleanliness of the river".
Netizens agree with the steps taken by the Ministry of Environment and Water against the teenager. According to netizens, the move indirectly teaches the people in the country to love the environment.
Success Story: Cheryl K, Malaysian-Born Who Dreams To Be A Singer Finally Made It To 'American Idol'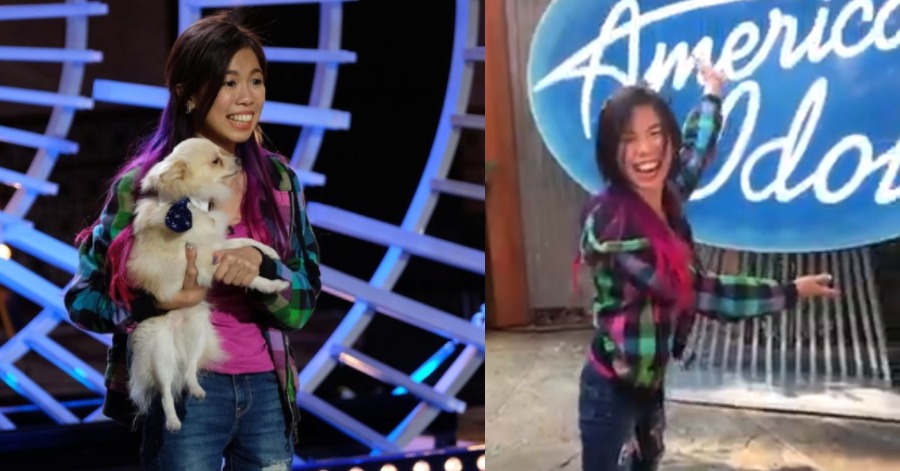 Cheryl K is actually a 25-year-old Malaysian-born who just achieve the dream of her life lately. She has dreamt of becoming a singer since she was a little girl. She has been watching 'American Idol' her entire life and this particular high hope woman from Shah Alam had always hoped of making it to the big screen someday. Recently, she has announced that she finally made it.
Cheryl K was featured in an 'American Idol' episode that aired on the 7th of March. In that episode, she has performed for amazing judges are Lionel Richie, Katy Perry, and also Luke Bryan.
View this post on Instagram
Actually, Cheryl K is definitely not a stranger to the music industry. In fact, she becomes famous and well known when she has auditioned and eventually chosen to sing the song 'Money (That's What I Want)' which is one of the hit songs in the amazing movie of 'Crazy Rich Asians' back in the year of 2018. It was her most notable debut singing a unique version of Barrett Strong's 'Money (That's What I Want)' in both English and also Mandarin version.
Cheryl K then has released three self-written and also co-written singles that are 'Here to Stay', 'Who Are You' and also 'Better'. She also has taken home multiple awards for her own talents. She represented Malaysia in the World Championships of Performing Arts (WCOPA) in Hollywood and won four Gold medals including a Hollywood Industry Award and Champion of the World Senior Division Awards. She was then invited again to perform as the opening guest artist for the competition's 23rd Annual WCOPA Grand Finale.
Other than that, she was an Olympics-style competition for performing arts. Cheryl K has also been featured in notable publications, such as The New York Times, Glamour magazine and also Billboard magazine.
View this post on Instagram
Sources: Instagram Cheryl K, YouTube WaterTower Music.
Menara Kuantan 188, Latest Iconic Landmark For Pahang's First City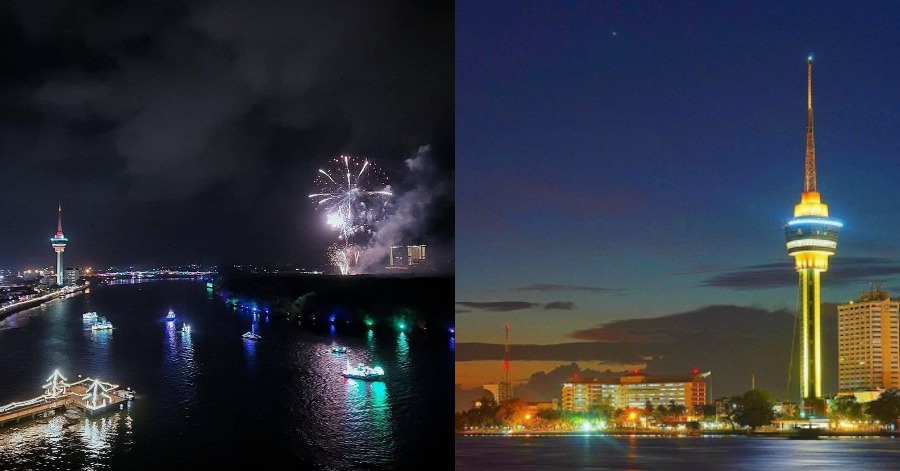 KUANTAN, March 8 — Menara Kuantan 188, which stands proud on the banks of Sungai Kuantan here, is not only the latest iconic landmark of Pahang's first city, it also sets the night and weekend moods of Kuantan.
Since the first day of its official opening on Feb 22, the tower, designed with a tapered profile to symbolise the old Malay weapon of the spear and the tip of the spear – like in the coat of arms of Pahang – has been receiving visitors non-stop who want to check out the second tallest lookout tower in Malaysia and also the tallest tower in the East Coast Economic Region (ECER).
While viewers will be impressed by the majestic tower during the day, at night the tower formerly known as Menara Teruntum, illuminates with coloured lights and shines over Kuantan Waterfront.
Visitors taking the glass elevator are treated to magnificent views of Kuantan city until they reach the tower porch, which was built inspired by the leaves and flowers of the Teruntum plant (lumnitzera racemosa), once said to be abundant on the banks of Kuantan River.
Those who like to take pictures will be spoilt to no end as Menara Kuantan 188 offers a 360-degree scenic view of the city, with each angle offering Instagram-worthy shots.
Private sector employee, Lee Chern Lai, 40 said she was lucky to be living in the digital era of smart phones or she would have needed rolls and rolls of films as she and her five friends could not stop recording their memories here.
"Not just pictures, we also recorded videos to be uploaded on Facebook. We hope our other friends could visit this tallest structure in the ECER to experience it themselves.
"I have received many 'likes' for my photos and saying that they couldn't wait to come here. My photos have become a teaser for those who couldn't be here due to the current no inter-state travel ruling," she told Bernama here today.
Lee said the location of the tower is also very strategic as there are many other interesting spots within walking distance such as the Kuantan Art Street, Taman Kerang, a row of old shops in Jalan Besar and Kuantan Waterfront that allows visitors to take pictures with the giant sign 'KUANTAN ', which is white during the day before changing its colour at night, thanks to the clever play of lighting.
The more adventurous can try daring activities to be offered at the tower, officially opened by Yang di-Pertuan Agong Al-Sultan Abdullah Ri'ayatuddin Al-Mustafa Billah Shah on Feb 21, such as the skywalk, pole climbing and base jumping with a rope from 104 metres high, the first of its kind here, when it starts operating later.
Menara Kuantan 188, developed by the federal government through the East Coast Economic Region Development Council (ECERDC) in collaboration with the Pahang government, began construction in August 2017 and obtained a Certificate of Completion and Compliance in November 2020 before being handed over to the state government in December last year.
ECERDC chief executive officer, Baidzawi Che Mat said Menara Kuantan 188 would complement other tourist attractions featuring the rich history, heritage and natural treasures of the Tok Gajah state, especially in the nearby areas, such as Kuantan Waterfront which is poised to become a tourist attraction and result in more economic inflow that will further boost the socio-economic development of the ECER, especially in Pahang.
"The development of Kuantan Waterfront is part of ECERDC's overall strategy to boost the tourism sector as well as increase investors' interest in the surrounding areas with various exciting activities that have the potential to attract locals and foreigners. It will increase tourism activities in this area," he said.
Meanwhile, a native of Kuantan, Badarudin Jaafar, 68, said he never thought a tower with a modern design would stand majestically on the site which was previously a bus station with food stalls where he used to frequent as a civil servant for 32 years.
After seeing the viral photos on social media, he and his family members could not wait to visit the tower. Since it was crowded on the weekend, Badarudin took his family there on a Wednesday afternoon, when most people were at work.
"My dream to enjoy the view from up above finally came true. It is indeed beautiful, yet it gives me a sense of forlorn looking down at what used to be for me. Being up there makes me proud to be a Pahang-born and to have a tower that we can be proud of," he said.
Badaruddin also hoped that the tower, named after its height, could boost Kuantan's tourism sector and help the locals, including fishermen, seafood product entrepreneurs, hotel and home stay operators, and small traders in the district.
Kuantan has various attractive tourist destinations such as a happening city, fishing villages such as in Beserah, beaches (Teluk Cempedak, Pantai Sepat, Pantai Balok and Pantai Batu Hitam) as well as natural parks such as Hutan Lipur Sungai Pandan, Pelangi Waterfalls in Sungai Lembing as well as Teruntum Mini Zoo, he said.
"I do hope some parties can come up with boat rides along Kuantan River which has the potential to be a popular tourist activity, as done elsewhere. In fact, it can also help boat operators generate some income," he added.
Mural artist at Kuantan Art Street, Ahmad Fadzril Abdul Ruzsnan, 27, also welcomed the opening of Menara Kuantan 188 as it meant turning the back alley of a row of shops in Jalan Besar here into their 'art canvas' as a tourist attraction, including on weekdays.
Ahmad Fadzril said if before this they could take their time to complete a 200-metre mural, now they worked under the watchful eyes of tourists because many would walk to Kuantan Art Street after visiting Menara Kuantan 188, which is less than 100 metres away.
Source: BERNAMA