Flood In Pattani Persists, More Aid To Come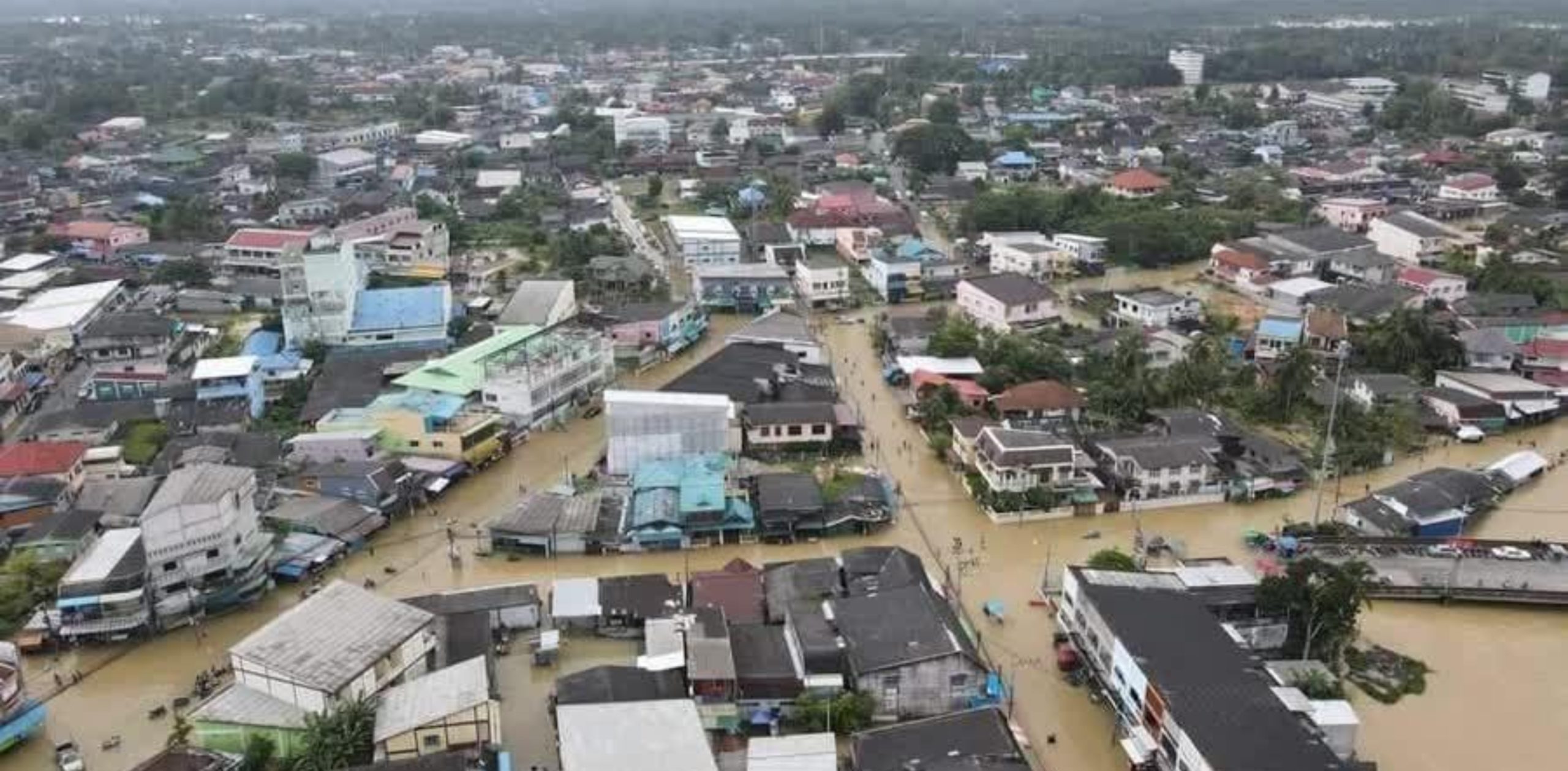 Authorities are planning to expand assistance to more people, as it is not anticipated that the flood water that has flooded the southern province for nearly a week will recede until later this week.
Governor Rachit Sudphum convened a meeting on Monday with all concerned agencies to prepare rehabilitation schemes for residents whose farms have been affected by heavy flooding.
Water levels are expected to decline later in the week, as the discharge was reduced at midnight on Sunday at the Bang Lang reservoir in Yala's Bannang Satar district, authorities said.
As heavy rains that started last week caused water levels in the dam to rise rapidly, causing the Pattani River to burst its banks, the reservoir's spillways were opened.
Authorities said they were still tracking the level of water in the reservoir closely.
On Saturday, Mr. Rachit declared the entire province a disaster zone as floods in all districts were recorded, with Muang district hitting the hardest.
A total of 14,281 households were affected by flooding as of Sunday. One person died after being electrocuted, while another was reported missing in the Pattani River after being swept away by powerful currents.
Pattani bore the brunt of the heavy rains that for nearly a week had battered the southern provinces.
Thousands of farms and houses, some up to the rooftops, were flooded.
Three people were killed and 62,270 households were affected by the floods in Narathiwat, Pattani, Songkhla, and Yala, according to the latest data released by the Disaster Prevention and Mitigation Department.
The department reported that it was working closely with the authorities concerned to provide the affected residents with flood relief.
It will determine the damage to properties once the flood water recedes and provide financial assistance, it said.
Satellite images published by the Development Agency for Geo-Informatics and Space Technology (Gistda) showed that nearly 40,000 rai of land was underwater.
In the meantime, COSMO-SkyMed-4 photographs reported that at least 38,000 rai of land — agricultural and residential — had been submerged.
Source: Bangkok Post
Malaysia's Official Stand On Taliban's Takeover of Afghanistan Will Be Decided At Friday's Cabinet Meeting – Saifuddin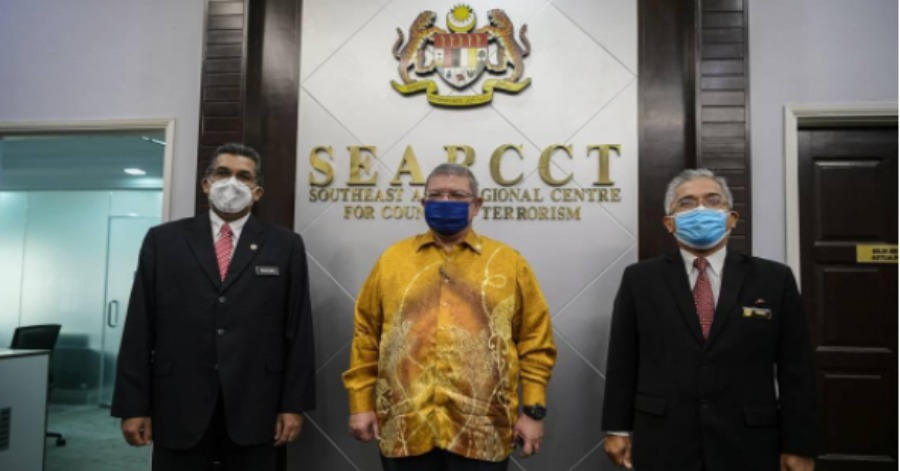 KUALA LUMPUR, Sept 7 — Malaysia's official stand on Taliban fighters' takeover of Afghanistan will be decided at the weekly Cabinet meeting this Friday, said Foreign minister Datuk Saifuddin Abdullah.
Saifuddin said Malaysia is engaging with all relevant stakeholders including the Organisation of Islamic Cooperation (OIC) and humanitarian groups in Afghanistan to seek their views and feedback on the issue in Afghanistan.
He said Malaysia for now is taking cautious approach in deciding its official stand on the Taliban takeover, adding the issue will be discussed to seek the advice at the Cabinet meeting so that a concrete decision can be made.
"Today evening, I will call Qatar Foreign Minister (Sheikh Mohammed bin Abdulrahman Al-Thani) and secretary general of OIC (Yousef Al-Othaimeen) to seek their advice and opinion concerning the affairs (hal-ehwal) in Afghanistan," he told a press conference after a working visit to The Southeast Asia Regional Centre for Counter-Terrorism (SEARCCT) here, today.
The Taliban fighters entered Kabul on Aug 15 and took control of Afghanistan for the first time in almost 20 years as the US troops withdrew from the country. Following Taliban's capture of the Afghan capital, president Mohammad Ashraf Ghani left the country.
However, despite of the many announcements made of a new Taliban government nothing has materialised yet.
Saifuddin said Malaysia is monitoring the situation in Afghanistan through various channels including through the Malaysian High Commission in New Delhi, India which is concurrently accredited to Kabul, besides representatives in Pakistan.
On the status of Afghan ambassador in Malaysia Dr Moheb Rahman Spin Ghar, Saifuddin said the diplomat was an appointee of former Afghan government and he was not recalled back to his country.
He also said the Malaysian High Commission in New Delhi is constantly in touch with two Malaysians in Afganistan who are working for international humanitarian organisation in Kabul.
Sources: BERNAMA
Johor Hopes To Turn Three Focus Areas As Destinations Under Tourism Bubble Programme
JOHOR BAHRU,  Sept 7– The Johor government is hoping to turn three focus areas in the state which have achieved the COVID-19 vaccination rate of more than 80 per cent into destinations under the tourism bubble programme.
State Tourism, Youth and Sports Committee chairman Datuk Onn Hafiz Ghazi said discussions had been held with Tourism Johor for the federal government, through the Tourism, Arts and Culture Ministry, to consider the matter.
He said the three focus areas involved the Muar district, Mersing islands and Desaru Coast in Kota Tinggi.
According to him, the Mersing islands, also known as the "Maldives of Malaysia", has achieved 100 percent vaccination rate, with 594 of its population who are eligible for the vaccination and resort employees, having been vaccinated.
"Muar, which is famous for its beautiful panorama, historic buildings and delicious food, achieved the herd immunity last Sept  4 when 84.24 per cent of its population, or 168,396 residents, having received the second dose of the COVID-19 vaccine.
"Desaru Coast, which has been named one of the Worlds Greatest Places of 2021, has achieved 91 percent vaccination rate, with 1,210 workers having received the second dose," he said in a post on his Facebook today.
Onn Hafiz said Tourism Johor and all tourism industry players in the state welcomed the tourism bubble initiative announced by Prime Minister Datuk Seri Ismail Sabri Yaakob and hoped that the federal government could consider the three areas in Johor for the tourism bubble programme.
He said the initiative would shed new light on the tourism industry which had been gloomy since the start of the COVID-19 pandemic.
Ismail Sabri recently announced that Langkawi would open to locals under a travel bubble plan from Sept 16, while other destinations will be allowed to operate when the locality's vaccination rate hits 80 per cent.
Sources: BERNAMA
Missing Autistic Boy In Gopeng Found Drowned In Mining Pool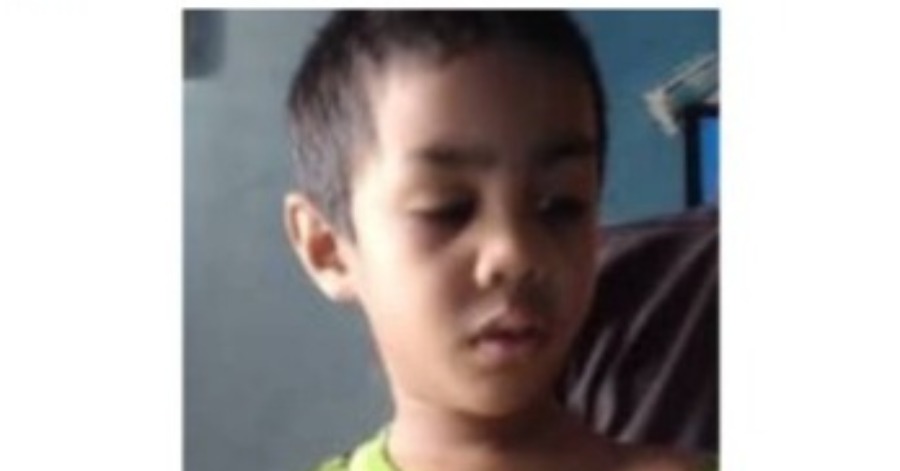 IPOH, Sept 7 — The six-year-old autistic boy who was reported missing from his home at Lorong Jaya, Taman Kinta Baru, Gopeng near here yesterday, was found drowned in a mining pool, 80 meters from the house, today.
Kampar Police chief Supt Hasron Nazri Hashim said the body of Muhammad Fayyadh Ukasyah Abdul Wahid was found by the search and rescue team at 9.45 am.
"Initial investigation found no foul play in his death.
"The body has been identified by the family and has been taken to Kampar Hospital for post mortem. The case is classified as sudden death," he said in a statement here.
Earlier, it was reported that the mother of the non-verbal autistic boy realised that he was missing from their house at 6.30 pm.
He was last seen wearing a green BoBoiBoy t-shirt and disposable diaper.
Sources: BERNAMA