Flood Situation In T'ganu Worsens, More Than 10,000 Evacuated In Kemaman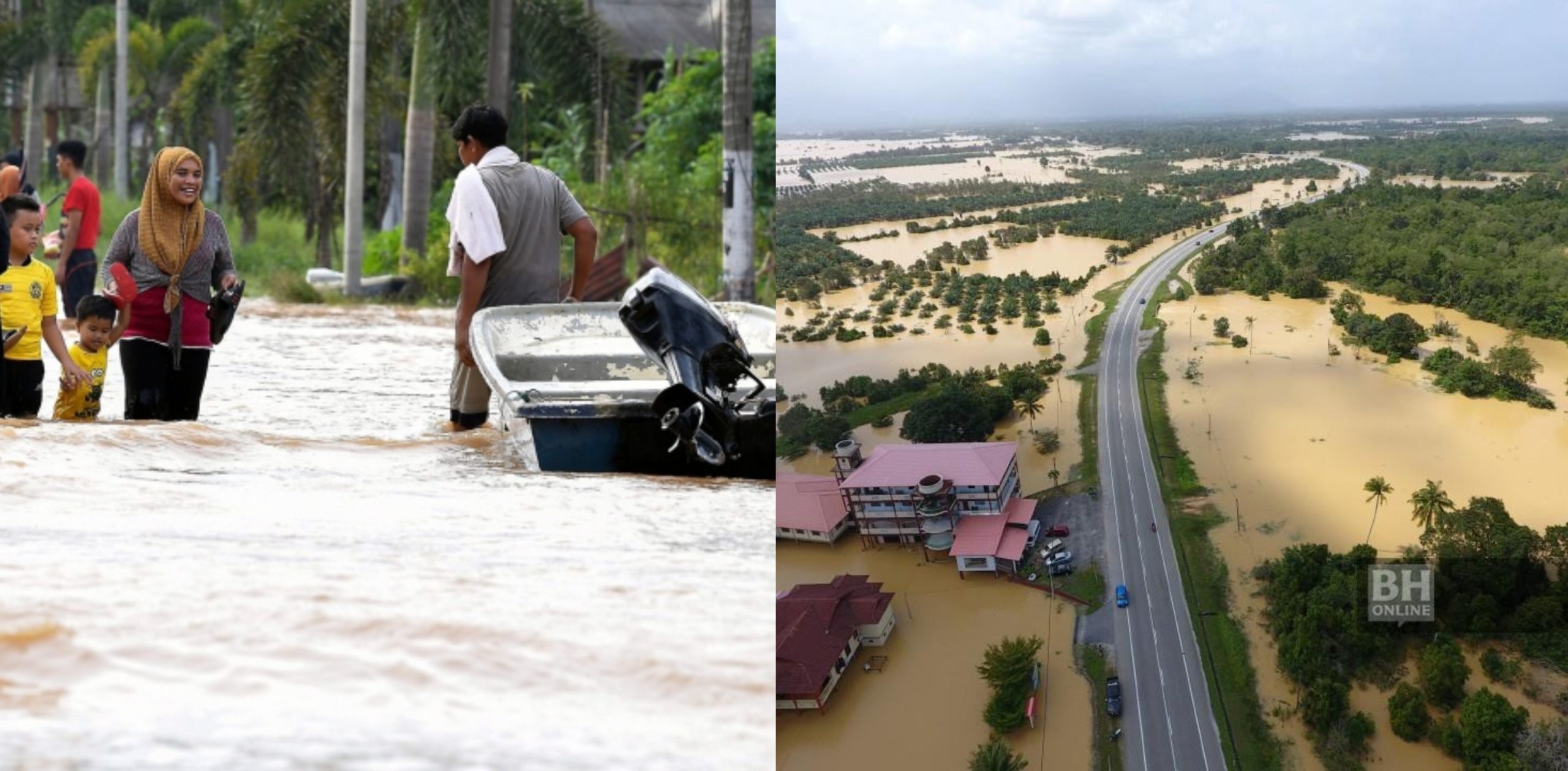 KUALA LUMPUR, Jan 7 — The flood situation on the East Coast, especially in Terengganu, has gotten worse as of tonight with water-levels rising in the town of Chukai, Kemaman, and more than 10,000 people from the district evacuated to flood relief centres.
Most of the roads in the Chukai town have also been closed to light vehicles since 7 pm, and traders have started moving their goods due to fears of a sudden rise in water-level if it continues to rain heavily.
Kelantan is also experiencing a similar situation as almost 6,000 people have been evacuated in the state so far, with the city of Kota Bharu expected to be hit by floods beginning midnight.
The floods in Kelantan today also killed a 20-year-old man, who fell from a boat while helping to transfer flood victims to a temporary evacuation centre in Kampung Manjor, Kuala Krai.
The body of Mohammad Hakimin Rahim was found by his family members at 8.30 am where the victim was reported to have fallen from the boat, and he was also said to have been tired and suffering from cramps due to the cold weather while helping the villagers evacuate from early morning till night.
The latest flood reports from Terengganu stated that as of 8 pm, 11,777 people from 2,947 families had been evacuated to relief centres, with Kemaman recording the highest number with 10,103 victims involving 2,469 families.
Floods in Terengganu now involve four districts namely, Kemaman; Dungun (1,334 victims); Hulu Terengganu (228 victims); and Besut (112 victims).
Meanwhile, five districts in Kelantan are currently affected by the floods, namely Kuala Krai; Jeli; Tanah Merah; Pasir Mas; and Gua Musang.
According to the Social Welfare Department's (JKM) 'Info Bencana' application, a total of 5,896 victims from 1,520 families were housed in 74 evacuation centres, Kuala Krai being the worse affected with 2,611 evacuees; Jeli (1,060); Tanah Merah (488); Pasir Mas (896); and Gua Musang (841).
The situation is different in PAHANG, however, as although more than 20,000 still remain at evacuation centres, the flood situation in the nine districts that were severely affected since Sunday, is gradually recovering, and the number of victims at evacuation centres had decreased tonight to 22,292 people from 6,068 families compared to more than 23,000 this afternoon.
The road from Kuantan to Kuala Lumpur is still cut off at LPT1, and several other spots along the old route.
The situation in Johor and Perak is also improving, while in Beaufort, Sabah, the status quo remains with 35 people still at relief centres.
Source: BERNAMA
Stunning Loss To Canada Sees Malaysia End Uber Cup Campaign In Dismal Fashion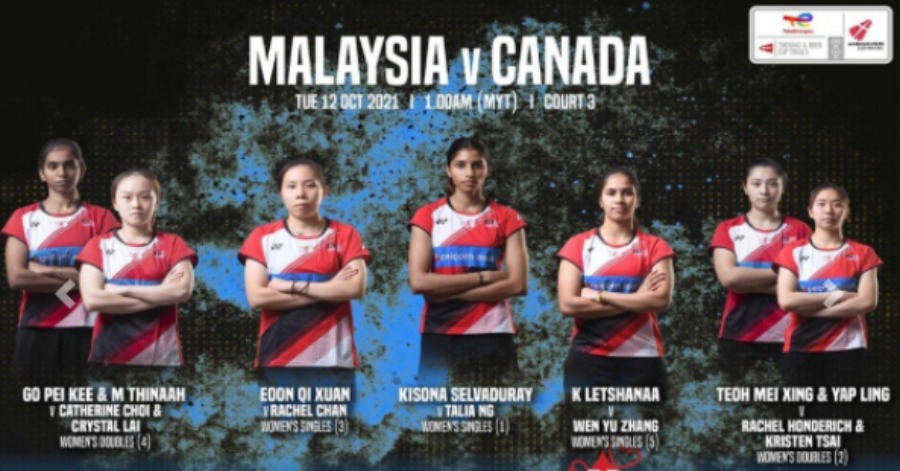 AARHUS (Denmark), Oct 12  — The young Malaysian Uber Cup squad completed their campaign with a shocking 4-1 defeat by Canada in their last Group D match at the Ceres Arena here last night (early today in Malaysia).
National singles shuttler S. Kisona, who was rested for the match against China on Sunday, played in the first singles but it was clear to see that she was far from her best and suffered a huge setback against world number 183 Talia Ng.
The 23-year-old Kisona managed to go toe-to-toe with the Talia until 6-6 in the first game before a lapse in concentration saw the Canadian bag seven straight points en route to winning it 21-9.
In the second game, world number 53 Kisona again started well to lead 5-1. Then, her game fell apart as Talia regained control to romp home 21-14 to put Canada 1-0 up.
In the first doubles tie, world number 68 Teoh Mei Xing-Yap Ling raised Malaysian hopes with a dominant performance in the first game against world number 20 Rachel Honderich-Kristen Tsai to win 21-13.
However, the more experienced Rachel-Kristen stepped up a gear to win the next two games 21-10, 21-14 for Canada to take a 2-0 lead.
Canada then clinched the winning point through world number 185 Rachel Chan, who needed just 33 minutes to outplay world number 123 Eoon Qi Xuan 21-12, 21-13 in the second singles tie.
Although Canada had won the match, Malaysian scratch pair Go Pei Kee-M. Thinaah made sure the team did not suffer a whitewash when they delivered the country's first – and only – point by defeating Catherine Choi-Crystal Lai 21-12, 21-13.
"This is the first time we have been paired up. We didn't think too much about it and just went all out. Although we are happy that we won, we are also sad because the team lost," said Thinaah.
In the final tie of the night, 18-year-old K. Letshanaa ran out of steam after winning the first game against Wen Yu Zhang in the third singles to go down 21-17, 16-21, 21-12.
This Uber Cup campaign has proven to be a humbling experience for the young Malaysian team, who came to Aarhus with hopes of making the quarter-finals.
Instead, they head home after failing to get past the group stage with three straight defeats – 4-1 to Denmark on Saturday (Oct 9), 5-0 to China on Sunday (Oct 10) and now 4-1 to Canada – to finish at the bottom of the group.
With only the top two teams from each group advancing to the quarter-finals, China and Denmark have booked their berths in the last eight with two wins each. The group winner will be decided on Tuesday, with China the clear favourites against the hosts.
While the Malaysian women's Uber Cup campaign ended last night, the men's team are set to start their Thomas Cup journey on Tuesday (1 am Wednesday Malaysian time) when they take on Canada in their opening Group D tie.
Malaysia, who are expected to beat Canada and confirm their quarter-final berth, will wrap up their Group D fixture against Japan on Thursday (Oct 14). There are only three teams in Group D after England pulled out earlier.
Other results
——————
Thomas Cup:
Indonesia bt Thailand 3-2
Taiwan bt Algeria 5-0
Uber Cup:
Indonesia bt France 4-1
Taiwan bt Tahiti 5-0
South Korea bt Egypt 5-0
Japan bt Germany 5-0
Sources: BERNAMA
Air Ticket Price To Sabah, Sarawak Will Return To Normal – Deputy Minister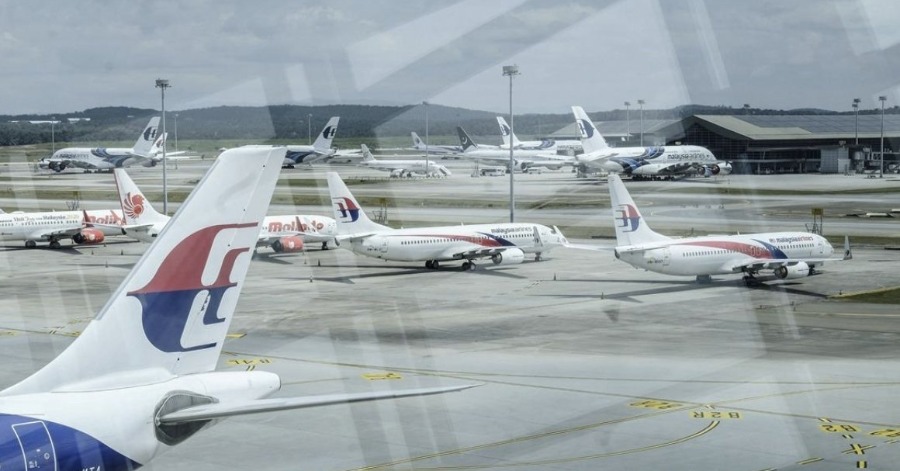 KUALA LUMPUR, Oct 11 — Domestic flight ticket prices for routes to Sabah and Sarawak will return to standard prices when the total flight frequency operates as usual, said Deputy Transport Minister Datuk Henry Sum Agong.
Therefore, he said the government through the Malaysian Aviation Commission (MAVCOM) would continue to monitor flight ticket prices for all domestic routes, including routes between the Peninsula and Sabah and Sarawak.
He said the high flight ticket prices were a result of the implementation of the flight capacity limit by the Sarawak government which was part of the state government's efforts to tackle the COVID-19 pandemic.
"At that time, the flight frequency to Sarawak dropped by 94 per cent compared to the period before COVID-19 while for flights between the Peninsula and Sabah, the flight frequency dropped by 89 per cent compared to the period before COVID-19," he said in the Dewan Rakyat today.
He was responding to a question from Lukanisman Awang Sauni (GPS-Sibuti) on the government's move to reduce the price of flight tickets from Sarawak to the Peninsula and Sabah which were very expensive during the COVID-19 pandemic and what the remedial measures were for the matter.
Henry also said that air ticket prices are determined using a dynamic pricing mechanism and the concept of cross-subsidisation, that is, profitable flights will cover the operating costs of non-profitable routes.
He said MAVCOM's monitoring between Sept 26 to Oct 2 for travel after Oct 8 found that Kuala Lumpur to Kuching flights recorded lower ticket prices between 29 and 74 per cent cheaper compared to ticket prices in 2019.
He said other routes such as Kuala Lumpur to Miri and Kuala Lumpur to Sibu still record high prices of between RM530 to RM1600 for one way while for the Peninsular route to Sabah, ticket prices are higher from eight per cent to 163 per cent compared to ticket prices in 2019.
In a separate development, Henry said the final approval for the proposed construction of the Kulim International Airport Development Project (KXP) would only be considered when the National Airport Strategic Plan (NASP) Study was completed.
"In this regard, any planning of commercial projects related to the airport in conjunction with the opening of KXP will only be determined after the proposed construction of KXP is finalised by the government," he said.
He was responding to a question from Karupaiya Mutusami (PH-Padang Serai) on the planning and commercial projects to be done in conjunction with the opening of Kulim International Airport.
Sources: BERNAMA
Upcoming 'Scream' Movies In 2022, Here's Everything To Know About It!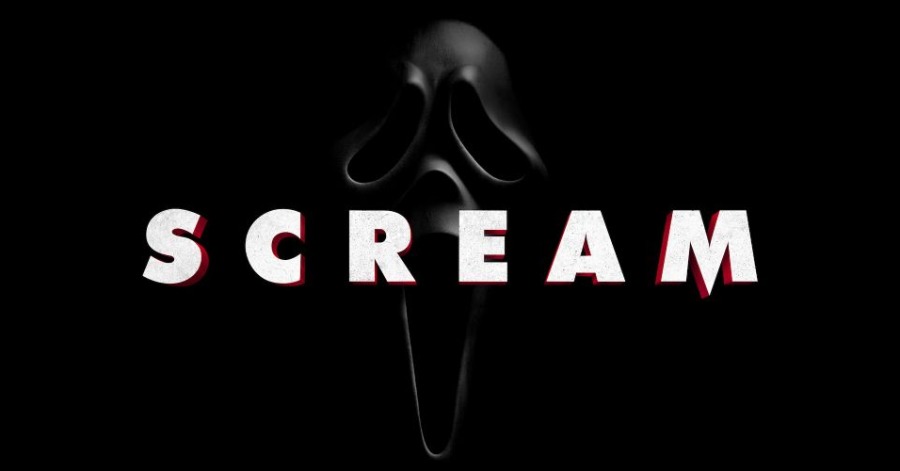 Many people must know that Ghostface is the main antagonist in the Scream franchise. Ghostface was inspired by Edvard Munch's painting The Scream and called after a rubber Halloween mask. He's also known as the Woodsboro Killer, named for the town where the Ghostface mask was initially worn to conduct murders.
In the movie, Ghostface would harass or threaten his victims over the phone before slashing them to death with an eight-inch hunting knife. He stalked his victims in a manner reminiscent of horror movies, and he would occasionally ask them horror movie trivia.
With that said, Ghostface makes a reappearance in an official poster for the upcoming installment in the Scream franchise, which will be released exclusively in cinemas in January. So here's what you can expect from the upcoming movie.
Release Date
Spyglass confirmed January 14, 2022, theatrical release date for the latest installment in the famous Scream franchise on August 29, 2020. However, it will not be called Scream 5, but simply Scream. That title change is reminiscent of Halloween 2018, and Scream 2022 is aiming for a similar result, according to those responsible. It's not a complete reboot, but it is meant to kick off a new series of films under the same tent. Both filming and post-production have been completed.
The Director 
Scream 2022 will be the first film in the franchise to be directed by someone other than Wes Craven. Williamson, on the other hand, is working as an executive producer, which should reassure fans that the film is in capable hands. Instead of a single director, the sequel will have two that is Matt Bettinelli-Olpin and Tyler Gillett. They previously collaborated on the critically acclaimed film Ready or Not, which was released in 2019. They are also co-founders of the Radio Silence filmmaking group.
The Cast
Scream 2022 will see the return of the core trio of survivors from the previous four films sharing the screen with newly created characters, in keeping with the film's objective to both rejuvenate and continue the established brand. This means David Arquette will reprise his role as Dewey Riley, Courteney Cox will reprise her role as tenacious journalist Gale Weathers, and Neve Campbell will reprise her role as perennial target Sidney Prescott.
Many fans also wish to see Hayden Panettiere's Kirby Reed, who was last seen in Scream 4 and whose fate was unclear. Sheriff Judy Hicks, played by Marley Shelton in Scream 4, has already been confirmed to return. Melissa Barrera (In the Heights), Jack Quaid (The Boys), Mason Gooding (Booksmart), Dylan Minnette (13 Reasons Why), and Jenna Ortega (You) are among the new cast members, as are Kyle Gallner, Jasmin Savoy Brown, and Mikey Madison. All of these new jobs have yet to be revealed in detail.
The Story Details
It's tough to guess what the plot will be like without knowing the entire ensemble. Scream 2022's only official synopsis is incredibly vague and generic, stating merely that the film is about "a young woman who returns to her former city, only to uncover horrible murder cases linked to a known masked serial killer." This appears to be a reference to Sidney's return, but it's possible that this is a misdirection, and the returning cast is connected in the tale in another way. What is confirmed is that slasher legend Ghostface will return to knife victims, replete with a classic mask not seen on the TV program.
However, every Scream fan understands that just because the killer is "always someone you know" doesn't guarantee that previously introduced characters will return. Because the series has prospered by introducing new characters with each new chapter, there's a good chance that the killer(s) in Scream (2022) will be characters from that film. Even still, it's unlikely that many Scream fans would object to seeing Stu and Billy return after all these years.
Scream slashes its way into theaters on Jan. 14, 2022.
Sources: CBR.com, Screen Rant, Scream Wiki