Food Review: 5 Most Delicious Food To Try At FamilyMart Malaysia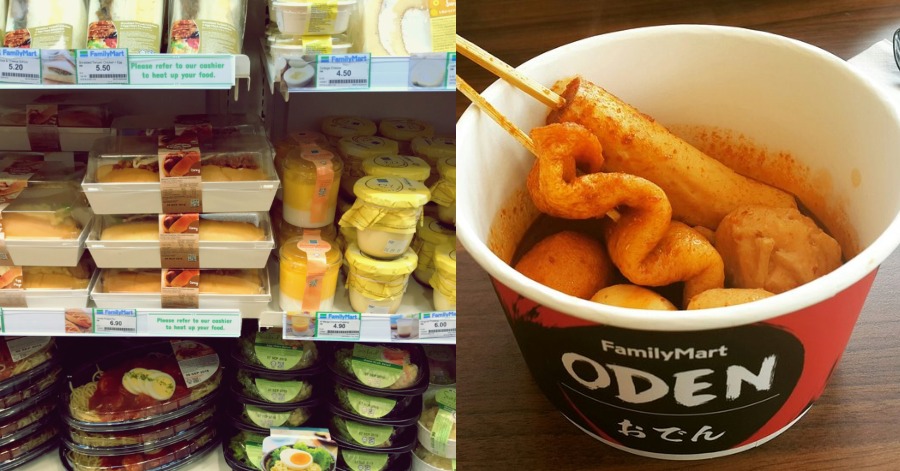 FamilyMart Malaysia has a lot of delicious food that people should try because all the foods there are rarely sold at other places.
It has a wide combination of a dizzying array of store offerings into one single location. These are some of the top-rated foods that people should get at FamilyMart Malaysia.
1) Oden
Oden at FamilyMart comes with a very flavorful broth. It is available in Original and also local favorite Tom Yam broth, these skewers of goodness are incredibly addictive. The menu available is Udon, shabu noodle, atjisuke tamago, daikon (radish), corn, mini snow crab cake, seafood tofu fish cake, crab fish cake, veggie fish cake, king crab chunk, Korean odeng fish cake, lobster ball, chicken ball, white fish ball, fried fish ball and also fish cake slice.
2) Onigiri
These classic Japanese rice ball snacks, stuffed with hidden treasures inside is a fan favorite. They are available from the classic favorites like tuna mayo, salmon, and ebiko, you can also find a myriad of other flavors. You can frequently find limited edition onigiri every few months.
3) Dessert Sandwiches
These premium sandwiches made with soft bread stuffed with delicious fillings and fresh fruits are just what you need to fill your tummy. It is called a sando, a Japanese dessert sandwich filled with fruit, cream, and various other toppings. You won't regret trying them.
4) Frappe
This frappe from FamilyMart is totally delicious.  To get your instant frappe drink, get your Cookie Frappe base from the freezer. Bring it to the counter and choose your flavor of choice (milk, coffee, or chocolate). Once the hot liquid has been added in, you've got your frappe without needing a blender.
5) Soft Serve Ice Cream
FamilyMart has a very indulging, extra creamy, and premium soft-serve ice cream. While you can find the Matcha flavor all year round, they've been knowns to release seasonal flavors from time to time. In the past, there have been unique flavors like coconut, cheese, melon, sweet potato, and more.
Sources: FamilyMart Malaysia.
Majority Of Malaysians Still Adhere To SOP, But Some Are Tired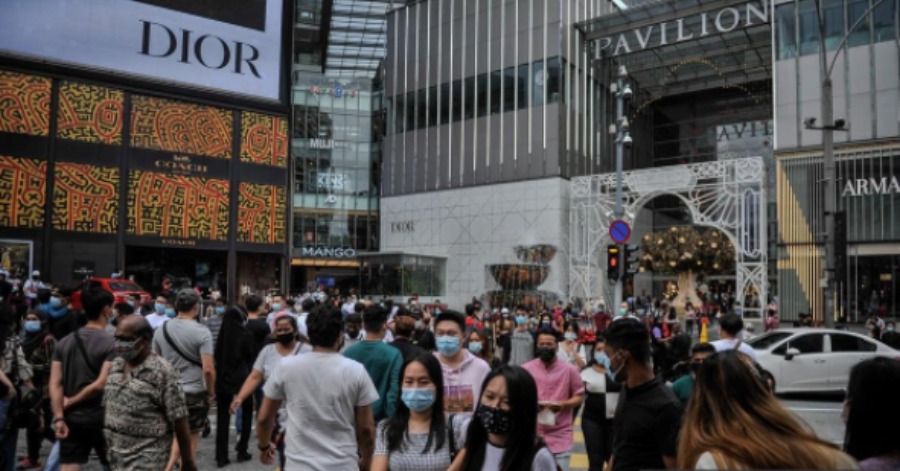 SHAH ALAM, May 18  –The recent viral on social media of pictures and videos of various quarters violating the prescribed standard operating procedures (SOPs) has sparked public outrage, especially with the high number of COVID-19 cases recorded in the country.
Nevertheless, majority of Malaysians are steadfast in adhering to the SOPs set by the government, which they have been doing since last year and has now become part of the new norms in their daily life.
Universiti Pendidikan Sultan Idris (UPSI) counseling psychologist Dr Fauziah Mohd Saad said this could be seen during the recent Hari Raya celebration which saw majority of the people complying with the government's directive not to go on house visits.
"However, in terms of enforcement, there must be empowerment by the authorities such as by the management of shopping centres in controlling the number of patrons at their premises which should control the number of visitors," she told Bernama.
A survey by Bernama at shopping malls in Shah Alam found there were not as many people at the premises as had been viralled on the on social media last weekend in conjunction with the Aidilfitri celebration.
A counselling and motivation expert, Hushim Salleh, opined that the SOP violation by some people was  because they had been under the movement control order for too long, causing them to feel restricted.
"They are suffering from pandemic exhaustion to the point of triggering psychological and emotional effects that bring to a level where they no longer care about the situation of the COVID-19 pandemic.
"Not that they do not know about the number of the COVID-19 infections and advice on complying with the SOPs as all the information can be obtained from their smartphones.
"It is the current situation that can sometimes leads to irrational thinking," he added.
Selangor still recorded the highest number of COVID-19 cases with a total of 1,650 new cases recorded yesterday.
An expert in public health at the Faculty of Medicine and Health Sciences, Universiti Putra Malaysia, Associate Professor Dr Malina Osman regarded the SOP non-compliance by some quarters in Selangor, especially in Shah Alam, as the cause of the spread of COVID-19 cases.
Meanwhile, a survey by Bernama at the COVID-19 Assessment Center (CAC) at the Malawati Stadium near here found that the situation was no longer as crowded as was viralled on social media before.
This followed a decision by the state government in setting up tents outside the CAC for the convenience of patients and staff.
Sources: BERNAMA
(Video) 5 Recommended Moisturizers To Get From Your Nearest Drugstore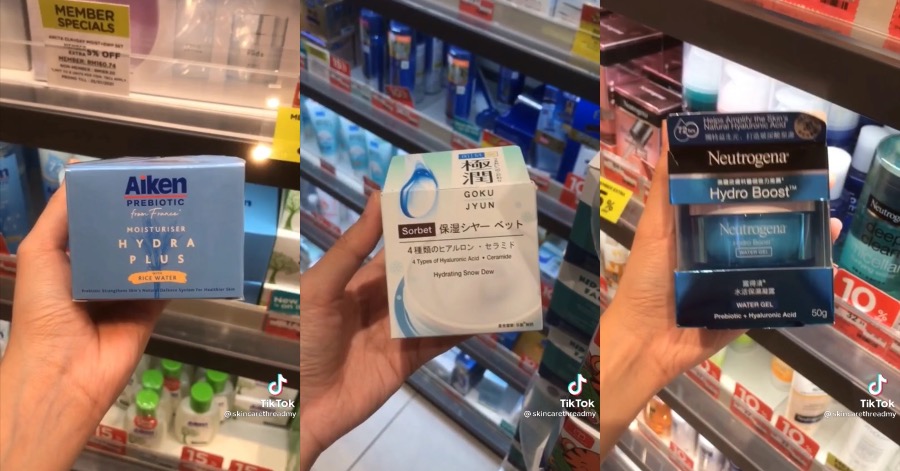 Moisturizer is a crucial step in your skincare routine. It is to keep your skin hydrated and away from blemishes, dullness, dryness, and more. A good moisturizer will lock in moisture on your skin and moisturizing your skin regularly, it will make your skin looks brighter and younger.
A girl posted a video of recommended moisturizers for oily or combination and acne-prone skin that can be bought from the drugstore and it was really helpful because skincare products from the drugstore are mostly affordable and the products mentioned are the ones with good reviews and high ratings.
These are five moisturizers that you can get from your nearest drugstore:
1) Neutrogena Hydro Boost Water Gel
Rating: 4.3/5
Price: RM66.90
It is formulated with Patented Superior Technology with 5% Prebiotic Kiwi yeast extract that will hydrates skin up to 72 hours. This moisturizer will also stimulate the skin to produce its own hyaluronic acid.
2) Aiken Prebiotic Hydra Plus Moisturizer
Rating: 4.9/5
Price: RM29.90
It is infused with Prebiotic from France and Rice Water from Korea that will soothe skin by 96.9% and keep your skin moisturized for up to 24 hours.
3) Hada Labo Hydrating Snow Dew
Rating: 4.9/5
Price: RM73.20
It contains ceramide that can strengthen the skin barrier and four types of hyaluronic acid for perfectly moisturized skin.
4) Bio Essence Water Gel
Rating: 4/5
Price: RM57.90
This moisturizer helps skin to repair, replenish and renew itself. It also enhances the intake of oxygen to let the skin breathe making it active and energized.
5) Safi Acne Solutions Soothing Gel Moisturizer
Rating: 4.9/5
Price: RM26.00
It has a non-oily formula that is lightweight and water-based. It is also pH balanced and absorbs quickly which is suitable for oily skin types. The main ingredients are AHA, BHA, and Neem.
Sources: TikTok
(Video) Al-Aqsa Mosque: 5 Amazing Facts That You Might Not Know About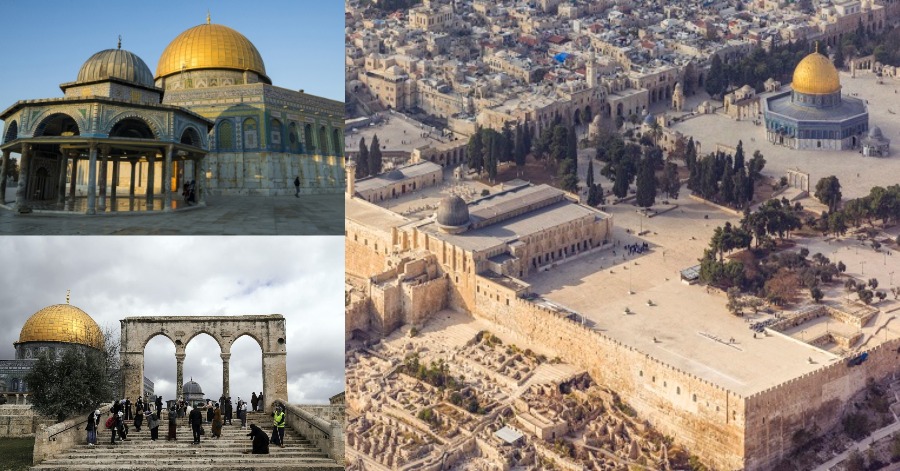 Al-Aqsa Mosque is located in the Old City of Jerusalem and it is the third holiest site in Islam. The covered mosque building was originally a small prayer house erected by Umar, the second caliph of the Rashidun Caliphate after the Muslim conquest of the Levant in the early 7th century. It was rebuilt and expanded by the Umayyad caliph Abd al-Malik and finished by his son al-Walid in 705.
There is actually a lot of interesting history for the most significant and highly contested holy site in the Palestinian city of Jerusalem. These are actually 5 amazing facts that many people should know about it Al-Aqsa Mosque.
1) It Was The First Qibla For Muslims
Al-Aqsa is one of the holiest sites in Islam. While Muslims now pray in the direction of the Kaaba in Saudi Arabia, this has not always been the custom. Before resorting to the Kaaba as a Qibla, the direction that should be faced during Islamic prayer, Muslims used to pray in the direction of the Noble Sanctuary in Jerusalem, where Al-Aqsa now stands. Prophet Muhammad was later instructed to take the Kaaba as a Qiblah through Surat Al-Baqara.
2) Dome Of The Rock Is Said To Be One Of The First Islamic Domes In History
The legendary golden dome is probably the first thing that comes to mind when one thinks of Al-Aqsa. The mosque's Dome of the Rock is said to be the first dome to ever be used in Islamic architecture, before becoming a staple of Islamic mosques. Initially made of wood, the dome was later decorated with marble pieces and a distinctive gold layer by Ottoman Caliph Suleiman the Magnificent.
3) It Is Not Just One Mosque
While Al-Aqsa is often thought of as a single building, the site actually consists of several mosques, such as the Buraq Mosque and the Marwani Mosque. To avoid confusion, the wider compound in which Al-Aqsa is located is usually referred to as Al-Haram Ash-Sharif.
4) Has Its Very Own Library
The Al-Aqsa Mosque Library periodicals cover important historical events in early C20th Palestine https://t.co/qrKtrV07aI #TakeoverTuesday pic.twitter.com/z8PD6SQry0

— The British Library (@britishlibrary) May 30, 2017
The Al-Aqsa Library was established in the year of 1923 by the Supreme Muslim Legislative Council. It includes a collection of valuable manuscripts and published works in Islamic and Arabic studies.
5) Muslims Believe The Site Has Witnessed Miracle
(Exalted is He who took His Servant by night from al-Masjid al-Haram to al-Masjid al- Aqsa) #israa_wal_miraj #quran

— أحمد بوخاطر (@AhmedBukhatir) May 26, 2014
Muslims believe that Prophet Muhammad was transported from the Sacred Mosque in Mecca to Al-Aqsa during the 'Night Journey,' known as Al-Israa Wal- Mi'raj, one of the most significant events in the Islamic calendar. It is said that during 'The Night Journey', Prophet Muhammad traveled from Mecca to Jerusalem, and then up to Paradise, on a heavenly creature.
Sources: YouTube FreeQuranEducation, Lonely Planet, Madain Project, Twitter The British Library, Twitter AhmedBukhatir.