Movie Review: 'Over The Moon', Movie That Celebrates Chinese Culture For This CNY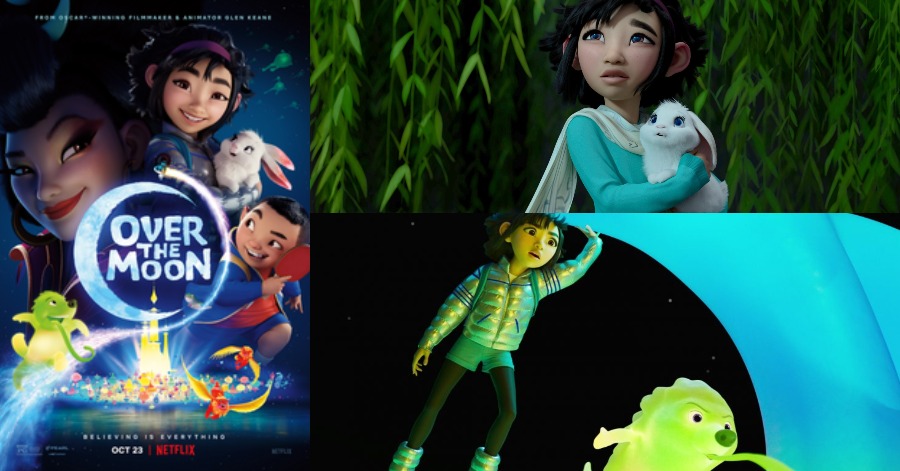 'Over the Moon' can be said as a turning point in that push for world domination because it is not just another tiny toon and animated movie entry on Netflix's slate but it definitely is a major Disney-level production overseen by a major with Disney-level talent. 'Over The Moon' celebrates Chinese culture as no mainstream American toon has before. But it does so in a way that's so formulaically Western that it feels like the creative team took 'Coco' and dressed it up in another country's colors, customs, and costumes.
'Over the Moon' is a 2020 American-Chinese computer-animated musical family fantasy film. The film was produced by Pearl Studio and Netflix Animation, and also animated by Sony Pictures Imageworks.
What "Over The Moon" Is About
It is about a girl named Fei Fei who suffers the horrible grief of losing her mother at a young age. Four years later, her father has moved on and is considering marrying again, sending Fei Fei for a loop. She's not yet processed the loss of her mother and now she's being asked to welcome another woman into that role, along with an annoying potential stepbrother.
Fei Fei panics and decides to basically explore her mother's favorite legend about a moon goddess who is waiting there for the return of her lost love. She builds a rocket and takes off into the stars, sucked into a magical world of helpful dragons and bright creatures inspired by the Chinese tradition of the Moon or Mid-Autumn Festival. In visual terms, this is a space trip as imagined by someone on a bulk candy bender, splashed with more vibrant colors than we typically see on the gray orb.
When Fei Fei gets to the moon, she finds the legendary Chang'e, but she's not exactly welcoming. Insisting that Fei Fei must bring her a gift, our heroine is sent on a quest to find the mysterious gift, which will be exchanged for a photo to prove the existence of Chang'e. If Fei Fei can show that the legend of a woman who has waited centuries for the return of her love is true then maybe dad wait a little bit longer to replace Fei Fei's mother. A character named Gobi ends up by Fei Fei's side almost as if someone yelled "Give me an Olaf!" during a production meeting and this was the result.
What Can Be Said About 'Over The Moon'
'Over the Moon' might be one of the most gorgeous animated films ever made but it's gorgeous in strange ways. It finds beauty as it whipsaws between wildly different tones and visual styles, working the contrast between the earthly and the celestial, between debilitating grief and gonzo fantasy. It's a fairy-tale about loss that becomes a boisterous techno-sci-fi extravaganza, and it takes place on two worlds that, at least at first glance, couldn't be more different. The cluttered story and the shifts in form might lose you from time to time, but the film conjures some genuinely powerful emotions.
For as long as children's animation has existed, it has been used to confront how children process grief. It's one of the greatest changes that a child can face, and the best family entertainment addresses it without talking down to young people. 'Over the Moon' doesn't exactly talk down, but it clutters its serious themes every chance it gets. The music is generally forgettable. The visuals of 'Over the Moon' is so polished and refined that it resembles a video game more than cinematic animation that stands the test of time. It's rich with color but thin on actual detail.
Sources: YouTube Netflix
(Video) Parents Hold Banner With Their Child's Name Near School Gate, Make Many People Entertained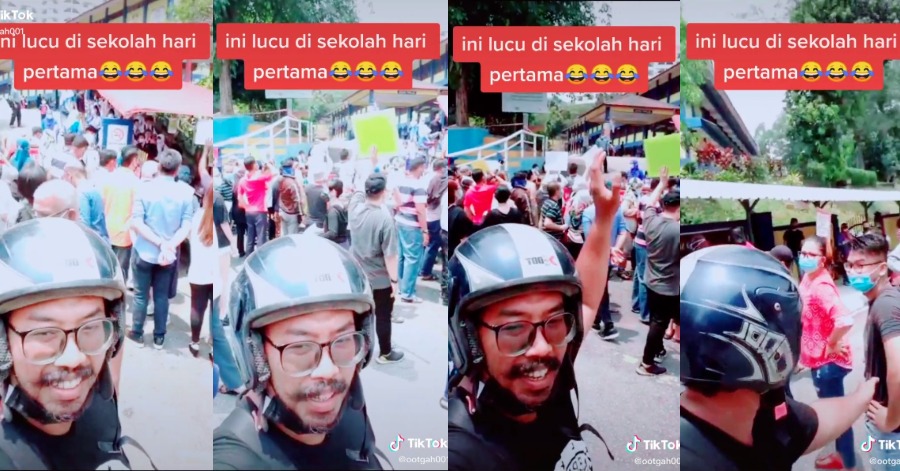 Picking up children back from school has become a normal routine for parents. However, since the existence of the Covid-19 pandemic in our country, all schools have had to close in order to curb the spread of the epidemic. Recently, the government has allowed school sessions to reopen after positive cases were seen declining day by day.
But, less than a week after the school has opened, there was a funny video that went viral on the TikTok social platform. The video shows how the parents behave when they took their children back from school and it literally stole the attention of many netizens.
kelakar weiii hari pertama sekolah😂😂😂😂
Through the video uploaded by a TikTok user named FIRDAUS77, it can be seen parents are flooding the outside of the school are waiting for their children. However, what is more, funny is when most of the parents carry a banner with their child's name on it.
The situation looks very familiar like they are in a riot in front of the school and Firdaus also had time to make a joke about it in the noisy atmosphere as if he was in a demonstration event. Most of the citizens were also find it hilarious to see the video and said the atmosphere was like outside the airport compound where the tour guide held a banner with the customer's name.
Sources: TikTok Firdaus
Did You Know? Four Times More People Speak English As A Second Language Than Native Speakers?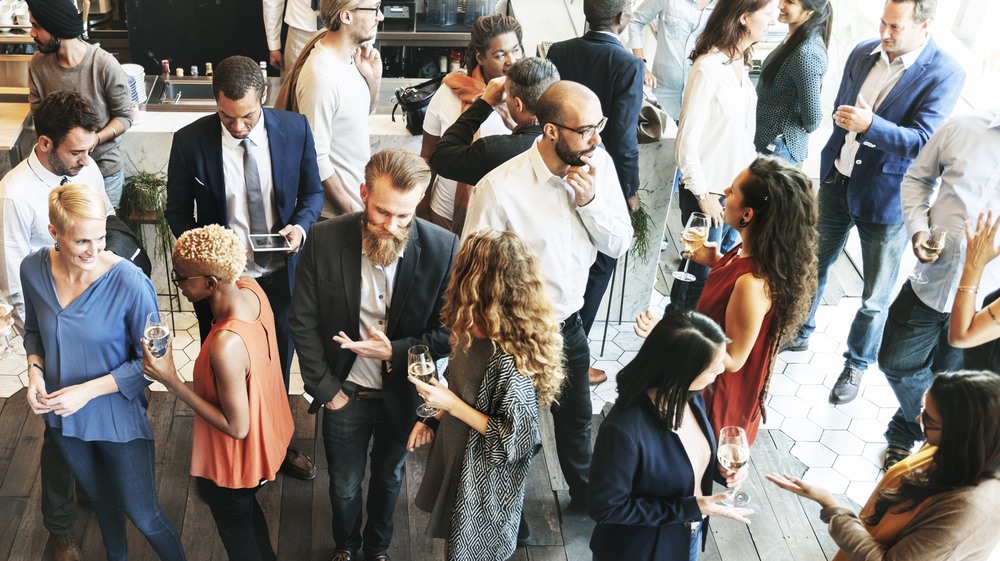 English is possibly the world's most accessible language due to its massive presence in the media and the internet. It is also the most widely spoken language in the world given history and accessibility. English grammar is also quite easy to learn to start in comparison to most other languages. Albeit, top-tier fluency in English is still quite hard to achieve but never impossible. The accessibility of the language made it that there are more non-native speakers than native speakers currently exist in the world.
English has various functions in our daily lives. English is the dominant language on the internet. Nearly 54 percent of the content on the internet is in English. Russian, at 6 percent, is a distant second. More than 50 percent of the world's technical and scientific periodicals are in English.
People from 118 countries speak English and 59 countries recognized it as an official language.
Since the British Empire spread its wings for centuries, many countries forced to adapt the English language. But since the colonies gained independence, many still maintain English as part of their lives. Like in Malaysia, students learn English as a second language.
In total, are 378 million native speakers in English-speaking countries and 743 million non-native speakers in the world whether it is ESL (English as a Second Language) or EIL (English as International Language.
It's fair to say that you will probably meet people that speak better English than you, native speakers or non-native speakers. The accessibility and wide-spread of the language are definitely proof of the language capabilities of the people.
Source: St George International, Lemon Grad
Shop Review: 'TRASH4CASH' Helps You To Make Cash With Trash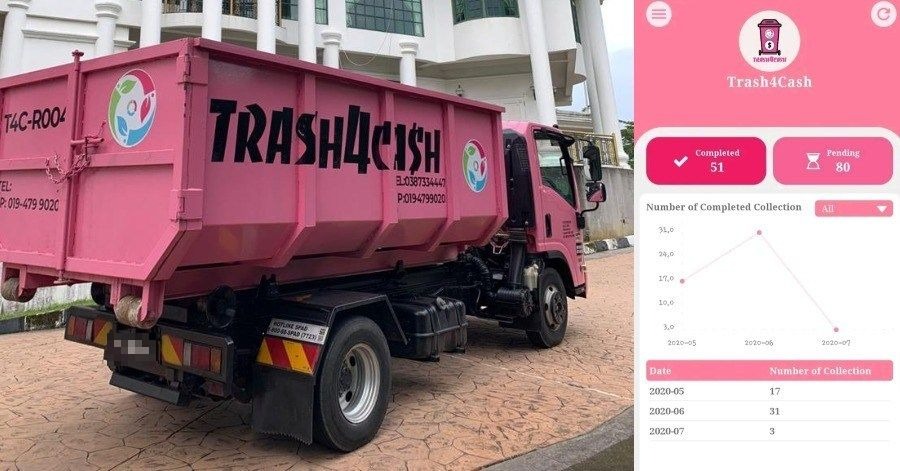 Everybody in Malaysia has definitely been taught of the 3R that are reduced, reuse, and also recycle. But sometimes it can be quite a hassle for many people to go to the recycling center to dispose of all the reusable materials that we have collected in our eco-friendly efforts. Worry no more because now, there is a free service that will come to you and collect any recyclable items instead of heading to a recycling center.
'TRASH4CASH' is a company that comes with an app that will allow you to call in the experts to collect and remove domestic and non-hazardous waste from your homes, commercial areas, and other locations. Users can just simply need to download and install the T4C app on their phones and have an adorably pink T4C truck come straight to your door to weigh, collect and pay you for your recyclable trash.
'TRASH4CASH' Services:
1) Collection Services.
Trash4Cash collection services cover the regions of Kuala Lumpur, Selangor, Kedah, and Perlis.
This includes domestic and non-hazardous waste from households, commercial areas, and other premises are covered. This service consists of kerbside collection of recyclable waste such as cardboard, newspapers, papers, plastic containers, and glass bottles from residential and commercial areas.
2) Construction & Demolition Waste Collection
Construction and demolition waste (C&D) is generated during the construction, renovation, and demolition of buildings or structures. These wastes include materials such as concrete, bricks, wood and lumber, roofing, drywall, landscape, and other wastes. Much of this waste can be recycled or reused.
3) Food Waste Management (Chicken Feed)
Food waste is a serious problem that deserves serious attention. The amount of food wastage in Malaysia is enough to feed 12 million people three times a day which equivalent to 16,688 tonnes per day (2017).
In 'TRASH4CASH', we provide expertise in food waste management and one of the solutions is to convert the waste info chicken feed on large scale.
4) Paper Shredding Services
At Trash4Cash, we guaranteed that all confidential documents are destroyed and recycled safely. We provide on-site paper shredding services in Malaysia for all your small to mountain top volume of documents. A Certificate of Destruction will be issued after the paper destruction process is completed. You can rest assured.
5) Green Waste Management (Composting)
Composting is the natural decomposition of organic material (from plants and animals) by microorganisms, into a dark brown crumbly organic substance called compost. Compost mixed with soil is beneficial for growing plants as the compost retains soil moisture, improves soil structure, and provides nutrients.
Soils are the foundation for food production, and composting is a great way to build up the health of your soil while also diverting green waste from the landfill.
At T4C, we provide solutions for green waste management through composting.
6) Bins & Containers
Trash4Cash provides bins and containers.
'TRASH4CASH' users can also check the price of recyclable materials directly on the app and are recommended to separate their items accordingly such as cardboards, newspapers, papers, plastic containers glass bottles and other materials.
The service is available for Malaysians living in Kuala Lumpur, Putrajaya, Selangor, Perak, Penang, Perlis, and Kedah, and users can receive their payments straight to their bank accounts.
Sources: TRASH4CASH Website.