In Honor of Her Parents, This Woman Opened 'Pondok Sedekah Omar Zabedah'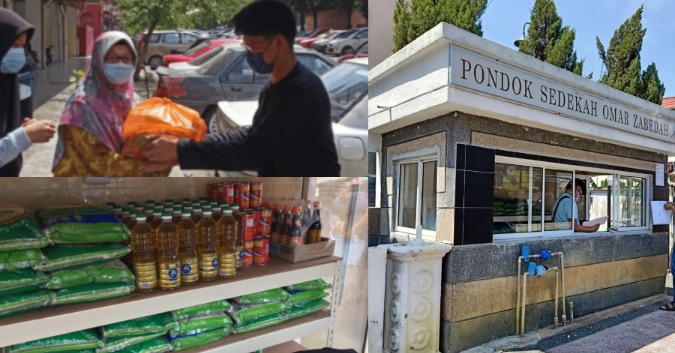 It is such a good action for other people that are fortunate to help other people that are less fortunate to cope with life especially during this COVID-19 Pandemic situation that has affected many people financially. If we help to lighten the burden of others, of course, our situation will also be better than the current situation now.
Recently, a tweet from a girl named @nurhashaidris has gone viral after she uploaded two photos that attract netizens.
my mom just opened a pondok sedekah in honor of her parents. 🥺 if anyone you know is staying around keramat or kampung baru and in need of essentials, do drop by. 🤍 pic.twitter.com/l1c7liUMZ5

— hash (@nurhashaidris) February 20, 2021
Nur Hasha wrote in the tweet:
"My mom just opened a Pondok Sedekah in honor of her parents. If anyone you know is staying around Keramat or Kampung Baru and in need of essentials, do drop by".
'Pondok Sedekah Omar Zabedah' is located in front of Omar Ali Villa, Kampung Baru Kuala Lumpur. The purpose for this facility to be built is to help those out there who are in need of essential items and also in distress.
Nur Hasha also said that she feels so happy when the tweet went viral as there are many people help her and her mother in the form of money so that they can channel aid to those in need through 'Pondok Sedekah Omar Zabedah'.
Thank you so much for the overwhelming support!! I didn't expect my tweet to reach out to so many people. My family appreciates each & everyone one you. If you'd like to contribute in means of donations, feel free to DM me! We're buying more supplies tomorrow 🤍🤍

— hash (@nurhashaidris) February 21, 2021
They also have recently restocked the supplies and added more essential items at 'Pondok Sedekah Omar Zabedah'. This is done by the family regularly so that they could continuously help other people in need.
Nur Hasha also mentioned that her mother loves for her and also her siblings to be involved with the donating process. Just now, they just went to Ampang to hand out essential items for 25 families there. They also planned to go to Gombak next so that they are able to help many other people that are less fortunate.
After been asked what are some of the challenges that the family has to face throughout the process of building this 'Pondok Sedekah Omar Zabedah', Nur Hasha answered: "Building the Pondok itself wasn't really hard for us as my mother has been planning it for months now. The hardest part came after as we didn't know where to find people in need of these essentials or how to let them know of our Pondok. However, after posting my tweet, many came forward and contacted my mother to ask for help. Twitter really helped our cause in such a short period".
Looking at the comment section, netizens praised and admired their efforts as a family in helping people in need.
This kind of effort that this family has done is exactly what the world needs nowadays. Nur Hasha also mentioned, "As for any advice, my father mentioned to me 'Do open your eyes and ears as your neighbor might be in a difficult situation'. This is based on one of the Islamic Hadiths that says 'He is not a believer whose stomach is filled while the neighbor to his side goes hungry'."
Sources: Twitter nurhashaidris.
Shop Review: Best Bazaar Ramadhan In KL? What Does Mark O'Dea Search For?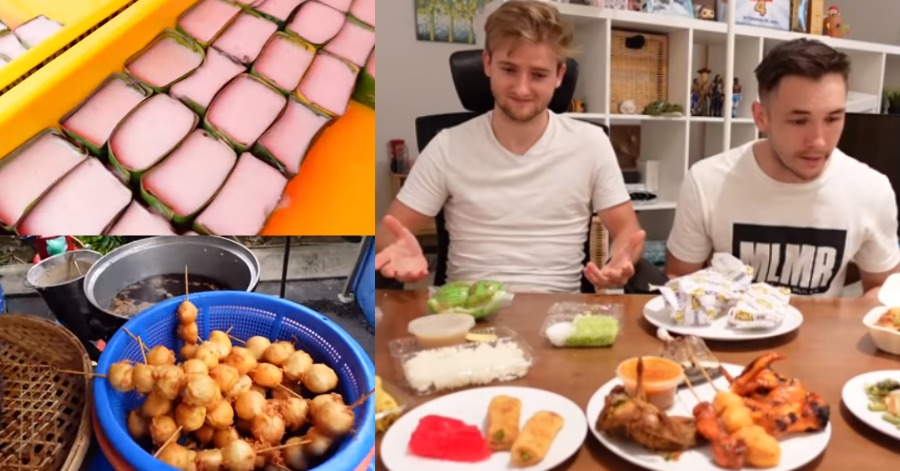 A particular famous YouTuber named Mark O'Dea is back at it again to search for the best Bazaar Ramadhan in Kuala Lumpur for this holy month of Ramadhan in the year 2021.
This time around, he is accompanied by his own friend named Tom. He decided to bring along his friend because as he stated in the video, Tom has never been to any Ramadhan Bazaar even though he has been living in Malaysia for a very long time. In this video, they were on their way to a Bazaar Ramadhan located in Chow Kit Road, Kampung Baru specifically in Kuala Lumpur.
According to their plan, they have agreed to buy food that they have never tasted before in their whole life. It would be such an eye-opening experience for them as Bazaar Ramadhan is very well-known to be selling so many foods and beverages that people could rarely see during other months except the Ramadhan month.
These are 5 of the delicious foods that they have bought from the Bazaar Ramadhan in Chow Kit Road:
1) Prawn Ball And Octopus Ball
They said that they have never tasted or even seen this before. That is why they decided to try and bought them.
2) Pecal
According to the video, the seller stated that pecal is vegetarian food and it is sold for RM3 each.
3) Tepung Pelita
They wanted to try Tepung Pelita because the seller said that it is such a sweet snack. That is why they are on board to eat this even though they have never tried them before in their life.
4) Quail (Burung Puyuh)
For this particular food, he even does not have any idea what it is called. So, for sure he never tastes this food before. That is why he decided to buy this food.
5) Roti Jala
He first assumed that this food is known as Spaghetti but the seller told him that it is known as Roti Jala.
Sources: YouTube Mark O'Dea
Want To Pay 'Zakat Fitrah'? Try Doing It Online Using Shopee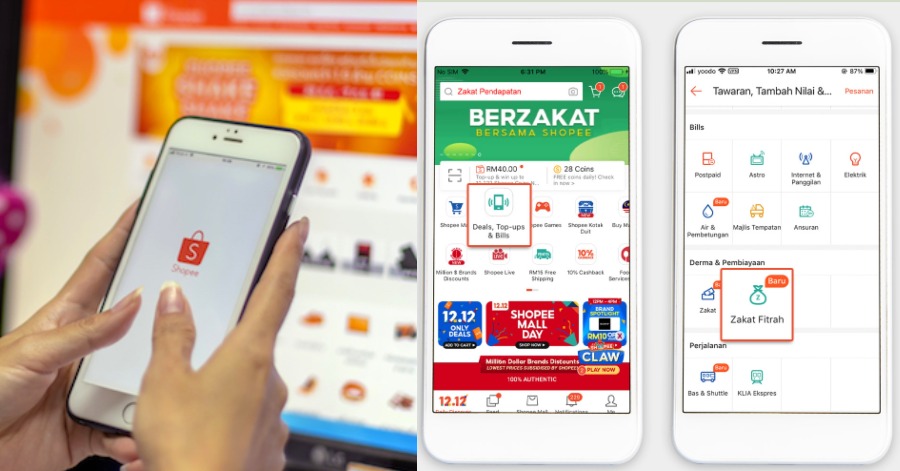 It is an obligation for Muslims all around the world to pay 'Zakat Fitrah' when the holy month of Ramadan has finally arrived. 'Zakat Fitrah' is a charity taken for the poor a few days before the end of fasting in the Islamic holy month of Ramadan. Every Muslim is required to pay 'Zakat Fitrah' at the conclusion of the month of Ramadan as a token of thankfulness to God for having enabled him or her to observe the obligatory fast.
There are actually so many ways on how to pay 'Zakat Fitrah' nowadays in this modern world. Other than paying 'Zakat Fitrah' directly towards the person who is responsible to collect it, people also could pay it by using online banking such as Maybank. There is also one more alternative that can be used to pay it and that is using Shopee.
The rate of zakat fitrah is different based on the provisions of the Religious Authorities of the States. This different particular rate will be displayed when you pay zakat fitrah and select your state zakat body in Shopee. There are actually so many benefits that could be obtained when people pay their 'Zakat Fitrah' through Shopee such as:
Zakat payment is now easier with various payment methods via ShopeePay, debit cards, online banking, and cash payments at 7-Eleven.

Zakat payments can be made quickly and securely from home or wherever you are with the Shopee app.
The zakat collected will be channeled to zakat institutions that work with Shopee to ensure that your contribution is distributed to eligible recipients.
These are 6 simple steps on how to pay 'Zakat Fitrah' just by using Shopee:
Launch the Shopee application and then choose the particular option of "Deals, Top-Ups & Bills". Then, click on the "Zakat Fitrah" icon to directly transported to the 'Zakat Fitrah' page.
Select the Zakat Institution of your choice, Fitrah Rate and enter the Number of People (Self / Dependent). Then, click Continue.
Complete your IC Number, Full Name, Email Address, Telephone Number and Address. Make sure your information is complete and correct. Then, click Continue to pay.
Own ShopeePay as your payment method. Guaranteed fast and smooth. In addition, you can pay by debit card, online banking or cash payment at 7-Eleven. Before payment, state your Zakat Fitrah Intention and click 'OK'.
After the payment has succeeded, click 'View Order Details' to view zakat payment order details.
Lastly, click the "Download Confirmation Of Zakat Fitrah Payment" to see proof of Shopee payment in your app.
Sources: Shopee.
Separated Since Babies, This Identical Twins Finally Reunite After 36 Years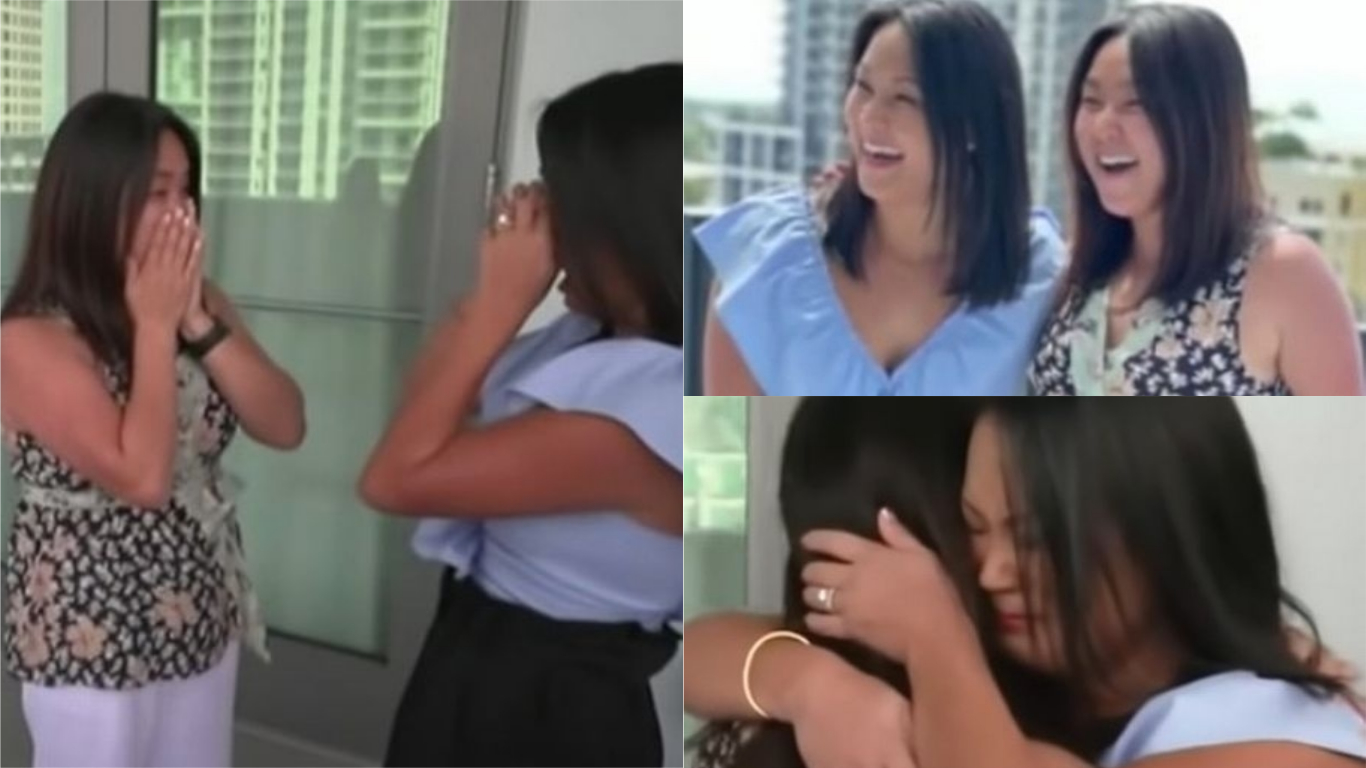 Identical twins Molly Sinert and Emily Bushnell were separated at birth in South Korea and adopted by different families. Molly went on living in Florida while Emily in Pennsylvania. The siblings spent most of their lives totally unaware of each other's existence and little information about their birth family.
But everything changes after Emily's 11-year-old daughter, Isabel wanted to make a DNA test to explore her heritage.
Isabel said, "I wanted to do the DNA test because she was adopted. I wanted to find out if I had more family on her side."
Meanwhile in Florida, Molly also decided she wanted to take a DNA test to find out more about her mother's history. The database confirmed her relations with Emily.
"(The results said:) 'You share 49.96% DNA with this person. We predict that she's your daughter'. This is obviously not right because I've never gone into labor, I don't have children."
Shortly after, she figured out that she must be her sister. They contacted each other but decided not to have a video call until they met in person.
Even though Emily didn't feel comfortable taking the test, but finding out about her twin makes everything so clear.
"Although I have family who loves me and has been wonderful, there was always a feeling of disconnection. Finding out that I had an identical twin sister just made everything so clear. It all makes sense."
As the twins got to know each other, they discovered more and more similarities between themselves.
Emily added: "Our senior prom picture…we were both wearing a beaded dress with a strapless style and our hair was exactly the same.
Emily concluded by describing the reunion as 'the happiest moment of her life'.
Source: Daily Star