COVID-19 Vaccine Works Its Magic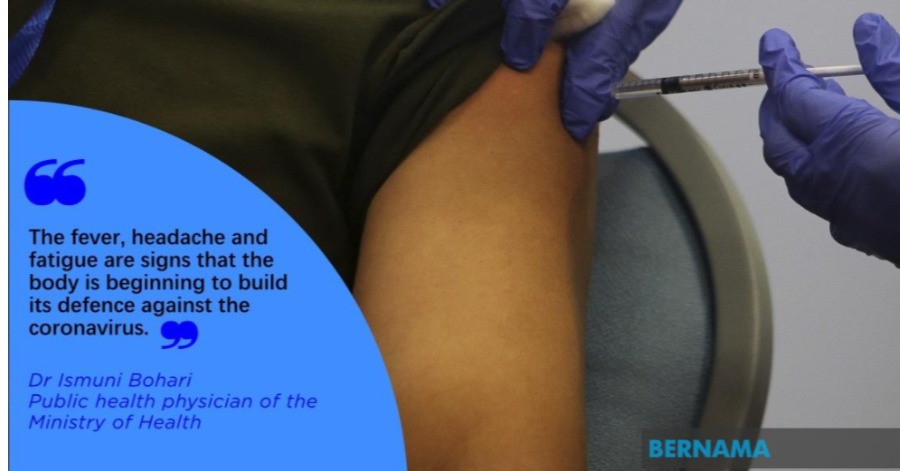 LABUAN, March 29 – I received my second shot of the COVID-19 vaccine on March 20, twenty-one days after the first shot on Feb 27, and I knew that the Pfizer-BioNTech vaccine was already working in my body.
Twelve hours after taking the second injection, at about 3 am the next day, I woke up suffering from intense fatigue, headache and muscle pains, and had the chills and a fever, with the temperature reading 38.05 degrees.
The arm where I had the injection was painful and I could barely lift it. I felt like I did not want to get out of bed. To tell the truth, I was in bed for the next 33 hours.
Journalists in Labuan were categorised as frontliners as well and were in the first batch of recipients of the COVID-19 vaccine, along with the healthcare workers. I, as the Bernama correspondent in Labuan, and Muqtadir Halim, the Bernama Labuan photographer, were among the 10 media representatives who were vaccinated.
Coming back to the rudely awakened scenario, my wife handed me a paracetamol tablet and a glass of water. I took the pill. An hour later, the fever subsided. The back of the COVID-19 vaccination card carries an advice on taking a paracetamol tablet when you develop a pain following the vaccination.
By the afternoon, the fatigue, muscle pains and fever had vanished, leaving just a slight headache and some pain at the place of injection. I remember that I only had a sore arm after my first shot.
Dr Ismuni Bohari, a public health physician of the Ministry of Health, said the fever, headache and fatigue are signs that the body is beginning to build its defence against the coronavirus.
"It's a signal that the vaccine is working. If you get hit by fever, fatigue or headache, particularly after the second shot, that is normal.
"And, if you don't experience side effects, that's totally fine. Your body is still doing its job. The good thing is not everybody gets a reaction," he said.
Dr Ismuni, who himself experienced fever and chills after the second shot, said it is important to let the people know what to expect and that the side effects are a normal part of the process.
I must say that the side effects caught me off guard but I am grateful that the vaccine showed me its strength. That is how I look at it now.
Based on my understanding, the first shot of vaccine had done its work to help my immune cells recognise the virus DNA and that they were ready to do battle when the second dose, with the same trace of COVID-19 code, entered their orbit.
People have asked me whether I now feel that I am already immune to the disease as I have been fully vaccinated. I don't. I continue to wear a face mask, wash my hands frequently and stay away from public places as much as possible.
I have still not got down to visiting old friends or driving or flying across the border to see family members in mainland Sabah.
Science tells us that those who have been vaccinated could possibly remain potential transmitters of the coronavirus, and I don't want to get anyone sick.
I'm very grateful to have gotten the complete set of vaccine (doses one and two) and am able to have that protection, and really want to see that opportunity be made available to everyone.
Plan your schedule so that you can take time off from work or plan to rest after the second dose.
Kota Kinabalu Gleneagles Hospital infectious disease physician Dr Timothy William said that regardless of whether or not the vaccine triggers side effects, the vaccine is still working.
"If a person is vaccinated, the risk of getting infected or the risk of getting the disease is much less. The fever and other symptoms that may accompany the vaccine are usually mild. They may be the result of the body's immune response to the vaccine," he said.
Labuan Information Department photographer Jeffrey Nian said he felt good when he did not immediately have side effects after getting the second dose of the Pfizer vaccine last weekend. Later that night, he was struck with body aches, exhaustion and occasional chills.
"I couldn't sleep well because of the discomfort," said Jeffrey who hails from Kota Belud and was posted to Labuan seven years ago.
The next day, he just laid on the couch and watched TV, feeling too exhausted to move.
"I just knew I had to wait for some time and I'd feel better," he said, adding that by the third day he felt fine.
Experts warn against letting one's imagination stray. People simply react differently to vaccines.
"Although having symptoms is a sign that the immune system is reacting to the vaccine, the absence of symptoms does not mean that the vaccine is not working," said a health officer of a hospital here.
RTM Labuan reporter Mohd Izuandy said he experienced fatigue and body aches after his second dose of the Pfizer vaccine.
Source: BERNAMA
Use These Healthy 'Sahur' Tips By A Certified Dietitian For Everyone To Practice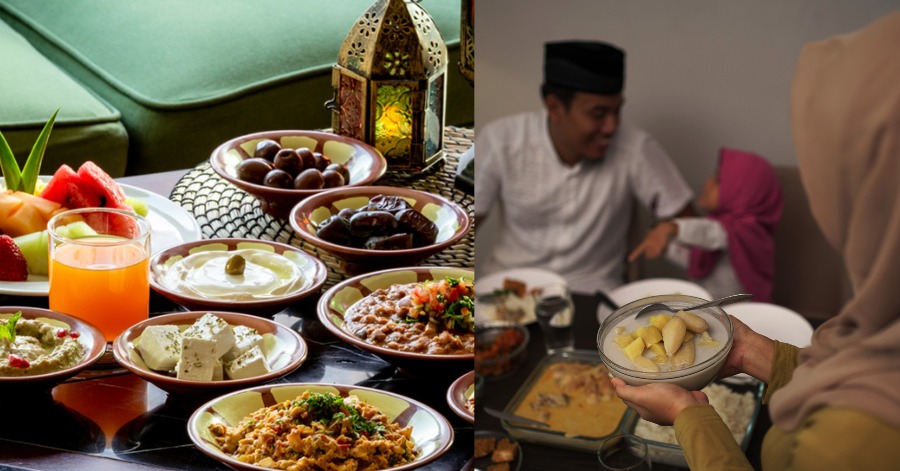 When the holy month of Ramadan arrives, many people definitely cannot wait to finally go to the Ramadan bazaar to buy their favorite food. Well, it is not often to see this kind of situation because the food that got sold in the Ramadan bazaar is actually difficult to get on a normal day and some of them are very popular during this month alone. Because of that, many people decided to buy a lot of them to be eaten during break fast and some others also eat the food that they bought at that time and eat it during 'sahur'.
This kind of attitude usually will make them feel tired so much faster because they did not take the right type of food or even did not take the right amount of food that they need during 'sahur'. In fact, calories are usually less so the nutrients are taken less when fasting. Let us see the healthy 'sahur' tips that have been shared by Salsabila Aznan who is a certified dietitian on her own Twitter page.
TIPS SAHUR SECARA SIHAT
Ramadan dah dekat jadi nak share tips sahur nutrient friendly gitu.

Almaklumlah bila berpuasa, kalori biasanya makin kurang jadi nutrien pun terambil kurang. So, ni thread utk sahur nutrient friendly.

— Salsabila Aznan (@SalsabilaAznan) April 11, 2021
1) Compulsory Intake Of Quarter Half Portion
Some may say that eating rice could make us becomes hungry even quicker. It is true if you only eat rice with egg, you will get hungry quickly. Make sure half of the plate is vegetables and not rice. Vegetable fiber helps to make you feel full longer when you are fasting.
2) Take Source Of Protein
Protein is also slow to digest. If you want to eat dates, add a glass of milk to get a minimum of protein and carbohydrates. If you eat rice, you can take fish, chicken, tofu, or even eggs.
3) Reduce Processed Foods
Avoid eating nuggets, sausages or even burgers during 'sahur'. The one who loves to eat 'budu' and also 'cencalok', try to reduce the intake. Foods that are high in salt make you thirsty quickly.
4) Minimum 2 Glasses Of Water During Sahur
This is just a suggestion. You can drink more than 2 glasses of water if you want to. Make sure to drink enough water during 'sahur' so that you are energized during the day.
5) Variate 'Sahur' Every Day
Nutrients depend on the variety of food types. Don't just take oats every 'sahur'. Or salad every day. Diversify the intake of carbohydrates, proteins, and also vegetables.
Sources: Twitter Salsabila Aznan
Johnson and Johnson Jab May Cause Unusual Blood Clotting
BRUSSELS, April 21 – The European Medicine Agency (EMA) confirmed on Tuesday that there could be a link between Johnson & Johnson vaccines and very rare cases of blood clots, Anadolu Agency reported.
"A warning about unusual blood clots with low blood platelets should be added to the product information for COVID-19 Vaccine Janssen," the EU regulator announced in a statement following the investigation of its safety committee.
But the EMA upheld its recommendation to use the jabs and confirmed that its benefits outweighed possible risks.
The investigation also concluded that "blood clots occurred mostly at unusual sites such as in veins in the brain (cerebral venous sinus thrombosis, CVST) and the abdomen (splanchnic vein thrombosis) and in arteries, together with low levels of blood platelets and sometimes bleeding."
According to the EU agency, over seven million people received the product of the Johnson & Johnson pharmaceutical company and it caused serious blood clotting in eight cases.
The cases were very similar to the side effects of AstraZeneca's coronavirus disease (COVID-19) vaccines.
In March, several European countries – including Sweden, Germany, France, Italy, Ireland, the Netherlands, Denmark, and Norway – suspended the use of AstraZeneca jabs for a while after blood clots were reported in some vaccinated people.
The EMA's investigation also concluded on Apr. 7 that there could be a possible link between AstraZeneca vaccines and very rare cases of blood clots.
Similarly, the EU regulator upheld its recommendation on using the jabs since its benefits outweighed the risks.
Source: BERNAMA
(Video) TikTok's Latest Food Trend, Have You Tried It?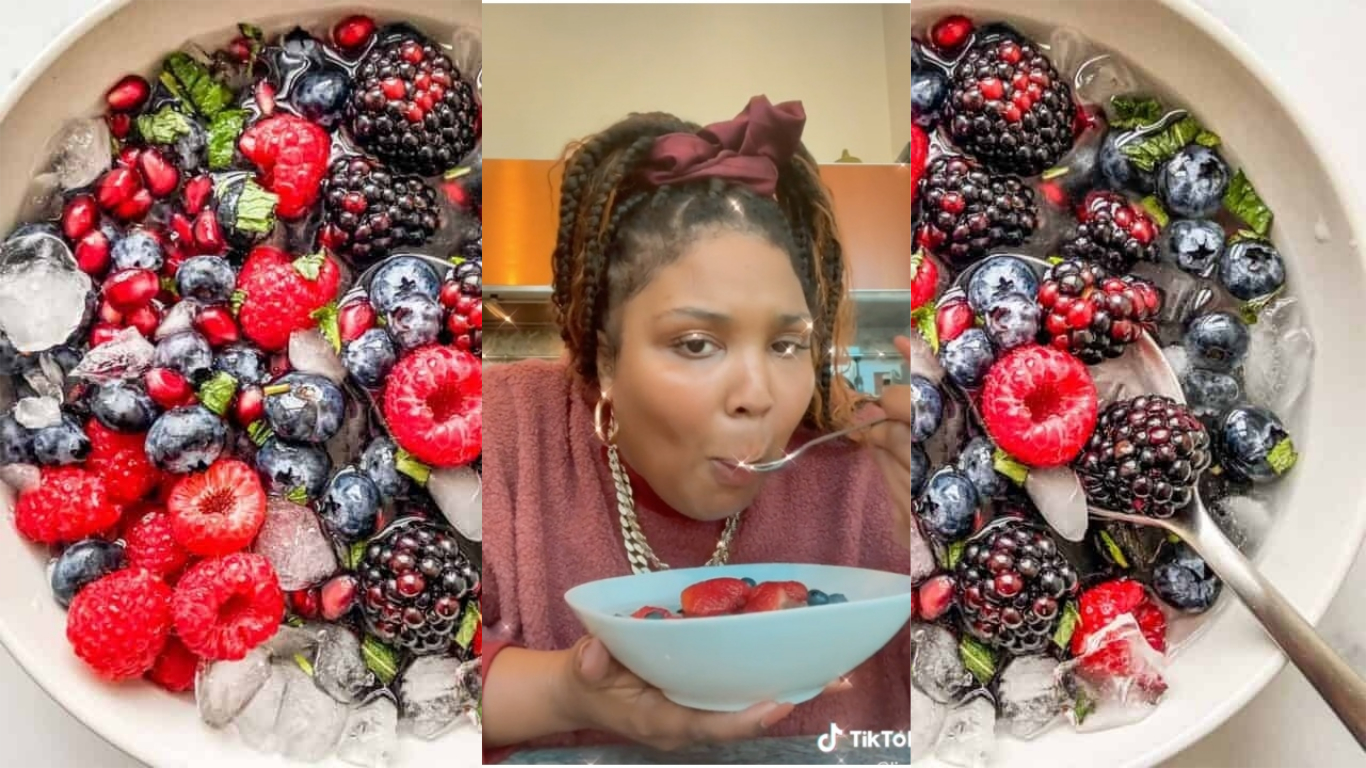 In this time of the pandemic, everyone is trying to practice a healthier lifestyle at home. There recently a new food trend circulating on TikTok that acts as a substitute for morning cereal.
Dubbed 'nature's cereal' by its creator @natures_food it is a concoction of red berries, pomegranate seeds, blueberries, strawberries, and blackberries with coconut water.
Rather than sitting down to a bowl of sugar-laden breakfast cereal, the internet is going wild for this healthier alternative. To add more crunch, just add ice cubes.
The concept got a further boost from the singer Lizzo, which makes it gains more success.
Source: @natures_food, People, Lizzo