Dubai's Love Lake, Two Hearts in the Middle of the Desert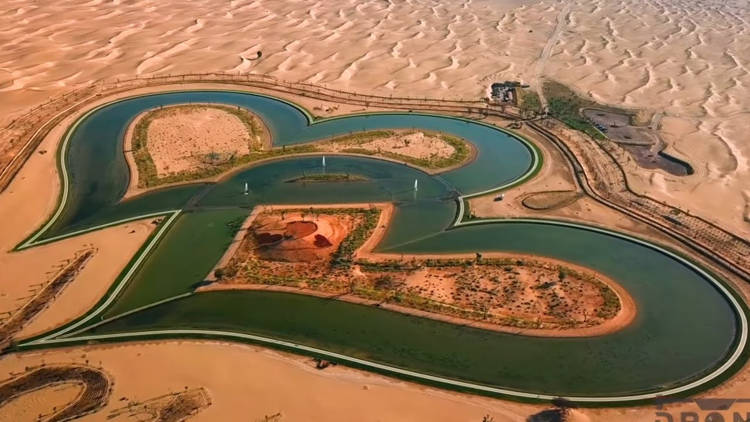 From palm-shaped island, to the Burj Khalifa, Dubai has no shortage of world-renowned attractions. But the city has more to offer. One attraction is the man-made Love Lake. It is two intertwined heart-shaped lakes situated near the Al-Qudra Oasis. Named Love Lake, it measures 550,000 square meters, this stunning tourist attraction is even visible from space.
Unveiled on November of 2018, it is located at a considerable distance away from any urban areas. It consists of hundreds of thousands of shrub varieties, over 16,000 trees, and thousands of colourful flowers, including red begonia.
The lake started getting social media attention after the crown prince of Dubai, Sheikh Hamdan bin Mohammed bin Rashid Al Maktoum, shared an aerial photo of it on his popular Instagram account, with the caption "To all of you".
 

View this post on Instagram

 
You'll want to either experience the view from a helicopter. If the option is too costly, you may want to fly a drone over it. However, you'll need a permit for it.
Hundreds of trees planted to spell the word 'Love'. The lake garden is a myriad of everything with shape of heart including lakes, flower arrangements and the on-sight badminton court.
Source: Oddity Central
(Video) So Many Benefits! 4 Ways That We Can Use Olive Oil!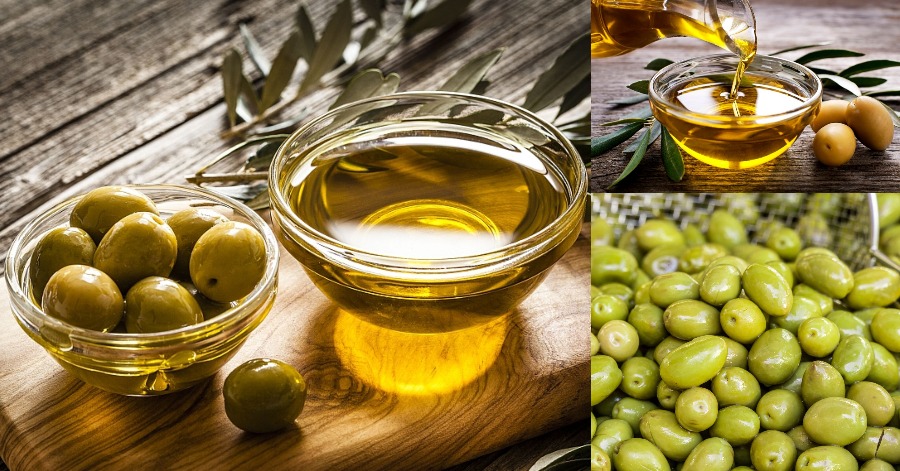 Olive oil is a liquid fat obtained from olives. The word Olive got mentioned in Quran in different verses. In addition, Prophet Muhammad SAW said "Eat olive oil and massage it over your bodies since it is a holy (Mubarak) tree". He also stated that olive oil is beneficial to cure 70 diseases. That is why olive oil would bring so many benefits to people.
Olives are the gift from heaven to mankind. Apart from the Date fruit, olives are actually also considered of utmost importance in Islam. For Muslims, the inclusion of the olive and olive oil in religious observance invokes the words of Allah, Muhammad, and even heavenly paradise. These are 4 ways Prophet Muhammad SAW uses olive oil.
The 4 ways are:
1) Prophet Muhammad SAW will dip bread into olive oil.
2) Prophet Muhammad SAW will eat olive and it can also be used as spreading with so many foods. It is recommended to eat 2 spoonfuls of olive oil per day.
3) Prophet Muhammad SAW will massage the olive oil onto the skin for hydration.
4) Prophet Muhammad SAW will use it on the hair to make the hair always healthy.
Sources: TikTok Lookman Akim.
Interesting! 10 Surprising Disney Facts That You May Not Know!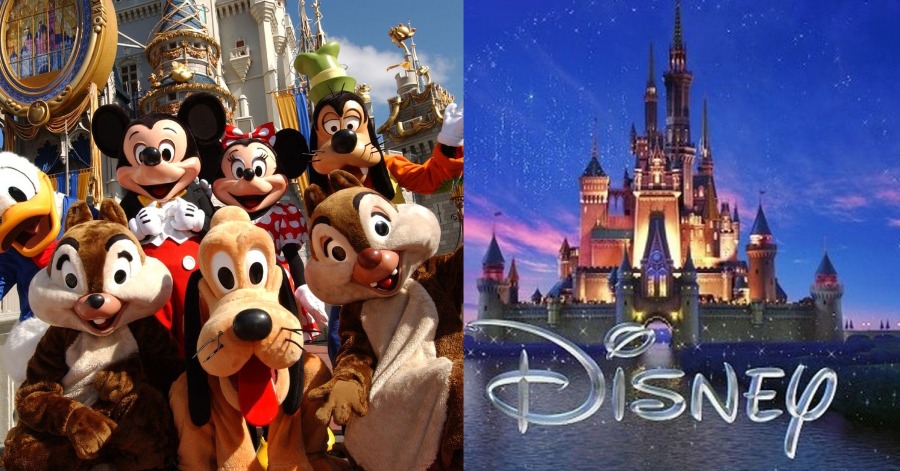 Disney, a place where all your dreams come true. What if I told you that your favorite cartoons have some pretty interesting backstories. Walt Disney Studios is famous for many of the most well-known cinematic characters of all time, from the classic to the brand-new.
However, there's more to many of these Disney characters than meets the eye. Here are some interesting facts that you may or may not know.
Fact 1- Mickey Mouse was almost named Mortimer
Walt Disney suggested the name 'Mortimer' to his wife Lilian but she didn't think that the name is suitable for the character's personality. Walt Disney later came up with the name Mickey Mouse and the rest was history. Since 1936, Mortimer Mouse has occasionally appeared in papers and short films as Mickey's taller, more boastful enemy.
Fact 2- Robin Williams almost said no to the role of Genie
Voice actors used to be slightly underwhelming. But today, film studios cast big stars as their voice actors. If there was a single cast that brought a shift, it was the casting of Robin Williams as the Genie in 1992's Aladdin. Disney felt Williams was the right guy for the job, but he was apprehensive about becoming a cog in a massive merchandise-selling entertainment corporation. However, Disney was so desperate to cast him in the role that they created animations of the Genie performing his stand-up routines. He agreed on the condition that his voice not be used in any of the film's marketing—or, worse, in dolls and other "things." Disney then refused to comply with his requirements, resulting in a quarrel between William and Disney.
Fact 3-Anna and Elsa are technically not Disney princesses
Confusing but people commonly refer to all princesses in Disney films as "Disney princesses," although there is an official, recognized list. Snow White, Cinderella, Aurora, Ariel, Belle, Jasmine, Pocahontas, Mulan, Tiana, Rapunzel, Merida, and Moana are the 12 "official". There are no Anna and Elsa to be found. But how can that be since Frozen and its sequel are by far the most successful and the top Disney princess films? It's because of that success, to be sure. Frozen was profitable enough to become a franchise of its own. Anna and Elsa don't need the official Disney princess branding as they're already successful Disney characters of their own. Besides, in Frozen 2, Anna is a queen and Elsa is a spirit. So they are way pass the princess title.
Fact 4- Maleficent and Cinderella's stepmother are the same people
Both Lady Tremaine, Cinderella's wicked stepmother, and Maleficent, the villain in Sleeping Beauty were voiced by Actress Eleanor Audley. Before her death in 1991, Audley had a successful television career, appearing on series such as The Man from U.N.C.L.E. and The Dick Van Dyke Show.
Fact 5- Pocahontas is the only Disney princess based on the true story
According to Smithsonian Magazine, Pocahontas' real name was Amonute. Pocahontas was only a nickname that meant "funny one" or "naughty child." She met John Smith when she was a youngster, not an adult, and they did not have a romantic connection. As a result, it's made our list of the most historically incorrect films. However, this doesn't mean that Disney accurately film what occurred in real life.
Fact 6-Only two Disney princesses have supernatural powers
Can you guess the only two princesses with power? Yes, Rapunzel and Elsa. While most Disney princess films have a magical element to them, the main leading ladies rarely have magical talents themselves. Except for these two. Rapunzel, with her healing, radiant hair, and Elsa, with her ice abilities.
Fact 7-The Beast has features of many animals
And here we thought he was just ONE beast. Animator Glen Keane said he created the main character from Beauty and the Beast with the legs of a wolf, the tail of a dog, the body of a bear, the head of a buffalo, the eyebrows of a gorilla, the muzzle of a wild boar, and the mane of a lion.
Fact 8- Jackie Chan played two popular Disney roles
Famous actor Jackie Chan voiced the Beast in the Chinese version of Beauty and the Beast, and Captain Li Shang in the Chinese version of Mulan. For both parts, he sang. Impressive isn't it!
Fact 9- Lady from Lady and the Tramp is based on a real dog
That dog was also named Lady, and she was a Springer Spaniel that belonged to Joe Grant, a Disney writer. Walt Disney instructed Grant to make a storyboard with the dog after viewing sketches of it, but he ended up rejecting the concept. Disney didn't revisit the tale with Grant's initial illustrations until he heard a storey called "Happy Dan, the Whistling Dog" about a dog "from the opposite side of the rails."
Fact 10- Winnie the Pooh name has an adorable origin
This Silly Old Bear has an unusual, even amusing, name. But there's a reason he's referred to as "Pooh." The narrator in A. A. Milne's first Winnie-the-Pooh novel recounts that Pooh would often have flies buzzing about his nose. He'd try to puff air at them, making a pooh! sound, to pull them off.
Sources: Reader's Digest
Kayda Aziz Launches Merdeka-Themed Music Video With Shopee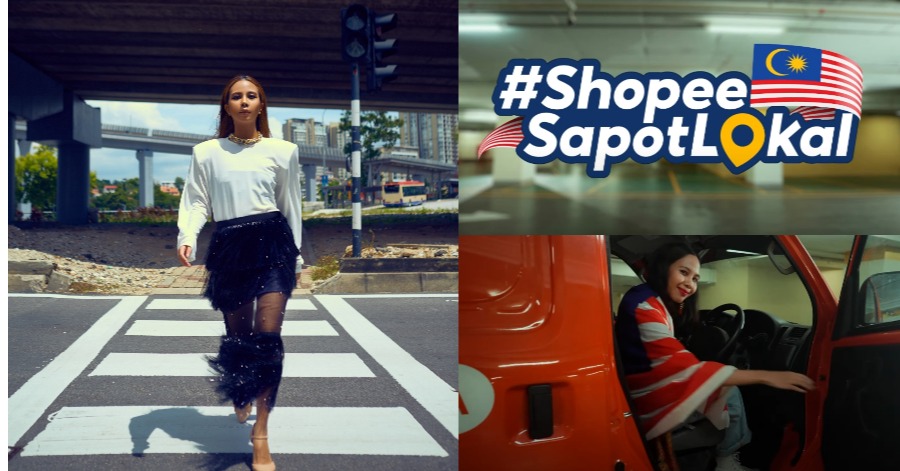 KUALA LUMPUR, 27 Aug – Malaysian rapper Kayda Aziz is set to launch a new music video with Shopee on Merdeka Day as part of the e-commerce platform's #ShopeeSapotLokal campaign. Malaysians as well as fans of Kayda can tune in to Shopee Malaysia's Facebook and Instagram pages, or YouTube channel, on 31 August to catch the music video.
Kayda Aziz shared, "Working on the Merdeka Day campaign with Shopee has been a delightful and eye-opening experience for me. I got really inspired when I found out about some of our successful Malaysian entrepreneurs who have been selling their products on Shopee. I'm honoured to come up with the lyrics and I feel that the future for Malaysian e-commerce is very promising."
She added that to be given the opportunity by Shopee was a humbling experience for her. "Working with their team was overall smooth as they trusted my songwriting process and understood my style of expression in music. Despite a few limitations because of the pandemic, I am proud that we could still manage our ways to come together in completing this project while we followed strict SOPs during recording, shooting an animation video featuring local entrepreneurs. I am truly happy with the outcome of it."
Aptly titled #ShopeeSapotLokal, the music video depicts an animated version of six members of the local seller community on Shopee in an outer space theme as a way of paying tribute to how they aimed for and landed on the moon with their businesses. Metaphorically, that is. 
The sellers are Amirah Norman (PotonGuler®️), Zeeda Aziz (Pasar Kedah), Jamie Thoo (Babymart), Juhairi Aziz (Viraller), Farah Suhaimi (Intan Kek Lapis Sarawak) and Kiridaren Jayakumar (Kedai Buku Bibliophile) with unique, inspiring stories to tell. With lyrics written by Kayda herself, she raps about the efforts and e-commerce journey of these sellers, while reminding everyone to not give up and believe in themselves. 
The animated music video is part of the #ShopeeSapotLokal initiative which the e-commerce platform has launched to provide dedicated assistance and to celebrate the local seller community. To amplify the support, there will also be Shop Malaysia Online (SMO) and Go-eCommerce site takeovers on 31 August and 16 September respectively, where Malaysians will receive upsized vouchers offering discounts of up to 31% when purchasing from Malaysian sellers during these two days.  
SMO and Go-eCommerce are e-commerce initiatives by the Ministry of Finance (MOF), with the Malaysia Digital Economy Corporation (MDEC) tasked at driving the campaign from now till 31 December 2021. 
Kenneth Soh, Senior Manager (Marketing) of Shopee Malaysia said, "Shopee seeks to continuously empower our local sellers as part of our commitment to further the country's digitalisation efforts. This video allows us to share the success stories of our sellers to inspire others in a fun way whilst encouraging Malaysians to support local businesses. On top of that, it was an honour working with Malaysian rap songstress Kayda Aziz in bringing this music video to life with her lyrics, vocal prowess and great personality. Kayda, together with the team at Shopee, have given birth to a masterpiece which I am excited as a Malaysian for everyone to watch. I hope everyone will lend our local sellers and Kayda their support when the music video is launched. To this end, I wish my fellow Malaysians Selamat Hari Merdeka."
In the spirit of Merdeka and unity, Shopee will be hosting a series of documentaries on Shopee Live, in partnership with the National Film Development Corporation Malaysia (FINAS). The Dari Merdeka ke Malaysia screenings portray the country's journey towards independence and the formation of Malaysia, together with the rich heritage and culture of Malaysians. They will be streamed on Shopee Live at 9.30PM on 30 and 31 August, continued by 6, 7, 13, 14 and 16 September. 
The #ShopeeSapotLokal music video and campaign as well as Dari Merdeka ke Malaysia are in conjunction with the Shopee 9.9 Super Shopping Day, currently taking place till 9 September. Shoppers can look forward to claiming Free Shipping and 99% Coins Cashback vouchers, both with no minimum spend. Users can also stand a chance to win a brand new Mercedes-Benz by participating in the Play & Win Mercedes-Benz game by collecting golden tickets daily.
For more details and offers happening during the Shopee 9.9 Super Shopping Day, visit https://shopee.com.my/m/99