Elon Musk Plans To Create A Dog-Friendly Futuristic Metropolis In Texas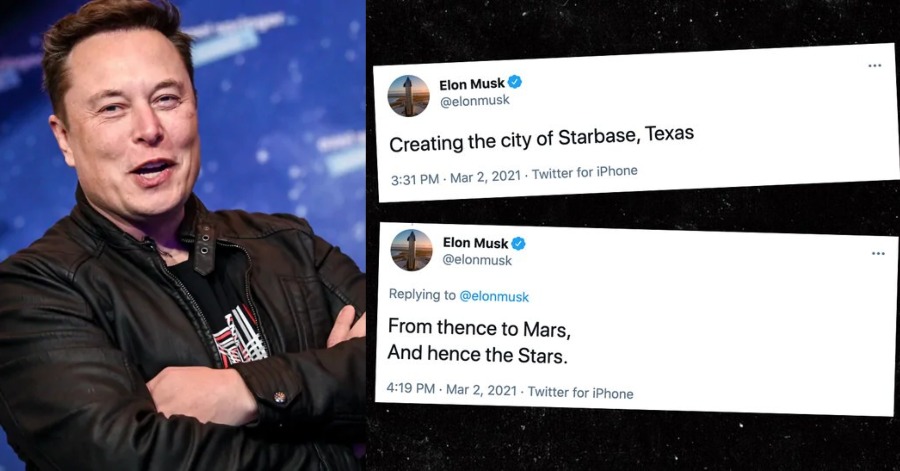 Elon Musk is a tech mogul with hands in the automotive industry, space market but now, he is adding building a city into the list.
He announced on Twitter he is planning to create the city of Starbase' in Texas. The name is clearly derived from the state as 'lone star' state as depicted in its flag. Texas was an independent republic for ten years before accepting annexation to the United States, and the flag reflects the pride and go-it-alone spirit that is still part of the Texas way of life.
Creating the city of Starbase, Texas

— Elon Musk (@elonmusk) March 2, 2021
Upon further inquiry, Musk revealed the inclusion of SpaceX's testing facility with Boca Chica village. Also, how it will be dog-friendly with the pets leader 'Doge'- a nod to a medieval elected lord title of the same name and the cryptocurrency DOGE.
"Sending a tweet doesn't make it so," Cameron County Judge Eddie Trevino told Bloomberg in an interview. "They have a lot of hoops and hurdles to go through before they can make it so."
Very much so & its leader shall be The Doge https://t.co/VXmuW5c0y9

— Elon Musk (@elonmusk) March 2, 2021
After Mars becomes habitable, Musk plans to send one million people to live there which he says will happen by 2050. He has dreamed to build a large city on Mars. However, it seems the Mars plan will take a while and he is looking at someplace closer to home.
This would give Musk even more roots in the Lone Star State. In December, he moved to Texas following a feud with California lawmakers. And in June, Tesla chose Austin, Texas for its largest auto assembly plant and plans to employ at least 5,000 workers and will get more than $60 million tax breaks from Travis County and a local school district over the next decade.
He describes the future 2,100-acre site along the Colorado River as an "ecological paradise… open to the public"
Musk shares ideas about his Mars plan involving 'life in glass domes at first'. But it would eventually be terraformed – just not in our lifetime. He is also looking forward to leaving a legacy for a future space-faring civilization.
Musk also shares ideas about world construction and how it should be governed.
Buried in the text is a section titled 'Governing Laws,' which states SpaceX will not abide by international laws beyond Earth and the moon but instead adopt self-governing principles 'established on good faith.'
Musk has taken it upon himself to declare Mars a 'free planet.'
Source: Daily Mail, Entrepreneur, Elon Musk
TH Launches Stewardship Framework As Governance Foundation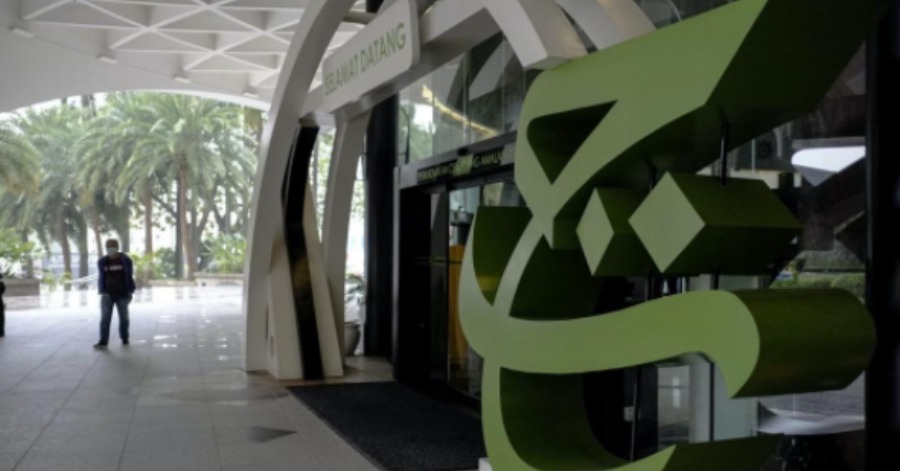 KUALA LUMPUR, Sept 3 — Lembaga Tabung Haji (TH) today launched its Stewardship Framework, the foundation of its governance structure to help the pilgrims fund board delivers its mandate of providing world-class hajj services more effectively and sustainably.
TH Chairman Tan Sri Md Nor Yusof said the framework is based on Maqasid Syariah or the higher objectives of syariah that covers five main principles namely the protection of religion, life, intellect, property and future generations.
"The main objectives of TH's Stewardship Framework are to embrace Maqasid Syariah, conduct operations in compliance with syariah principles and uphold strong corporate governance with integrity," he said in a statement today.
According to Md Nor as part of the launch, TH would also roll out internal programmes progressively to help its employees to internalise the framework and its role in strengthening corporate governance moving forward.
He added since the TH establishment in 1963, it has organised hajj for 1.5 million people and now, about half of all Malaysian Muslims or 8.3 million are now their depositors to help them save for hajj.
Md Nor said the growth of TH over the years has given rise to the need for TH to strengthen its governance structure further through its Stewardship Framework.
"With over 58 years of experience in syariah-compliant operations, it is essential for us to ensure the long-term sustainability of TH," he added.
Sources: BERNAMA
(Video) Shocking To Know! These 5 Palestinian Women Give Birth In Israeli Prisons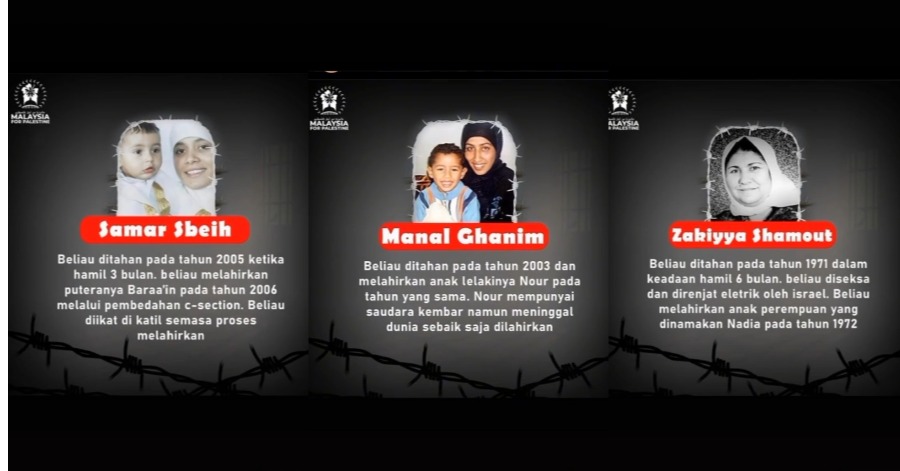 The news of a Palestinian woman that got charged with an attempted stabbing attack against the Israeli settlers that has gone viral is set to give birth in prison while awaiting trial, in reportedly the first such incident in nearly a decade and a half. Prison childbirth among Palestinian female detainees is considered rare. This is because there are far fewer female security prisoners than male security prisoners and even among female security prisoners, pregnancy is uncommon but this does not mean that cases like these did not occur before. There are actually numerous of them.
There are around 4,850 Palestinian detainees in Israeli prisons, including 41 women, 225 children, and 540 administrative detainees, according to institutions concerned with prisoners' affairs. Palestinian security prisoners are treated like any other detainee when it comes to giving birth behind bars. These are 5 similar cases.
These are Palestinian women that had to give birth in Israeli prisons:
1) Samiha Hamdan
According to the news, this Palestinian woman named Samiha Hamdan got detained in the year of 1981. She then gave birth to a baby girl that got named Tha'era in the same exact year.
2) Zakiyya Shamout
This particular Palestinian woman got arrested in the year 1971 with 6 months in pregnancy. She was sadly tortured and got electrocuted by the Israeli. She gave birth to a baby girl that got named Nadia in the year of 1972.
3) Samar Sbeih
She got detained in the year 2005 when she was 3 months pregnant. She gave birth to her baby boy named Baraa'in in the year of  2006 through C-section surgery. This Palestinian woman was tied to the bed when she was giving birth to her baby.
4) Fatma Al Zoq
This Palestinian woman was arrested in the year 2007 when she was 2 months in her pregnancy. She then gave birth to her baby boy named Yousuf in the year of 2008.
5) Anhar Al Deek
She is originated from Kafr Ni'ma Ramallah city. She was 25 years of age and was 9 months in pregnancy. She has been locked in the Israeli prison since 5 months ago.
Sources: TikTok w.n.fatihah_02.
MySejahtera App Is Now Updated For Better Service, Vaccine Status Included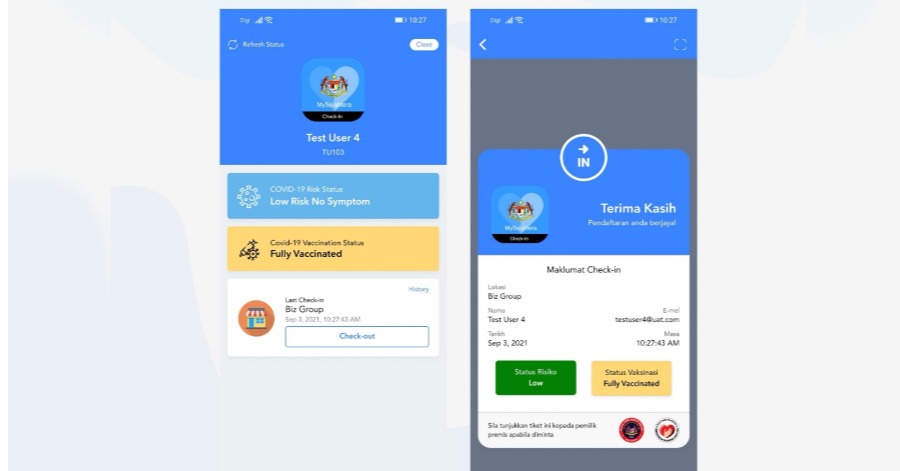 MySejahtera is actually a mobile app developed by the Government of Malaysia to facilitate contact tracing efforts in response to the COVID-19 pandemic in Malaysia. The main goal is quick identification of persons who may have come into close contact with anyone who has tested positive for COVID-19. This helps to stop the spread of the infection.
MySejahtera was developed with the strategic cooperation of the National Security Council, the Health Ministry, the Malaysian Administrative Modernisation and Management Planning Unit and the Malaysian Communications and Multimedia Commission. Since then, the app has been updated for better service.
According to Facebook that stated, "A new feature displaying vaccination status and risks on the MySejahtera homepage has been launched. People will start accepting this feature in stages. This is one of the efforts for us to live with COVID-19 more easily".
Sources: Facebook Kementerian Kesihatan Malaysia.