Grandma Poses For Grandson's Photos, Results In Stunning Magazine Covers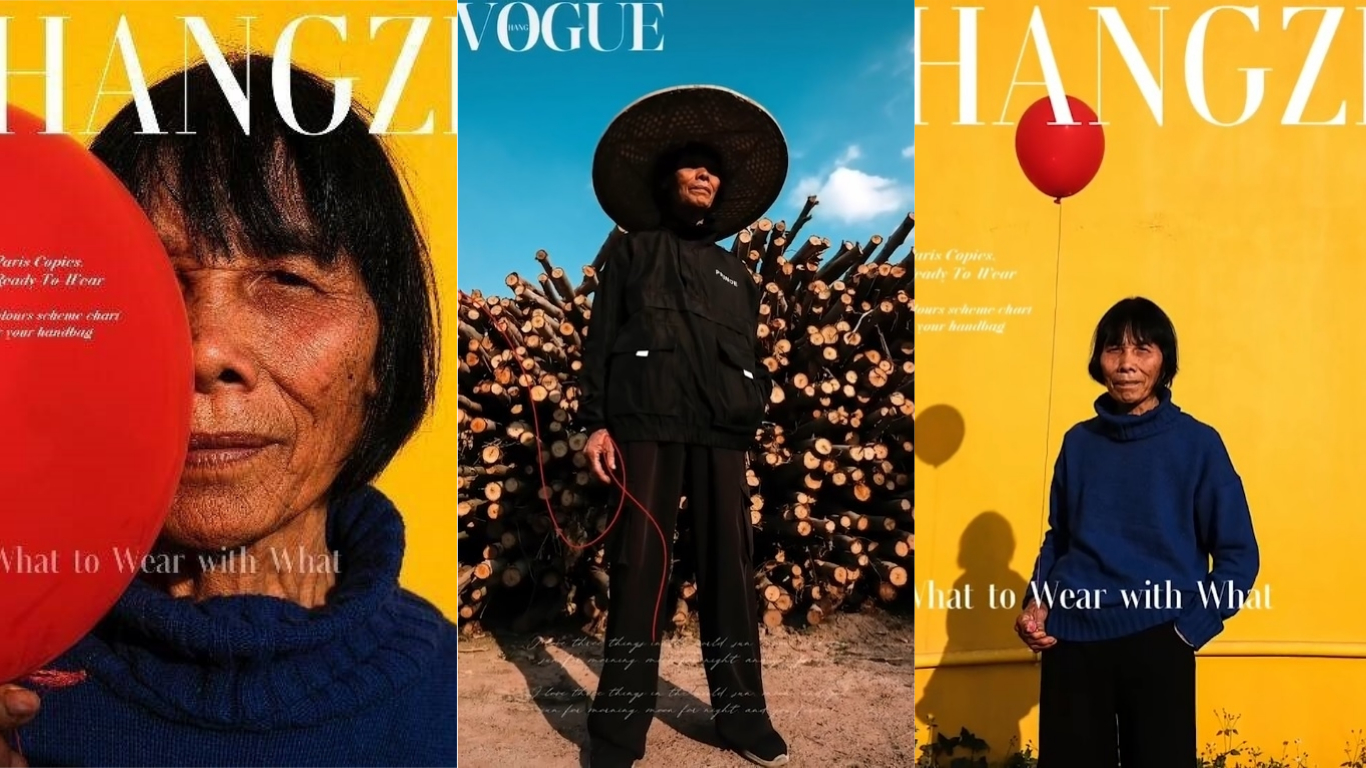 Li Qihang, a 24-year-old photographer, has taken over 10,000 photos of his 68-year-old grandmother since high school. He captures beautiful moments of her life in simple clothing while she poses like a supermodel.
He spent his childhood in the village. After graduation, he briefly worked outside his hometown. However, he realized he missed his family and decided to start a business in his village.
With his own studio, he is satisfied with his career and family with him. "I just record my daily life, and I find it very worthwhile because it allows me to be here with my grandmother," he said.
That's where the idea for his grandmother's photoshoots came from. His inspiration comes from fashion magazines and movie posters, including the fashion magazine VOGUE, and the recent Chinese film, A Little Red Flower.
"We have a lot of fun during shooting. I always make her laugh so she won't be too stiff. Sometimes, we get excited and started dancing."
Li's photos have received many positive comments online, not only for the fine photography skills behind them but the warmth and love they convey. His passion also inspires youth his age. He hopes his photography inspires others to spend more time with their families.
"I find composing a picture difficult. You must take many aspects into consideration, including ideas, perfect timing, and a good interplay of light and shadow," he said.
"If you keep an open mind, it doesn't matter where you live. Living in the village brings me closer to nature. I like the atmosphere of a slower pace of life." He now has a good subject for his projects and was able to be with his loved ones. It's the best of both worlds.
He plans to go traveling with his grandmother and record his journey. With this warm relationship and quality photography, we will be looking forward to seeing the pictures.
Source: People, South China Morning Post
Follow These Easy Steps To Pay Your PTPTN, SSPN-I And SSPN-I Plus Using Shopee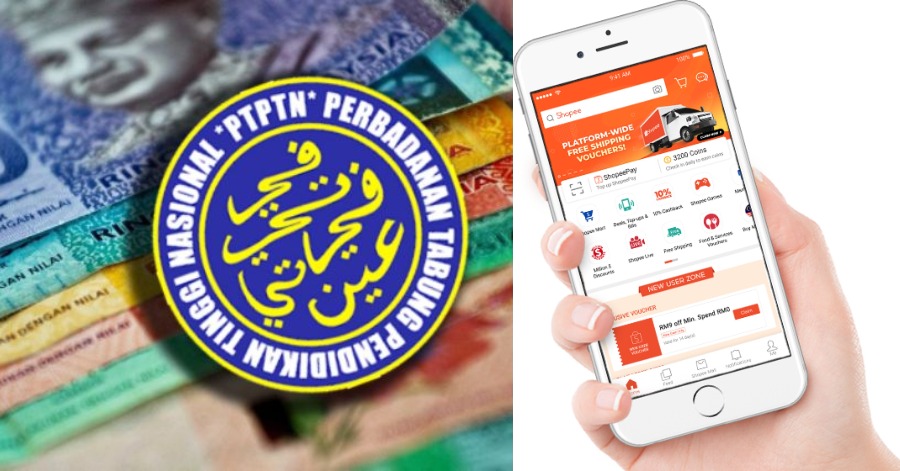 Fellow graduates, pay attention because this is just not going to help you a lot but it will also ease yourself when you are trying to pay back your own student's loan. Ever thinking that it is actually exhausting that you have to go to the counter and deal with the hustle and bustle every single time you want to pay back your student loan? Worry no more because with technology nowadays, you can just pay back your student's loan in the comfort of your own home.
The alternative mentioned would be to pay back your student's loan just by using the Shopee app. Isn't it so amazing that other than shop until your heart's content, you can also finish your obligation to pay back your student's loan there? It is such a time-saving, energy-saving, and also reliable alternatives that have ever been made for graduates.
These are the easy steps on how to do the payment for your student's loan:
1) Launch Shopee app and tap on Deals, Top-Ups & Bills > PTPTN (under Bills Category)
2) Select your loan or savings product from:
Education Loan – Bayaran Balik Pinjaman
Education Savings – SSPN-i, SSPN-i Plus
3) Input your NRIC number  > Click 'Check Account' to retrieve your account(s).
4) Select the account you want to pay and input the amount > Click 'Continue' to check out 

Please take note:
Minimum amount: RM10 & Maximum amount: RM999
A service fee of RM1.00 imposed by the service provider will be added to your checkout amount.
5) On the Checkout page, you may pay using ShopeePay or other payment methods to complete the order. 

Payment Methods available are
ShopeePay
Debit / Credit Card

Only Debit Card can be used for SSPN-I

Online Banking
Cash Payment at 7-Eleven
6) Upon successful payment, PTPTN will process your bill within 3 working days. Click 'View Order Details' to see your bill order details.
7) Click 'Order Received' & scroll to bottom > Click 'Download My Receipt' to view in-app receipt.
8) You are allowed to pay your PTPTN / SSPN bills via Shopee as many times as you want. Under My Orders > Completed tab, click 'Pay Another Bill' to make another PTPTN / SSPN payment.
Sources: Shopee
(Video) World's Longest Waterslide At Escape Theme Park In Malaysia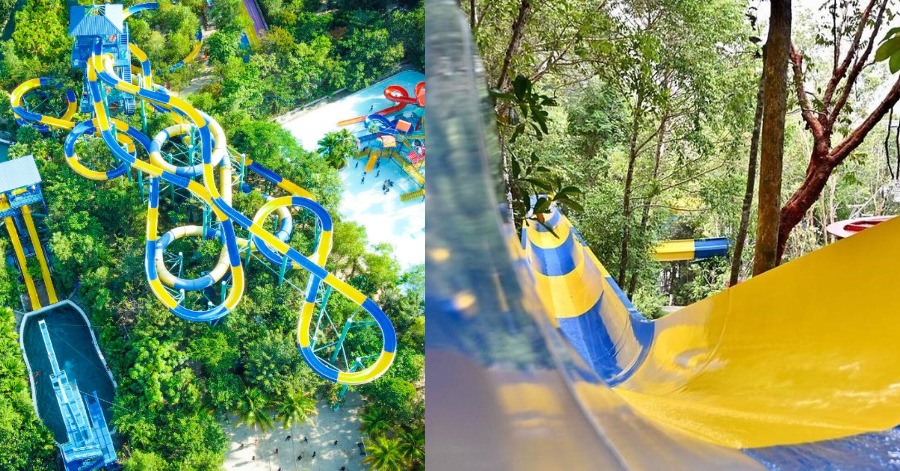 For all the people out there who really love going down the water slide, this is the time for you guys to be excited because there is actually the longest water slide in the world and it is indeed located in Malaysia. Going down the water slide is actually one of life's true simple pleasures. The longest water slide mentioned achieved by Sim Leisure Escape Sdn Bhd (Malaysia) specifically in Penang with 1,111 m in length. It operates under ESCAPE Penang.
The yellow and blue slide has double rings so that two people can ride the slide together. This particular water slide is tucked away high amid a forested hillside and people would have the chance to experience all the slide twists and turns for a very long time. Easily said, satisfaction guaranteed if you try this longest water slide.
View this post on Instagram
The slide features plenty of slow spots, which makes it feel more like a nice ride on a lazy river. But it also has its own time of scattered bursts of fast rushes that send the riders teetering towards the edge. Adrenaline rush would be such in high level while you are in this ride. It is really kind of like a rollercoaster but with more splashes of water. The journey also would just go on and on up until 3 minutes or even more.
View this post on Instagram
For those of you who do not know, the trees around the water slide actually have functions of their own. It is not there just for aesthetic purposes. ESCAPE Penang has transplanted more than 100 trees, rescuing them from construction sites where they would have been cut down. ESCAPE has a 'tree adoption' program that encourages landowners to contact ESCAPE for transplanting unwanted trees from their lands to sites operated by ESCAPE.
To find out the experience of the water slide route, Guinness World Records has shared a video showing highlights from the four-minute journey through it.
Sources: Instagram escape.PJ, YouTube Guinness World Records.
(Video) Help Dad Relieve Stress, Daughter Gave Adorable Cat To Accompany Him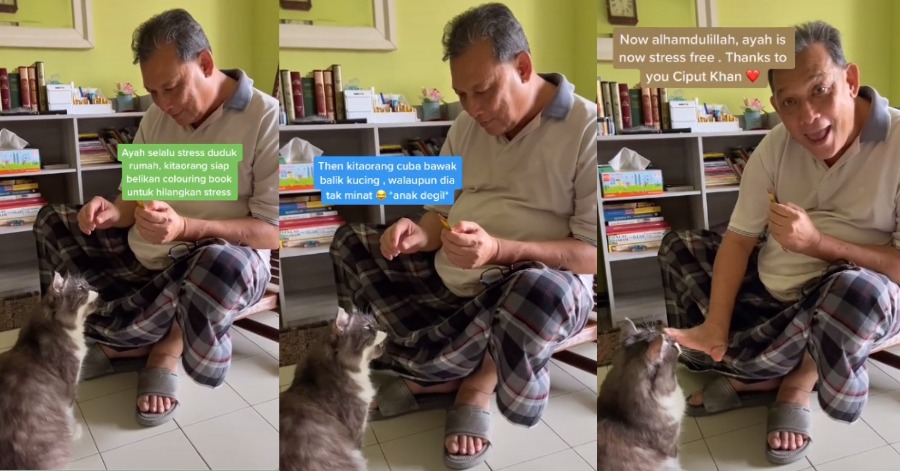 Thinking of ways to reduce stress in life, usually techniques like meditation, yoga, and also journaling usually would come to mind. These are actually great techniques to be practiced. But getting a new best friend can also have many stress relieving and health benefits. While human friends provide great social support and come with some fabulous benefits for people who are having depression, there are also a lot of benefits that you can get when you have your own furry friends that are of course cats.
This is what happens towards a particular dad who has been given an adorable cat by his own daughter. Amazingly, the condition of the dad can be seen to be improving socially and also mentally after that and this has made his daughter be so happy for him. The video has been posted by a TikTok user that goes by the name Ladymarsya.
According to the posted video, the daughter has stated that her dad has undergone surgery before in his life because he has heart disease and he also has to install a stand on his heart. Because of that, her dad constantly feels so stressed out when he is at home. The children also had once tried to buy him coloring books so that he can relieve some of his stress.
She also added, "We tried to bring back home an adorable cat for him even though he clearly said that he is really not into having a cat at home". Amazingly after her dad and the cat become so much closer with each other, there has been so much improvement with her father. She ended the video by stating, "Alhamdulillah, dad is now stress-free. Thanks to you Ciput Khan".
Looking at the comments section, many netizens agree that cats could be such a great help for human beings to relieve some of the stress that they are having in their daily life. Many of them also amazed by the cute relationship that the dad has with the cat named Ciput Khan.
Sources: TikTok Ladymarsya