Menara Kuantan 188, Latest Iconic Landmark For Pahang's First City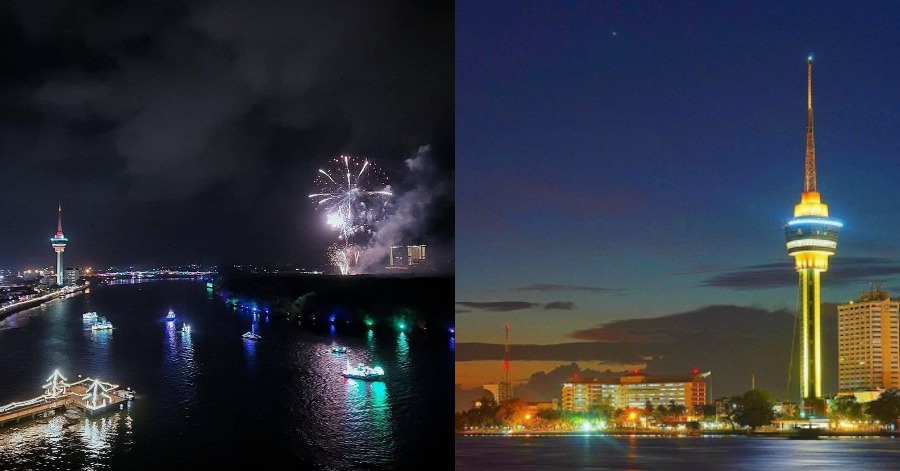 KUANTAN, March 8 — Menara Kuantan 188, which stands proud on the banks of Sungai Kuantan here, is not only the latest iconic landmark of Pahang's first city, it also sets the night and weekend moods of Kuantan.
Since the first day of its official opening on Feb 22, the tower, designed with a tapered profile to symbolise the old Malay weapon of the spear and the tip of the spear – like in the coat of arms of Pahang – has been receiving visitors non-stop who want to check out the second tallest lookout tower in Malaysia and also the tallest tower in the East Coast Economic Region (ECER).
While viewers will be impressed by the majestic tower during the day, at night the tower formerly known as Menara Teruntum, illuminates with coloured lights and shines over Kuantan Waterfront.
Visitors taking the glass elevator are treated to magnificent views of Kuantan city until they reach the tower porch, which was built inspired by the leaves and flowers of the Teruntum plant (lumnitzera racemosa), once said to be abundant on the banks of Kuantan River.
Those who like to take pictures will be spoilt to no end as Menara Kuantan 188 offers a 360-degree scenic view of the city, with each angle offering Instagram-worthy shots.
Private sector employee, Lee Chern Lai, 40 said she was lucky to be living in the digital era of smart phones or she would have needed rolls and rolls of films as she and her five friends could not stop recording their memories here.
"Not just pictures, we also recorded videos to be uploaded on Facebook. We hope our other friends could visit this tallest structure in the ECER to experience it themselves.
"I have received many 'likes' for my photos and saying that they couldn't wait to come here. My photos have become a teaser for those who couldn't be here due to the current no inter-state travel ruling," she told Bernama here today.
Lee said the location of the tower is also very strategic as there are many other interesting spots within walking distance such as the Kuantan Art Street, Taman Kerang, a row of old shops in Jalan Besar and Kuantan Waterfront that allows visitors to take pictures with the giant sign 'KUANTAN ', which is white during the day before changing its colour at night, thanks to the clever play of lighting.
The more adventurous can try daring activities to be offered at the tower, officially opened by Yang di-Pertuan Agong Al-Sultan Abdullah Ri'ayatuddin Al-Mustafa Billah Shah on Feb 21, such as the skywalk, pole climbing and base jumping with a rope from 104 metres high, the first of its kind here, when it starts operating later.
Menara Kuantan 188, developed by the federal government through the East Coast Economic Region Development Council (ECERDC) in collaboration with the Pahang government, began construction in August 2017 and obtained a Certificate of Completion and Compliance in November 2020 before being handed over to the state government in December last year.
ECERDC chief executive officer, Baidzawi Che Mat said Menara Kuantan 188 would complement other tourist attractions featuring the rich history, heritage and natural treasures of the Tok Gajah state, especially in the nearby areas, such as Kuantan Waterfront which is poised to become a tourist attraction and result in more economic inflow that will further boost the socio-economic development of the ECER, especially in Pahang.
"The development of Kuantan Waterfront is part of ECERDC's overall strategy to boost the tourism sector as well as increase investors' interest in the surrounding areas with various exciting activities that have the potential to attract locals and foreigners. It will increase tourism activities in this area," he said.
Meanwhile, a native of Kuantan, Badarudin Jaafar, 68, said he never thought a tower with a modern design would stand majestically on the site which was previously a bus station with food stalls where he used to frequent as a civil servant for 32 years.
After seeing the viral photos on social media, he and his family members could not wait to visit the tower. Since it was crowded on the weekend, Badarudin took his family there on a Wednesday afternoon, when most people were at work.
"My dream to enjoy the view from up above finally came true. It is indeed beautiful, yet it gives me a sense of forlorn looking down at what used to be for me. Being up there makes me proud to be a Pahang-born and to have a tower that we can be proud of," he said.
Badaruddin also hoped that the tower, named after its height, could boost Kuantan's tourism sector and help the locals, including fishermen, seafood product entrepreneurs, hotel and home stay operators, and small traders in the district.
Kuantan has various attractive tourist destinations such as a happening city, fishing villages such as in Beserah, beaches (Teluk Cempedak, Pantai Sepat, Pantai Balok and Pantai Batu Hitam) as well as natural parks such as Hutan Lipur Sungai Pandan, Pelangi Waterfalls in Sungai Lembing as well as Teruntum Mini Zoo, he said.
"I do hope some parties can come up with boat rides along Kuantan River which has the potential to be a popular tourist activity, as done elsewhere. In fact, it can also help boat operators generate some income," he added.
Mural artist at Kuantan Art Street, Ahmad Fadzril Abdul Ruzsnan, 27, also welcomed the opening of Menara Kuantan 188 as it meant turning the back alley of a row of shops in Jalan Besar here into their 'art canvas' as a tourist attraction, including on weekdays.
Ahmad Fadzril said if before this they could take their time to complete a 200-metre mural, now they worked under the watchful eyes of tourists because many would walk to Kuantan Art Street after visiting Menara Kuantan 188, which is less than 100 metres away.
Source: BERNAMA
Shop Review: Best Bazaar Ramadhan In KL? What Does Mark O'Dea Search For?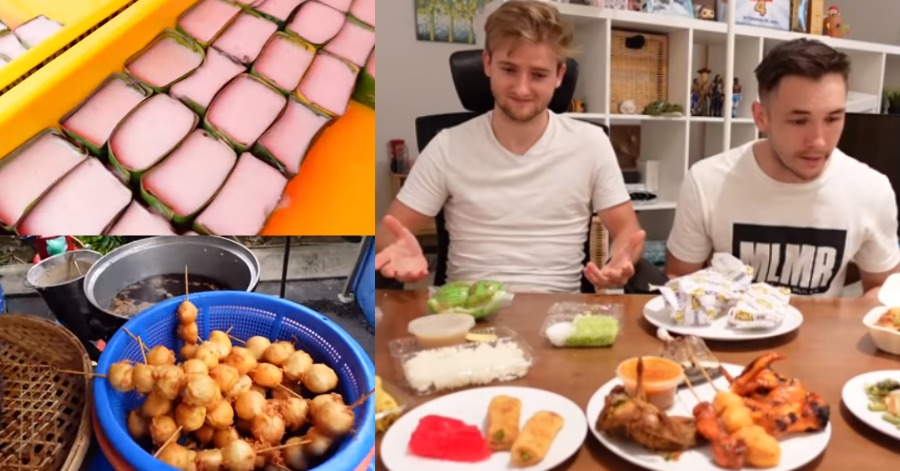 A particular famous YouTuber named Mark O'Dea is back at it again to search for the best Bazaar Ramadhan in Kuala Lumpur for this holy month of Ramadhan in the year 2021.
This time around, he is accompanied by his own friend named Tom. He decided to bring along his friend because as he stated in the video, Tom has never been to any Ramadhan Bazaar even though he has been living in Malaysia for a very long time. In this video, they were on their way to a Bazaar Ramadhan located in Chow Kit Road, Kampung Baru specifically in Kuala Lumpur.
According to their plan, they have agreed to buy food that they have never tasted before in their whole life. It would be such an eye-opening experience for them as Bazaar Ramadhan is very well-known to be selling so many foods and beverages that people could rarely see during other months except the Ramadhan month.
These are 5 of the delicious foods that they have bought from the Bazaar Ramadhan in Chow Kit Road:
1) Prawn Ball And Octopus Ball
They said that they have never tasted or even seen this before. That is why they decided to try and bought them.
2) Pecal
According to the video, the seller stated that pecal is vegetarian food and it is sold for RM3 each.
3) Tepung Pelita
They wanted to try Tepung Pelita because the seller said that it is such a sweet snack. That is why they are on board to eat this even though they have never tried them before in their life.
4) Quail (Burung Puyuh)
For this particular food, he even does not have any idea what it is called. So, for sure he never tastes this food before. That is why he decided to buy this food.
5) Roti Jala
He first assumed that this food is known as Spaghetti but the seller told him that it is known as Roti Jala.
Sources: YouTube Mark O'Dea
Want To Pay 'Zakat Fitrah'? Try Doing It Online Using Shopee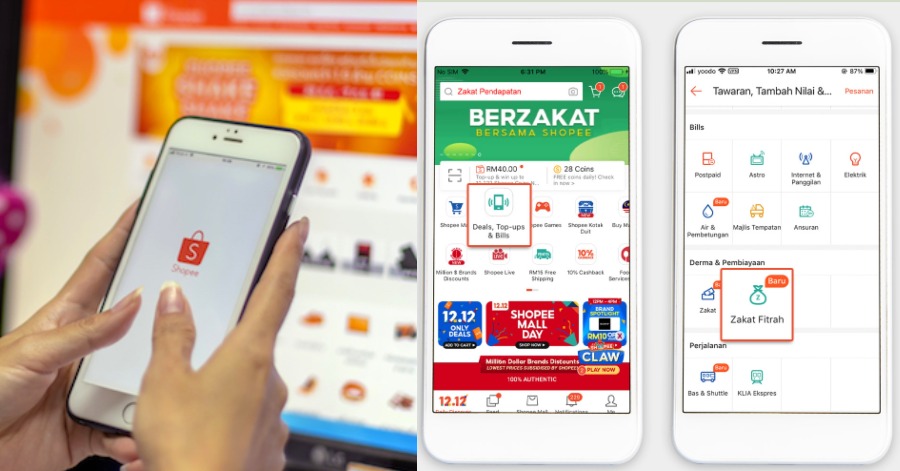 It is an obligation for Muslims all around the world to pay 'Zakat Fitrah' when the holy month of Ramadan has finally arrived. 'Zakat Fitrah' is a charity taken for the poor a few days before the end of fasting in the Islamic holy month of Ramadan. Every Muslim is required to pay 'Zakat Fitrah' at the conclusion of the month of Ramadan as a token of thankfulness to God for having enabled him or her to observe the obligatory fast.
There are actually so many ways on how to pay 'Zakat Fitrah' nowadays in this modern world. Other than paying 'Zakat Fitrah' directly towards the person who is responsible to collect it, people also could pay it by using online banking such as Maybank. There is also one more alternative that can be used to pay it and that is using Shopee.
The rate of zakat fitrah is different based on the provisions of the Religious Authorities of the States. This different particular rate will be displayed when you pay zakat fitrah and select your state zakat body in Shopee. There are actually so many benefits that could be obtained when people pay their 'Zakat Fitrah' through Shopee such as:
Zakat payment is now easier with various payment methods via ShopeePay, debit cards, online banking, and cash payments at 7-Eleven.

Zakat payments can be made quickly and securely from home or wherever you are with the Shopee app.
The zakat collected will be channeled to zakat institutions that work with Shopee to ensure that your contribution is distributed to eligible recipients.
These are 6 simple steps on how to pay 'Zakat Fitrah' just by using Shopee:
Launch the Shopee application and then choose the particular option of "Deals, Top-Ups & Bills". Then, click on the "Zakat Fitrah" icon to directly transported to the 'Zakat Fitrah' page.
Select the Zakat Institution of your choice, Fitrah Rate and enter the Number of People (Self / Dependent). Then, click Continue.
Complete your IC Number, Full Name, Email Address, Telephone Number and Address. Make sure your information is complete and correct. Then, click Continue to pay.
Own ShopeePay as your payment method. Guaranteed fast and smooth. In addition, you can pay by debit card, online banking or cash payment at 7-Eleven. Before payment, state your Zakat Fitrah Intention and click 'OK'.
After the payment has succeeded, click 'View Order Details' to view zakat payment order details.
Lastly, click the "Download Confirmation Of Zakat Fitrah Payment" to see proof of Shopee payment in your app.
Sources: Shopee.
Separated Since Babies, This Identical Twins Finally Reunite After 36 Years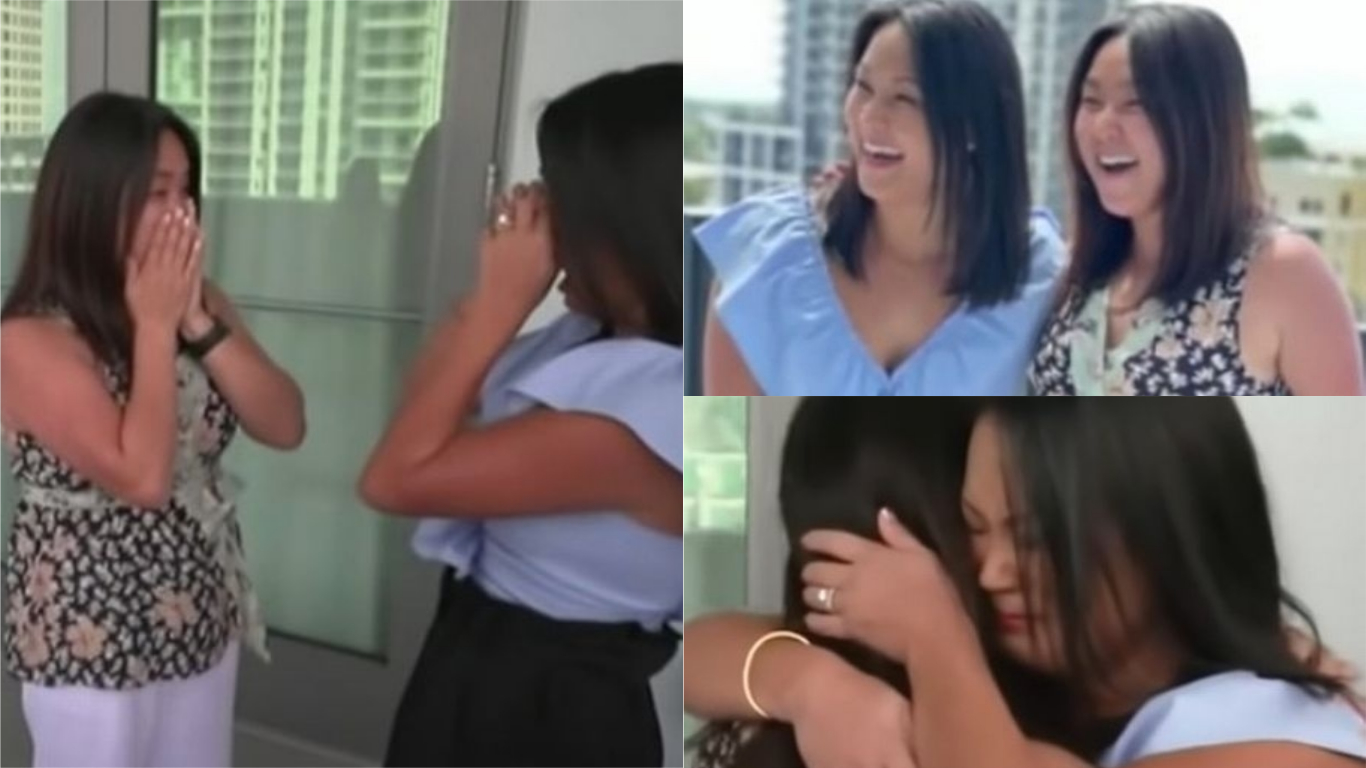 Identical twins Molly Sinert and Emily Bushnell were separated at birth in South Korea and adopted by different families. Molly went on living in Florida while Emily in Pennsylvania. The siblings spent most of their lives totally unaware of each other's existence and little information about their birth family.
But everything changes after Emily's 11-year-old daughter, Isabel wanted to make a DNA test to explore her heritage.
Isabel said, "I wanted to do the DNA test because she was adopted. I wanted to find out if I had more family on her side."
Meanwhile in Florida, Molly also decided she wanted to take a DNA test to find out more about her mother's history. The database confirmed her relations with Emily.
"(The results said:) 'You share 49.96% DNA with this person. We predict that she's your daughter'. This is obviously not right because I've never gone into labor, I don't have children."
Shortly after, she figured out that she must be her sister. They contacted each other but decided not to have a video call until they met in person.
Even though Emily didn't feel comfortable taking the test, but finding out about her twin makes everything so clear.
"Although I have family who loves me and has been wonderful, there was always a feeling of disconnection. Finding out that I had an identical twin sister just made everything so clear. It all makes sense."
As the twins got to know each other, they discovered more and more similarities between themselves.
Emily added: "Our senior prom picture…we were both wearing a beaded dress with a strapless style and our hair was exactly the same.
Emily concluded by describing the reunion as 'the happiest moment of her life'.
Source: Daily Star