NASA Reveals Details of The First Flight On Mars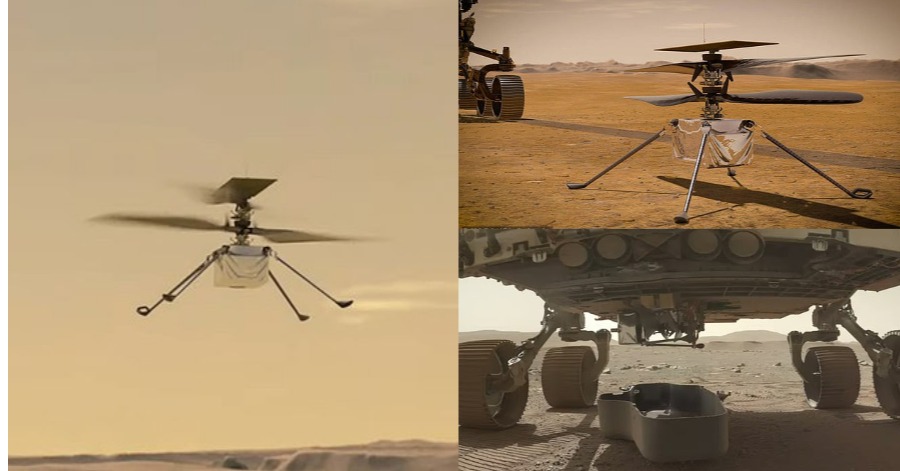 NASA's Perseverance is gearing up to release the Ingenuity helicopter that will conduct the first controlled flights on Mars. NASA is targeting no earlier than April 8 for this event. Ingenuity will fly nine feet into the air, hover in place for 30 seconds before landing.
The deployment of Ingenuity from the belly of Perseverance will take about six sols to complete. From there the rotor copter will have to meet a series of milestones before attempting its first flight.
Perseverance is currently trekking to the first airfield on another planet, which is a 33-by-33-foot piece of Martian real estate, and once it reaches the targeted area, the rover will release the four-pound rotorcraft from its belly. It will first spend up to 60 days charging to the Perseverance rover, before release. If it survives the hard -90C Martian night, NASA will make the first flight attempt within 30 days.
If the rotorcraft lands successfully and remains operable, up to four more flights could be attempted.
Farah Alibay, Mars Helicopter integration lead for the Perseverance rover, said: 'Most of all I think of it [Ingenuity] as an experimental aircraft and this started with the Wright Brothers who brought aerial mobility to travel here on earth in the same way we are hoping ingenuity on Mars.'
Bob Balaram, Mars Helicopter chief engineer at JPL, said: 'Once we cut the cord with Perseverance and drop those final five inches to the surface, we want to have our big friend drive away as quickly as possible so we can get the Sun's rays on our solar panel and begin recharging our batteries.'
It will take about six sol, or six days and four hours Earth time, before the two separate. This involves the rover team working with Ingenuity's operators to change the position before release.
MiMi Aung, project manager for Ingenuity Mars Helicopter at JPL, said:' Ingenuity is an experimental engineering flight test – we want to see if we can fly at Mars.'
'There are no science instruments on-board and no goals to obtain scientific information. We are confident that all the engineering data we want to obtain both can be done within this 30-sol window.'
Source: Daily Mail
Japanese Streetwear And Performance Collide For An ASICS GEL-1090™ Sneaker Collaboration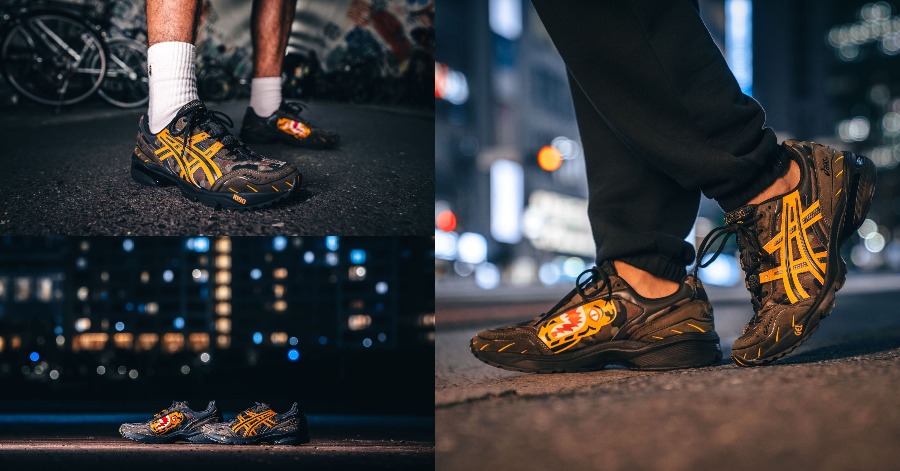 KUALA LUMPUR – 22 AUGUST 2021 – ASICS is excited to announce its latest partnership with renowned Japanese street fashion brand, BAPE. The two iconic brands have joined forces for the release of the GEL-1090™ sneaker, combining ASICS' 2000s performance running aesthetic with timeless BAPE® graphic patterns and design sensibilities.
The GEL-1090™ running shoe from 2003 has been re-engineered with GEL™ technology cushioning for the modern consumer, and reimaged through the BAPE® lens, transforming the shoe's heritage design with details reminiscent of the Harajuku scene in the early 2000s.
Familiar features from the GEL-1090™ sneaker's original construction include the tiger claw marks on the toe overlays and heel counter. Meanwhile, the underlays and sockliner are updated with A BATHING APE®'s eponymous cloud camo pattern.
The shoe's medial panels are offset with the BAPE® shark icon, synonymous with the designs painted on the nose of fighter jets. Additionally, the ASICS Spiral logo on the tongue and heel have been converted into a tiger caricature as a nod to one of BAPE®'s historic logos.
The collection will be available on ASICS.com & bapestoremalaysia.com from 22 August 2021 onwards.
Shop Review: Electric Spin Scrubber That Helps A Lot! Useful To Clean Bathroom!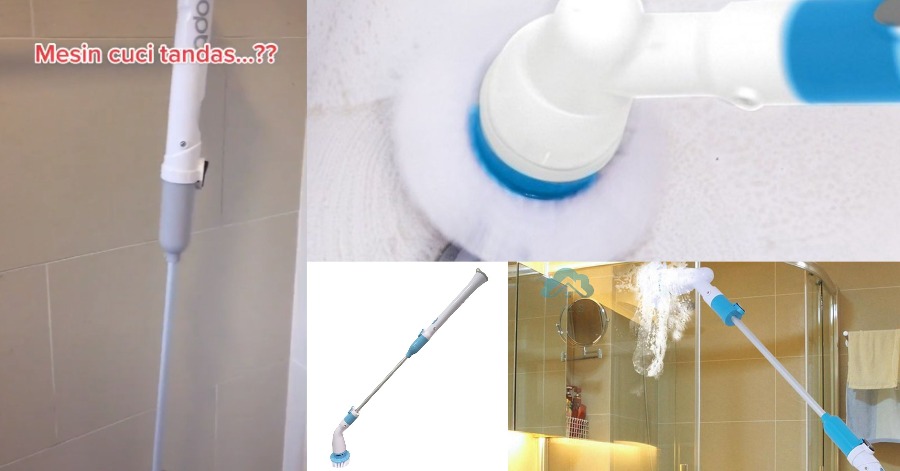 One of the busiest spots in your house, the bathroom is also the place almost every guest visits. Considering what we put them through each day, sinks, showers, tubs, and toilets in our own bathroom deserve special cleaning attention. For many people in this whole wide world, cleaning their bathroom is seen as such a tedious job to be done by them.
Luckily, a lot of modern inventions nowadays really help a lot of people to lighten the burden that they have to do. Cleaning a bathroom is also one of them. Recently, there is a particular piece of equipment that has gone viral that would really help so many people to clean their bathroom easily. This is what the equipment physically looks like.
The above equipment is called CLOFY Electric Spin Scrubber. It has a 4000mAh rechargeable Li-ion battery and a charging cycle of more than 600 times. Charging only takes 4 hours and can be used for 75 minutes.
This item comes with four brush heads that is big ball brush, a round brush, a small ball brush, and a steel brush to help you clean the bathtub, tile, floor, bathroom, kitchen, glass, sink, wall, ceiling, window, car wheel, and much more!
The price is very affordable at around RM100 and can be purchased at Shopee.
Shopee Link: Rechargeable Electric Spin Scrubber Power Brush For Bathroom
Sources: TikTok Miss Zafirah, Shopee.
(Video) How To Do It? Change Your Shopee Notification Sound!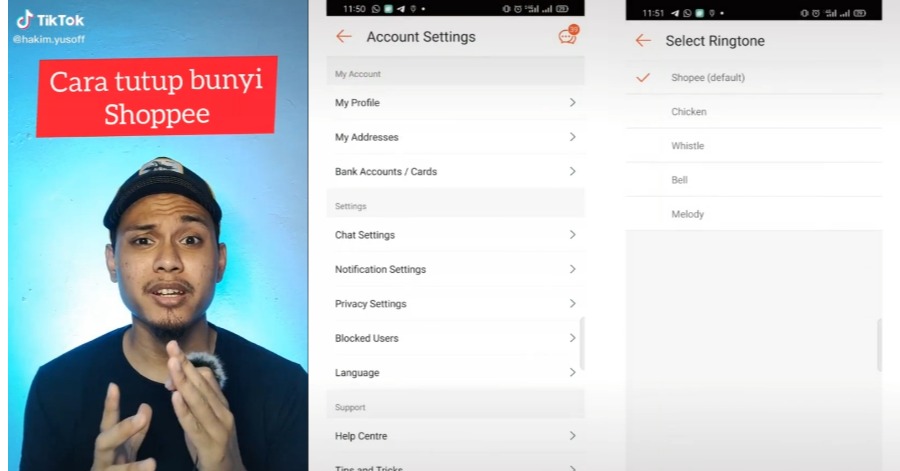 Shopee is indeed one of the popular platforms that are often 'visited' by people to buy various goods. Undoubtedly, everyone will definitely download the application on their phones to facilitate purchase transactions.
One of the problems that are often encountered when downloading any application on the phone is getting a lot of notifications.
Maybe many do not know, there is a way to cover the noise and your life will probably be more peaceful after this. The way to turn off this sound is actually provided by Shopee itself in the Settings section.
A TikTok user, Hakim Yusoff, shared a way to turn off the sound or change it to another sound. Simply, you can follow the method as below:
1. Go to settings in Shopee
2. Click on the Notification Settings section
3. Press Push Notification
4. Press Notification Sound and press off
5. Press on Ringtone to change the sound
Sources: Hakim Yusoff