'Remarkable' Scottish Island For Sale Starting At £80,000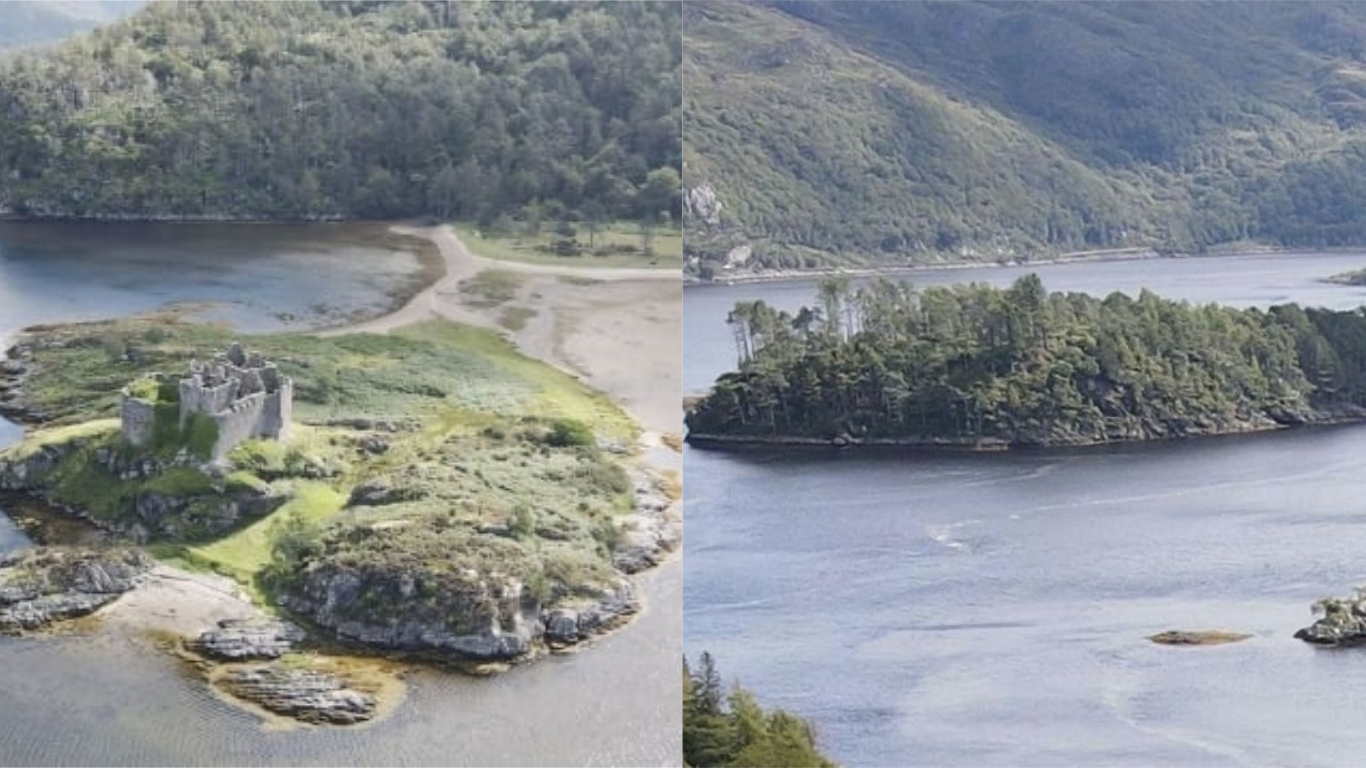 Those with good savings and desire to escape the suffocating city life might stand a chance to buy this Scottish Island. An opening bid of £ 80,000 (RM457, 759) a price equivalent to a house in Malaysia.
Deer Island, uninhabited on Loch Moidart, is a space that can be "enjoyed with zero chance of intrusion" owing to its remote location, said Future Property.
A family-owned it for 500 years until British businessman Richard Branson bought it. His sister, Vanessa Branson owns the closest island to Deer Island.
"They use that (the islands) as a business -Eilean Shona is bigger, significantly bigger, but they've got chalets and a retreat there where a number of celebrities go and stay," said the property manager. Their neighbors consist of the 13th century Castle Tioram and fauna including red squirrels, seals, and the occasional dolphin.
It has neither inhabitants in 500 years nor buildings. The online auction will take place on March 26. But there are already inquiries consisting of businessmen and wealthy landowners. Some are seeking parking spots for their yacht, kayaking base, or simply romantics wanting to own a Scottish island with the land's rich history.
However, the new owner will need to seek relevant planning permissions to build anything on the island. The land is expected to sell between £ 150,000 and £ 200,000 (RM858,135 – RM1,143,910).
(Video) World's Longest Waterslide At Escape Theme Park In Malaysia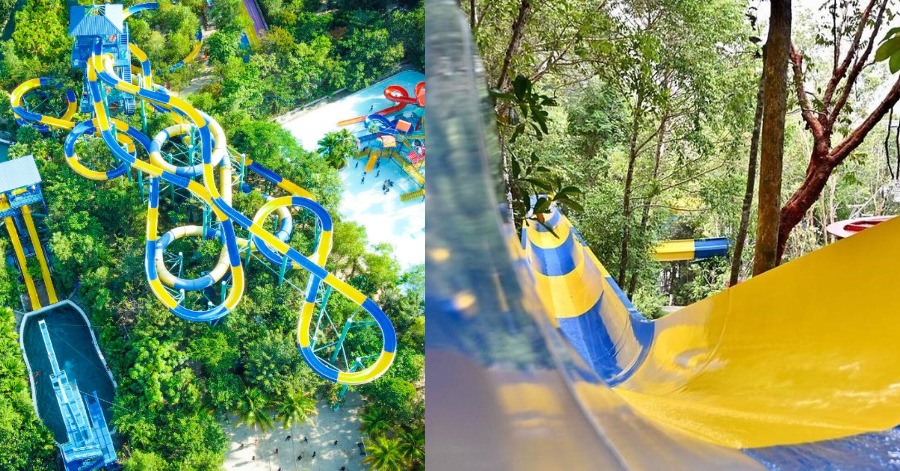 For all the people out there who really love going down the water slide, this is the time for you guys to be excited because there is actually the longest water slide in the world and it is indeed located in Malaysia. Going down the water slide is actually one of life's true simple pleasures. The longest water slide mentioned achieved by Sim Leisure Escape Sdn Bhd (Malaysia) specifically in Penang with 1,111 m in length. It operates under ESCAPE Penang.
The yellow and blue slide has double rings so that two people can ride the slide together. This particular water slide is tucked away high amid a forested hillside and people would have the chance to experience all the slide twists and turns for a very long time. Easily said, satisfaction guaranteed if you try this longest water slide.
View this post on Instagram
The slide features plenty of slow spots, which makes it feel more like a nice ride on a lazy river. But it also has its own time of scattered bursts of fast rushes that send the riders teetering towards the edge. Adrenaline rush would be such in high level while you are in this ride. It is really kind of like a rollercoaster but with more splashes of water. The journey also would just go on and on up until 3 minutes or even more.
View this post on Instagram
For those of you who do not know, the trees around the water slide actually have functions of their own. It is not there just for aesthetic purposes. ESCAPE Penang has transplanted more than 100 trees, rescuing them from construction sites where they would have been cut down. ESCAPE has a 'tree adoption' program that encourages landowners to contact ESCAPE for transplanting unwanted trees from their lands to sites operated by ESCAPE.
To find out the experience of the water slide route, Guinness World Records has shared a video showing highlights from the four-minute journey through it.
Sources: Instagram escape.PJ, YouTube Guinness World Records.
Small Village In China Finds Success By Selling Ornamental River Stones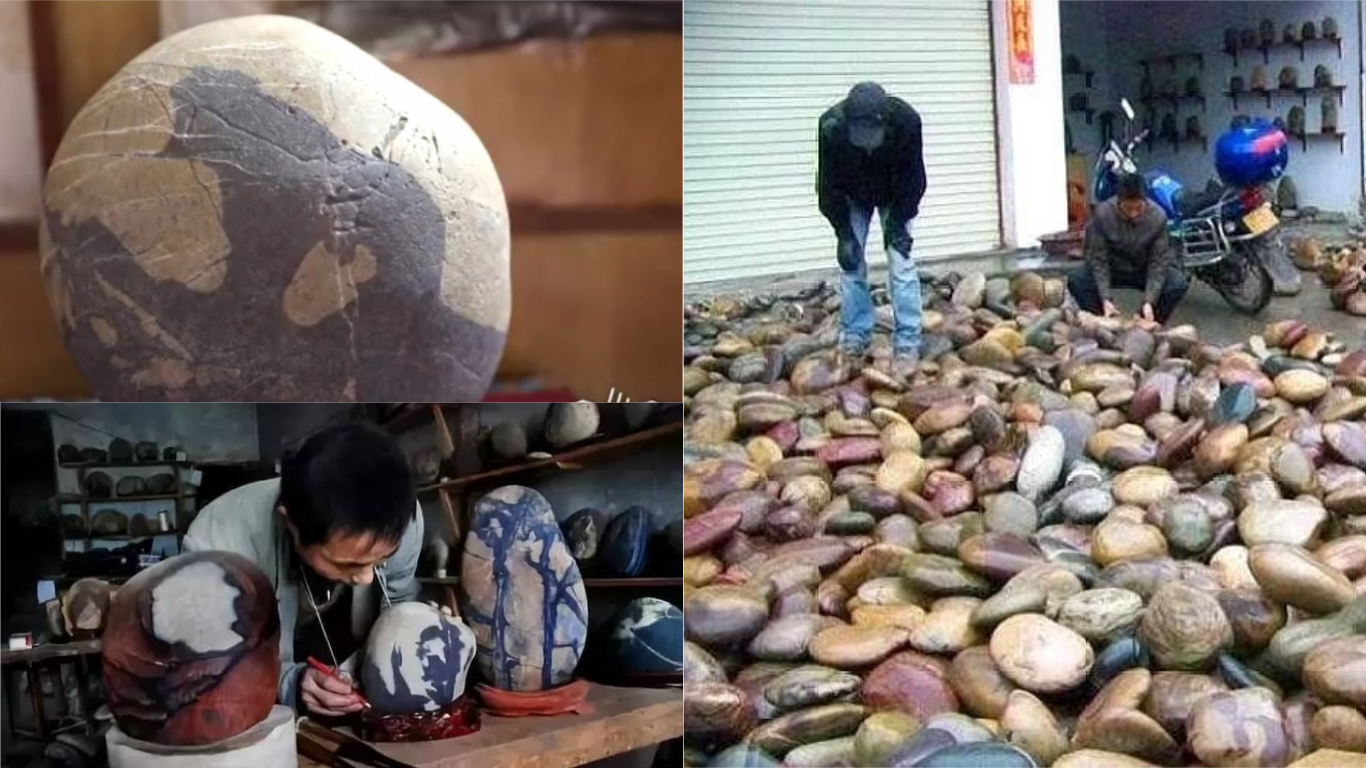 Right next to China's largest river and surrounded by green, forest-covered mountains, Hejiaba village gets a decent number of tourists every year. But tourism isn't the most profitable local business. This village thrives on the selling of ornamental river stones.
Not the small ones that fit in the pocket as good luck charms, but heavy boulders that enthusiasts all over China pay good money on to add them to their collections. The village generates around 20 million yuan (RM12,671,180.00) annually from the sale.
Every year, new stones flow down the Yangtze River from the Qinghai-Tibet Plateau and wash up on the beaches close to Hejiaba village. The local's return would then sift through the millions of stones, looking for their next big paycheck. There are more than 3,000 acres of pebbled river stone beach that stretches for nearly 10 kilometers along the banks, so there's plenty of stone to go around.
Hejiaba river stones are popular due to their interesting patterns. Some of these trigger the viewer's pareidolia, others have almost geometrical patterns, and others are just nice to look at. The stone sifters usually have a good idea of what the market is looking for. They pick the best stones, clean them and sell them to interested parties, keeping a percentage of the price as commission.
Valuable stones can sell for thousands, even tens of thousands of yuan. One stone, which the owner actually named 'Difficult Shu Road' due to its pattern, reportedly sold for a whopping 100,000 yuan (RM63,372.35).
It all started when a couple in Niutan Town allegedly saw some of these beautiful stones. They took a few back homes with them and sold them at the market for a good price. The river stone trade has greatly improved since then. Many of the locals live off the trade, and some have become very affluent thanks to it.
As long as the Yangtze flows and demand for ornamental stones remains high, the trade will continue to thrive.
Source: Oddity Central
(Video) Retired Elderly Couple Spend Almost Two Decades, Turning Desert Into Oasis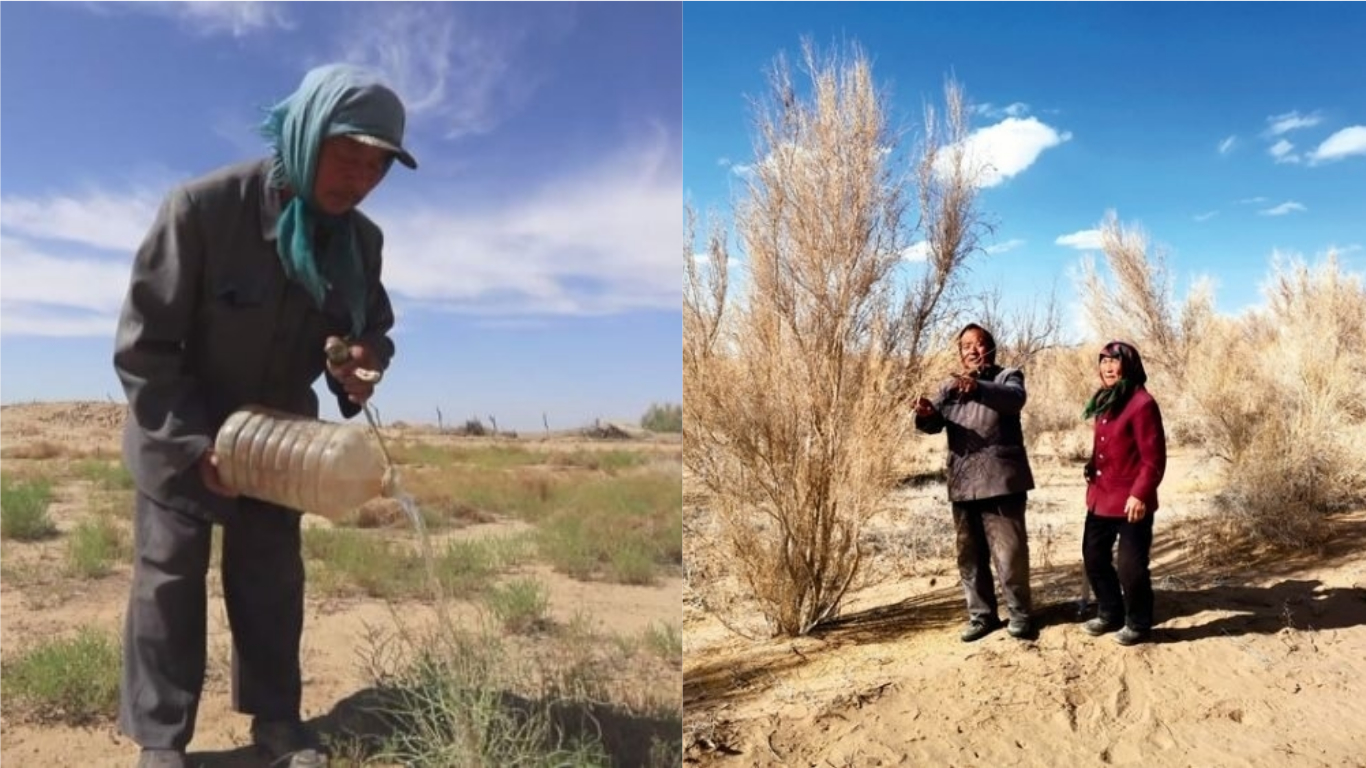 A retired elderly couple made North China's Inner Mongolia Autonomous Region their home for the last 19 years. They have been fighting to survive in the rough desert area by planting hundreds of hectares of drought-resistant plants.
Seventy-year-old Tububatu and his wife Taoshengchagan live in a village on the edge of Badain Jaran, China's third-largest desert. Through plants, they fight the advancement of the desert. Tububatu started out with 50 trees but kept doubling his efforts to the point where he now plants thousands of saplings a year. Now, his small desert oasis spans over 266 hectares and numbers tens of thousands of drought-resistant trees. They mostly plant drought-resistant species like sacsaoul trees (Haloxylon) and desert distance. Despite that, the couple still makes sure to water them at least once a day.
Their village is almost 100 kilometers away from the nearest town. Their children have tried to get them to move to a more hospitable home but they insisted on staying. Even got ridiculed by members of their own community who believe their efforts as futile. But still, they persevered.
It was a difficult journey for them. Tutubatu relied on his motorbike to carry the water for the plant which means eight bottles for each trip. They need hundreds of bottles per day. But he later upgraded to a four-wheeler. This means he can now take up to 40 bottles per trip.
Tububatu is also making a living off of selling one of his plants, the desert cistanche. It is a popular medicinal plant that can sell for up to 100 yuan (RM63.34) per kilogram.
China Daily reports that Tububatu and his wife have so far planted over 70,000 trees and spent more than 1 million yuan (RM633,635.84) of their savings in the process. Despite their health condition, they started to battle against the desert.
Tububatu and Taoshengchagan have received several awards and recognition for their efforts over the years. They are also an inspiration for environmentalists all over the world.
Source: Oddity Central, SCMP