Role of Sport Science In Pocket Rocketman's World Class Performance'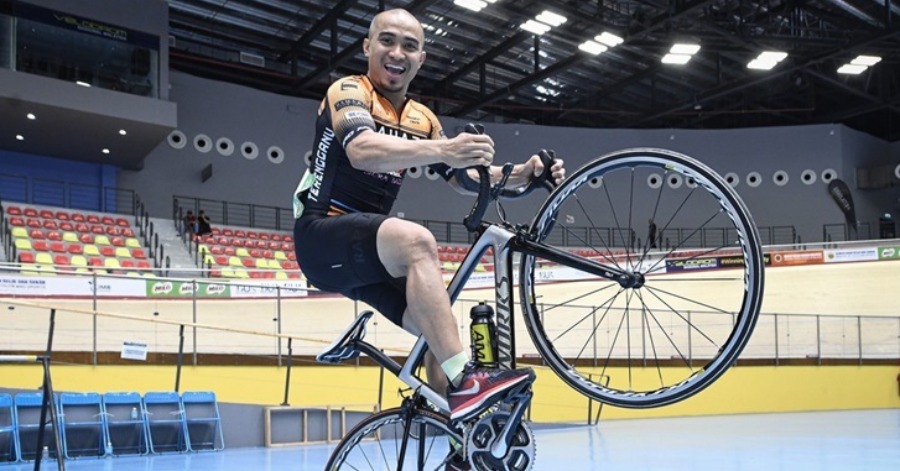 KUALA LUMPUR, March 17 — The expertise of the workforce in sports science in Malaysia is on par with the world's sports superpowers through research and development, as well as progress in the performance of national track cycling champion Mohd Azizulhasni Awang ahead of the Tokyo Olympics, next July.
The success by Mohd Azizulhasni, given the nickname 'The Pocket Rocketman', in becoming the world champion for the keirin event at the World Track Cycling Championships in 2017, proved the rejection of the anthropometrical superiority' since the early 90s was appropriate.
Anthropometrical superiority refers to the concept that size and physical shape always give advantage in sports.
Now, the concept of marginal improvement is given emphasis by the Olympic Cycling team and Mohd Azizulhasni by taking into account the aspect of "attention to details", which is to achieve accuracy and precision when completing tasks by giving full attention to all areas involved.
Through the concept, Olympic Cycling Team Lead Mohd Izham Mohammad said the team conducted an assessment on every aspect that could help maximise whatever potential Mohd Azizulhasni had towards achieving the highest performance.
"For example, by taking into account the factor that Mohd Azizulhasni has a low body composition compared to other athletes, where in cycling, it is an advantage in terms of wind drag,.
"The low and small physical size results in a small frontal surface area and lower wind resistance compared with larger competitors. Therefore, we focus a lot on optimising his muscle composition and position to obtain optimal performance," he told Bernama.
According to an expert on sports science, Associate Professor Dr Mohd Khairi Zawi, the Education Faculty, Universiti Kebangsaan Malaysia (UKM), in terms of physiology or physical properties, there are times when small athletes may have a denser composition of fast twitch muscles than larger athletes.
He said it can also guarantee success in sports that are 'explosive' and anaerobic, such as track cycling, as well as giving focus to the factor on biomechanics.
"In the biomechanical aspect, we can maximise the relevant ergonomic aspects, for example in cycling by getting the bike design to match the rider's dynamics, which makes the bicycle and rider look like they are one entity," he said as quoted in an article by the National Sports Institute (ISN).
It cannot be denied that Mohd Azizulhasni can now be considered the main prospect towards realising the dream of Malaysia's first Olympic gold medal, being first in the individual sprint event and second in the keirin event based on the latest ranking released by the International Cycling Union (UCI) recently.
The target set on Mohd Azizulhasni to win a gold medal at the Tokyo Olympics is no longer a secret with the Olympic Cycling team having tabled the 2016-2020 performance plan with a focus on research and development on cycling.
Mohd Izham, who is also the Head of the Sports Nutrition Centre at ISN, said it took into account competitors such as from Australia and Great Britain that had invested a lot of money and expertise in research and development programmes since the 2004 Olympic Games in Athens.
"While doing the 'performance gap' process, we found that if the aspects on 'maginal gains' and 'performance solution' are given priority, we have the opportunity to improve the medal position at the coming Tokyo Olympics.
"Based on the facts and data that were presented, and in line with the direction of the Podium Programme when he won the first gold at the 2020 Olympics, the High Performance Command & Control (HPCC) panel, comprising the Youth and Sports Ministry, National Sports Council, Malaysian Olympic Council and ISN are confident with the plan," he said.
Looking back, Terengganu -born Mohd Azizulhasni's impressing success in emerging a world champion came only after eight months of making history as the country's first cycling athlete to be on the Olympic podium when he won the bronze medal in the keirin event at the 2016 edition in Rio de Janeiro, Brazil.
He continued to excel in the sport by winning the gold medal in the 2018 Asian Games sprint event in Jakarta, which was also his second gold in the individual event after winning the gold in the keirin event in the 2010 edition.
He continues to consistently place himself in the group of the world's elite track cyclists in preparation for the Tokyo Olympics by winning the bronze medals in the keirin and individual sprint events at the 2020 World Championships.
However, a heavy task awaits the Olympic Cycling team and the coaching staff ahead of the Olympics, with factors, like injury and fever, are among elements that can jeopardise performance at major tournaments.
"If an athlete is injured or down with fever, we have to reduce the intensity of training and the athlete also takes time to recover, so we have taken preventative measures, such as undergoing training as well as physiotherapy, and to always take of personal hygiene and cleanliness.
"A balance in training, nutrition and rehabilitation, including sleep time, is very important for Mohd Azizulhasni in his final preparations for the 2020 Olympic Games," said Mohd Izham.
Source: BERNAMA
(Video) David Beckham And His Uniquely Obsession With LEGO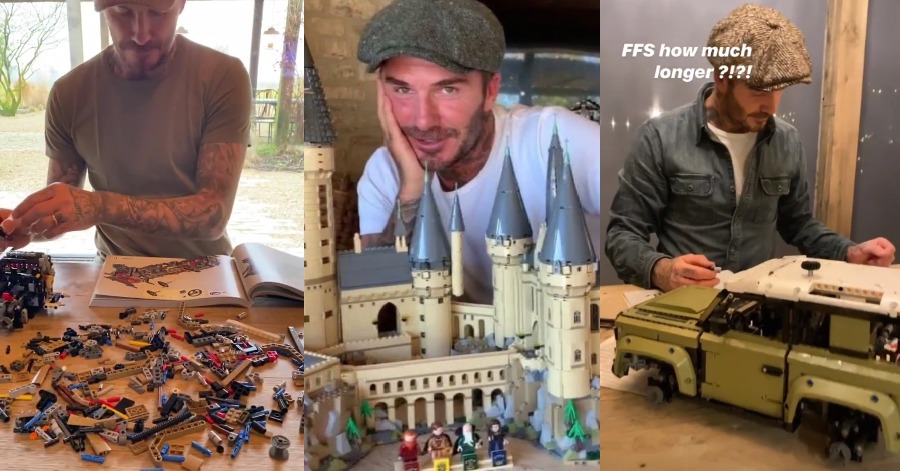 Everyone definitely has a hobby right? A hobby can be said to be a regular activity done for fun, usually in one's spare time, not professionally or with a salary.
Among the hobbies we can do such as fishing, playing video games, reading and many more. No matter who we are, hobbies can be enjoyed by everyone.
This includes one of the legendary football players, David Beckham. Still, did you know Beckham has a hobby of building LEGO?
It is said that he is quite obsessed with building LEGO even though he is in his 40s.
The interesting hobby was revealed during his interview on The Tonight Show Starring Jimmy Fallon in 2020 and Jimmy asked him about his colorful plastic building bricks hobby.
According to Beckham, his hobby of building LEGO has started since he was 8 years old until now.
"It's before I had kids, I grew up making LEGO when I was eight or nine years old," Beckham explained.
If seen through the Instagram post or story belonging to Beckham and his wife Victoria, sometimes there are times when Beckham is willing to build LEGO for hours.
Through the interview as well, Beckham said his wife sometimes likes to trolls him with his hobby.
"Actually I continue it and Victoria always laughs at me, she'll come down at like two o'clock in the morning and I'll be trying to finish a piece off. She posted something the other day and I think she said because it was like 11 years and above, she was like, 'Really? You're still up at two o'clock in the morning doing 11 years and above LEGO'?" Said, Beckham.
Beckham said he loves building LEGO because doing so, can keep him calm.
The 45 years old man's hobby of building LEGO is undeniable. This is because he had previously built some LEGO on a large scale such as building Hogwarts Castle and also Disney Castle.
View this post on Instagram
Apart from building a castle-shaped LEGO, Beckham also built a LEGO that can be said to be quite expensive such as the LEGO Tower Bridge which costs $400 (RM1,644). It had about 1,000 pieces and is almost a meter long, including more than 80 windows, a black taxi to drive across, and a drawbridge, which opens and closes.
However, the most expensive LEGO that Beckham has ever bought is the LEGO Taj Mahal. It is said that the set is no longer sold by LEGO and is now a valuable item with a price tag that can reach around $5500 (RM22,605).
Despite its high price, Beckham says he has never finished building it again.
"It's going to make me sound really weird but when I was in Milan I had such a big amount of time on my hands that I found online that there's a Taj Mahal Lego that you can buy.
"So I bought it and started building it when I was in Milan," Beckham said in a 2010 interview.
"I only built some of it because I got injured halfway through … not building the Lego!
"I know it's not a career but I love doing it. My boys are the same – they're obsessed with building Lego," Beckham added.
Source: The Tonight Show Starring Jimmy Fallon, Brick Fanatics, News.com, Pop Sugar, David Beckham
Football Fans Will Be Allowed To Enter Darul Aman Stadium Tonight – Exco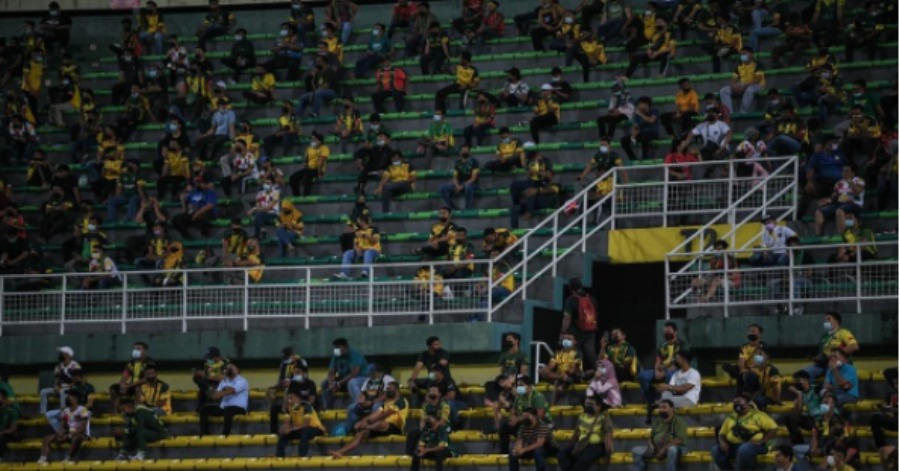 ALOR SETAR, April 23  — Football fans will still be allowed to enter the Darul Aman Stadium to watch the Super League match between Kedah Darul Aman FC (KDA FC) and Kuala Lumpur City FC tonight.
State Tourism, Arts and Culture, Youth and Sports, Entrepreneur Development and Cooperatives Committee chairman, Mohd Firdaus Ahmad, said that thus far, no directive to cancel spectators' admission has been issued, and those who had bought tickets to watch the match would be allowed to enter the stadium.
"The entry of 6,000 spectators, is approved by the Malaysian Football League (MFL) and the National Security Council (MKN), with adherence to the strict standard operating procedures (SOPs)," he said when contacted by Bernama here today.
Mohd Firdaus said this when asked whether spectators would still be allowed to enter the stadium to watch KDA FC's match against Kuala Lumpur City FC, as the Kota Setar district has been declared a red zone yesterday due to a spike in COVID-19 positive cases.
A Bernama check on social media platforms found that there were football fans in the state who voiced concerns over whether they would be allowed to watch the match at the stadium, as the Kota Setar district recorded a sharp increase in positive cases.
KDA FC, which will face Kuala Lumpur City FC tonight, is expected to field import player, Brazillian Renan Alves for the first time this season, after he recovered from an injury.
Sources: BERNAMA
Japan To Impose Fresh COVID-19 Emergency In Tokyo, Osaka, Hyogo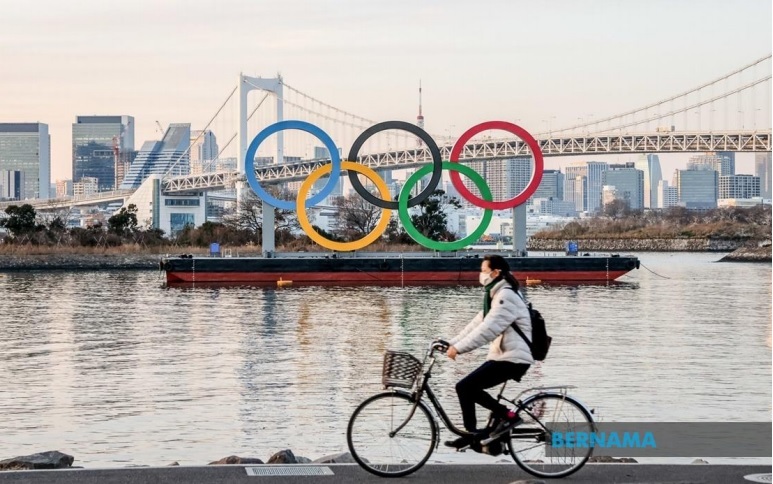 TOKYO, April 21 – The government plans to impose a fresh coronavirus state of emergency in Tokyo, Osaka and Hyogo prefectures soon as a surge in severe cases chokes the areas' health care systems, according to government sources.
The development comes after the Osaka prefectural government asked Prime Minister Yoshihide Suga's government Tuesday to issue such a declaration. The Tokyo metropolitan government plans to make a similar request in a matter of days, reported Kyodo.
Referring to Osaka's request, Suga said Tuesday that his government will "swiftly reach a conclusion after thoroughly assessing the situation and studying measures."
Osaka Gov. Hirofumi Yoshimura seeks the temporary closure of major amusement and commercial facilities, in addition to current measures including asking establishments serving food and drinks to shorten business hours.
Touching on the sharp rise in infections in Hyogo, Suga said he will draw a conclusion after examining the situation there.
It would be the third time for the government to declare an emergency since the start of the novel coronavirus pandemic early last year in Japan, and come just three months before the opening of the Tokyo Olympics.
However, Suga has said a fresh state of emergency would not affect the hosting of the Olympics and Paralympics, reiterating that the government will continue efforts to stage a safe and secure games.
Once an emergency is declared, Yoshimura intends to cancel or postpone basically all events in Osaka Prefecture and ask companies again to implement telework, among other measures.
Tokyo Gov. Yuriko Koike is eying requesting leisure facilities among other sectors to temporarily cease operations
Source: BERNAMA