Texas Governor Greg Abbott Ends Mask Mandate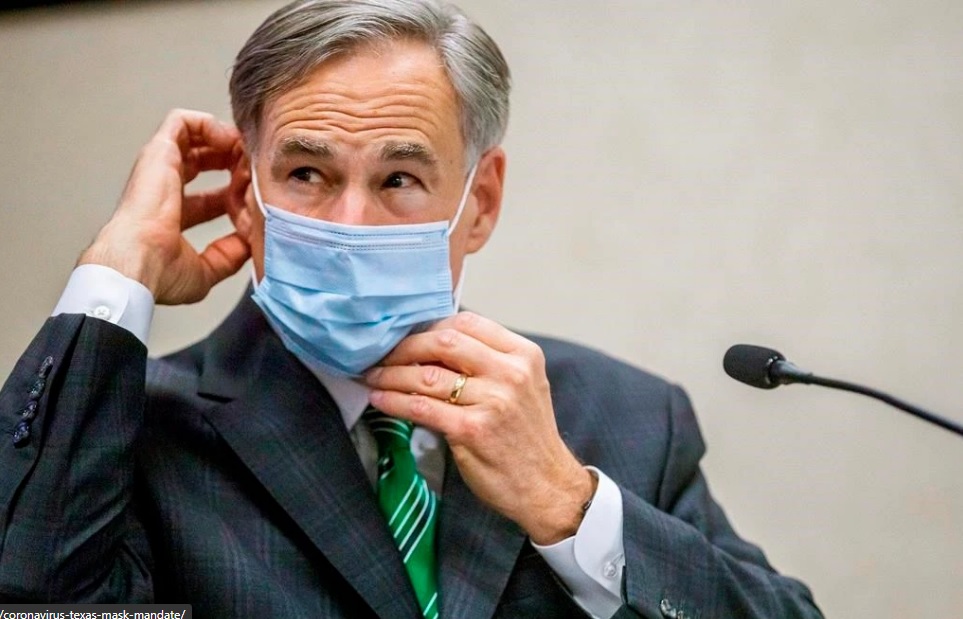 The largest state in the USA is to end its mask mandate, effective on March 10. "It is now time to open Texas 100%," the Republican said on Tuesday.
President Joe Biden has made it clear coronavirus restrictions are still necessary.
Similar rules were lifted in other states, including Michigan, Louisiana, and Mississippi. The undergoing vaccination program has boosted confidence for pre-pandemic lives in those states.
Yet the decisions put the main administration and senior health officials at odds with the Lone Star state and its companions who have reacted with dismay over the decision.
The director of the US Centres for Disease Control and Prevention (CDC) warned of a "potential fourth surge of cases" if the country lapsed into complacency. Covid-19 data shows that, while infections and deaths have declined, they are still at high levels relative to other countries.
The new executive order lifts all mask requirements and forbids local authorities from penalizing residents who do not wear a face covering.
"Too many Texans have been side-lined from employment opportunities," Mr. Abbott said in a speech at the Chamber of Commerce in the city of Lubbock. "Too many small business owners have struggled to pay their bills. This must end."
He is confident with the improved treatment and vaccinations, it is now in a "far better position".
He said that with increased vaccinations and improved treatment for Covid-19, the state was "in a far better position now". Texas has recorded more than 43,000 Covid-19 deaths making it the third-highest state toll in the country.
Political
The Republican leadership favored former President Donald Trump's relatively relaxed approach to imposing restrictions. But the approach created tension with other cities leaning toward Democrats.
To the states, it was more political. It was the choice between disease control and the economy, mask requirements and personal liberties. And from the outsiders' perspective, many parties are taking advantage of this situation through the clash of ideologies.
With a year of quarantine did not bring much change, Governor Abbott decides not to follow the science. Despite warnings from health experts, the governor switches his focus to reviving the economic state.
President Biden – in contrast with his predecessor Mr. Trump – has made fighting the virus a priority for his administration.
On Tuesday, Mr. Biden said he was upbeat about the vaccination program. However, he urged Americans to remain vigilant in wearing masks and observing social distancing.
(Video) Try These 7 Tips That Can Help You Have A Good Night's Sleep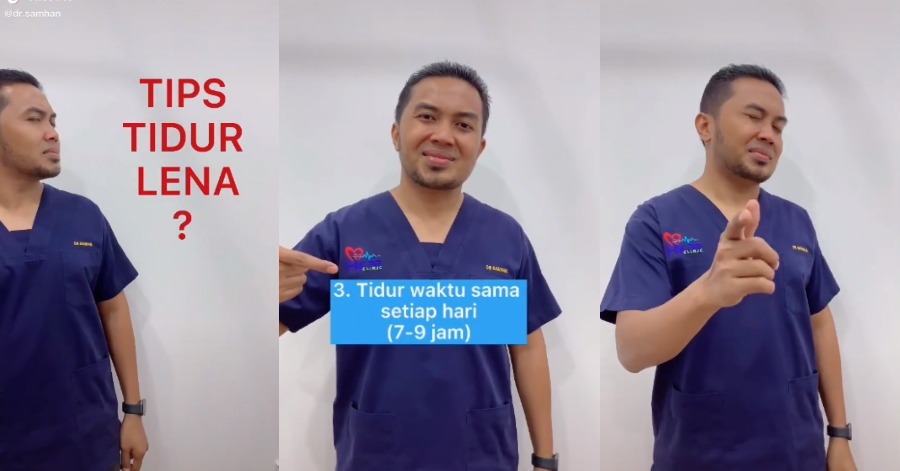 According to facts, adults need in total of 7-9 hours of sleep each night to stay in good mental and physical health, promote quality of life, and also avoid an increased risk of injury. If you are someone who keeps on thinking about all of the factors that can interfere with a good night's sleep such as work stress and also family responsibilities to the unexpected challenges, such as illnesses, it is no wonder that your own quality sleep at night is sometimes elusive.
It is understandable that these might be something that you cannot be able to control, and eventually interfere with your sleep. Because of that, you might want to adopt certain habits that could encourage better sleep for yourself. This is because a good night's sleep for everyone is just as important as regular exercise and also a healthy diet.
Tips to have a good night's sleep:
Make sure that your bedroom is quiet, dark, and also cold (less than 30 degrees Celsius).
Avoid eating 2 hours before sleep.
Have a strict schedule on how long you should sleep every day (7-9 hours).
Stop working 1 hour before sleep.
Learn any technique to calm down before sleep such as some stretching or even meditating.
Do not smoke, vape, or even drink alcohol.
Do not drink caffeine or coffee 4-6 hours before sleep.
Sources: TikTok Dr. Samhan.
More Than 20 Million of Adult Population Fully Vaccinated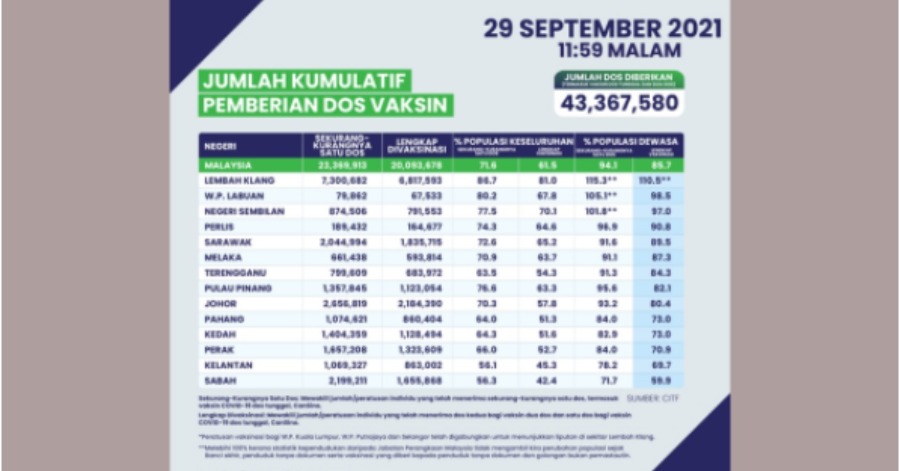 KUALA LUMPUR,  Sept 30  –A total of 20,053,472 individuals or 85.7 per cent of the adult population in the country have completed their COVID-19 vaccination as of yesterday.
Based on the Health Ministry's data on COVIDNOW, 22,017,043 individuals or 94.1 per cent  of the adults in the country have received at least one dose of the vaccine until yesterday.
It also showed 40,206 individuals or 1.3 per cent of the adolescents, comprising those age between 12 and 17, having completed the vaccination as of yesterday.
A total of 310,661 doses of the vaccine were dispensed yesterday, with 190,599 doses as first dose and 148,062 doses to second dose recipients, bringing the number of doses dispensed under the National COVID-19 Immunisation Programme (PICK) to 43,367,580.
PICK was launched on Feb 24 this year to curb the spread of the COVID-19 pandemic.
Meanwhile, a total of 208 deaths due to COVID-19 were reported yesterday (Sept 29),  with 68 of them brought in dead (BID),  bringing the total death due to the virus in the country to 26,143.
On the total death reported yesterday, only 88  cases were the actual deaths reported for the day, while the rest were backlog cases.
Sources: BERNAMA
(Video) Do It Right! Here's How To Use Nasal Spray Correctly!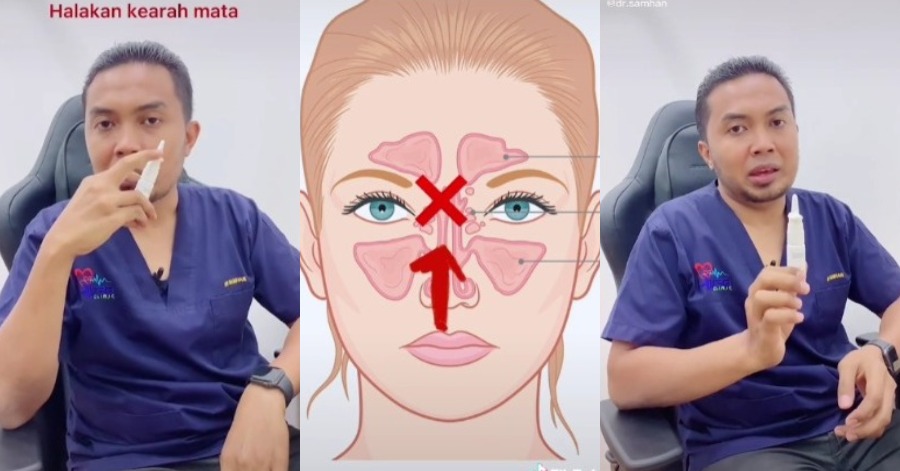 Nasal sprays are liquid medications that are sprayed into the nostrils. They're used to help reduce nasal congestion (stuffiness). Congestion is a common symptom of allergies or a cold.
While nasal congestion can be treated with an over-the-counter nasal spray, it is not as simple to use as it may appear. Most people thinking that the right way to use the nasal spray is to spray it directly up the middle point of the nose. That will only irritate the
So here's how to correctly use the nasal spray
1. Shake the bottle
2. Test the spray. Press a few times to see if the spray works properly.
3. The 'X' mark. This is important. If you're using your right hand to spray, you should spray it in your left nose and if you're using your left hand, spray it into your right nose.
4. Your aim is to spray at the Maxillary Sinus or the part which is beside your nose. To do that, tilt the spray towards your eye and then spray. Spraying in an upright position will cause the medication to flow to your throat. 
5. Also, don't tilt your head upwards when spraying.
Sources: TikTok Dr Samhan, Health Essentials