(Video) Did You Know? This Lotus Silk Is The Most Rarest And Expensive Fabrics In The World?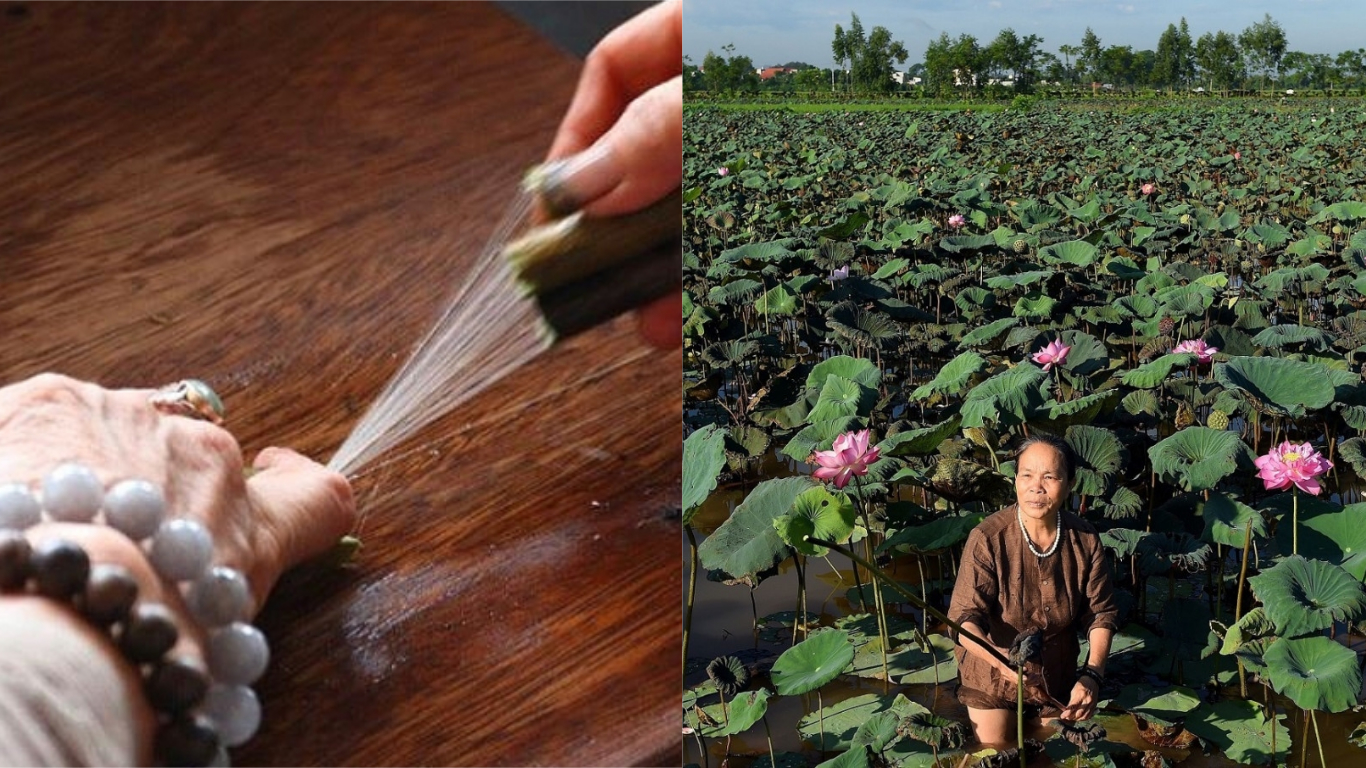 This family has been making silk for generations. They have been growing and harvesting the threads from silkworms themselves to create luxury garments. Silkworms need to be fed almost 24 hours a day with mulberry leaves. But making lotus silk is different.
Phan Thi Thuan's family is one of the few people in the world with the technique of weaving lotus silk. One of the rarest fabrics in the world, it is produced on small scale across Cambodia, Myanmar, and Vietnam. The lotus is Vietnam's national flower and there is plenty of lotus farm in the country. While this method originated in Myanmar, Phan Thi Thuan only started experimenting with this fiber in 2017.
In comparison to silkworms, lotus silk is not easy to make. Extracting the silk for one scarf takes up to two months and the final products can cost 10 times more than regular silk.
But making this silk isn't easy. Extracting enough lotus silk for one scarf can take two months, and the final product can cost 10 times as much as regular silk. The difference is that the lotus silk must be extracted by hand. Each stem contains a minuscule amount of thin, sticky fibers. The threads need to be processed within 24 hours. Otherwise, they'll break. The plants are only available to harvest between April and October. Even after extraction, they are still very fragile. Once dry, they hand-spooled the thread before putting them into a loom.
Phan has a team of 20 workers creating these fibers each day, allowing them to produce 10 to 20 scarves each month. But when a 25-centimeter scarf can sell for just over $200, the hard work is worth it. The final product is unlike any other fiber. It's soft like silk, breathable like linen, and slightly elastic.
Lotus silk products have become popular with tourists. It could cost $43 (RM178) per meter. International fashion brands such as Italian luxury textile company Loro Piana, part of Louis Vuitton picked up this fabric as part of their line. In fact, they sold a jacket worth $5600 (RM23,214) according to Wall Street Journal. But its scale has been limited, as there are still few trained in the making of these silk threads. Phan Thi Thuan hopes that this skill will one day grow to become a larger industry.
Source: Business Insider, South China Morning Post, Wall Street Journal
Can't Handle Caffeine? These Are 4 Caffeine-Free Alternatives That You Can Try Now!
However, too much coffee can also be bad for you. Maybe some of us can't handle caffeine. Coffee can make you edgy or cause lack of sleep. However, that doesn't mean there are no alternatives.Here are four delicious yet caffeine free drinks for those who are not a fan or simply on a caffeine detox.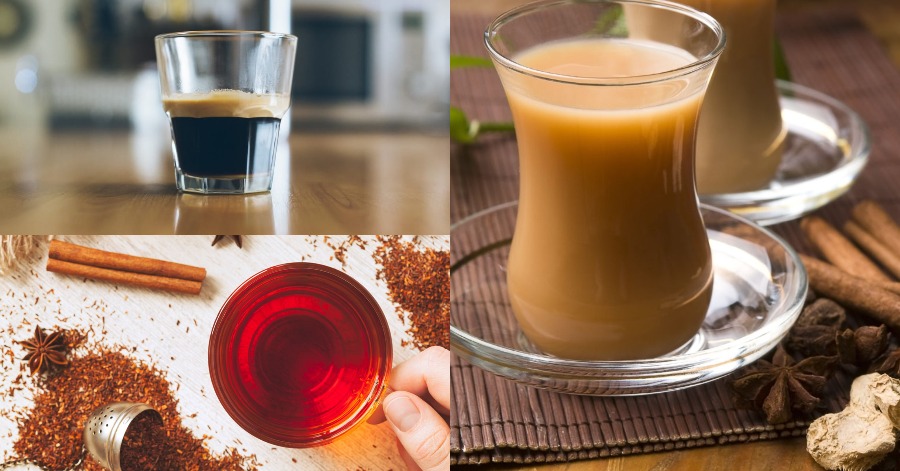 Coffee is what most of us like to have in the morning. Iced or hot, it has become a favorite beverage by many. It acts as both stimulants and digestives to care for your tummy.
However, too much coffee can also be bad for you. Maybe some of us can't handle caffeine. Coffee can make you edgy or cause a lack of sleep. However, that doesn't mean there are no alternatives. Here are four delicious yet caffeine-free drinks for those who are not a fan or simply on a caffeine detox.
1. Rooibos tea
Also known as redbush tea, this reddish-brown-tinged herbal tea contains antioxidants. Its preparation method is the same as regular black tea. It is caffeine-free and good for relaxation and digestion.
2. Masala chai
When was the last time you see a Bollywood movie with no chai-drinking scene? Answer: NEVER. This is a local favorite in India and rightfully so.Teh tarik might be Malaysia's favorite drink but chai is a recipe that takes it up a notch.
'Chai' means tea and "masala" means spiced. Chai masala means spiced tea. This tea-based drink has a strong flavor to it because of its herbal concoction and good for your health.
Furthermore, the ingredients can be found in any typical Malaysian kitchen. Made using strong black tea, the leaves are also boiled with cardamom, cloves, cinnamon, ginger with a splash of milk. For those with lactose intolerance may substitute whole milk with any plant-based milk like oat milk, almond milk, or even soy milk.
Filter the mix and voila! Its aromatic flavor and the harmonious mix of the dry herbs will make you forget coffee altogether.
3.Chicory coffee
This drink from northern France might look like coffee but it is actually not.
Due to the coffee shortage during world war II, people are coming up with substitutes for caffeinated drinks. It is made from a chicory plant. The root is then processed washed, dried, and went through a process akin to coffee beans. The powder is then mixed with water or milk to be drunk like coffee, but without the caffeine.
4.Barley coffee
Italians call it 'caffè d'orzo'. Like chicory coffee, this drink largely became known during World War II.
Its slightly bitter taste similar to actual coffee with a slight hint of hazelnut or toasted bread. It can be drunk as an instant coffee concoction by mixing a teaspoon of it with water. Otherwise, it can be prepared using a regular coffee maker.
Source: Lifestyle
Food Review: 5 Different Kind of Murtabak That You Will Crave This Ramadan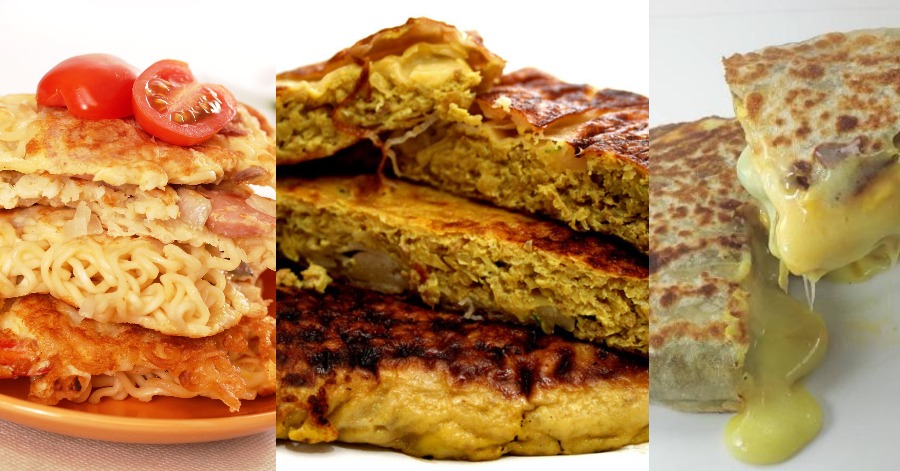 During the holy month of Ramadan, there will definitely be certain types of food that people would crave a lot. This is because they would usually become available during this month only. Some examples of the food would be such as murtabak, roti john, air katirah and many others. People really love them because they taste so delicious. Talking about murtabak, they are actually so many different variations of murtabak that got sold at Bazaar Ramadhan.
Different kind of murtabak brings a different type of special features and also uniqueness that make them stand out from each other. This evolution of murtabak happened because different places wanted to make the taste suit their taste pallet. Even though they have gone through a lot of modifications, they still taste very good for everyone.
These are 5 different kinds of murtabak that you will crave this Ramadan:
1) Murtabak Raja
Murtabak Raja is available with chicken or even local beef selections. The flavor is also enriched with unique and one-of-a-kind Kelantan traditional 'Rempah Raja'. It is also coated with high-grade eggs and also onions. Would be so delicious to be eaten with a special onion pickle or even chili sauce as a dish for break fast.
View this post on Instagram
2) Murtabak Maggie
Murtabak Maggie is a very simple yet so delicious dish favorable by so many people in Malaysia. It is also very easy to be made because the ingredients used are only instant noodles, eggs, and other additional items that any individual likes to add to their recipe.
View this post on Instagram
3) Murtabak Singapore
The main factor that differentiates this Murtabak Singapore from the other murtabak ever exist is that there would be having a lot of meat in it and not just eggs, then it is coated with eggs and a lot of minced meat.
View this post on Instagram
4) Murtabak Telur (Egg)
It is actually really easy to make Murtabak Telur (Egg). Fr this dish, you do not need to knead any flour. You just have to buy a popia skin and just use the egg as the filling of the delicious murtabak.
View this post on Instagram
5) Murtabak Cheese
Murtabak Cheese is a particular kind of murtabak that contains a lot of molten cheese and also juicy meat under a layer of crispy skin. This kind of dish could definitely captivate the sight of many people because it tastes delicious and also it is addictive for the taste of it.
View this post on Instagram
Sources: Murtabak Raja, Murtabak Maggie, Murtabak Singapore, Murtabak Telur , Murtabak Cheese.
In The Brink of Extinction, Unique Bird That Is Called 'Large Frogmouth'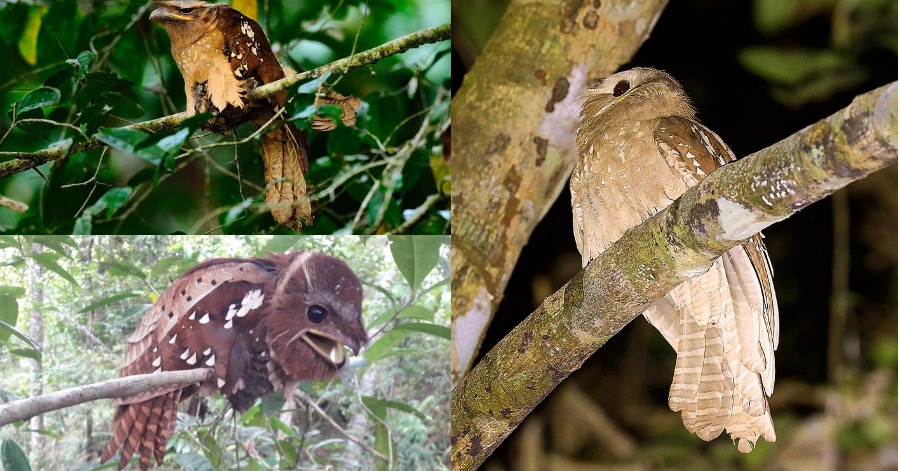 The 'Large Frogmouth' is actually a species of bird that comes from the family of Podargidae. It can be widely found specifically in Brunei, Indonesia, Malaysia, and also Thailand. Their ecosystem is usually in subtropical or tropical moist lowland forests. Nowadays, logging of its habitat poses a risk to its own survival, and the International Union for Conservation of Nature has listed this particular species as being 'near-threatened'.
It is considerably larger than other members of its genus and grows to a length of about 42 cm. The sexes are similar and the coloring is rather variable, the upper parts being mainly chestnut and blackish-brown, barred and spotted with white and buff. The underparts are dull brown or pale rufous, the belly being paler than the breast. The beak is horn-colored with a darker tip, the gape being yellow, the irises are some shade of light or dark brown, and the legs are a dull yellow.
The behavior of this bird is not well known. It hunts by night, on the ground and in the canopy, feeding on insects such as grasshoppers and cicadas. It roosts by day, perching on a branch or hidden in a hole, singly or possibly in pairs. On one occasion an individual was mobbed by a greater racket-tailed drongo until it flew off into dense cover. Sings, mainly by night, from a perch in a tree, its voice being variously described as a repeated 'deep hollow-sounding tremolo' or as a 'series of four to eight loud, liquid trills'.
The 'Large Frogmouth' usually lays a single egg on a pad of down covered with lichens and also spiderwebs. The nest is firmly attached to a slender branch of a shrub or small tree. It consists of a circular cushion down on which the single egg is balanced. The egg would fall off were it not for the incubating parent bird which crouches lengthwise along the branch rather than across it.
Sources: eBird