Woman's World Collapses After Coronavirus Claims Husband's Life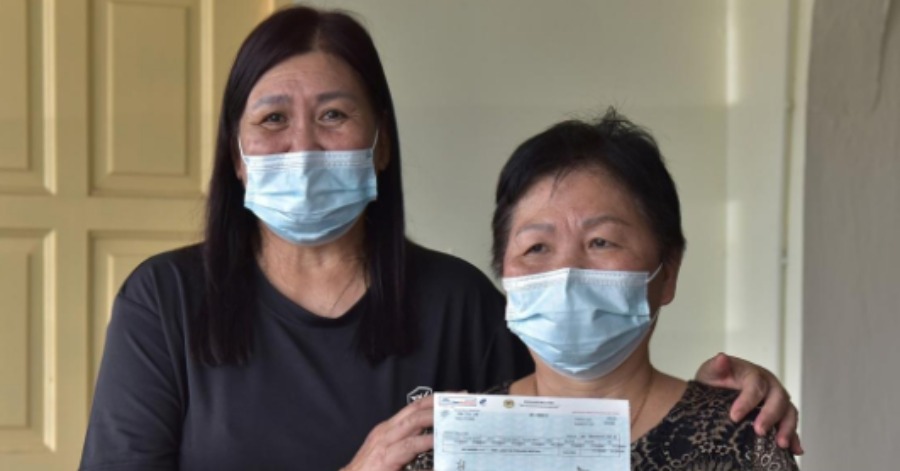 LABUAN, March 15 — Bong Siew Lan's world collapsed on Nov 3 last year. It was on that fateful day that the coronavirus claimed her husband's life.
Foo Kok Meng died at the Labuan Hospital, two months short of his 66th birthday. The coffee shop owner was on a ventilator, having been warded in October after testing positive for COVID-19.
Siew Lan, 66, herself served out a quarantine period once her husband was admitted to the hospital. She tested negative for the coronavirus.
"I did not think either one of us would be alone so early in our lives," she lamented to Bernama on Friday when Labuan Natural Disaster Management Committee chairman Rithuan Ismail visited her at home to hand over a cheque for RM5,000 from the COVID-19 Funeral Special Assistance Fund.
Kok Meng was one of the 1,210 people in Malaysia who had succumbed to COVID-19 as of March 14.
He developed a cough after returning from voting in the Sabah state election on Sept 26 last year. As the cough worsened, Siew Lan's sister Ah Kam, 59, forced the reluctant Kok Meng into her car and took him to a private clinic and later to the hospital.
The hospital informed Siew Lan on Oct 26 that Kok Meng had COVID-19. Her husband had difficulty breathing, and this continued to worsen. He was then hooked up to a ventilator.
Siew Lan could neither hold his hand nor talk to him because of the standard operating procedures in place due to the infection. Their four children are working in Singapore.
Now, she is all alone at home with no one to talk to. Sometimes she stares at the empty bed, the bare dining table. The house is "empty". Everywhere she looks, she is reminded of the good times, which makes her sad and in tears.
"It is worse at night. I haven't had to sleep alone for over 50 years," she lamented.
The aid from the National Disaster Management Agency (Nadma) has brought some relief but not happiness.
Siew Lan was the second recipient of the COVID-19 fund aid, and according to Rithuan, the remaining Malaysian beneficiaries would receive it in stages.
Sources: BERNAMA
2022 World Cup/2023 Asian Cup Qualifiers Standings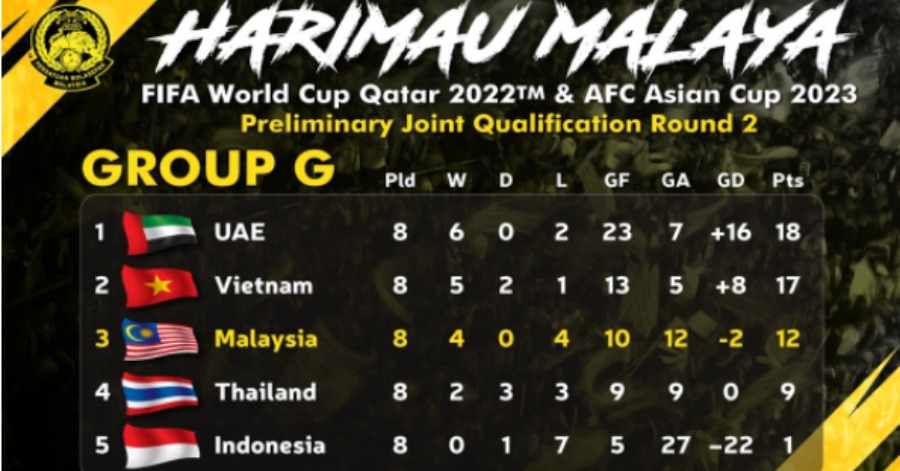 KUALA LUMPUR, June 16  — Following is the final Group G standings of the 2022 World Cup/2023 Asian Cup Joint Qualifiers after today's matches.
Group G
| | | | | | | | |
| --- | --- | --- | --- | --- | --- | --- | --- |
| | P | W | D | L | F | A | Pts |
| UAE | 8 | 6 | 0 | 2 | 23 | 7 | 18 |
| Vietnam | 8 | 5 | 2 | 1 | 13 | 5 | 17 |
| MALAYSIA | 8 | 4 | 0 | 4 | 10 | 12 | 12 |
| Thailand | 8 | 2 | 3 | 3 | 9 | 9 | 9 |
| Indonesia | 8 | 0 | 1 | 7 | 5 | 27 | 1 |
Sources: BERNAMA
Uganda Gets First Woman Prime Minister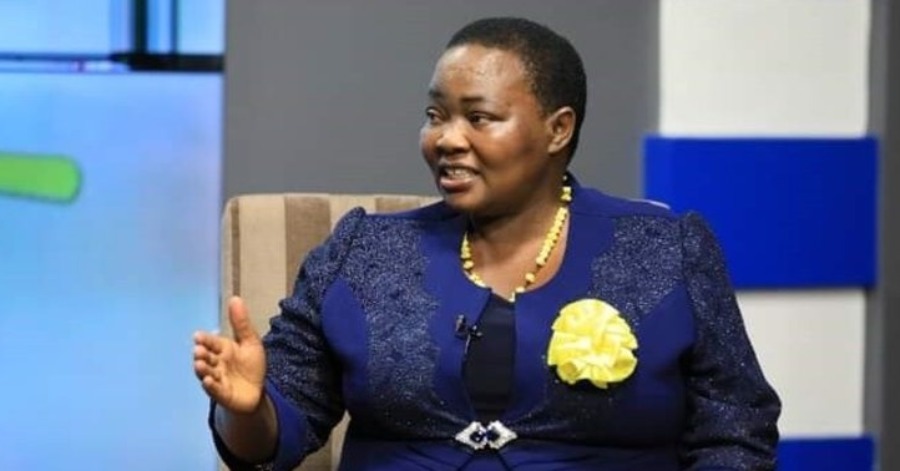 KAMPALA, June 15 — Uganda on Monday named the country's first woman prime minister, reported Anadolu Agency.
Robinah Nabbanja, 52, has been officially approved by parliament to work as prime minister for the next five years.
Nabbanja was appointed by President Yoweri Museveni.
In her acceptance speech, Nabbanja said: "I thank God for what he has done for me. I thank fellow members of Parliament (MPs) for accepting me to become an MP without even debating on me."
She vowed to ensure that all ministers and members of parliament attend parliament sessions.
She also urged the public to adopt measures against COVID-19 as she wants to work with healthy people.
The Father of The Largest Family In The World Passed Away At The Age of 76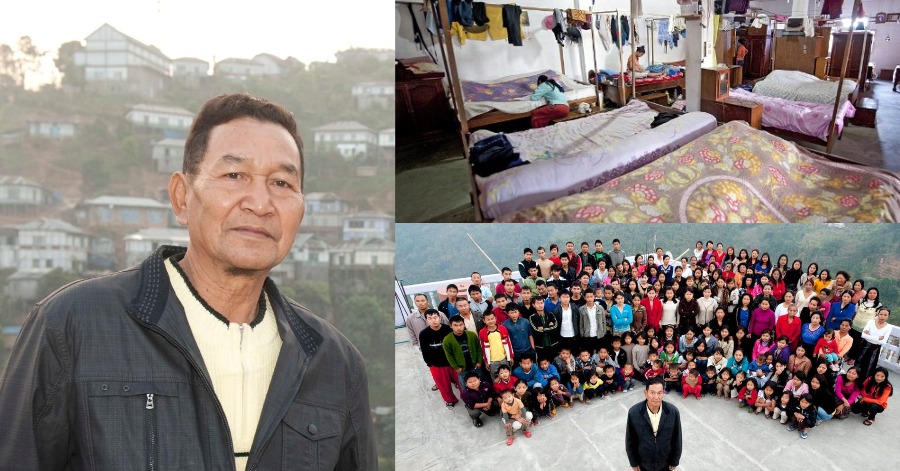 Ziona Chana, a man who was believed to be the father of the biggest family in the world, has died at the age of 76 years old.
Chana was the leader of a Christian religious sect named Chana Pawl that allowed polyamory for men. It was formed in 1942 by Chana's grandfather and approximately, it has 2,000 followers.
He was reported to have at least 89 children, 36 grandchildren, and 38 wives. He married his first and oldest wife when he was 17.
The sorrowful news was confirmed by the chief minister of Mirozam, Zoramthanga in his tweet on Monday.
"With heavy heart, #Mizoram bid farewell to Mr. Zion-a (76), believed to head the world's largest family, with 38 wives and 89 children," Zoramthanga wrote. "Mizoram and his village at Baktawng Tlangnuam has become a major tourist attraction in the state because of the family."
"Rest in Peace Sir," Zoramthanga added.
Chana fell sick in his home in his village of Baktawng Tlangnuam and was pronounced dead at a hospital. The causes of his death were hypertension and diabetes.
Chana's family has become a global tourist attraction. People from all around the world travelled to their village to see the spacious four-story house with over 100 rooms inside.
Chana's unique and massive family has been featured twice in "Ripley's Believe It or Not".
Sources: The Federal, Insider