Systema Pledges To 'Gumbatte Towards Healthy Gums And Teeth' With Malaysia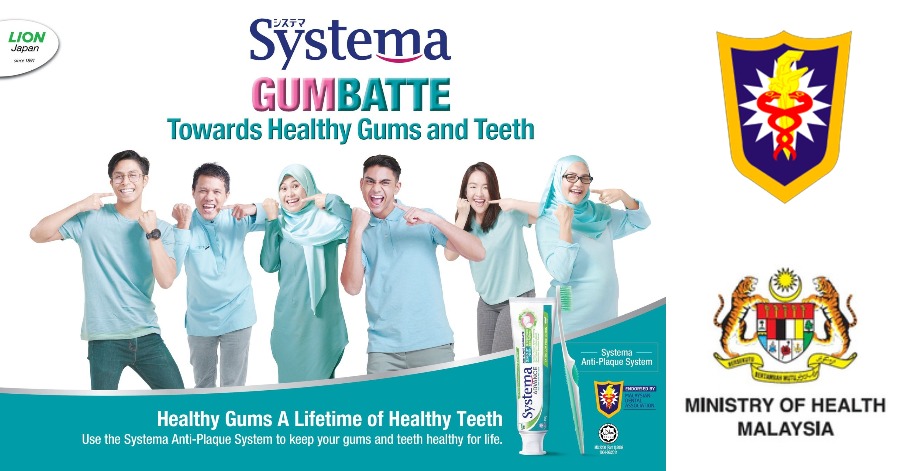 Kuala Lumpur, April 6th, 2021 – You are probably among the 94 percent of Malaysian adults with gum disease based on data from the National Oral Health Survey of Adults 2010.
The main cause of gum disease is plaque, a soft sticky film containing billions of bacteria. When plaque builds up between teeth, along the gum line and inside gum pockets, the harmful substance caused by bacteria build up will damage the gum tissue.
In a recent study conducted by Lion Corporation on 450 Malaysian adults showed 80% of respondents had at least one visible sign or symptom of gum disease, the most common being bleeding and swollen gums, but only 1% realized that they have gum disease (Project Katsu 2017).
Oral health has a strong and proven relationship to systemic health. Research studies show correlations between gum disease and general health including heart disease, stroke, diabetes, rheumatoid arthritis, and most recently Alzheimer's disease.
Preventive oral health measures such as early detection and treatment of gum disease can change the oral disease continuum, a means to address the cumulative public health burden.
Systema, the gum health expert from Japan is working with the Ministry of Health Malaysia (MOH), and the Malaysian Dental Association (MDA) on a Corporate Social Responsibility campaign to help the public Gumbatte Towards Healthy Gums and Teeth, continuing and increasing its collaborative efforts of previous years.
The campaign aims to educate Malaysians and continue to uplift their oral care practices, working towards better gum health for all by reaching more than 2 million people with fact-based and research-supported oral health information and free dental check-up to gradually reduce gum disease among adults by identifying and preventing oral health problems like gum disease before they become more serious.
The holistic CSR campaign includes the contribution of 10,000 trial size Systema toothpaste for the public, 9,000 full-sized Systema toothpastes for oral health frontliners, an interactive website www.gumhealthcheck.com that provides education on the signs and symptoms of gum disease, and a free gum health check assessment tool, free dental  checks-up via participating MDA member clinics, engaging educational and awareness raising activities on social media and deeply discounted Systema products to bring quality oral health products within everyone's reach.
A social media campaign featuring influencers and users encouraging everyone to Gumbatte Towards Healthy Gums and Teeth will support the campaign from April 1st to April 30th, 2021.
Gum disease is highly prevalent, yet preventable. There is a serious lack of awareness of gum disease and its potential to impact quality of life, and its link to other major diseases as well. Collectively we need to help the nation improve its gum health to reduce the cumulative public health burden. Research studies show correlations between gum disease and heart disease and diabetes. If early detection and treatment of gum disease can help to lower correlations of these life-threatening diseases, we should explore it. Diabetes and heart disease are also known co-morbidities for COVID-19. Malaysians need to recognize the signs and symptoms of gum disease so that they know when something is wrong and can seek help.
Systema and MDA is looking forward to provide support in contributing products, educational materials, online and in-clinic dental check-ups, social media support and services to aid the public at this time when public dental clinics are stretched. This campaign can help the Oral Health Programme, MOH to educate more people on the critical need for better gum care and oral health, equip them with products, and channel them to free dental health check-ups for assessment.
Southern Lion Sdn Bhd, Senior General Manager, Ms Carmen Foo highlighted Systema's social purpose of creating higher awareness of oral health for healthy gum and a lifetime of healthy teeth, more so as the world grapples with the pandemic.
"The pandemic has held us in 'survival mode' for almost a year, but now it is time to refocus on important issues such as gum health again. Healthy gums and teeth are vital for better quality of life, so let's 'Gumbatte'!  Systema can help by making more people aware of the signs and symptoms of gum disease, that it can often be reversed during early stages by simply brushing teeth and gums twice a day," said Ms Foo.
"This CSR campaign has measurable goals that can be used to assess its effectiveness across the public and front liners, providing data on what works so that we can provide more targeted support in future to improve oral health outcomes. Tens of thousands of people can do online gum health assessments, and those who require can have free dental check-ups via MDA member clinics. The Systema Gumbatte campaign in 2019 resulted in almost 50,000 people taking the online gum health check, and more than 10,000 visits to participating MDA member clinics for free dental check-ups.," Ms Foo explained.
The Malaysian Dental Association, Honorary General Secretary Dr Chong Zhen Feng shared that since the COVID-19 pandemic, with the general public putting off routine dental check-ups, dental professionals have noticed the decrease in patients' attendance. This will inadvertently delay any prompt management and may even lead to worsening of oral diseases.
"The MDA has been partnered with Systema on oral health campaigns, year after year. In Malaysia, gum disease is highly prevalent due to the low awareness on the importance of good oral health care. Through the Gumbatte Towards Healthy Gums and Teeth campaign, we wish to provide oral health care education across the country with the aim of improving the gum health and the general health of the nation. The number of people we will be able to impact by this initiative is very encouraging.
"Take control of your oral health by visiting, the website: www.gumhealthcheck.com to assess your gum status, and if needed, please visit our participating Malaysian Dental Association member dental clinics for your free dental check-up. "
He said that the members of the Malaysian Dental Association will be providing free dental check-up in support of the campaign, and it is recommended that everyone visit their dentist at least twice a year.
The Gumbatte Towards Healthy Gums and Teeth campaign plays on the Japanese motivational cry of 'Ganbatte' that means 'you can do it' as a rallying call to get Malaysians to take charge of their oral health, even during the pandemic. Vist www.gumhealthcheck.com to take your online gum health check, today.
Shop Review: Best Bazaar Ramadhan In KL? What Does Mark O'Dea Search For?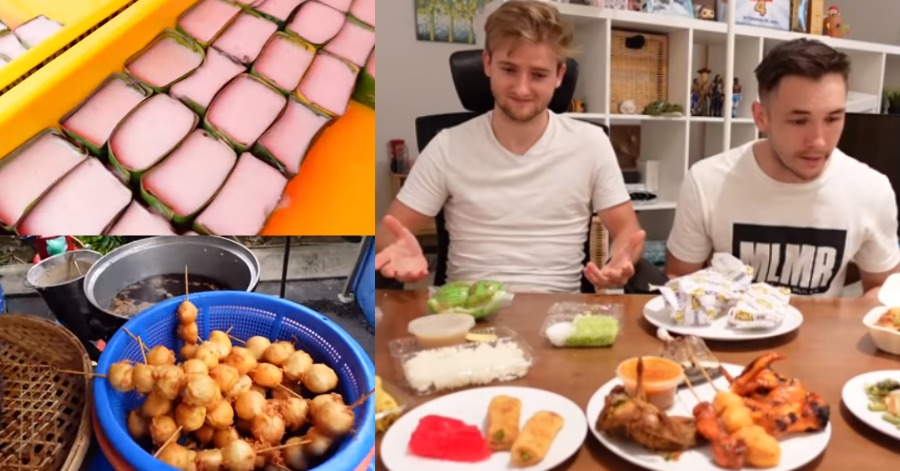 A particular famous YouTuber named Mark O'Dea is back at it again to search for the best Bazaar Ramadhan in Kuala Lumpur for this holy month of Ramadhan in the year 2021.
This time around, he is accompanied by his own friend named Tom. He decided to bring along his friend because as he stated in the video, Tom has never been to any Ramadhan Bazaar even though he has been living in Malaysia for a very long time. In this video, they were on their way to a Bazaar Ramadhan located in Chow Kit Road, Kampung Baru specifically in Kuala Lumpur.
According to their plan, they have agreed to buy food that they have never tasted before in their whole life. It would be such an eye-opening experience for them as Bazaar Ramadhan is very well-known to be selling so many foods and beverages that people could rarely see during other months except the Ramadhan month.
These are 5 of the delicious foods that they have bought from the Bazaar Ramadhan in Chow Kit Road:
1) Prawn Ball And Octopus Ball
They said that they have never tasted or even seen this before. That is why they decided to try and bought them.
2) Pecal
According to the video, the seller stated that pecal is vegetarian food and it is sold for RM3 each.
3) Tepung Pelita
They wanted to try Tepung Pelita because the seller said that it is such a sweet snack. That is why they are on board to eat this even though they have never tried them before in their life.
4) Quail (Burung Puyuh)
For this particular food, he even does not have any idea what it is called. So, for sure he never tastes this food before. That is why he decided to buy this food.
5) Roti Jala
He first assumed that this food is known as Spaghetti but the seller told him that it is known as Roti Jala.
Sources: YouTube Mark O'Dea
Want To Pay 'Zakat Fitrah'? Try Doing It Online Using Shopee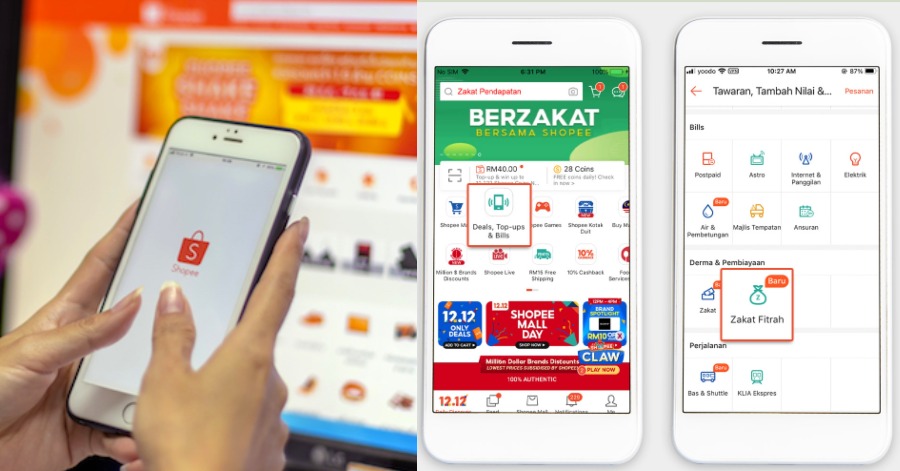 It is an obligation for Muslims all around the world to pay 'Zakat Fitrah' when the holy month of Ramadan has finally arrived. 'Zakat Fitrah' is a charity taken for the poor a few days before the end of fasting in the Islamic holy month of Ramadan. Every Muslim is required to pay 'Zakat Fitrah' at the conclusion of the month of Ramadan as a token of thankfulness to God for having enabled him or her to observe the obligatory fast.
There are actually so many ways on how to pay 'Zakat Fitrah' nowadays in this modern world. Other than paying 'Zakat Fitrah' directly towards the person who is responsible to collect it, people also could pay it by using online banking such as Maybank. There is also one more alternative that can be used to pay it and that is using Shopee.
The rate of zakat fitrah is different based on the provisions of the Religious Authorities of the States. This different particular rate will be displayed when you pay zakat fitrah and select your state zakat body in Shopee. There are actually so many benefits that could be obtained when people pay their 'Zakat Fitrah' through Shopee such as:
Zakat payment is now easier with various payment methods via ShopeePay, debit cards, online banking, and cash payments at 7-Eleven.

Zakat payments can be made quickly and securely from home or wherever you are with the Shopee app.
The zakat collected will be channeled to zakat institutions that work with Shopee to ensure that your contribution is distributed to eligible recipients.
These are 6 simple steps on how to pay 'Zakat Fitrah' just by using Shopee:
Launch the Shopee application and then choose the particular option of "Deals, Top-Ups & Bills". Then, click on the "Zakat Fitrah" icon to directly transported to the 'Zakat Fitrah' page.
Select the Zakat Institution of your choice, Fitrah Rate and enter the Number of People (Self / Dependent). Then, click Continue.
Complete your IC Number, Full Name, Email Address, Telephone Number and Address. Make sure your information is complete and correct. Then, click Continue to pay.
Own ShopeePay as your payment method. Guaranteed fast and smooth. In addition, you can pay by debit card, online banking or cash payment at 7-Eleven. Before payment, state your Zakat Fitrah Intention and click 'OK'.
After the payment has succeeded, click 'View Order Details' to view zakat payment order details.
Lastly, click the "Download Confirmation Of Zakat Fitrah Payment" to see proof of Shopee payment in your app.
Sources: Shopee.
Separated Since Babies, This Identical Twins Finally Reunite After 36 Years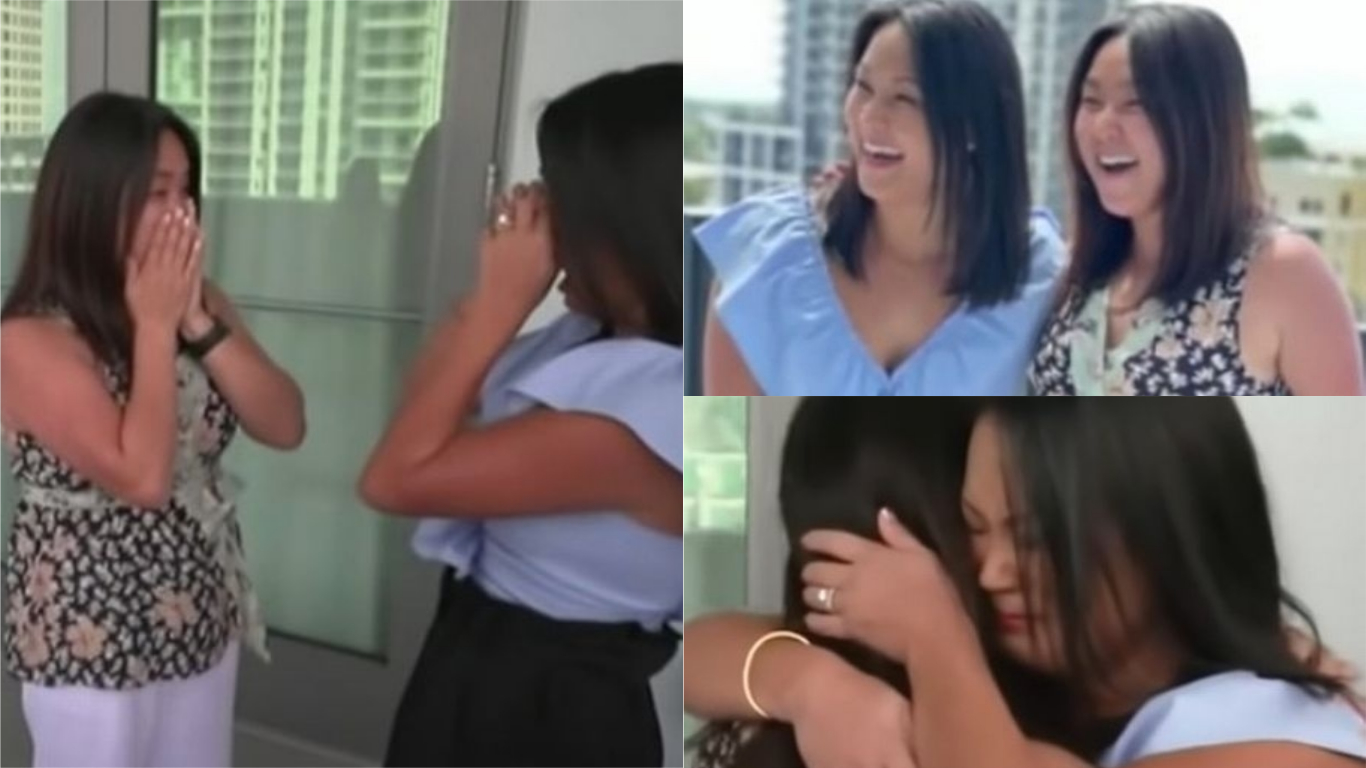 Identical twins Molly Sinert and Emily Bushnell were separated at birth in South Korea and adopted by different families. Molly went on living in Florida while Emily in Pennsylvania. The siblings spent most of their lives totally unaware of each other's existence and little information about their birth family.
But everything changes after Emily's 11-year-old daughter, Isabel wanted to make a DNA test to explore her heritage.
Isabel said, "I wanted to do the DNA test because she was adopted. I wanted to find out if I had more family on her side."
Meanwhile in Florida, Molly also decided she wanted to take a DNA test to find out more about her mother's history. The database confirmed her relations with Emily.
"(The results said:) 'You share 49.96% DNA with this person. We predict that she's your daughter'. This is obviously not right because I've never gone into labor, I don't have children."
Shortly after, she figured out that she must be her sister. They contacted each other but decided not to have a video call until they met in person.
Even though Emily didn't feel comfortable taking the test, but finding out about her twin makes everything so clear.
"Although I have family who loves me and has been wonderful, there was always a feeling of disconnection. Finding out that I had an identical twin sister just made everything so clear. It all makes sense."
As the twins got to know each other, they discovered more and more similarities between themselves.
Emily added: "Our senior prom picture…we were both wearing a beaded dress with a strapless style and our hair was exactly the same.
Emily concluded by describing the reunion as 'the happiest moment of her life'.
Source: Daily Star