Super League: TFC Beat Selangor 2-1, Climb To Second Spot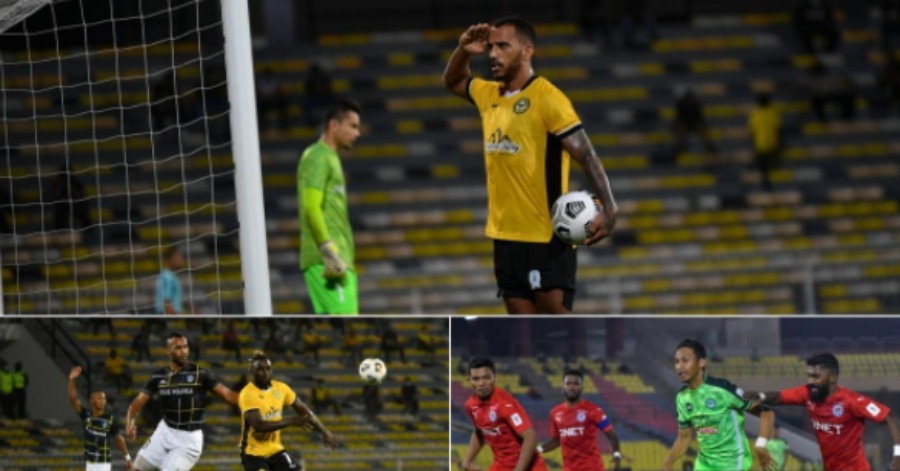 KUALA LUMPUR, May 9  — Terengganu FC (TFC) team climbed up to second place in the Super League table following a 2-1 comeback victory over Selangor FC at the Petaling Jaya City Council Stadium, tonight.
The Red Giants opened the scoring through a penalty kick by Nigerian striker Ifedayo Olusegun in the 49th minute after Brendan Gan's shot hit Mohd Nasir Basharuddin's hand in the penalty box.
However, Nafuzi Zain's squad equalised through Engku Muhd ​​Nur Shakir Engku Yacob in the 72nd minute, before a header by Spaniard Carlos de Murga in the 87th minute sealed the game for TFC.
Meanwhile, Sri Pahang FC stunned Perak FC 3-2 at the Perak Stadium in Ipoh.
The Tok Gajah squad opened the scoring through a powerful shot by Myanmar national striker Aung Kaung Mann in the 34th minute following a scramble in front of goal, while Australian import Kenjok Wal Athiu doubled the lead for the visitors in the 57th minute.
Perak FC managed to get back into the game 10 minutes later, as Brazilian import Leandro Dos Santos easily converted a spot-kick after teammate Mohd Shakir Hamzah was brought down in the penalty box by Sri Pahang FC defender Mohd Faisal Mohd Rosli.
Kenjok, however, continued to pile on the misery for the Bos Gaurus squad, as his header in the 88th minute beat Muhammad Hafizul Hakim Khairul Nizam Jothy to make it 3-1, while Brazilian import Raianderson pulled one back in the 90th minute for the home side.
Meanwhile, Melaka United FC were held to a goalless draw against Petaling Jaya (PJ) City FC at the Hang Jebat Stadium.
Today's results saw TFC leapfrog Kedah Darul Aman (KDA) FC (26 points) to second place in the table with 27 points after 13 matches, only three behind leaders Johor Darul Ta'zim (JDT).
Selangor (19 points) and PJ City (14 points) remained in fifth and eighth place respectively, while Sri Pahang FC (12 points) came out of the relegation zone by overtaking Perak FC (12 points) in ninth place, while Melaka United (11 points) remained in second-last spot.
The Malaysian League competition will now be taking a break, with the Premier League scheduled to resume on June 18 after the Aidilfitri celebrations, as well as to give way to the national squad to play in the 2022 World Cup/2023 Asian Cup qualifying campaign in the United Arab Emirates (UAE).
The Super League will only restart on July 9, after the group stage action of the Asian Football Confederation (AFC) Champions League involving JDT, and the AFC Cup group stage competition involving TFC and KDA FC.
Sources: BERNAMA
Cristiano Ronaldo Gesture Causes Coca-Cola To Loss A Total of $4 Billion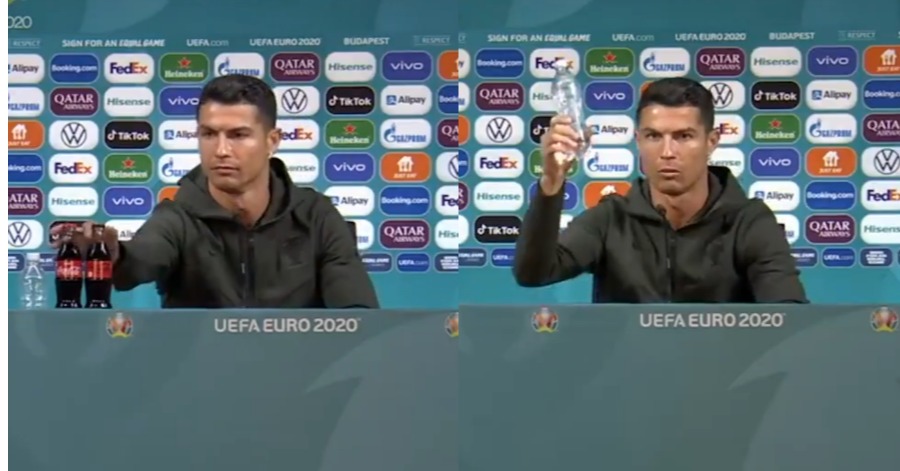 Cristiano Ronaldo caused Coca-Cola's market value to suffering a $ 4 billion loss after his actions at a press conference yesterday. The Portuguese footballer, who scored two goals late in the game in a 3-0 win over Hungary today, advised people to drink plain water when confronted by the media yesterday.
During the press conference, the Juventus striker set aside two bottles of Coke on his desk at a press conference ahead of the meeting with Hungary.
Coca-Cola's share price reportedly plummeted from $ 56.10 to $ 55.22
Coca-Cola has issued a statement in response to Ronaldo's actions when stating 'everyone is entitled to their drink preferences' and that everyone has different 'tastes and needs'.
A spokesman for the drink said: "Players are offered water, alongside Coca-Cola and Coca-Cola Zero Sugar, on arrival at our press conferences."
The 36 -year -old is indeed on a strict diet and is known to avoid consuming too much sugar to maintain his physique as he gets older. To help maintain his incredible physique, Ronaldo will eat up to six clean meals a day.
Sources: The Athletic
2022 World Cup/2023 Asian Cup Qualifiers Standings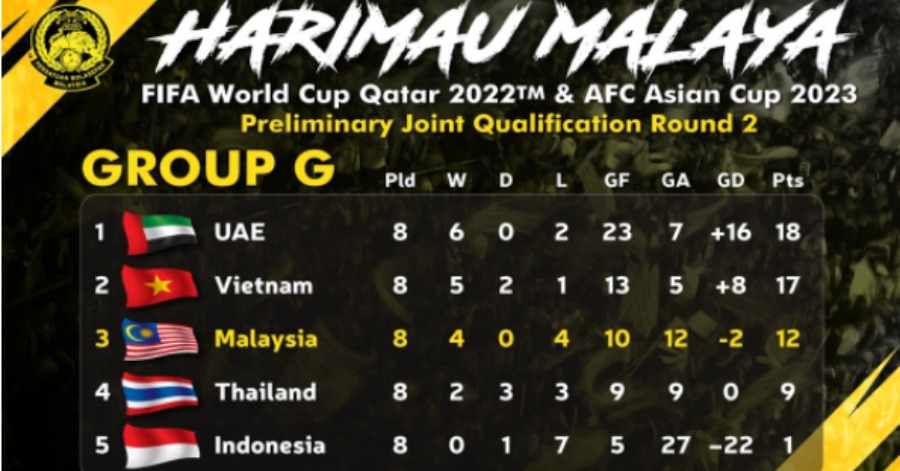 KUALA LUMPUR, June 16  — Following is the final Group G standings of the 2022 World Cup/2023 Asian Cup Joint Qualifiers after today's matches.
Group G
| | | | | | | | |
| --- | --- | --- | --- | --- | --- | --- | --- |
| | P | W | D | L | F | A | Pts |
| UAE | 8 | 6 | 0 | 2 | 23 | 7 | 18 |
| Vietnam | 8 | 5 | 2 | 1 | 13 | 5 | 17 |
| MALAYSIA | 8 | 4 | 0 | 4 | 10 | 12 | 12 |
| Thailand | 8 | 2 | 3 | 3 | 9 | 9 | 9 |
| Indonesia | 8 | 0 | 1 | 7 | 5 | 27 | 1 |
Sources: BERNAMA
Uganda Gets First Woman Prime Minister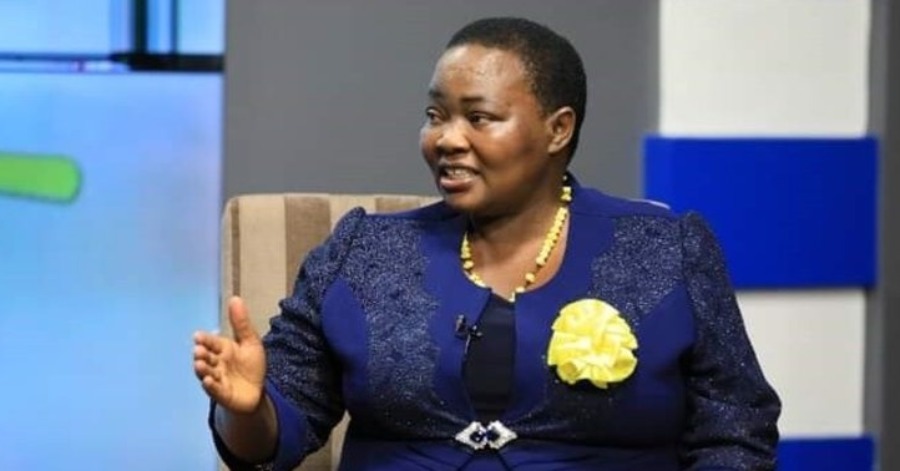 KAMPALA, June 15 — Uganda on Monday named the country's first woman prime minister, reported Anadolu Agency.
Robinah Nabbanja, 52, has been officially approved by parliament to work as prime minister for the next five years.
Nabbanja was appointed by President Yoweri Museveni.
In her acceptance speech, Nabbanja said: "I thank God for what he has done for me. I thank fellow members of Parliament (MPs) for accepting me to become an MP without even debating on me."
She vowed to ensure that all ministers and members of parliament attend parliament sessions.
She also urged the public to adopt measures against COVID-19 as she wants to work with healthy people.