Want Something To Eat? These Are 4 Easy-To-Make Dessert With Just Using Air Fryer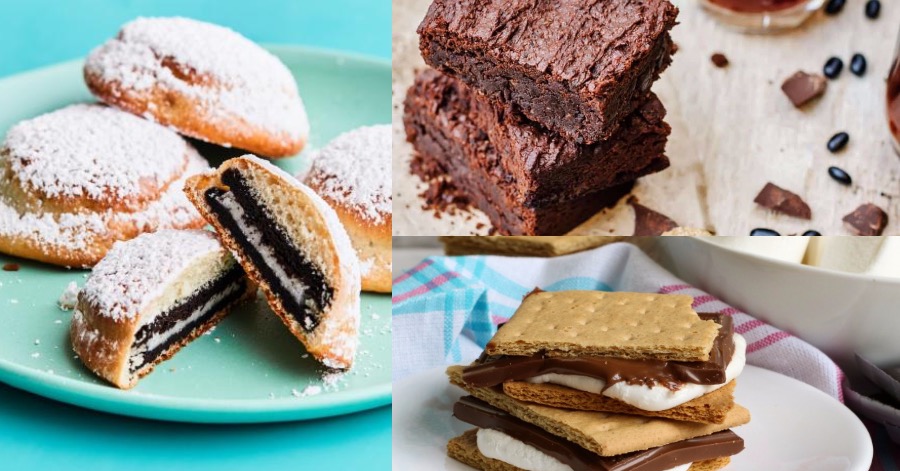 It is no doubt that the cooking world's latest craze of Air Fryer is really worth hopping on. Not only that it is the healthiest method of frying foods, but it also saves a lot of time.
From the main course to dessert, there are a lot of mouth-watering eats that you can make with this device. Even the ones you never thought of like fried Oreo! Here are 4 easy dessert recipes using an air fryer:
1) S'mores
Ingredients: 
Graham Crackers
Chocolate
Marshmallows
Steps:
Place graham crackers in the air fryer with a marshmallow on the center of it.
Cook at 375˚F/191˚C for about 7 minutes.
Put chocolate on top of the marshmallow.
Cook for another 2 minutes.
Top the melted marshmallow and chocolate with another graham cracker.
2) Chocolate Chip Brownies
Ingredients:
½ cup all-purpose flour
6 tablespoons unsweetened cocoa powder
¼ cup semi-sweet chocolate chips
½ cup granulated sugar
¼ cup melted unsalted butter
2 eggs
1 tablespoon vegetable oil
½ teaspoon vanilla extract
¼ teaspoon salt
¼ teaspoon baking powder
Steps:
In a large bowl, combine all the ingredients and mix well.
Grease a baking pan with butter and pour the mixture in.
Place this in a preheated 160°C air fryer for 15 minutes or until a toothpick comes out clean.
Allow it to cool and serve.
3) Fried Oreo
Ingredients:
½ cup pancake mix
⅓ cup water
9 Oreo cookies
1 tablespoon of powdered sugar
Steps:
In a large bowl, combine pancake mix and water and stir.
Preheat the air fryer to 200°C.
Line the air fryer basket with parchment paper.
Take each Oreo and dip it into the pancake mix, then line them on the parchment paper.
Cook for 4-5 minutes in the air fryer before flipping and cooking for another 2-3 minutes on the other side
Dust it with powdered sugar and serve.
4) Nutella-stuffed Kodiak Balls
Ingredients:
110g Kodiak Cakes Whole Wheat Honey Oat Flapjack And Waffle Mix
110g Non-fat Greek Yoghurt
30g Nutella
1 tablespoon granulated sugar
1 teaspoon of cinnamon
Steps:
Mix the Greek yogurt and Kodiak in a bowl.
Roll it out and cut it into 6 equal rectangles.
Scoop about a tablespoon of Nutella and place it in the middle of the cut-out dough.
Using your hands, wrap the dough around the Nutella and form it into a ball.
Once you're done with all 6 balls, place them in a preheated air fryer at 160°C for 5 minutes.
Mix the cinnamon and sugar and roll the baked balls in it before serving.
Source: TheSmartLocal, The Kitchn
(Video) Lucky Them! These States Lifted Up Most Covid-19 Restrictions After Achieving Vaccination Milestones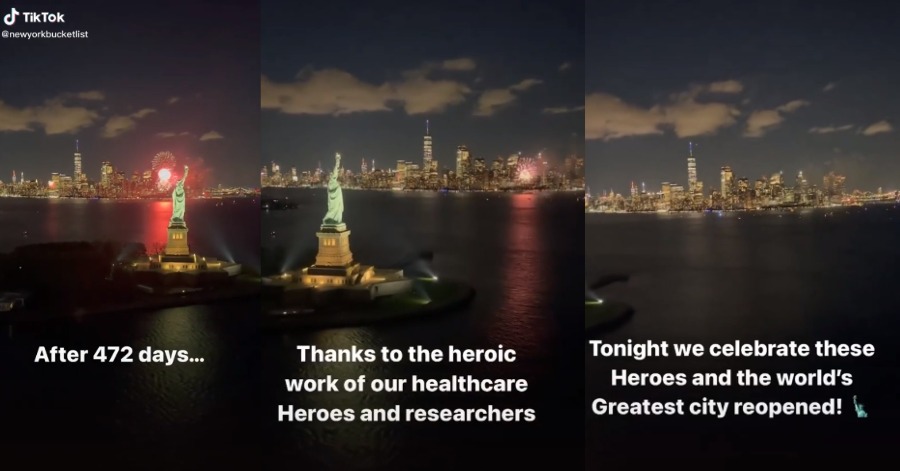 California and also New York are the two states that imposed strict COVID-19 measures throughout the pandemic and also were among the hardest hit have recently lifted most restrictions on the 15th of June to much fanfare. They had lifted virtually all coronavirus restrictions on businesses and social gatherings as both states hit milestones in vaccinating their residents.
Most states have lifted all or most of their COVID-19 restrictions, with remaining measures typically involving mask use for unvaccinated residents. Among those states that haven't yet, Washington is set to lift all restrictions by the 30th of June and Maryland and Michigan by the 1st of July. New Mexico is set to end restrictions by the 1st of July.
@newyorkbucketlistNew York has lifted all COVID restrictions! Thank you to all of our heroes ❤️ Shot on a @flynyon 🚁 tonight by Bucket Listers
In New York, where 70 percent of adults have received at least one dose of the vaccine, the order from Governor Andrew Cuomo means that restaurants will no longer be forced to space tables 6 feet apart, movie theatres will be allowed to pack their auditoriums without spacing seats apart and entrance to commercial buildings would not require a temperature check.
In California, the most populous state and the first to implement a stay-at-home order, that meant the end of a county-level, color-coded system that guided capacity limits and other mitigation measures. Venues, restaurants, and bars can now operate at 100% capacity, indoors and out.
Even with the restrictions lifted, California and New York residents should still expect to see some signs of pandemic life. Both states will still abide by mask guidance from the Centers for Disease Control and Prevention, which has advised that unvaccinated people should wear masks indoors and maintain social distancing.
Sources: New York Times, TikTok New York Bucket List.
(Video) KKM Now Dabbles In TikTok To Share Health Info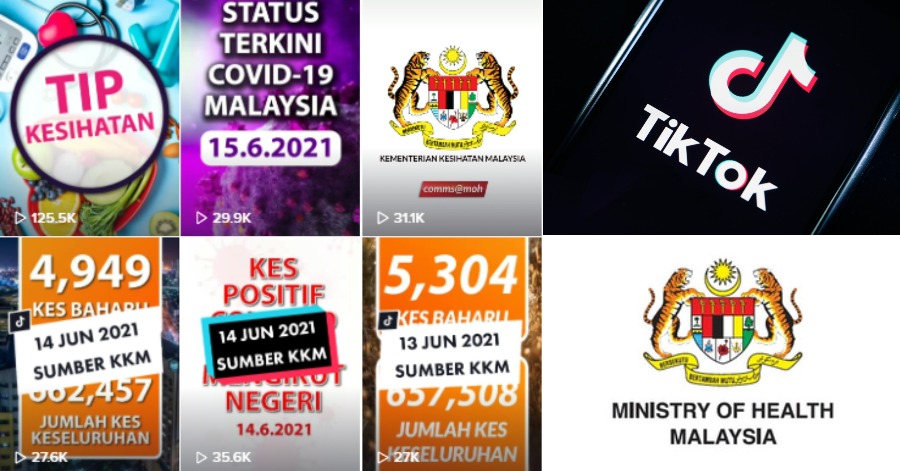 TikTok is undeniably one of the most used social media platforms by many people in this whole wide world nowadays. This is because this particular well-known platform is so user-friendly and also any news easily goes viral for everyone. Recently, the Ministry of Health Malaysia (KKM) also has decided to dabble in using TikTok for beneficial purposes.
Other than Facebook and also Instagram, the Ministry of Health Malaysia has set up its own TikTok account. In the TikTok social media platform, the Ministry of Health Malaysia has shared a lot of information about health with all of its followers. The platform also shares the latest developments on COVID-19 here in Malaysia.
A lot of netizens online supported and praised this amazing effort that was done by the Ministry of Health Malaysia. Hopefully, with this particular effort, many people all over Malaysia could get the correct information on health and also the current news regarding the COVID-19 situation.
Sources: TikTok Ministry of Health Malaysia.
Parents Seek Help For 11-Month-Old Baby With Heart Disease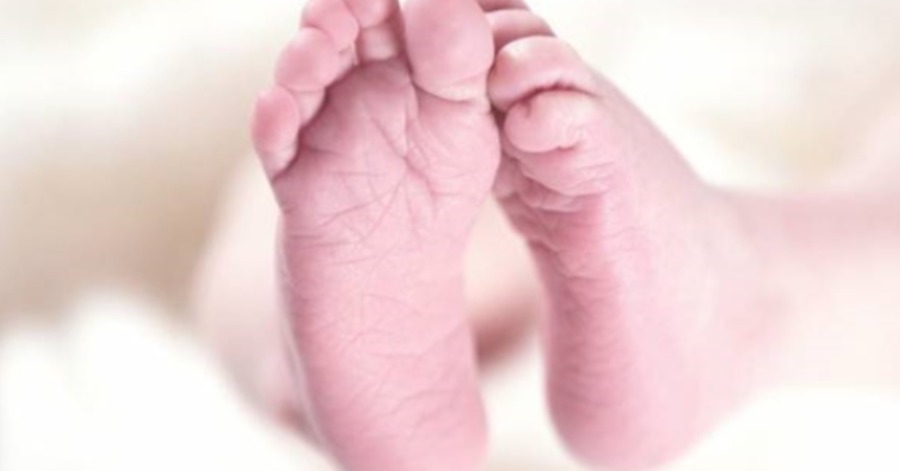 IPOH, June 15  — It has been a struggle for survival for a married couple here, who currently has no source of income due to the implementation of the Movement Control Order (MCO).
Julia Mohd Ali, 34, who suffers from spinal cord disease, said she used to work as a security guard, but was forced to quit her job in last March as her health deteriorated.
The mother of five said life gets hard for her family after her husband Mohamad Syamrezlan Misak, 22, a contract labourer, could not go to work due to the implementation of the Enhanced Movement Control Order (EMCO) in Manjoi, from June 6 to 19.
To make matters worse for the couple, they have to take care of their two children who have health conditions and require help as well as treatment.
"I have four children from my previous marriage. Three of them live with my ex-husband, while my eldest son Nor Aiman ​​Fitri, 16, who has Dyslexia and learning disabilities is currently under my care," she said when met by Bernama at his rented house in Kampung Tengku Hussein, Manjoi.
Julia said her child from the current marriage, Raisha Aleeya, 11 months, was diagnosed with clogged arteries three months ago.
"Every six weeks, I have to take my baby who also suffers from epilepsy to the Raja Permaisuri Bainun Hospital for examination. She is also scheduled to undergo a Magnetic Resonance Imaging (MRI) scan this August," she said.
Despite the hardship, Julia said she was very grateful for the concern demonstrated by a non-governmental organisation which has agreed to help her in paying the house rental which costs her RM300 a month for three months.
Meanwhile, Kinta district Social Welfare officer Shamsudin Osman said the Social Welfare Department (JKM) would look at the suitable assistance that could be channelled to the family.
"We will visit them to provide the food box aid. We will provide the necessary assistance to the family accoding to their needs," he said when contacted by Bernama.
Sources: BERNAMA