Book Review: Love Letter of Adventures And Autism In 'Adora And The Distance'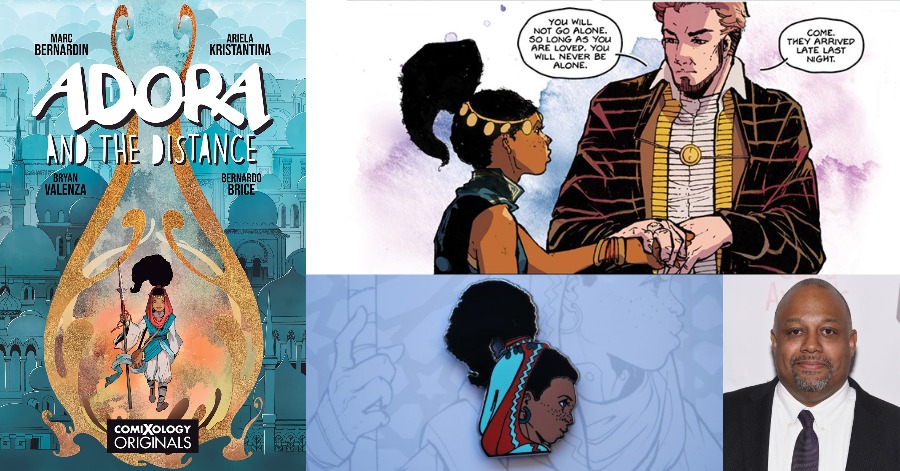 'Adora and the Distance' is actually a graphic novel from the award-winning writer and producer Marc Bernardin and also artist Ariela Kristantina that is available through ComiXology and Amazon. The particular book is an allegorical fantasy that centers on a young woman who serves as something of a proxy for Bernardin's own daughter.
Some 15 years in the making, the book is dedicated to his daughter that is Sophie and her own journey with autism. The magical story is such a beautiful tribute to her and anyone else in this whole wide world who has daydreamed of magical quests, heroes, pirates, slaying monsters and also flying carpets. The book is currently the top-selling book.
This book is about a young woman in what appears to be a kind of fantasy-esque storybook scenario. Adora is a beautiful young princess who lives in a palace with her Uncle, Lord Rafael. He raised the loving, thoughtful, insightful little girl as his own after finding her abandoned as a child. Every day she goes to school, the market, and the harbor, and even goes to the dungeon after dinner to visit with convicts.
And every night, she has the same nightmare. Her dreams reveal a premonition of "The Distance," an unknown entity that is known to claim entire villages. With the help of her companions such as a handmaiden, a mage, a knight, a bard, a dwarf, and a Moor, she then goes in search of it, hoping to lead the danger away from her home.
Back in 2005 when Marc Bernardin and his family first started on their autism journey with his daughter, his friends thought writing a story would be good therapy for him. Instead, he decided to create a magical world that he imagined only she could see. As she grew, the story did too.
Sources: The Hollywood Reporter, Geek Dad.
(Video) Did You Know? Japan Once Gave A Gift To Malaysia During 1957 Merdeka Day!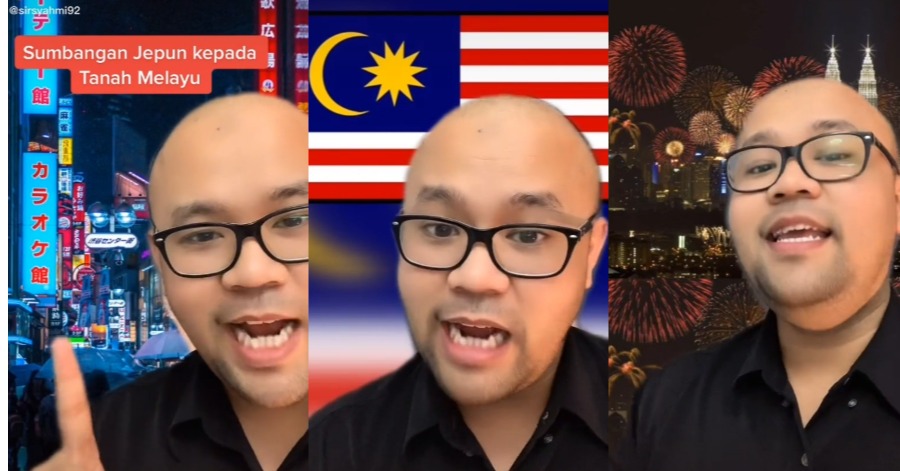 The Japanese are no longer strangers to Malaysians. Back in 1941, the Japanese invaded Malaysia or was formerly known as Malaya. The reason for this invasion was because Malaysia had half of the world's tin and a third of its natural rubber!
Long story short, after going through a gruesome invasion by a foreign power, Malaysia finally achieved its independence in 1957.
Despite being Malaysia's former enemy who attacked the country during World War 2, the Japanese have given a gift to our country on the 31st August 1957. Wonder what that gift might be?
The government of Japan gave Malaysia fireworks as a gift during the national independence day. Besides fireworks, during that time, Malaysia booked the federal flag of the land especially from a fabric factory in Japan. Our country booked about 75 flags.
Today, Japan has become a key trading partner for Malaysia. In 2019, Japan was Malaysia's fourth-largest trading partner whereas, for Japan, Malaysia was its 11th largest trading partner in the world and fourth among Asean countries after Thailand, Vietnam, and Indonesia.
Not only that, our country even had a policy that advises us to look up to Japan. Look East Policy (Dasar Pandang Ke Timur), was a policy launched by Tun Dr Mahathir in 1982. This policy means that the Malaysian government and private sector make Japan and Korea an example of work ethics and more than 15,000 Malaysians have benefitted from this policy. This policy also brought Malaysia and Japan closer and had stimulated the country's economy.
Who would have thought that Japan, which was once an enemy, has now become an ally?
Sources: TikTok Syahmi Azizi
'Kuda Merdeka' Helps Boost National Day Mood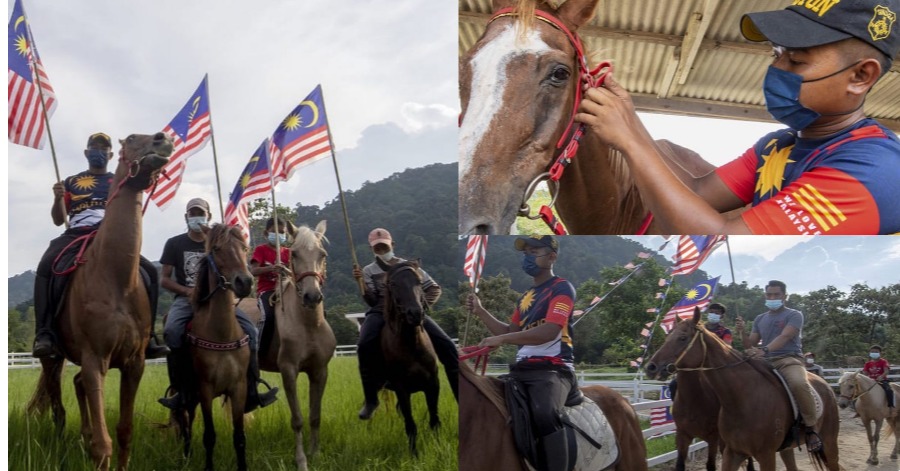 PASIR PUTEH, Aug 30  — Prior to the COVID-19 pandemic, Nik Syazwan Najmi Sukeri, would parade his horses in a procession from here to Selising and back to bring a festive mood to the National Day celebration.
However, with the various constraints due to the COVID-19 pandemic, there will be no horse procession by Nik Syazwan Najmi, 21, this year, he said.
Instead, the owner of Ladang SRZ Ternak Ladang Tenusu, Jeram Mengaji, is offering "Merdeka Ride" on his horses for the public at his farm for the National Day celebration.
Nik Syazwan Najmi has 10 horses, including the Kuda Padi, Bimo and Polo.
"Prior to the COVID-19 pandemic, my workers and I would ride the horses, like in a procession, from here to Selising about seven kilometres away, and back, to bring the festive mood and help enliven the National Day celebration.
"Since the pandemic is not over yet, I'm opening the farm to the public to come and ride on the horses while waving the Jalur Gemilang," he said when met at his farm.
He said the farm is opened from 9 am to 7 pm everyday for the "Kuda Merdeka" ride.
However, in complying with the standard operating procedures, Nik Syazwan Najmi, said only those who have completed both doses of the COVID-19 vaccination are allowed to ride the horses.
"Only 10 to 15m people will be allowed to be at the farm at one time and the free is RM5 for a 10 minute-ride on the small size horses and RM10 for the bigger size horses.
"I had planned to offer free ride for tomorrow (National Day), but has to cancel it for fear of a large crowd turning up at the farm," he added.
The eldest of the five siblings, he said, to ensure the safety of visitors, the farm is sanitised everyday and the horses are also given their bath everyday.
Sources: BERNAMA
'Bath And Body Works' Joins In The Spirit of Merdeka, New Batik Design Candle!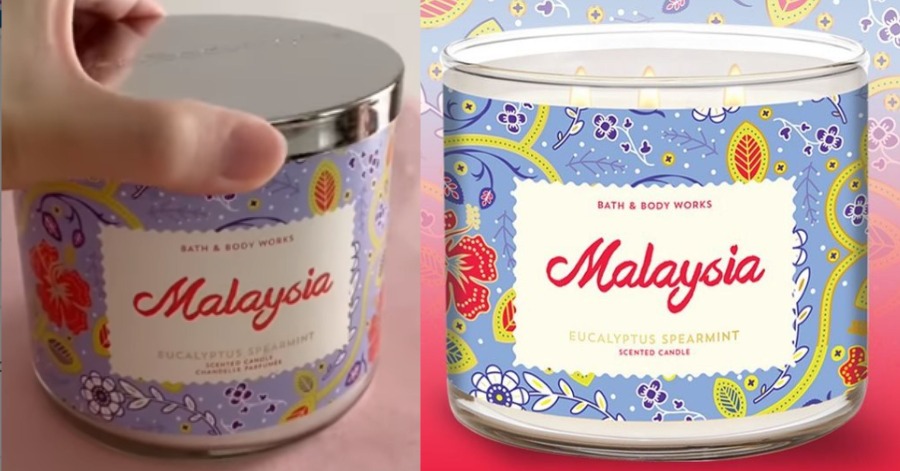 'Bath And Body Works' products are getting more and more attention from many people in this whole wide world and this also would include Malaysians. It is actually not a shocking situation just because a lot of the 'Bath And Body Works' popular products reflect exactly what it is that makes the brand so irresistibly loveable. They are warm and also comforting, changing enough to keep things interesting, remaining just enough of the same to feel familiar.
Recently, this particular 'Bath And Body Works' branch in Malaysia is enthusiastically joining the spirit of the 64th Merdeka celebration of the country. They have proudly come out with a brand new packaging for one of their candles and the packaging is a batik design. Batik is actually a type of textile art that is really famous here in Malaysia and it is also such a proud cultural practice of Malaysia, passed down from generation to generation for a very long time.
 

View this post on Instagram

 
According to the post that stated, "Let's celebrate 64 years of a colorful Malaysia! We've dressed up our Eucalyptus Spearmint candle to fit the occasion, showing off our National Pride in a wonderful and vibrant batik design! Light this 3-wick love letter to the country and reignite the moments of waking up early on a dewy". The beautiful-looking candle is now already available online and also can be bought from all the stores located all over Malaysia.
Eucalyptus spearmint is definitely a well-loved scent for creating a relaxing mood, opening up your sinuses, and offering antibacterial properties. These aromatic compounds give eucalyptus a minty scent that is sharp and also highly pungent. Like mint, inhaling eucalyptus opens your sinuses and clears your head. However, the aroma also contains some hints of the forest, which some people describe as sweet and similar to honey and it is amazing to smell.
Sources: Instagram Bath And Body Works Malaysia.