Inspirational Story: Visually Impaired Couple Strive To Make Their 'Sambal Hitam' A Success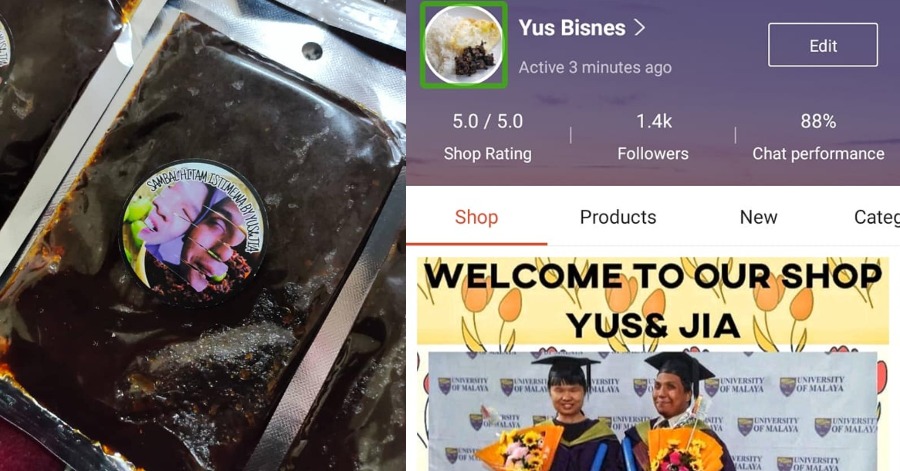 Ever since this troublesome COVID-19 pandemic occurs in Malaysia, there have been so many Malaysians that have to face the negative consequences of the situation. Some of them are actually visually impaired couples who unfortunately have lost their job and also their source of income after the restaurant they worked at closed down. The couple is known as Yusri Azis and also his beloved wife that is Nur Jannah Tan Jia Hui.
Despite the challenges that they have to face because of the hardened situation, they do not even get discouraged but instead, they have set an example for having such great resilience and also resourcefulness in overcoming their own struggles in life. In order to change their lives, they have found a ray of hope to generate income by selling food on the Shopee e-commerce platform.
Yusri Azis and his wife stated they have launched their Shopee store that is named Yus Bisnes, with the help of a fellow Universiti Malaya coursemate that is Fa Phong in the first week of June and also promotes their store on the social site Facebook. Their most popular item is their homemade sambal hitam Pahang. According to Yusri Azis's Facebook post on the 8th of June, he has successfully sold 1,000 packets of his sambal hitam.
He also recently made a video tutorial on how blind people can sell on Shopee using an app called TalkBack. Using the particular app, Yusri Azis is able to manage orders and answer questions from customers. He shared the video tutorial on Shopee Malaysia's Facebook group hoping to inspire others to achieve their dreams, regardless of their circumstances or disabilities.
He also added that Shopee organizes an average of 50 online classes per month to train sellers on topics such as basic online selling techniques, marketing, handling logistics, and customer service online through its free Shopee University seller workshop to enable sellers to optimize their sales on the platform.
Sources: Facebook Yusri Azis, Shopee Yus Bisnes.
Amazing! Check Out These 7 Affordable Airbnb Right Here In KL!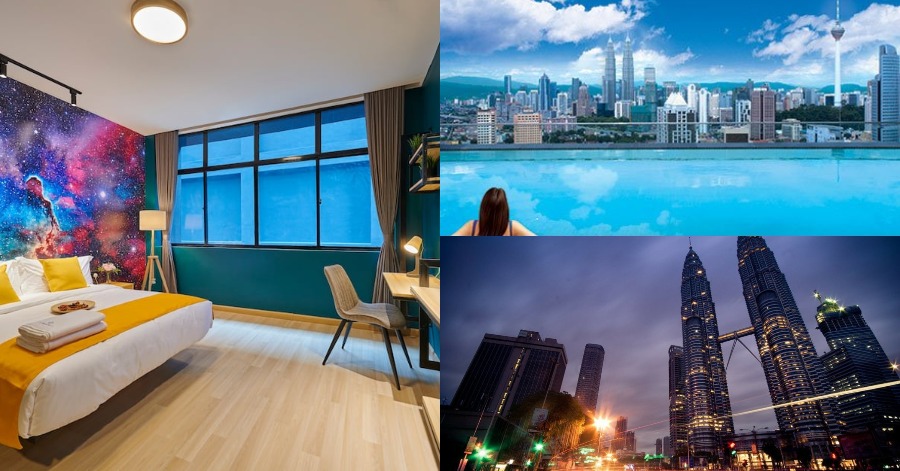 Hooray! Finally, we can now travel within the state. It's been so long since the pandemic started and we have all been stuck at home with no places to go. Recently, the government has lifted the 10km travel limit and has now allowed inter-district traveling. This means it's time for some holiday and leisure.
However, it is not always easy to find the ideal spot for holiday and that too at nearby places. Living in the urban area, we don't have many options for a holiday and sometimes it is pricy. But, not to worry. Here are 7 ideal and affordable spots you can book now to get yourself and your loved ones the holiday that you guys deserve.
1. Rustic LRT Monorail
At a reasonable price, a comfortable and roomy studio apartment that is larger than most 5-star hotel deluxe rooms in Kuala Lumpur. Up to 4 people can be accommodated. In this 4-tiered security complex with modern amenities, you may relax and feel protected. This residence is new, luxurious, and attractively furnished with the following benefits:  Infinity pool, gym, and roof top garden with a 360-degree view of KL's skyline, Monorail & LRT stations are within walking distance, great restaurants around the area, and Less than 2.5KM from KLCC, KL Tower, Bukit Bintang, China Town and more. Enjoy all these benefits for only RM157 per night.
2. Hotel Olympic
The Olympic Council of Malaysia has approved Hotel Olympic as a sports theme hotel. The hotel is located at 50150 Kuala Lumpur, Jalan Hang Jebat, City Centre. The nearest public transportation stations are the LRT and MRT stations, both of which are approximately a 5-minute walk from our hotel. We provide the greatest hospitality in Hotel Olympic Malaysia, and you will be supplied with the ideal lodging that you are searching for in a 3-star hotel.
The rooms have air conditioning, a private bathroom, a 52-inch TV, high-speed internet connection (WIFI), a hairdryer, a kettle, mineral water, a towel, and a laptop-friendly workspace are all included in the rooms. Hotel guests and visitors are invited to dine in their newly remodeled rainforest-themed restaurant and sample their appealing and reasonably priced breakfast, lunch, and supper menus! In addition, the hotel includes a 24-hour convenience shop in the lobby! Snacks, ice cream, and beverages are available for purchase. There is also a conference room with air conditioning, audio and video connections that can seat up to 100-140 people! Enjoy this Instagrammable spot for only RM64 per night.
3. Minimalist Suites [Netflix] Near KLCC
This wonderful apartment is near the Petronas Twin Towers and the KL Tower, as well as two train stations, and is surrounded by excellent local delicacies, grocery shops, exclusive shopping malls, nightlife, and family-friendly activities. The hotel-like idea, the warmth, the warm light, the comfortable bed, the kitchen, and the washing facilities inside will make you fall in love with this space! Small families, couples, lone explorers, and business visitors will definitely like this location. This apartment comes with a kitchen, dryer, washer, pool, WIFI, TV, and air-conditioner. Book this stay for only RM136 per night.
4. White Forest Pixels-Balcony
Take a stroll to the Sky Deck to take in the elegant view of Kuala Lumpur while staying in one of our royal apartments provided by White Forest Suites. All of our flats are tastefully furnished and immaculately clean. The apartment is located in the heart of Kuala Lumpur known as The Robertson Residences Bukit Bintang.
Guest have access to their infinity pool, gym, sauna, mini-golf range, chess garden, and jacuzzi. The space is equipped with a kitchen for light cooking, amenities, high-speed WIFI, free Netlflix, smart TV, and air-conditioner. Only RM109 per night.
5. Sunrise (MUJI Concept) Sky Pool Regalia KLCC View
This apartment is in the heart of Kuala Lumpur's city center. It is well-known for its rooftop infinity pool, which offers a stunning view of Kuala Lumpur. LRT and KTM public railroads are both available for use. Only a 5-minute drive from Kuala Lumpur's city center, which is packed with tourist attractions and commercial malls. The main reason to choose this place as your holiday destination is because it is stylish and you have the whole space to yourself. Not only that, this pool boasts one of the greatest and most magnificent city views in Malaysia. They even provide free WIFI, kitchen, TV and air conditioning. You can book this spot for only RM77 per night.
6. Arte Mont Kiara Muji Suites
This is the hottest spot in Kuala Lumpur right now! From the mosaic pool to the sky garden to the Iceland-themed jacuzzi and more, our apartment at Arte Mont Kiara provides you with the most instagrammable amenities! Stay in one of our muji-themed duplex apartments, which are ideal for a group of four. Some of the facilities provided are WIFI, kitchen, pool, free parking, washer, dryer and you can even stay for a longer period of time. Make this your holiday spot for the only RM187 per night.
7. Tania's Villa
If you'd like to experience home away from home, this is the best spot for you. This cozy home is located in Damansara Heights and is nearby to MRT stations. It also has easy access to highways if you need to head to Kl, PJ, and Mont Kiara Bangsar. This spot has facilities like a kitchen, private swimming pool, EV charger, WIFI, free parking, and the best part, pets are allowed. You can also have a BBQ party by the pool as they provide the BBQ set for rental. You only need to bring the ingredients. Experience all this for only RM148 per night.
Sources: airbnb
Shop Review: The Pyes Is Where You Can Get Pie-Craving Fix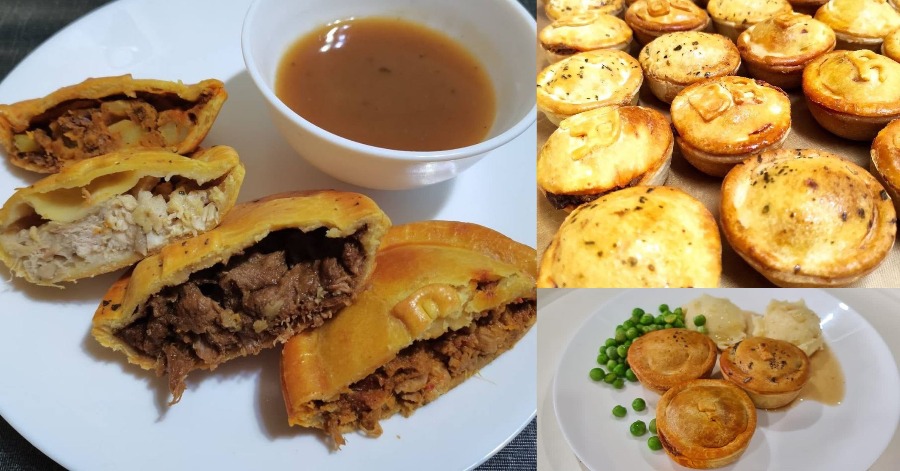 The Pyes is actually a local pie brand that serves a variety of premium pies options with fillings cooked according to Malaysian tastes. This would definitely be one of the best selections for many Malaysians to enjoy the crossover between western and also eastern delicious dishes. The highlight that makes this pie interesting is the various flavors.
This particular shop serves pies in the selection of sweet pie, family pie, round pie, mini pie, and also regular pie. From all the selections of types of pie, customers also could choose the different fillings for their pie according to their personal preferences and also favorites. Customers would never get bored with their gourmet pie because there is a lot to choose from.
These are the selections of the fillings of the pie:
1) Sweet Pie
Apple Pie
Pineapple Pie
Apple Crumble Pie
Pineapple Crumble Pie
Pecan & Walnut
2) Family Pie
Chicken Mushroom
Chicken Rendang
Beef Rendang
Beef Steak
Lamb Keema
Lamb Western
3) Round Pie
Chicken Mushroom
Chicken Rendang
Chicken Curry
Beef Rendang
Beef Steak
Lamb Keema
Lamb Western
Mix Pack
4) Mini Pie
5) Regular Pie
Chicken Mushroom
Chicken Rendang
Beef Rendang
Beef Steak
Lamb Keema
The Pyes have really think of all their selling strategy for the pies. This is because of the pies that the customer's order can be delivered to the warm or even frozen. By doing it this way, people could enjoy the pies later if they want to.
Sources: Instagram The Pyes.
HKTB Extends "Hong Kong Neighbourhoods" To Launch "West Kowloon" for Promoting Art and Culture Tourism of the Neighbourhood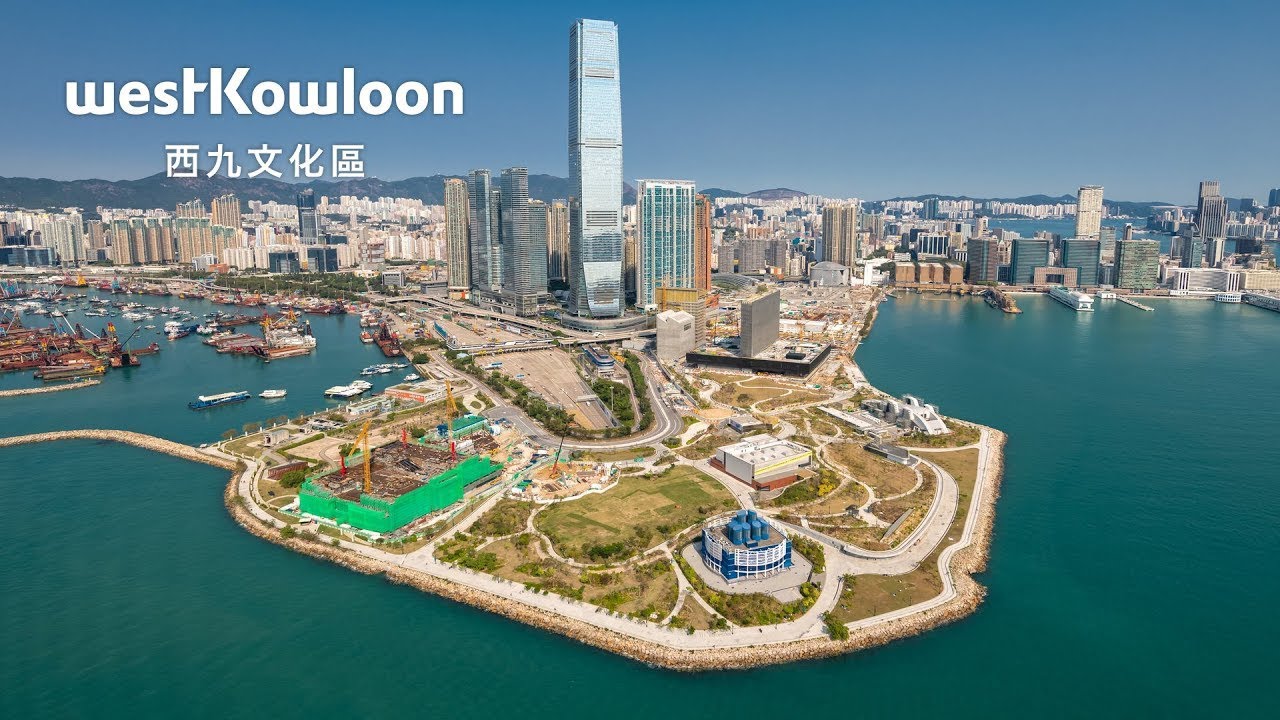 The Hong Kong Tourism Board (HKTB) today (9 September) officially launched a West Kowloon neighbourhood promotion, after featuring popular promotions "Old Town Central" and "Sham Shui Po – Every Bit Local" in the "Hong Kong Neighbourhoods" campaign. The "West Kowloon" neighbourhood programme highlighting the district's rich heritage and vibrant street life in Yau Ma Tei and Jordan along with its two new world-class museums – M+ and the Hong Kong Palace Museum in the West Kowloon Cultural District (WKCD) – which will open in the end of the year and next and become landmarks in art and cultural tourism.
As art is inseparable from our life, the West Kowloon neighbourhood promotion builds a bridge between the local life of the bustling communities of Yau Ma Tei and Jordan, which are home to many historical architectures, time-tested stores and traditional craftsmanship, and the artistic lure of the WKCD. Throughout the continuous evolution and revitalisation, the neighbourhood has a lot of astonishing experiences for the public and visitors to uncover. The HKTB expects the campaign to draw people from across the city to rediscover it from new perspectives to drive in-depth local tourism and stimulate economic activities in the neighbourhood.
HKTB Executive Director Mr Dane Cheng said: "Experiential tourism is a rising and inspiring trend, particularly where it blends arts and culture with authentic local life. The HKTB has chosen to launch this large-scale promotion before borders reopen because we want residents to savour the experience first and discover hidden gems in their community, rekindling their enthusiasm and appreciation and creating a harmonious art-life aura in the West Kowloon neighbourhood.
We hope Hong Kong people will then share their experiences with friends and relatives outside Hong Kong. Besides, visitors around the world are eager to travel as soon as travel restrictions are eased, and we will be able to capitalise on the opportunities if we are well prepared in advance. We are also encouraging tour operators to create in-depth tours for Hong Kong residents to help them plan ahead for the return of international visitors.
"The HKTB believes the West Kowloon neighbourhood programme will not only drive domestic tourism and stimulate consumption, but also spread a positive message and showcase Hong Kong's new art and cultural travel opportunities to the world and fire up interest in the district among visitors, who are keen to return as soon as borders reopen."
Five walking routes to uncover a rich heritage
Starting from the beautiful shoreline at the West Kowloon Cultural District, the "West Kowloon" neighbourhood programme extends to Yau Ma Tei and Pitt Street, and spans along Nathan Road to reach streets and paths around Austin Road, Jordan.
To reflect the unique characteristics of each area, the HKTB has devised five thematic walking tours focused on Heritage & Craftmanship, Cultural Arts and Culinary Arts. The routes cover many little-known corners of the city that are often overlooked by residents and visitors alike, such as a bookstore hidden in the Tin Hau Temple, a seafood restaurant transformed into an art hotel, and a condiment store promoting western dishes fused with traditional fermented tofu.
The routes offer recommendations for more than 50 points of interest, shops, and restaurants, and are available as an interactive e-map on the West Kowloon neighbourhood campaign page of the HKTB website. Special offers have been arranged with shops and restaurants in the neighbourhood for people who take part in the walks to encourage spending.
Photo spot with spectacular large-scale art installations
Art is a central theme of the West Kowloon neighbourhood promotion. As well as the M+ and the Hong Kong Palace Museum, the HKTB has teamed up with "FriendsWithYou", a pop-art duo featuring Samuel Borkson from Florida, US, and Arturo Sandoval III from Cuba, to bring their gigantic art installation and signature pop-art characters to Hong Kong and share the positive vibes to the neighbourhood. The installations will be in the Art Park in the West Kowloon Cultural District from 23 September to 14 October with free admission, giving visitors the opportunity to enjoy international art exhibits and create photo memories.
A variety of areas will be decorated as part of the promotion. The footbridge and subway between the WKCD and Jordan will be transformed into an "Arts Corridor". Thematic buntings with a programme webpage QR code will meanwhile be displayed around the Yau Ma Tei and Jordan MTR stations and on lampposts along Museum Drive. The HKTB has also made promotional films featuring well-known personalities from the neighbourhood, who guide viewers along the streets and sidewalks and give their first-hand perspectives to viewers worldwide who are currently unable to visit in person.
For more details about the "Hong Kong Neighbourhoods – West Kowloon" campaign, please go to www.discoverhongkong.com/westkowloon-en