Archer Syaqiera Takes Opponent Down To The Wire Before Bowing Out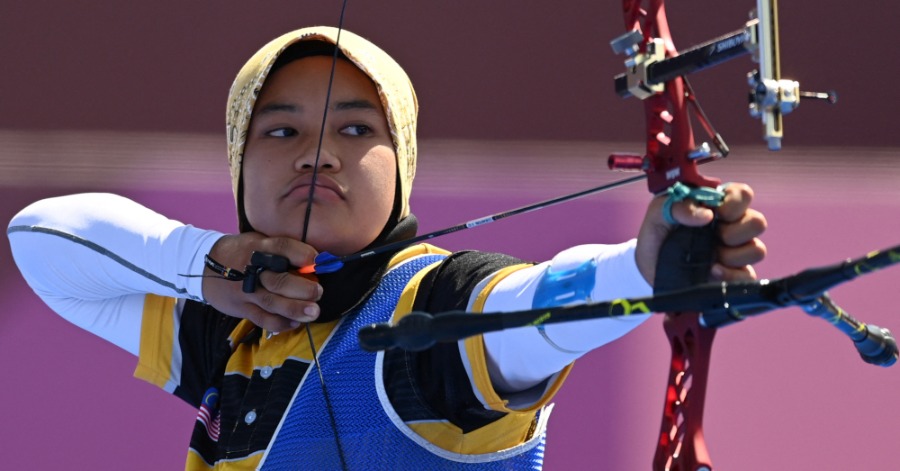 TOKYO, July 27 — National archer Syaqiera Mashayikh may have crashed out in the first round of the women's individual recurve event today but at least she went down fighting by taking her opponent all the way down to the wire.
Syaqiera, 20, lost 4-6 to the Russian Olympic Committee's (ROC) Elena Osipova at the Yumenoshima Park Archery Field here.
The Malaysian got off to a promising start when she won the first set 26-25 to go 2-0 up but Elena hit back to win the second set 28-26 to make it 2-2.
The two archers drew the next two 26-26 and 25-25, leaving them tied at 4-4.
In the decider, Syaqiera and Elena each shot a nine with their first arrow before the ROC archer edged ahead to 19-18 at the second arrow. Elena then confirmed her place in the next round when she shot a 10 to win 29-23 for a 6-4 triumph.
Last Friday (July 23), Syaqiera caused a sensation by finishing in 43rd spot after collecting 630 points to improve on her previous best of 619 points which she achieved at the final Olympic qualifier in Paris last month.
With Syaqiera's exit, all eyes will now be on Khairul Anuar Mohamad when he faces Antti VIkstrom of Finland in the first round of the men's individual recurve event at the same venue on Wednesday (July 28).
Sources: BERNAMA
'I Hope My Mom Saw My Success From Up There' – Yee Khie
TOKYO, Aug 30  – Tears ran down the cheeks of national powerlifter Jong Yee Khie as he mounted the podium after winning the silver medal in the men's 107 kilogramme category at the Tokyo Paralympic Games today.
Yee Khie clearly was unable to hide his feelings after not being able to celebrate his success here along with his mother, the late Chow Good Sing, who died of a heart attack last October.
"If the Paralympic Games were not cancelled because of COVID-19 last year, my mother would have seen my success, but what to do she had to go first.
"While on the podium, my little heart told my mother that I had won the silver medal, I hope she heard it and is proud of me from up there," he told Bernama in a tearful voice.
What was more saddening for him was  that the constraints of a tight training schedule as well as the Movement Control Order (to curb spread of COVID-19 in Malaysia) caused him to be unable to be by his mother's side before she breathed her last at the age of 71.
"When I arrived in Sarawak, I was only able to attend the prayer ceremony before my mother's body was cremated," he added.
In today's action, despite being unsuccessful in his first attempt to lift 230kg, he bounced back to confirm the silver medal in his second attempt, this time lifting 237kg.
However, the 32-year-old hairdresser from Batu Kawa, Kuching was later unable to improve further when he failed in his third and final attempt to lift 245kg.
But he got to make up for his disappointment after finishing seventh in the 97kg category when making his Paralympics debut in Rio 2016.
Yee Khie, who was 'envious' of the success achieved by three national para athletes, namely Mohamad Ridzuan Mohamad Puzi who won gold in the 100m T36, Muhammad Ziyad Zolkefli (gold in the T20 shot put)  and bronze medallist Abdul Latif Romly (T20 long jump) at Rio 2016,  admitted that their feats also burned his passion to win a medal in Tokyo.
On his performance today, the second of three siblings was unhappy that he failed in his challenge for the gold medal that was won by Sodnompiljee Enkhbayar of Mongolai, after failing in his last lift.
Commenting further, Yee Khie said that his right hand which was seen to be unstable in his last attempt had caused the lift to be untidy and was subsequently disqualified by the referee.
Nevertheless, he refuses to let his dream for gold to be buried and will return to try to win the coveted medal in Paris 2024.
Meanwhile, Yee Khie also said that his teammate, Bonnie Bunyau Gustin, who was the country's first gold medallist in Tokyo, which he won in the men's 72kg category on Saturday, believed in his ability to bring home a medal for the country.
He said that he also wanted to dedicate the medal he won in conjunction with Malaysia's National Day, which will be celebrated tomorrow, to the country and thanked all Malaysians for the support given to the Paralympic athletes competing in Japan.
Sodnompiljee started convincingly when he did 241kg to break the Paralympics record of 238kg set by Pavlos Mamalos of Greece at Rio 2016 and thereafter again stole the limelight when he broke his own record after lifting 245kg in his second attempt.
The bronze medal went to Saman Razi from Iran who did 231kg. Today is the last day of the powerlifting competition at the Games.
Sources: BERNAMA
Tokyo Paralympics Medal Tally As At 12.30 PM Monday August 30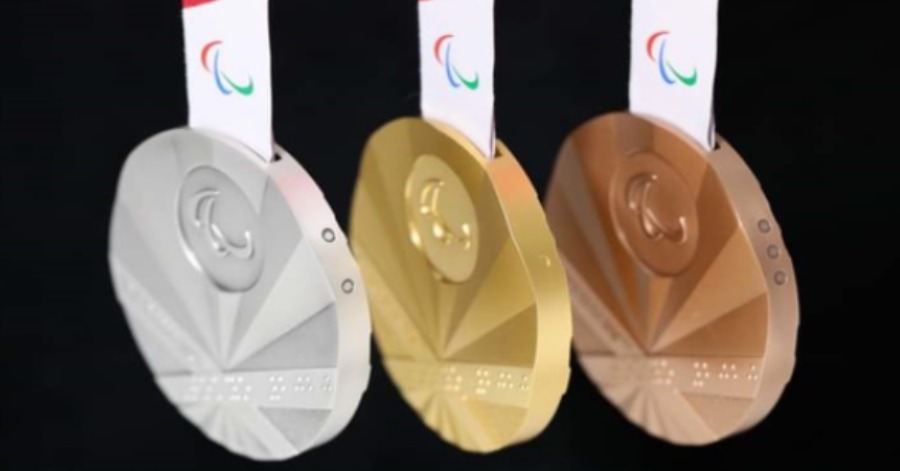 TOKYO, Aug 30 — Following is the Tokyo Paralympics medal tally on the sixth day as at 12.30 pm Malaysian time today (1.30 pm local time):
| | | | | |
| --- | --- | --- | --- | --- |
| Ranking | Country | Gold | Silver | Bronze |
| 1 | China | 47 | 30 | 29 |
| 2 | Great Britain | 24 | 19 | 19 |
| 3 | USA | 15 | 17 | 9 |
| 4 | RPC | 15 | 11 | 28 |
| 5 | Ukraine | 11 | 23 | 12 |
| 6 | Brazil | 11 | 5 | 15 |
| 7 | Azerbaijan | 9 | 0 | 4 |
| 8 | Australia | 8 | 16 | 13 |
| 9 | Italy | 8 | 10 | 9 |
| 10 | Netherlands | 8 | 7 | 5 |
| …38 | Thailand | 1 | 1 | 3 |
| …41 | MALAYSIA | 1 | 1 | 0 |
| …43 | Singapore | 1 | 0 | 0 |
| …54 | Indonesia | 0 | 1 | 2 |
| …59 | Vietnam | 0 | 1 | 0 |
(Note: RPC refers to Russian Paralympic Committee. Russia banned from using the country's name, flag or anthem for doping offences.)
Sources: BERNAMA
Tokyo Paralympics: Different Fates For Two National Swimmers Despite Missing Finals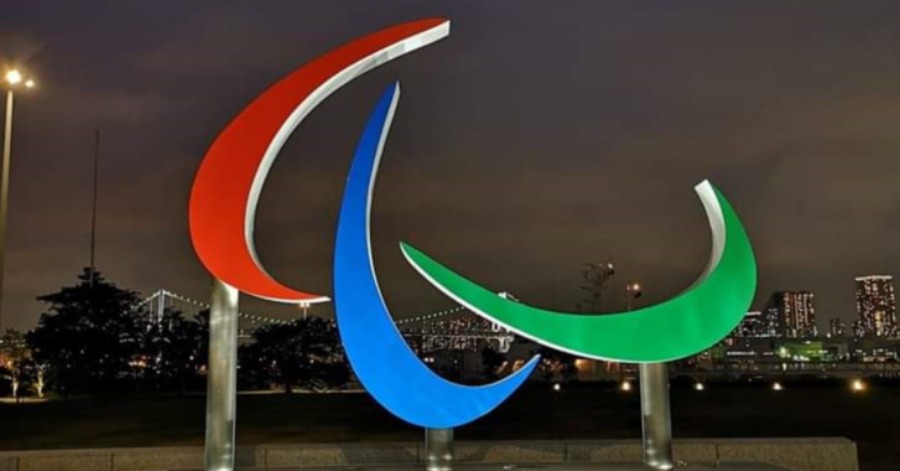 TOKYO, Aug 27 — Two national swimmers suffered different fates despite failing in the qualifying stage on the third day of the Tokyo Paralympic Games today.
Despite finishing in last position in the second qualifying heat of the S5 women's 50 mm butterfly (physical disabilities) category, Brenda Annellia Larry put on a commendable performance by improving on her personal best in the competition held at the Tokyo Aquatics Centre.
The 16-year-old Sabahan clocked 1 minute 00.62 second (s) to finish seventh.
The country's youngest athlete to the Tokyo Paralympics previously had recorded a personal best of 1: 09.72s in Singapore in 2019.
Chinese swimmer Dong Lu won the heat in a time of 40.74s followed by her compatriot Jiao Cheng who did 43.05s while third place went to Brazilian swimmer Joana Maria da Silva Neves Euzebio (46.32s).
Brenda finished 13th out of 14 swimmers from the two qualifying heats with only the top eight making the cut for the final.
Meanwhile, another national swimmer, Jamery Siga, was clearly frustrated when his dream to at least renew his personal best in the men's category of the same did not materialise after clocking 40.32s.
His previous best personal best was 38.28s done at the World Swimming Championships in London in 2019.
The 36-year-old Sarawakian admitted that a poor start in today's competition resulted in him finishing in last place in the third qualifying heat.
Jamery, for whom this is his third Paralympic appearance, finished sixth in the heat while Tao Zheng from China topped the competition and also broke the world record with a time of 32.34s, followed by Yaroslav Semenenko of Ukraine with 34.55s while host swimmer Kaede Hinata took third place with a time of 37.8s.
Meanwhile, Jamery, who was stricken by polio at the age of five, which caused his right arm to shrink, also revealed that his campaign at the Tokyo Paralympics is probably his last given his advanced age if he wants to compete in Paris in 2024.
"I apologise to all Malaysians for not being able to do my best, maybe this is my last Paralympics, age is also catching up," he told Bernama in a tearful voice.
However, he is still interested in continuing to represent the country and will return to focus on his next missions in tournaments as well as other sporting events, including the Asian Para Games in Hangzhou, China next year.
Sources: BERNAMA