Can't Believe It! Here Are The List of 8 Hardest Languages To Learn!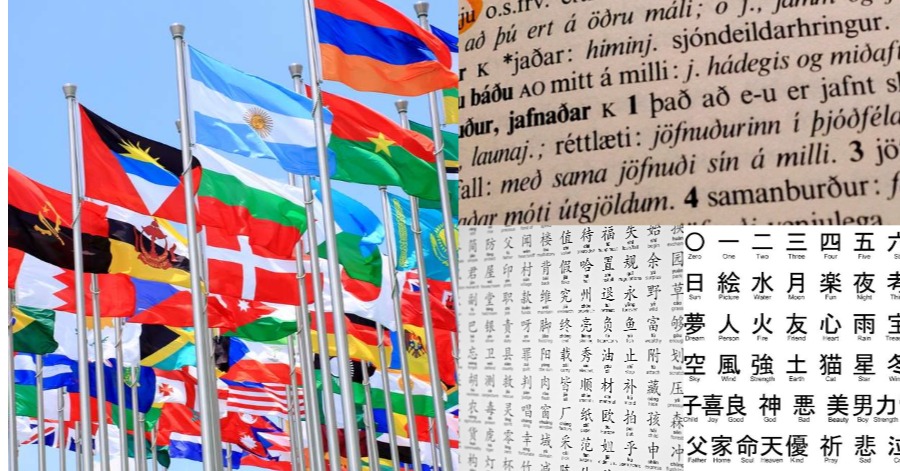 Some people struggle with the English language as it can be quite challenging and made up of many parts. Even so, English is not one of the hardest languages to learn. This is why English speakers are struggling even more to learn other languages.
But if you love a good challenge, here is a list of the 8 hardest languages to learn:
1) Mandarin
Did you know? Mandarin is the most spoken language in the world! But since Mandarin is a tonal language, it may be difficult for English speakers to master the language. When speaking in Mandarin, you can have a completely different meaning of a word just by changing your tone. That is apart from the thousands of characters, complex systems, and homophones that made Mandarin one of the hardest languages to learn in the world.
2) Icelandic
The Icelandic language is hard to learn because there are only less than 400,000 native speakers that can help you with this language. While it has not changed since it settled in the ninth and tenth centuries, new meaning is continuously added to old words.
3) Japanese
The first thing that you need to know is that the Japanese language has three independent writing systems which are hiragana, katakana, and kanji. You also need to learn thousands of different characters in the mentioned writing systems before you can actually start to write. But somehow, the Japanese language is easier to learn compared to Mandarin!
4) Hungarian
Most of the languages come from the Indo-European language root but Hungarian is excluded. Hungarian is a Finno-Ugric language with 26 different cases where words are formed in an isolated manner. This language is totally different from how English speakers normally structure words. For example, 'with my (female) friend', is translated into 'barátnőmmel'.
5) Korean
Korean is another isolated language and it does not appear to be related to any other language. It has seven different speech levels that depend on the formality, complex grammar, and its own alphabet. Basically, the Korean language is not like other languages you may have heard of.
6) Arabic
There are over 221 million native speakers of Arabic languages but it is still one of the hardest languages to learn. First, vowels are not included in the writing. Not only that but Arabic letters are also written in four different forms depending on where they are placed in a word. Last but not least, there are many different kind of Arab dialects making it very hard to learn.
7) Finnish
Finnish may look and sound like English but the complexity is similar to Hungarian where it is a Finno-Ugric language. The struggle to learn this language doesn't end when you've gotten the hang of it, as modern Finnish speakers have their own way of expressing emotions. It is totally different from the traditional translation!
8) Polish
There are two main factors why Polish is very hard to learn. First, the pronunciation. The basic greeting such as 'hello' is translated into 'cześć'. Now, before you think it's easy, know that the 'c' and 's' are pronounced completely different than in the English language. Next, the Polish language has seven different grammatical cases that are divided by gender, and seventeen different cases for numbers. This means, there are seventeen different ways to say the number 'ten' itself.
Sources: Jumpspeak, Taleninstituut Nederland
(Video) Having Bad Breath? Try These Dental Tips For A Fresher Breath!
Almost everyone has bad breath from time to time. However, for some people, bad breath is a constant issue for which they are unable to find a solution. When their breath is perfectly neutral, some people believe they have terrible breath. Others are completely unaware that they have bad breath. It's difficult to smell your own breath, much less estimate its odour.
Bad breath is usually caused by bacteria in the mouth, which is always present. Bits of food become stuck in your teeth when you eat. Bacteria thrive on these scraps of food, producing foul-smelling sulphur compounds in the process. It's no wonder, however, that the majority of cases of halitosis are linked to poor dental hygiene, gum disorders like gingivitis and periodontitis, and dry mouth, a condition in which the salivary glands are unable to produce enough saliva to keep your mouth moist.
Apart from visiting the dentist regularly to fix your breath, here are some tricks you can practice at home.
1. Brush and floss regularly- Brushing your teeth assists in the removal of food and plaque, a sticky white film that forms on your teeth and contains bacteria. Flossing cleans and dislodges food lodged between your teeth, lowering bacteria and plaque levels in your mouth.
2. Clean your tongue- Food debris and germs collect on your tongue during the day, coating it in a mucus-like substance. To clean your tongue, you can use a tongue scraper or even use your regular toothbrush.
3. Drink more water- Water is probably the simplest cure for foul breath. It keeps your mouth moist while also rinsing dirt from your teeth, limiting the growth of harmful bacteria. Saliva is our mouth's first line of defence against microorganisms, and drinking water boosts saliva production.
4. Watch what you eat- Food particles breaking down in and around your teeth might lead to an increase in bacteria and a bad odour. Bad breath can also be caused by particular meals, such as onions, garlic, and spices. These meals enter your bloodstream after digestion, go to your lungs, and alter your breathing.
Sources: TikTok Dr Ben Gee, Balboa Island Dentistry, Healthline, Mayo Clinic
(Video) The Word 'Good' Is So Overused, Try Saying These Other Options Instead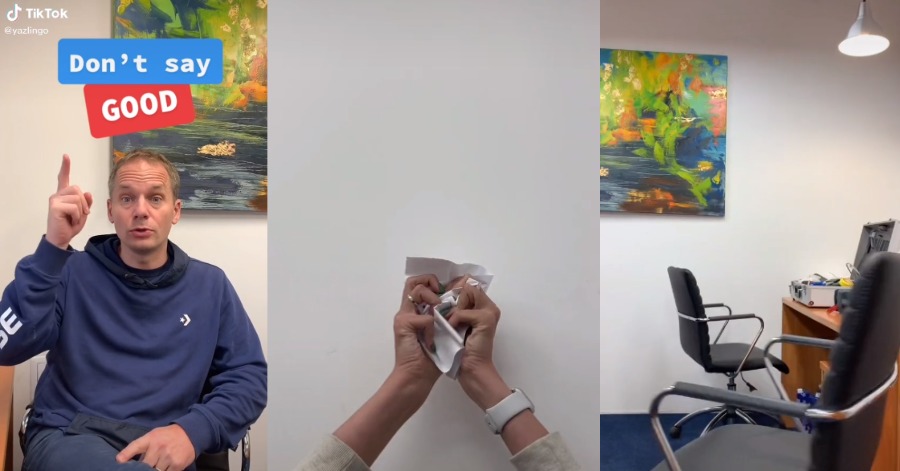 Vocabulary is definitely something that we learn every single time that we are still breathing in this world. That is because there are actually still so many words that someone could learn even though the words already have the same meaning as the word that we already know. Using other vocabularies in life would help us grow as a person.
One particular word that is often overused in our life would be the word 'good' when we talk to other people. We always use that particular word when we are trying to give compliments, praising someone, or many others. After a while, the word 'good' itself now has become too boring and too normal to be heard. Try saying these other options.
Other than the word 'Good', you can try these words instead:
Acceptable.
Excellent.
Exceptional.
Favorable.
Marvelous.
Satisfactory.
Superb.
Wonderful.
Sources: TikTok Yazlingo.
MR D.I.Y. Group Drives Growth With 35 New Stores Across 7 States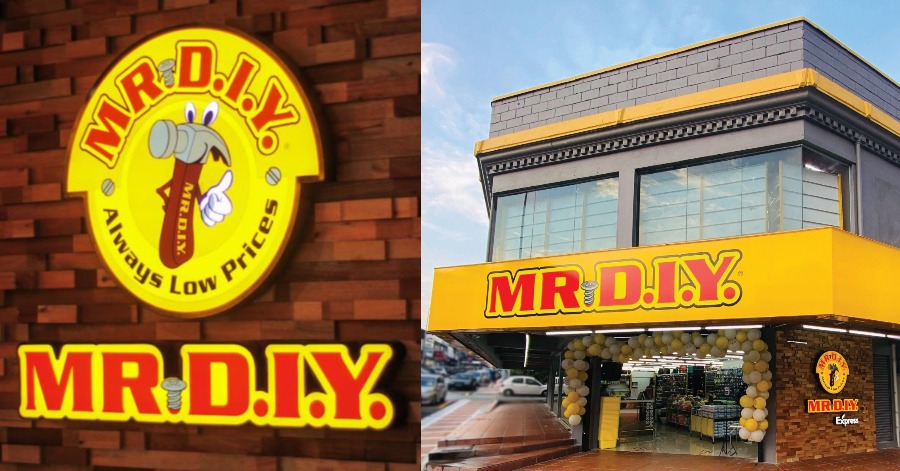 KUALA LUMPUR, 30 SEPTEMBER 2021 – Malaysia's favourite home retailer MR D.I.Y. Group ("The Group") will become even more accessible to Malaysians this October, when the Group opens 35 new stores in seven states across the country.
The new stores will comprise 14 MR. D.I.Y., three MR. D.I.Y. Express, six MR. TOY and 12 MR. DOLLAR stores, bringing the total number of stores across the group to 830.
Announcing the new store opening plan, Andy Chin, Vice President of Marketing, MR D.I.Y. Group (M) Berhad, said, "MR DIY is committed to taking our promise of "Always Low Prices" at convenient locations to even more Malaysians.  We realise that buying patterns have changed — consumers are shopping closer to home, and also looking for stores that can meet their need for a diverse range of products, which is something we do very well with our 830 stores and close to 20,000 product types.  These 35 new stores will allow more customers to access us more easily, and further drive the growth of our business."
He added that of special interest to those in rural areas would be the opening of three new MR. D.I.Y. Express stores.  "MR. D.I.Y. Express is our new store format specially designed for high-density locations and rural communities.  Ranging from 2,000 sqft to 3,000 sq ft in size, these stores are well-stocked with the everyday essentials the local communities need.  We use stringent data analytics to identify buying trends in different locations, and then stock the stores accordingly to ensure customers find our modern retail format relevant and useful."
Chin also announced the launch of this year's "Grand Opening Event" [GOE], which will run the first two weekends in October at the new stores.  This is the fourth time MR D.I.Y. Group is running this annual campaign.
In conjunction with this year's GOE, MR D.I.Y. will be giving away 41,000 free gifts worth more than RM1.2 million to early-bird customers at each new store. Early-bird customers who spend a minimum of RM40 at MR. D.I.Y. stores, or RM30 at MR. DOLLAR and MR. TOY stores will be entitled to free gifts. Eligible customers stand to receive rainbow umbrellas, water bottles, plush toys, MILO 3-in-1 packs, Koko Krunch cereals, Hershey's chocolate drinks, and many more.
Chin also said that customers can be assured of a safe and comfortable shopping experience when visiting its stores, with 99% of its retail staff nationwide fully vaccinated. The Group also continues to adhere to the SOPs mandated by the Ministry of Health.
To find out more about the GOE, visit: http://bit.ly/nationwidegoe4mrdiy.
The list of stores participating in the GOE is as follows:
Batch 1 (1st – 3rd October 2021)
Brand
State
Store
MR D.I.Y.
Johor
Pusat Perniagaan Kota Emas, Pontian
MR D.I.Y.

Express

Kelantan
Jalan Pasar Lama, Wakaf Bharu
MR D.I.Y.
Kelantan
Jalan Telipot, Kota Bahru
MR D.I.Y.
Melaka
Taman Paya Rumput Utama
MR D.I.Y.
Melaka
Taman Perindustrian Tanjung Minyak Perdana
MR D.I.Y.
Melaka
Taman Sungai Baru Ilir Jaya, Masjid Tanah
MR D.I.Y.
Penang
Taman Oren Hartamas, Kubang Semang
MR D.I.Y.
Penang
Villa Harmoni, Tasek Gelugor Seberang Prai Utara
MR D.I.Y.
Selangor
Taman Muara Esbee, Sungai Buloh
MR D.I.Y.
Selangor
Sunway Pyramid
MR. TOY
Kuala Lumpur
AEON Alpha Angle, Wangsa Maju
MR. TOY
Kuala Lumpur
MyTOWN Shopping Centre
MR. TOY
Penang
Kompleks Bukit Jambul, Bayan Lepas
MR. DOLLAR
Johor
Angsana Johor Bahru Mall, Johor Bahru
MR. DOLLAR
Johor
KIPMall Kota Tinggi, Kota Tinggi
MR. DOLLAR
Penang
Kompleks Bukit Jambul, Bayan Lepas
MR. DOLLAR
Selangor
Dataran C180, Cheras Selatan
Batch 2(8th – 10th October 2021)
Brand
State
Store
MR D.I.Y.

Express

Johor
Taman Pura Kencana, Batu Pahat
MR D.I.Y.
KL
Ativo Plaza, Bandar Sri Damansara
MR D.I.Y.

Express

KL
Jalan Telawi 4, Bangsar
MR D.I.Y.
Melaka
Taman Satu Krubong
MR D.I.Y.
Melaka
Pusat Perniagaan Lubok Cina
MR D.I.Y.
Melaka
Taman Duyong Bestari, Ayer Molek
MR D.I.Y.
Penang
Pusat Perniagaan Oren, Butterworth
MR. TOY
Johor
AEON Taman Universiti, Skudai
MR. TOY
Penang
All Seasons Place
MR. TOY
Selangor
Central i-City, Shah Alam
MR. DOLLAR
Johor
Kluang Mall, Kluang
MR. DOLLAR
Perak
Terminal Pusat Perdagangan Kampar, Kampar
MR. DOLLAR
KL
MyTOWN Shopping Centre
MR. DOLLAR
Melaka
Bandar Baru Sungai Udang, Melaka
MR. DOLLAR
Penang
Pusat Perniagaan Oren, Butterworth
MR. DOLLAR
Penang
All Seasons Place
MR. DOLLAR
Selangor
Tropicana Gardens Mall, Petaling Jaya
MR. DOLLAR
Selangor
Sunway Pyramid
More information on MR D.I.Y. is available at www.mrdiy.com, e-commerce platform, www.mrdiy.com.my, Facebook and Instagram.
A MR D.I.Y. Express store at Jalan Telawi 4, Bangsar which was operational since 4th September 2021. The store will be officially launched under MR D.I.Y. Group's  "Grand Opening Event" [GOE].
MR D.I.Y Group will be giving away 41,000 free gifts worth more than RM1.2 million to early-bird customers at each new store, in conjunction with the "Grand Opening Event" [GOE].