Father Willing To Modify A Sports Car Bought 27 Years Ago For His Son's Marriage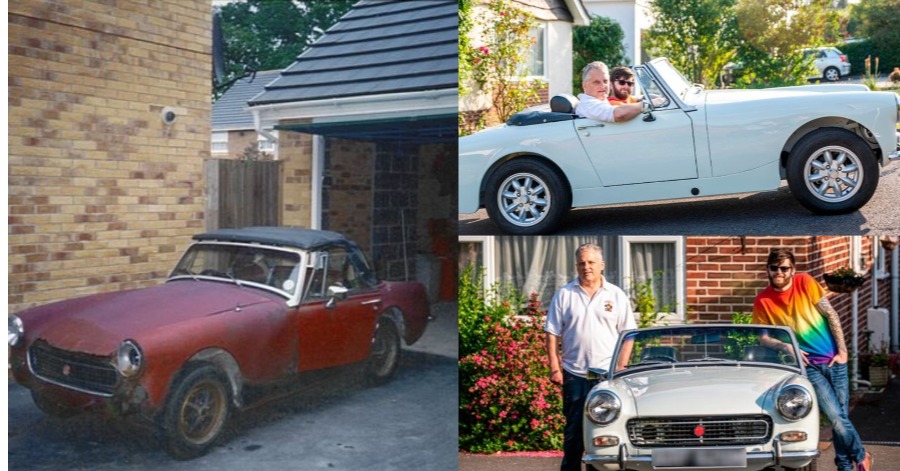 A father who bought a sports car in the year his first child was born, finally made a modification to the vehicle after 27 years. David Townend who is 60 years old, bought a 1974 MG Midget model car in 1994 for almost £300 (around RM1, 727).
He then kept the old car in his garage with the intention of refurbishing it.
However, the wish was delayed due to many other things going on in his life.
The father of two then wanted to do it after his son Michael asked to use the car on his wedding day.
David who lives with his wife in Poole, Dorset in England said: "My son's wedding gave me the impetus to finish it. I just needed that to do the final push.
"We're hoping to use it for the wedding. It's a very small car so I think they will have trouble getting his wife, Millie, into it in her wedding dress. They want to do a photoshoot with the sports car in the New Forest, "he said.
The wedding day was originally scheduled for April but was postponed following the Covid-19 pandemic.
Still, it gave David more time to complete the car's modifications.
"It did give me a bit more time because it had to be professionally sprayed. You don't do that kind of thing yourself because the quality of the paint is the first thing that people look at.
"I haven't been working on it continuously for 27 years. I did bits here and there but life gets in the way. We had a family, we moved and did a lot of house extensions which I did all myself. There were other priorities but those have faded away a bit now, "he added.
Repairing the car was not cheap, so much so that David did not count the actual amount he spent on his small sports car all this time.
"It has cost a lot of money – so you have to justify it. I have no idea how much I've spent. I haven't added it up because I don't want to know – it will be far more than the car is worth," said David.
Sources: Daily Star
(Video) Why Was It Recently Closed? 'Do-Dodonpa Roller Coaster' In Japan!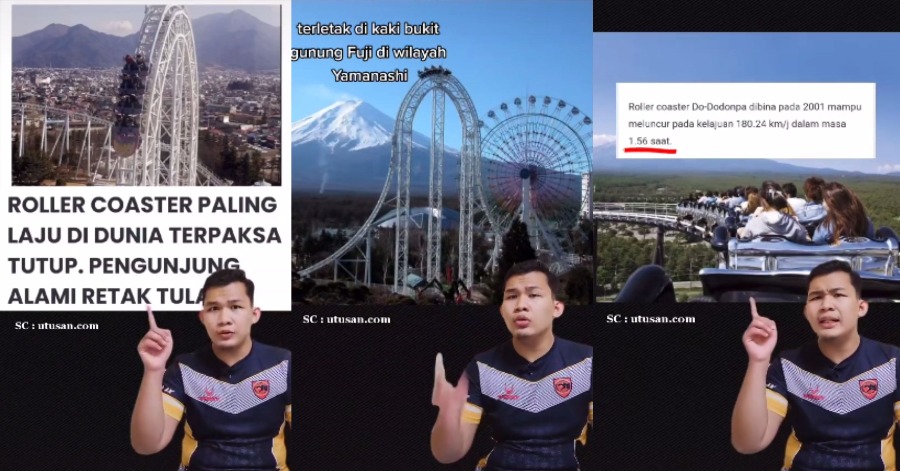 Do-Dodonpa is a steel roller coaster located at Fuji-Q Highland in Fujiyoshida, Yamanashi, Japan. The launched coaster uses compressed air to propel its trains. It opened on 21 December 2001 as the fastest roller coaster in the world with the fastest acceleration, reaching a top speed of 172 km/h in 1.8 seconds. The fastest speed record was previously held by 'Superman: The Escape' and 'Tower of Terror', both of which accelerated to 160.9 km/h in 7 seconds.
The ride was refurbished in 2017, removing the top hat element in favor of a vertical loop and increasing its speed and acceleration to 180 km/h in 1.6 seconds. The Do-Dodonpa roller coaster was shut down in the month of August 2021 after several riders reported broken bones. Four people ranged in age from their 30s to 50s who rode the coaster between December 2020 and August 2021 reported suffered a fractured neck, chest, and also backbones.
The only incident before 2020 December that raised concerns occurred on 15 May 2007, when a 37-year-old man sustained a minor injury after a plastic cover at the front of the train came loose and hit his right knee. An architecture professor who specializes in coaster designs told that the injuries could possibly be the outcome of rapid acceleration.
Sources: TikTok Murshid.
Sarcastic Comments Do Not Dampen Sahul Hamid's Spirit To Enliven National Day Celebration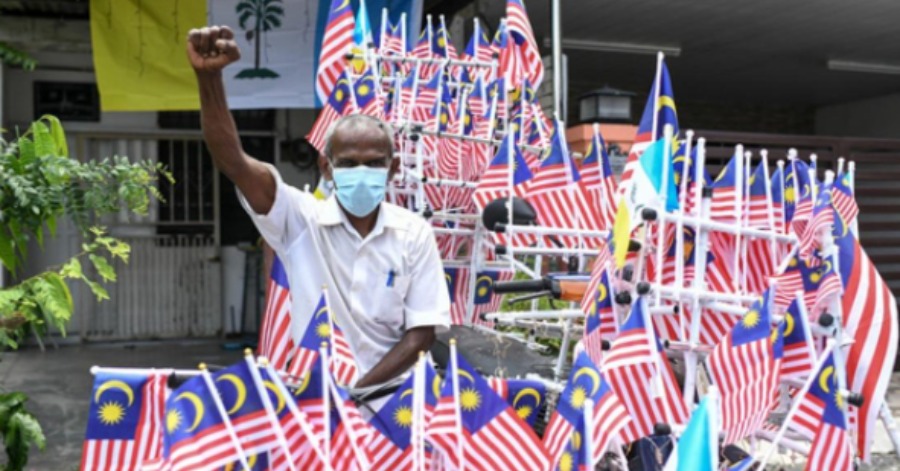 BATU KAWAN, Aug 31 — Despite the sarcasm from some quarters, it did not dampen Sahul Hamid Abdullah's spirit to decorate his motorcycle with the mini-flag of Jalur Gemilang to welcome the National Day celebration.
Sahul Hamid, 53, who has been doing it for past six years, said he regarded the sarcastic comments hurled at him as lack of understanding by the quarters concerned on the true meaning of independence.
"Sometimes people think I'm crazy when they see the Malaysian flag decoration all over my motorcycle. But, I don't care. If only they know the true meaning of independence, then they will understand," he said.
Sahul Hamid, who is a Health Care Assistant at Sungai Bakap Hospital, said his passion in decorating his motorcycle with the Jalur Gemilang for the National Day celebration attracted some motorcyclists, who also did the same with their motorcycles.
"Even the children want to fly the Jalur Gemilang on their bicycles, and this year, for the first time, I'm helping the children in my neighbourhood to decorate their bicycles with the national flag.
"This is what we want because through this small campaign we can instil the spirit of patriotism and love for the country among the young generation," he said when met at his house here.
Sahul Hamid, who is not married and the fourth child of 12 siblings, said he had used between 300 to 450 pieces of the Jalur Gemilang to decorate his motorcycle and that he had obtained permission from the authority to ride the motorcycle on gazetted roads.
"To ensure the flags are installed properly, I use quality cable fastener, as well as light iron material that serves as a place to tie the flags. In doing so, I also have to take into account my safety when riding the motorcycle, that it remains balanced, even with the flags all over.
"Besides that, I will also ensure that my motorcycle will not affect the safety of other road users and will always prioritise personal safety while on the road," he added.
Sahul Hamid, who has been with the Health Ministry for 20 years, said what made him feel appreciated was when he received invitations to participate in National Day parade organised by schools and the relevant departments and agencies in the state.
"Every year on Merdeka eve, I will ride my Jalur Gemilang-decorated motorcycle around the island  to liven up the celebration," he said and expressed the hope that more young people would emulate him in expressing their love for the country.
Sources: BERNAMA
"It's Our Malaysia, Our Home After All" – Dato' Lee Chong Wei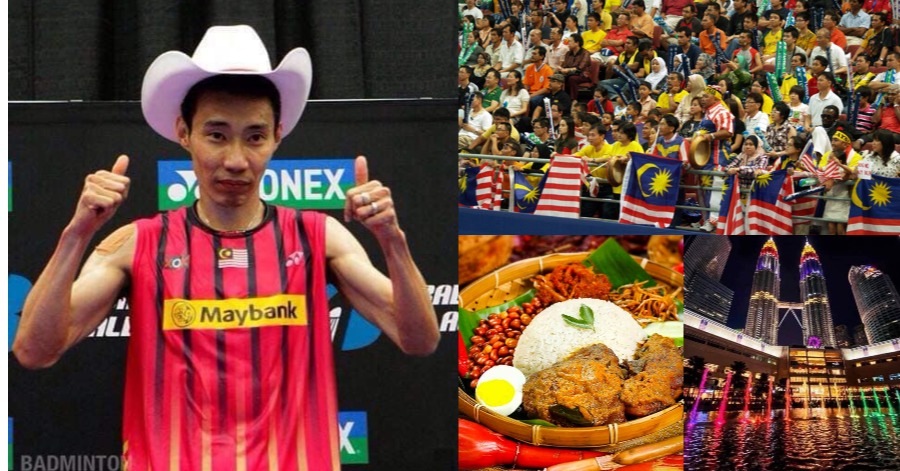 In conjunction with Malaysia's Merdeka Day today, of course, many people have shared what Merdeka means to themselves. National badminton legend, Dato 'Lee Chong Wei also did not miss the opportunity to share through a post on his Facebook account.
Through the post, he has shared his experience of traveling far to compete in badminton tournaments abroad in the name of Malaysia. Throughout his experience abroad, he has shared about his longing for Malaysian food as well as his friends from various races who travel in the country.
Here is the full story he posted on Facebook:
"Throughout my sporting career, one world I traveled to play badminton, for the sake of a flag on my chest. Sometimes go close, sometimes far. I have been to developed countries, there have also been times in developing countries and backward countries.

Here I want to share a little bit of experience of traveling far. This was 6 years ago. At that time I was in the 99th place. In order to collect points to participate in the Rio Olympics, I had to travel far to the United States and Canada. Fly 30 hours + one way beb!

Like other international tournaments, before leaving, I must have Maggi, Milo and PingPong Hup Seng biscuits. If not, be willing not to fly beb.

After winning in New York, I arrive in Calgary. Surprise too, guys. Like a high class Cowboy town. Sheer cowboy emblems are everywhere. After getting to know a little bit, apparently the entire central city is in preparation for the Stampede Festival, a cowboy festival celebrated by cowboy tribes in the United States and Canada.

Calgary is beautiful too. The Rockies are among the most captivating sights for me. Seriously.

After eating Western food for a week in the US and Canada, my father's friend Mr E who opened a badminton hall in Calgary took me to eat at Malaysian restaurants in Calgary. It has a bit of a Malaysian smell… but it's really lacking. The longing for Malaysia is growing.

I don't know, maybe that's why my performance was lackluster, having to be dragged into rubber games against Sai Praneeth and Takuma Ueda in the quarterfinals and semifinals. Overeat maggie and ping pong biscuits I think. Maybe another story if there are badminton brand biscuits.

The night before the final. I don't know what to eat. Ever try KFC and McDonald's but swear guys, KFC and McDonalds in Malaysia are still the best! Already down dah… tomorrow I want to fight Ng Ka Long.

Ring… ring… ring

My old friend, Naufal call. I used to play basketball together, lost contact for a long time, apparently in Calgary. He invited me to dinner after the tournament. I said "Why tomorrow ?! Tonight la bro".

Then I uber to his house. (Canada does not use Grab)

Naufal prepares nasi lemak rendang ayam. His wife cooks goat curry. Our friend Terry bin Maldini, a Melanau Sarawak is also in Calgary. Terry brings a wet Prai style charkueyteow, and 100PLUS Malaysia! Surprised I. At Lucky Market can buy he said.

Oh my god. Best giler! My stomachs expload screamed in delight.

The rest was history. Ng Ka Long no match in the final

Dear friends,

There is no other country that has good food.
There is no other country that have Malay, Chinese, Indian, Iban, Kadazan-Dusun and Melanaus that calling each other bro, abang, adik, ah ne, boss.
There is no other country that is more luxurious in terms of tradition and customs.
No other country can win the Thomas Cup with multiple races.

Don't say not love Malaysia.
Don't just know how to criticize.
Try your best, fix what is broken, and improve what is already in the country.

There is still hope for this Country we all love. It's our Malaysia, our home after all.
Do not forget.
We've all been there for a while.
Pledge at school assemblies.
Will focus all our energy and efforts…
For…

Our country… Our Malaysia…

Happy 64th Merdeka Day"
Sources: Lee Chong Wei