Food Review: Great Snack To Be Eaten All The Time, Hot-Selling 'Tottila Chips'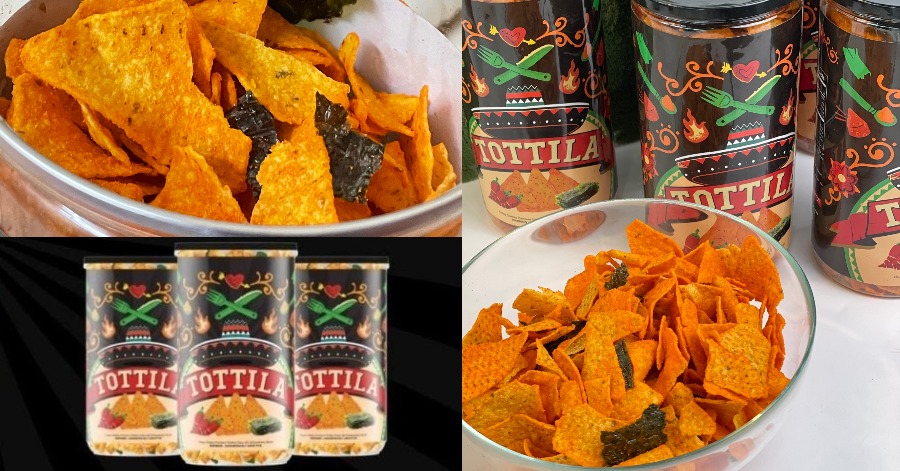 Recently, there is a particular brand new snack that has been consistently gaining its own fan little by little. The snack that got mentioned was actually the 'Tottila Chips' and many people say that it is dangerously addictive. According to the reviews, 'Tottila Chips' is the ultimate snack experience for lovers of tortilla chips, cheese, spices and also everything in between.
It is definitely a crispy cheesy premium tortilla chips with extraordinary spices. The ingredients used to make this highly favored 'Tottila Chips' would be Tortilla Chips, Cheese Powder and also Seaweed. It is also got labelled as a premium product with affordable price.
This deliciously tasting 'Tottila Chips' is now available at many places such as online shopping platforms like Shopee, Lazada, and many others. It could also be bought from their own official agent located all over Malaysia.
Price: RM16.90 per bottle.
Sources: Twitter Tottila.My.
Merdeka Sales Are Everywhere! These Are 9 of Them That You Should Try Out!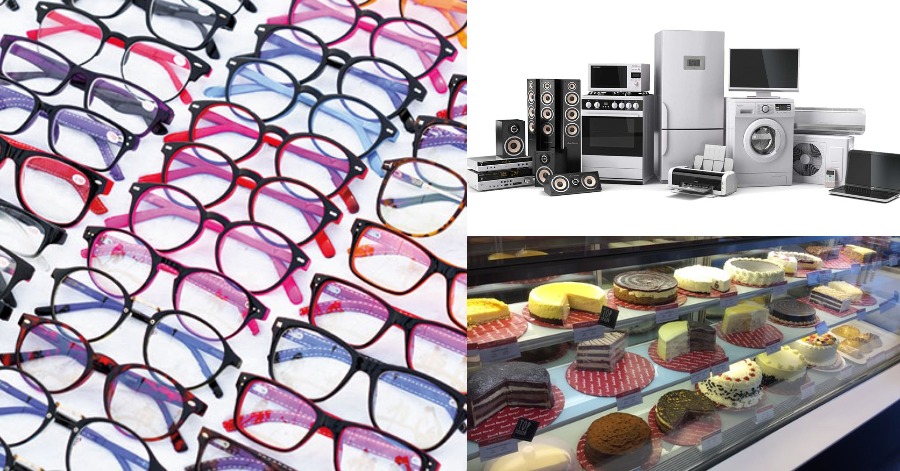 In conjunction with Malaysia's 64th Independence Day, there are definitely so many Merdeka Sales that are going on to celebrate the occasion. Since the economy in Malaysia is starting to get better because of the commencement of lockdown due to the COVID-19 pandemic, this is the perfect time to help the economy in Malaysia heal by spending.
There are indeed a lot of Merdeka Sales happening and they are also from various different of the sector. The sales would consist of delicious foods to enjoy, branded clothing to wear up until sports items to be used for your own leisure activities that you want to do. These are 9 interesting Merdeka Sales that you absolutely have to try for yourselves.
1) Sony Malaysia
Sony Malaysia has so many high-quality electronic goods that you can choose from. This is the time for you to enjoy great electronic goods while enjoying their exclusive Merdeka. They have up to 35% off, you would also got free gifts with purchase of Sony's Google TV X85J. This particular Merdeka Sale would last until the 19th of September 2021.
2) Samsung Malaysia
Samsung Malaysia is doing their own 'Stay Strong Malaysia 2021' campaign during this Merdeka Sale. For the sale, you can get free Touch n Go e-Wallet credits worth up to RM400, free gifts worth up to RM6597 with the purchase of Samsung TVs and digital goods. They would also have PWP (Purchase with Purchase) deals and this sale would last until the 30th of September 2021.
3) Pizza Hut Merdeka Meal Promotion
Celebrate Merdeka with the Huts Meal 2 promotion, only with the price of RM 18.90. The regular price for the set is RM28. This is such a bargain that you should enjoy. For this Merdeka Sale, you will enjoy 1 regular pizza of your choice and also 2 sides of your choice.
4) Mr DIY Sale
If you are looking for household, car, or even electrical accessories, they are all available at Mr. DIY. With the brand's 'Proud to be Malaysian' Merdeka promotion going on, you can now save even more on shopping at Mr DIY's online store. You could get up to 20% off, RM10 rebate via GrabPay with a minimum purchase of RM120. This sale would last until the 16th of September 2021.
5) Secret Recipe Merdeka Promo
Celebrate this Merdeka with a free slice of regular cake with the purchase of any main course on SRGO. This offer valid for SRGO pick up orders. The promo period would be on the 31st of August 2021, from 12 pm to 5 pm only.
6) Focus Point
There is currently the Focus Point's Merdeka Sale 2021. The sale would have up to RM60 Touch n Go e-Wallet Rebate and also up to 64% off for the purchase there. You would also got free gifts worth RM64. The sale lasts until the 31st of August 2021.
7) Poney Malaysia
You can splurge for your children's outfit at Poney's ongoing Merdeka promos this year. You would get up to 64% off and also free canvas bag with a minimum purchase of RM164. The sale lasts until the 31st of August 2021.
8) Senheng Malaysia
You could enjoy Merdeka Sale from Senheng Malaysia when you purchase the LG items on Senheng's official website. You could get up to 20% off and also free gifts worth up to RM5100. Other than that, you could also get the S-Coin (Senheng Coin) cashback deals up to 20%. The sale is valid with purchase of selected LG items and also valid for PlusOne members. The sale lasts until the 30th of September 2021.
9) ChicChoc Fashion
For all of your Muslimah clothing shopping, look no further than ChicChoc. Now, you can enjoy a healthy discount when you purchase any items from their Merdeka Sales collection. The sale would have offered up to 70% off for the Merdeka Sales collection.
Sources: Sony, Samsung, Pizza Hut, Mr DIY, Secret Recipe, Focus Point, Poney, Senheng, ChicChoc.
(Video) Did You Know? Japan Once Gave A Gift To Malaysia During 1957 Merdeka Day!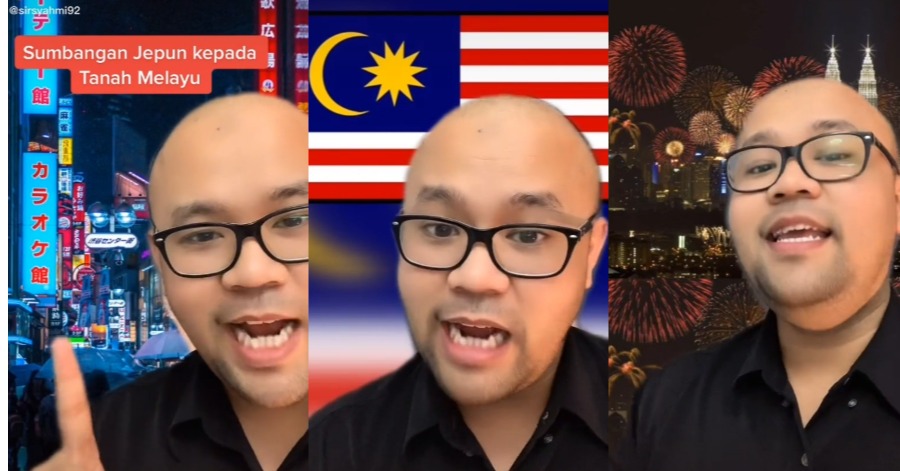 The Japanese are no longer strangers to Malaysians. Back in 1941, the Japanese invaded Malaysia or was formerly known as Malaya. The reason for this invasion was because Malaysia had half of the world's tin and a third of its natural rubber!
Long story short, after going through a gruesome invasion by a foreign power, Malaysia finally achieved its independence in 1957.
Despite being Malaysia's former enemy who attacked the country during World War 2, the Japanese have given a gift to our country on the 31st August 1957. Wonder what that gift might be?
The government of Japan gave Malaysia fireworks as a gift during the national independence day. Besides fireworks, during that time, Malaysia booked the federal flag of the land especially from a fabric factory in Japan. Our country booked about 75 flags.
Today, Japan has become a key trading partner for Malaysia. In 2019, Japan was Malaysia's fourth-largest trading partner whereas, for Japan, Malaysia was its 11th largest trading partner in the world and fourth among Asean countries after Thailand, Vietnam, and Indonesia.
Not only that, our country even had a policy that advises us to look up to Japan. Look East Policy (Dasar Pandang Ke Timur), was a policy launched by Tun Dr Mahathir in 1982. This policy means that the Malaysian government and private sector make Japan and Korea an example of work ethics and more than 15,000 Malaysians have benefitted from this policy. This policy also brought Malaysia and Japan closer and had stimulated the country's economy.
Who would have thought that Japan, which was once an enemy, has now become an ally?
Sources: TikTok Syahmi Azizi
'Kuda Merdeka' Helps Boost National Day Mood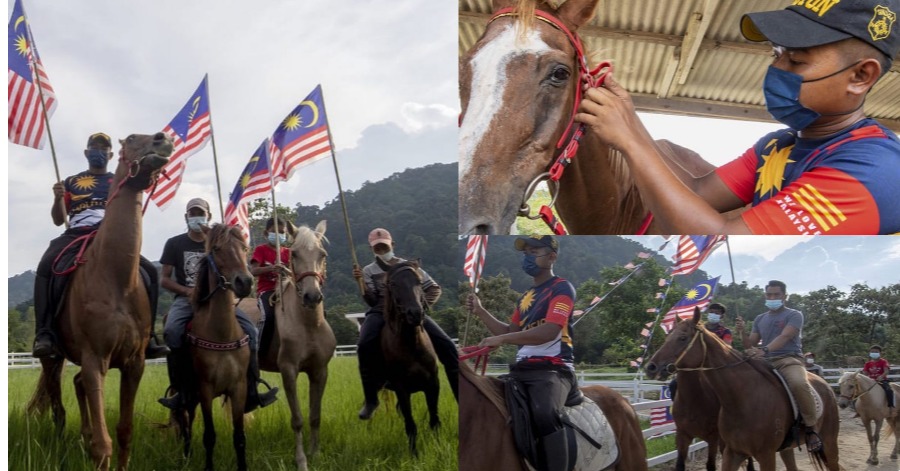 PASIR PUTEH, Aug 30  — Prior to the COVID-19 pandemic, Nik Syazwan Najmi Sukeri, would parade his horses in a procession from here to Selising and back to bring a festive mood to the National Day celebration.
However, with the various constraints due to the COVID-19 pandemic, there will be no horse procession by Nik Syazwan Najmi, 21, this year, he said.
Instead, the owner of Ladang SRZ Ternak Ladang Tenusu, Jeram Mengaji, is offering "Merdeka Ride" on his horses for the public at his farm for the National Day celebration.
Nik Syazwan Najmi has 10 horses, including the Kuda Padi, Bimo and Polo.
"Prior to the COVID-19 pandemic, my workers and I would ride the horses, like in a procession, from here to Selising about seven kilometres away, and back, to bring the festive mood and help enliven the National Day celebration.
"Since the pandemic is not over yet, I'm opening the farm to the public to come and ride on the horses while waving the Jalur Gemilang," he said when met at his farm.
He said the farm is opened from 9 am to 7 pm everyday for the "Kuda Merdeka" ride.
However, in complying with the standard operating procedures, Nik Syazwan Najmi, said only those who have completed both doses of the COVID-19 vaccination are allowed to ride the horses.
"Only 10 to 15m people will be allowed to be at the farm at one time and the free is RM5 for a 10 minute-ride on the small size horses and RM10 for the bigger size horses.
"I had planned to offer free ride for tomorrow (National Day), but has to cancel it for fear of a large crowd turning up at the farm," he added.
The eldest of the five siblings, he said, to ensure the safety of visitors, the farm is sanitised everyday and the horses are also given their bath everyday.
Sources: BERNAMA